by Texas Homesteader
*contains affiliate link
Several years ago I became interested in recycling and conservation.  My suburban city had just started a recycling program and I was all over it!  As a result I began to also look for ways to reduce the volume of my family's trash that was sent to the landfill.  I started being very mindful of what I purchased, shunning it if I felt it was overly packaged.
One place I felt I didn't have control was with yogurt.  My city's recycling program didn't accept the kind of plastic that these yogurt containers were sold in.  Although I was all fired up over recycling, I'd sigh and throw these containers in the trash feeling I had failed in my environmental quest.
Then I started wondering "I wonder if I can MAKE yogurt?"  A quick search of the internet showed that I could indeed, and there were several recipes.  I've never looked back!  I've made 1/2 gallon of yogurt about every other week for decades now & it's shamefully easy!  Plus I make my yogurt in single-serving 1/2 pint glass canning jars so other than the milk jug itself there's NO TRASH, recycling or otherwise.  I'm happy to share my method with you – the recipe will be included at the bottom.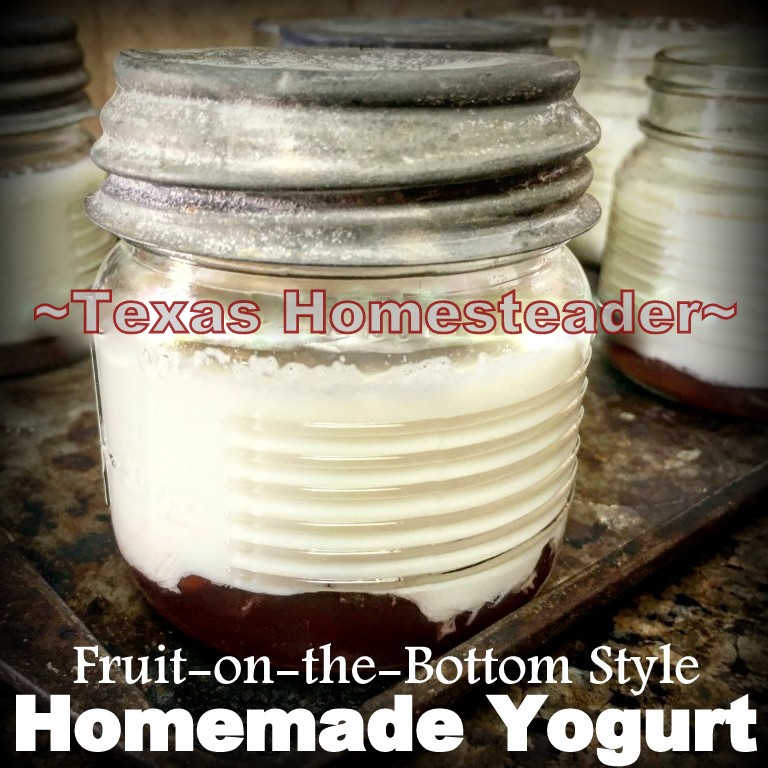 Homemade Yogurt Is EASY!
The abbreviated instructions are as easy as this:  Heat milk & powdered milk to 180 degrees, cool to 105 degrees, stir in yogurt starter & incubate in warm place undisturbed until thick.  Whaaaaat?  Can it really be this easy?  YES, Really!
Update: I recently purchased an Instant Pot. If you'd rather make your yogurt in an Instant Pot instead of stove top, you can see my step-by-step instructions to
Instant Pot Yogurt Here.
Getting Started
I start with 1/2 gallon of 2% milk and stir in 2 cups instant powdered milk.  This makes the yogurt a little thicker and I believe it also adds protein.
I've tried this recipe with skim milk but wasn't happy with the texture of the yogurt.  I'm sure I would love the texture of whole milk but the 2% is a happy balance – nice silky-thick yogurt with less fat.  Feel free to use whole milk if you like.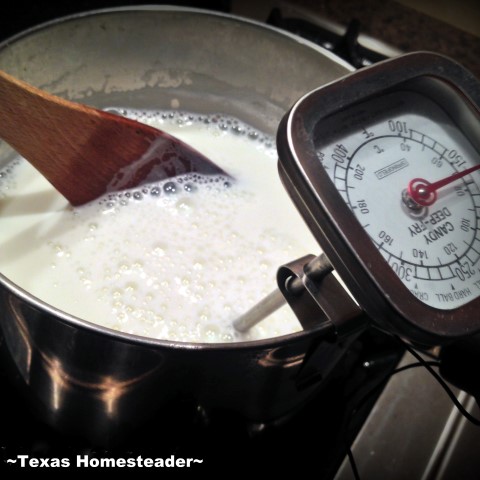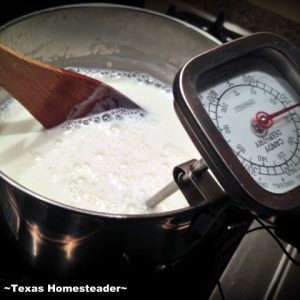 Gently Heat The Milk
Then I heat the milk to 180 degrees stirring often.  I often abbreviate this step by pouring my milk & adding the powdered milk in my pan, then covering it and setting it aside while I enjoy my morning coffee.  Since that short period on the counter means it's closer to room temp when I start heating it, it also means less time standing at the stove stirring and less propane is used too.  It's certainly something that works for me.
Cool The Milk
After the milk has reached 180 degrees it's time to cool it down to a safe temperature for the yogurt cultures.  That's about 105-110 degrees.  You could leave the pan on the stove with the heat turned off.  But I found a milk skin always formed on top of the milk when I cooled it that way.  I'd try to remove it or stir it back into the yogurt. But I could never remove or dissolve it all.   And I just wasn't fond of that texture in my yogurt.
So instead I fill a bowl with ice and water and set the pan down into the ice bath. The temperature is monitored until it reaches about 105-110 degrees.
During the heat of summer when our crappy ice maker can't keep enough ice to keep RancherMan & me in cold beverages after a hot day in the pastures, I started using this Homestead Hack so I can reserve ice for RancherMan & me.
Adding The Active Culture Starter
When my milk is cooled to a safe temperature  I stir in about 1/3 to 1/2 cup of my own homemade yogurt to act as a starter. These are the active cultures needed to make your milk into yogurt.
I use my own homemade yogurt for starter but for your first batch you can purchase plain unflavored yogurt. Just make sure it contains active yogurt cultures – not all yogurts do.  Two good ones to use are Braum's and Dannon yogurt. But be sure to check your labels and buy only yogurt with live active cultures. I stir my starter into the milk, making sure everything is fully incorporated.
Reusable Single-Serve Containers
When fully incorporated I pour my yogurt/milk mixture into 1/2 pint canning jars and place a repurposed lid on the jar. This gives me convenient single-serving yogurt containers, but you can certainly use larger sized jars up to about quart sized.
If you're doing single-servings like me be sure to leave enough space to stir in something sweet when you're ready to eat it. I like to sweeten mine with honey & fruit or homemade Blueberry Jam or a chunky Pear Preserves.
If desired you can plop about a tablespoon of jam into the bottom of these jars before you fill it up with the warmed milk for a fruit-on-the-bottom style. Just remember to leave at least one of your jars unsweetened so you can use it for starter next time, and perhaps a lower-fat substitution for a dollop of sour cream from time to time.  😉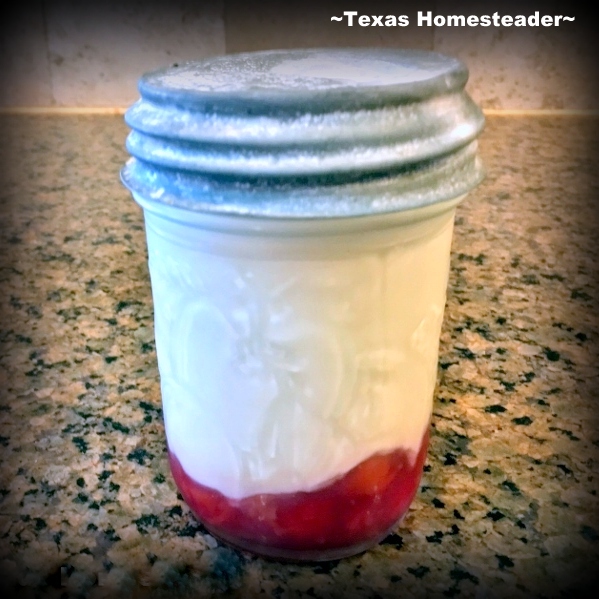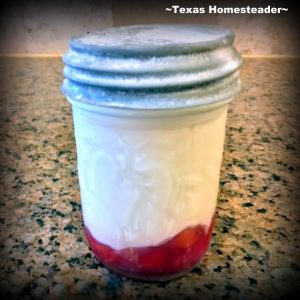 Time To Incubate The Yogurt
My yogurt is now ready to incubate for about 6 hours. The longer it incubates, the thicker and more tart it will be.
To give my yogurt a warm environment to do it's yogurt thaaaaang, I heat my oven for about 60 seconds then turn it back off. This brings the temp inside my oven to a low-heat warm environment – perfect for yogurt cultures to multiply! I place my jars into the oven and turn on the oven light to maintain a little heat.


With my oven I often turn the heat back on about after 3 hrs incubation time for ONLY 1 minute, then turn it back off. This seems to keep the temps perfect for my yogurt to incubate.  My previous oven didn't require that since I guess the bulb itself burned hotter than the bulb in my new oven. Gently bumping the heat like that seems to keep the temps where my yogurt cultures are happy, but be sure you don't let it get too hot & kill your cultures!
Of course you can buy an automatic  * yogurt maker that keeps the proper temperature for you throughout the duration of your yogurt incubation. Just set the timer and walk away.
The yogurt is usually ready after 4 hours incubation, but RancherMan likes me to leave it 6-8 hours. When the time is up I simply remove the yogurt from the oven, allow to cool a bit and place the jars in the fridge.
Enjoy Homemade Yogurt
I often make plain yogurt and leave the sugar and vanilla out until I'm ready to eat it. That way I can use the non-sweetened yogurt for other things as well such as low-fat sour cream substitution in both cooking and on baked potatoes. It's even an important ingredient in RancherMan's favorite Country-Style Biscuits.
When I want to eat sweetened yogurt I'll either stir a spoon of my favorite jelly to sweeten or a squeeze of local honey with a spoonful of fruit or berries. And I love to sprinkle some Homemade Pumpkin Granola on top for a little crunch too. All that's left to do is enjoy!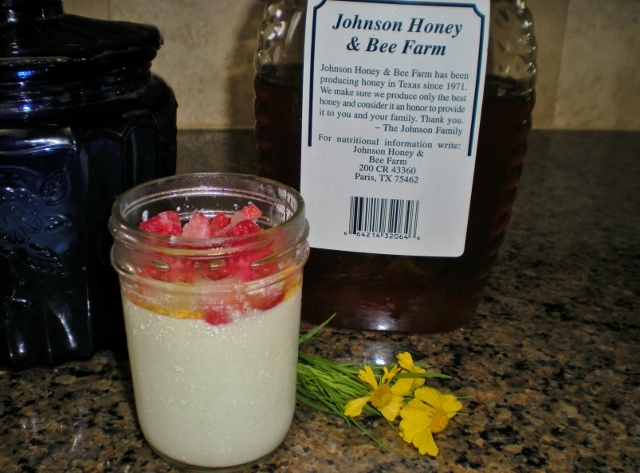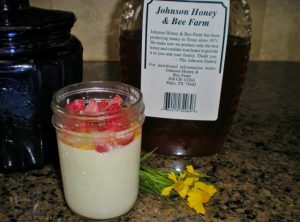 Here's the recipe: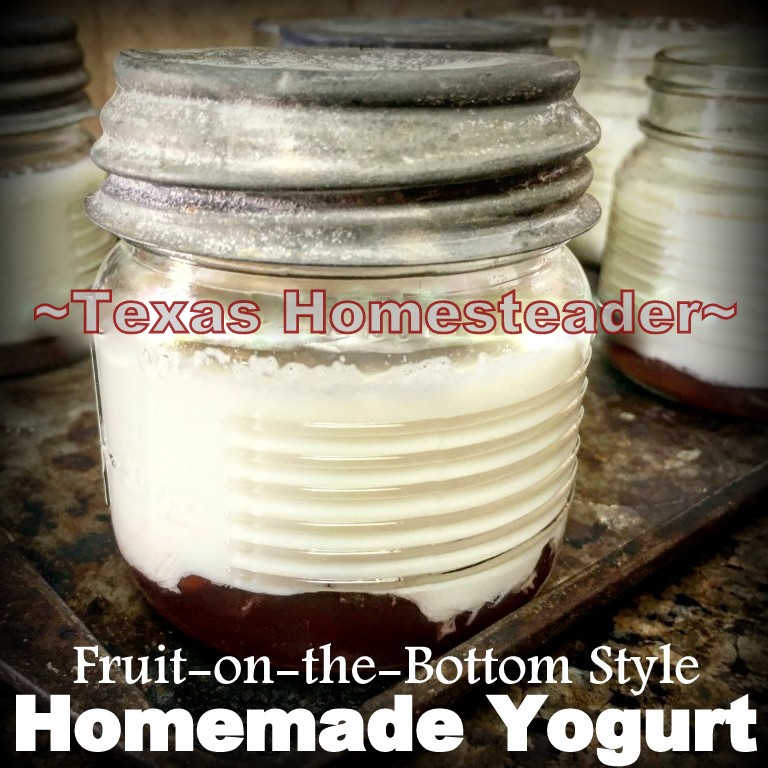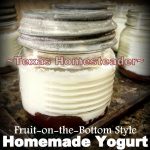 1/2-Gallon Homemade Yogurt - Stove Top Method
Commercial yogurt often has added gelatin & thickeners (often along with some chemical nasties I'm afraid.) The taste of the homemade yogurt can't be beat, is significantly cheaper and healthier for you. And no more plastic yogurt containers go to the landfill!
Ingredients
1/2

gallon

milk

(I use 2%)

2

cups

instant dry milk powder

(optional)

1

8-oz container

unflavored yogurt with active cultures (such as Braum's or Dannon)

After this first batch, save some of your own yogurt to use as starter
(If making sweetened yogurt you also need)
1

cup

sugar or your choice of sweetener

1

Tablespoon

vanilla
Instructions
Directions
Place milk in pot and add dry milk powder. Stir well to dissolve. Place candy or milk thermometer in milk & heat to 180 degrees, stirring often so the bottom doesn't burn. When 180 degrees has been reached, fill sink or large bowl with ice cold water. Then place the pot with milk in the ice water. (If making sweet yogurt, add sugar now and stir well.)

Cool milk down to about 105 to 110 degrees. Add yogurt starter and stir well to incorporate smoothness. (if making sweet yogurt, add vanilla now).


Fill glass containers of your choice and place lids on jars. Place jars on cookie sheet. Heat oven to 110-115 and turn off oven temp. Turn on oven light. Place yogurt in oven on rack and leave for about 4-6 hrs.


Yogurt will be "done" in 4-6 hours but you can let it incubate for up to 12 depending on how tart you like it and how much beneficial cultures you wish it to have.

Don't disturb the jars for at least 4 hrs. Then you can check to see if the yogurt is done by gently tilting one of the jars. If it's no longer liquid, it's ok to pull it and place in the refrigerator.

It will firm a little more upon cooling, although it's a more silky yogurt than the ones in the store since they add gelatin & thickeners to the commercial stuff (often along with some chemical nasties I'm afraid.)
There ya go – 1/2 gallon of homemade yogurt!  I share lots of fun stories & recipes on our facebook page, so c'mon by & follow us on Facebook.
~TxH~
Related Links Contained In This Post
Our Favorite Breakfast Posts
…and MANY MORE!


C'mon by & sit a spell!  Come hang out at our Facebook Page. It's like sitting in a front porch rocker with a glass of cold iced tea – lots of good folks sharing!  And you can also follow along on Pinterest, Twitter or Instagram.
If you'd like to receive an email each time a new blog post goes live it's EASY to
Subscribe to our blog!
Save
Save
Save
Save