by Texas Homesteader ~
We've managed to reduce our landfill contributions over the years by using a few simple tricks. We've even been able to eliminate our trash collection service and associated fees. So the result has been positive for both our budget as well as the environment.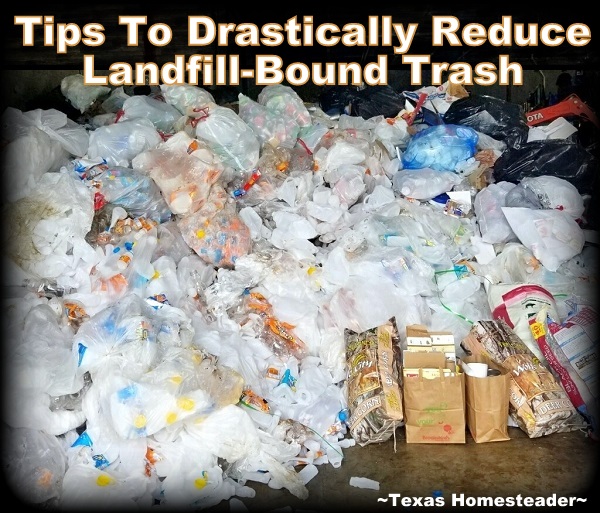 (Note: Some links in this post will take you to other related articles for further information. But links preceded with * are affiliate links. If you click and buy something I could receive a tiny commission.)
You pay a fee to have a large truck pick up & haul your trash to the landfill. Do you hate that as much as we do?
A Tiny Trash Can Is All We Need
By repurposing, recycling and composting what we can we've significantly reduced what is sent to the landfill from our home.
So much so that we only require a tiny bathroom-sized waste basket as our main household trashcan.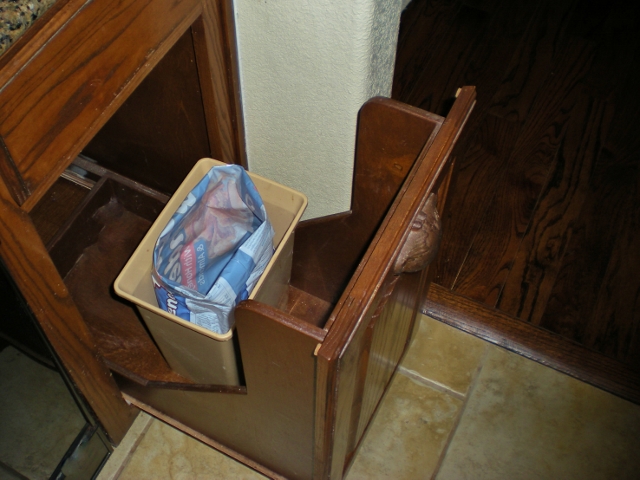 And we don't buy trash bags. The can is lined with whatever appropriate-sized plastic bags work themselves into our home.
Whether it's the bag from a large family-sized container of cereal or the occasional plastic shopping bag that someone used to bring something to us.
(we don't accept plastic shopping bags when we shop but I'll make full use of the ones that end up in our home from others).
This small trashcan only needs to be emptied about once every couple of weeks. I feel pretty good about that!
The larger trash can in RancherMan's shop needs to be emptied even less. But even though it's larger, it's still only the size of a typical kitchen-sized waste basket.
And once again, we don't line it with disposable trash bags, but instead use repurposed plastic feed sacks.
Plus it saves us money since we don't have to buy trash bags.
Like I said before, if that blasted plastic is going to come into the house despite my best efforts, it's gonna be used up fully before it's considered trash.
Recycling Is Good, But PRE-Cycling Is BETTER!
What about recycling? Sure, it's a great way to make better use of things to be thrown away. Certainly better than just sending it to the landfill.
But PRE-Cycling is even better. What is it?
Precycling can be defined as making purchasing decisions that will delay, reduce or eliminate the need to recycle or dispose of waste.
By PRE-Cycling we've further reduced our landfill bound trash & eliminated collection fees. The result is positive for our budget & the environment.
What are some examples of PRE-Cycling? Read on, dear friends…
Repurposing Items Delays Sending Them To Landfill
Repurposing items for another use is a good example of precycling. I've been able to reduce all kinds of landfill-bound trash by repurposing items.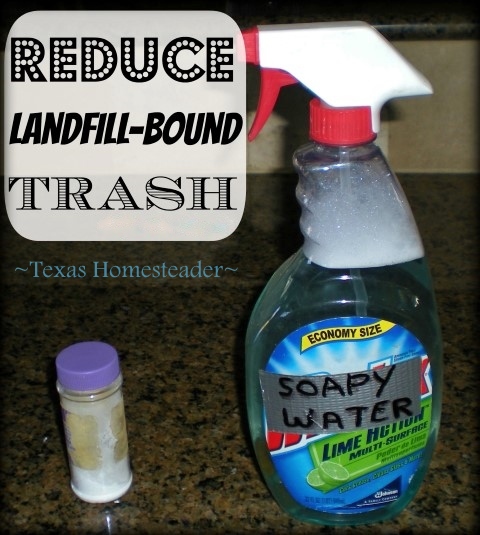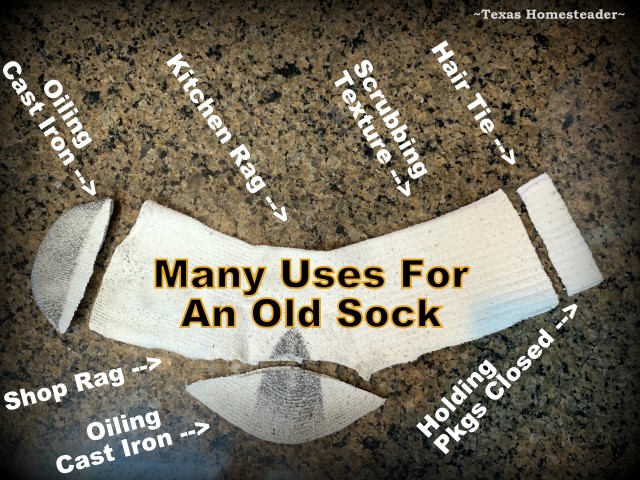 You can see all our Repurposing Posts for additional repurposing tips. But it's true – combining recycling & Pre-Cycling has certainly slashed our landfill-bound trash. But there are other ways too.
Come see the other simple steps we made to reduce our landfill trash.
Shun Excess Packaging To Lower Waste
Look at the packaging of things you purchase. Shun those that are over-packaged – whether or not the packaging can be recycled.
Those beautiful bell peppers are on sale, but they're sitting on a Styrofoam tray and entombed in multiple layers of plastic wrap. That's a hard PASS for me!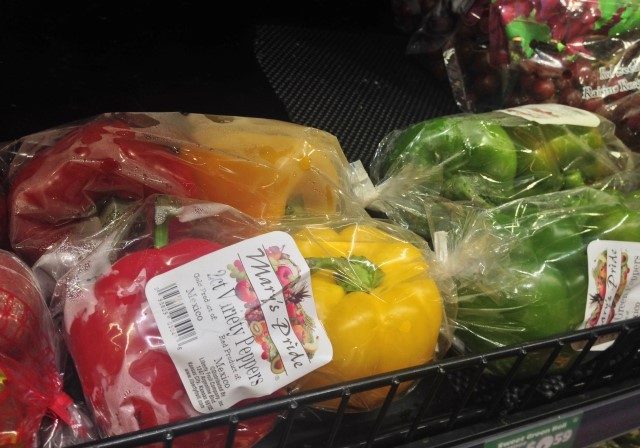 I've passed up over-packaged produce, items for our home and even toys for my grandbabies in favor of less-packaged options.
And I often buy household items used so in those cases there's NO packaging at all involved. SCORE!
Reducing Disposables Is Good For The Environment
And reducing your use of disposables is another example of precycling. For instance, I no longer use disposable plastic razors.
Now RancherMan & I opt instead for a metal safety razor and real honest-to-goodness double-edged blades.
At the end of the razor & blade's life both can easily be recyclable. (But the metal razor will outlast me I'm sure!)
Used blades are tucked securely into a small metal breath-mint box and recycled. The paper box the blades were sold in is tossed in my compost.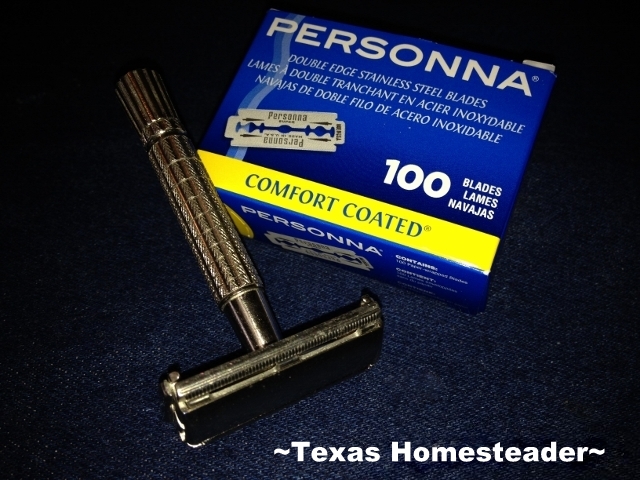 Not only is using a reusable safety razor substantially less expensive but an environmentally friendly choice as well. I often see nice brand-name safety razors at estate sales & antique stores.
When I fine extras I sometimes have a few in my Online Store. Check it out!

Problems With Styrofoam Containers For Restaurant Leftovers
What about the container for your restaurant meal leftovers? The environmental side of me has always HATED that awful Styrofoam box they force on you when you take home the uneaten portion of a restaurant meal.
And if the contents are the least bit heavy the flimsy Styrofoam container gives enough to pop the lid open. Plus those dang things are so bulky to store in the fridge.
(not to mention Styrofoam is an environmental nightmare!)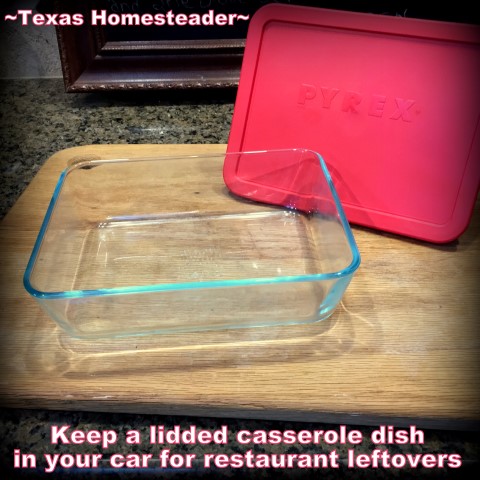 So several years ago I purchased an inexpensive small glass bake-ware pan with a snap-on lid. I'll use it as a reusable way to bring home restaurant leftovers.
I even made a Cute Dish Carrier with repurposed denim from a pair of RancherMan's worn-out jeans.
It was made to resemble a purse so I wouldn't feel awkward just carrying a glass dish into the restaurant.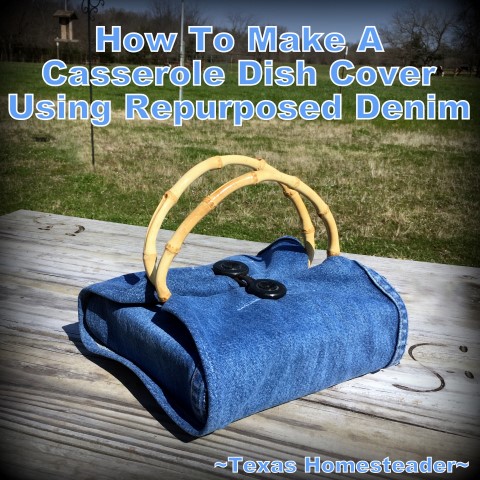 If I end up with leftovers after a restaurant meal, they are easily transferred to my container.
Then I bring them home & place it compactly into the fridge. That way I can enjoy restaurant leftovers for lunch the next day.
And since this glass dish is microwave safe I can heat & eat in the same dish. No extra dirty dishes, no extra trash! Win/win!
Easy Make-It-Yourself Items
How about eliminating containers of things you typically buy? It's another huge way I've been able to reduce landfill trash. It's fun to make products myself that I used to buy.
That way I can make & store items in my own containers instead of bringing new disposable containers of products home.
Nothing hard mind you. I'm making simple things such as: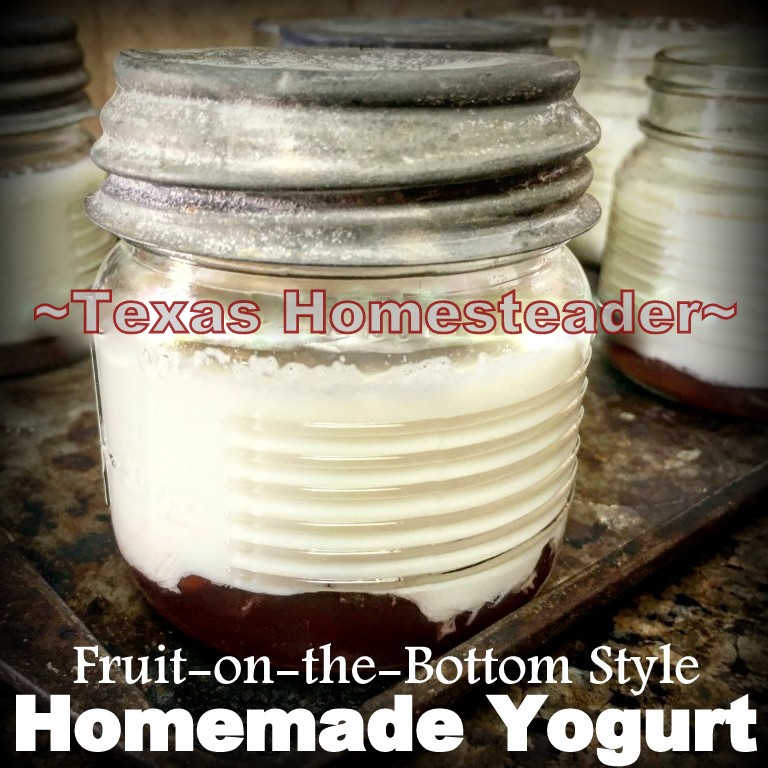 But even if you don't have the time or inclination to make this stuff yourself (but trust me, it's EASY!) you can still make a big impact just by being mindful of what you do or don't bring into your home.
Grow A Small Garden
You don't have to plant a huge garden and grow all the vegetables your family eats to make an environmental impact.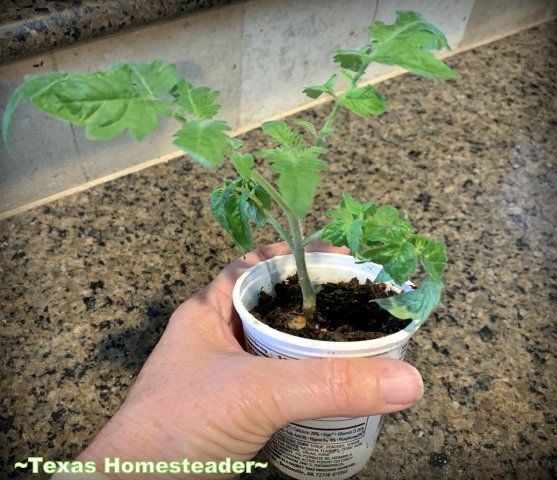 Grow a single tomato plant and fresh tomatoes are right outside your door all season long.
Or tuck some pretty herbs into your existing flowerbed to use Edible Landscape principles. Fresh herbs don't get any fresher than that!
Or plant some Stevia and grow your very own zero-calorie sweetener. Growing Luffa gives you food, scrub sponges and makes pollinators happy too!
Whatever works for you and your family, enjoy growing at least a small amount of your food!
For inspiration you can see Our Best Garden Tricks all in one place by clicking this button: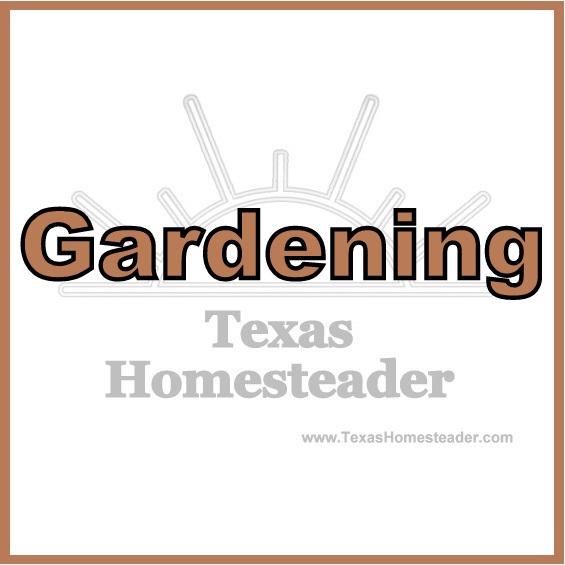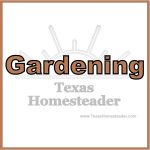 Food Waste Should Not Go Into A Garbage Disposal!
I'd never use a garbage disposal for disposing of uneaten food or food trimmings. I don't feel that's where food waste should go!
Cramming food waste through a garbage disposal simply means your home food-disposal convenience results in your food waste having to be filtered out later by water utility workers.
Although I'll run our garbage disposal to make sure any wayward items that ended up in the sink are safely flushed away, I've always considered that using a garbage disposal to actually purposely dispose of excess food is the wrong way to handle food waste.
Plus living in the country we are on a septic system. Those apple peels & plate scrapings being sent into our septic system through the garbage disposal just means we'll have to pay to have our septic tanks pumped sooner.
What a waste! (yes, pun intended.)
Composting Food Waste Is EASY!
I purchased this *compost tumbler a few years ago. Veggie trimmings, plate scrapings and such go into this composter instead.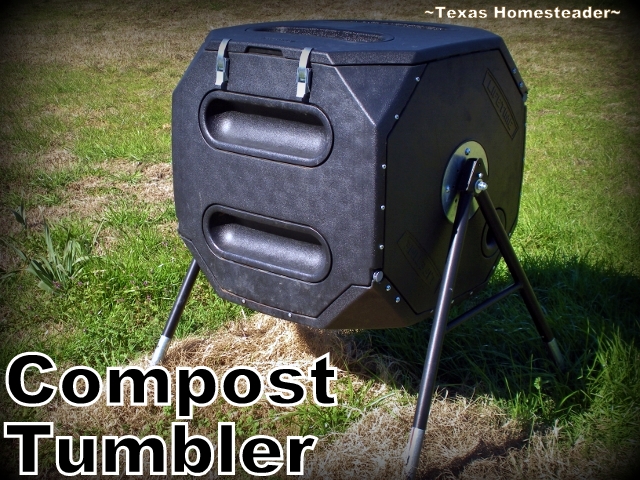 Here at the Homestead those veggie peels and apple cores are composted & turned into black gold for a healthy veggie garden.
It's been another huge improvement in reducing our landfill waste stream to utilize our composter.
Bye-Bye Junk Mail
What about the mail everyone hates to get – junkmail? RancherMan & I are pretty adamant about removing unwanted junk mail from clogging our mailbox.
The law requires that if you OPT OUT of a company's promotional offers, that company must discontinue sending their junk mail to you.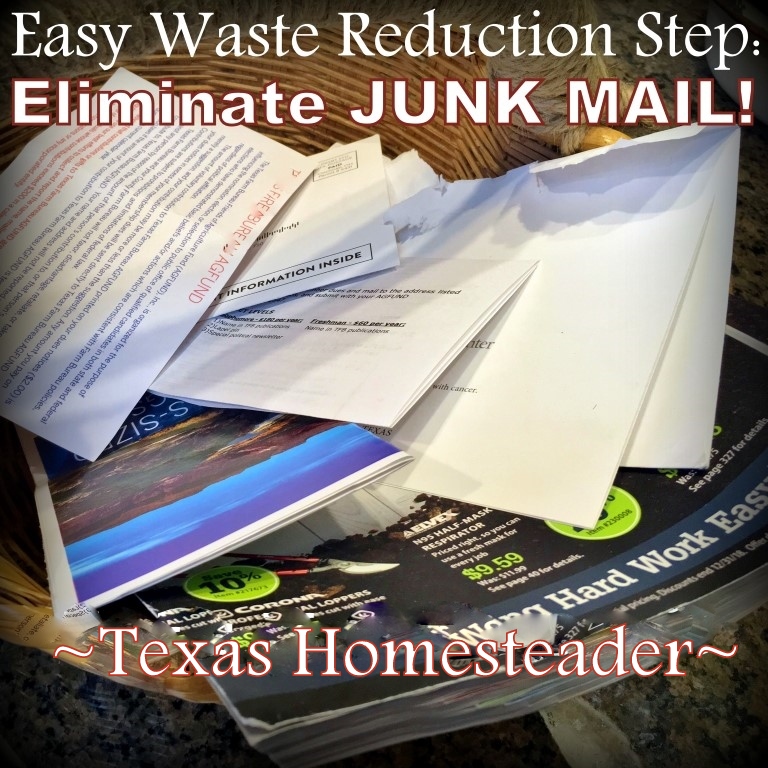 Oftentimes I'll send them an OPT OUT email and copy myself so I have record of having sent it.
That way if I receive a second mailing from them I'll "reply-all" to that email and in bold print write SECOND REQUEST – PLEASE RESPOND. They're able to see that I'm tracking my opt-out requests and in almost 100% of the cases this puts an end to it.
You can also opt out of almost all marketing by visiting the website www.dmachoice.org. They place your information on a file made available to all direct marketers.
It costs $3 (as of this writing) but it was some of the best money I ever spent since it was a one-stop shop. And it brought our junk mail volume down immediately.
I tackled the remaining trickle myself. Now a piece of junk mail in our mailbox is rare.
But when it does happen I simply copy/paste my opt out format in an email to that company and request to be removed from any future marketing mailings.
So there's a quick list of simple ways we've significantly reduced our landfill-bound trash. What's your favorite way to reduce trash at your house?
~TxH~
This post categorized in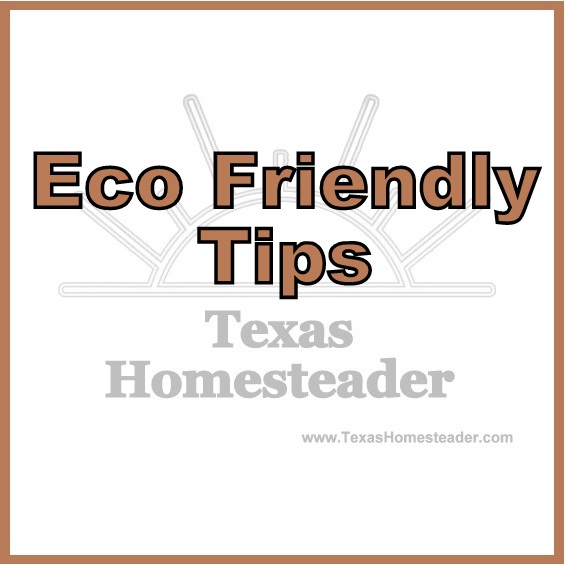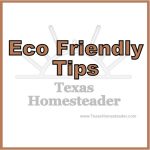 Links Mentioned In This Post
Other Posts About Reducing Household Waste
Reducing Trash
Kitchen
Food
Cleaning
Health & Beauty
Repurposing
…and Many More


C'mon by & sit a spell! Come hang out at our Facebook Page. It's like sitting in a front porch rocker with a glass of cold iced tea – lots of good folks sharing! You can also follow along on Pinterest, Twitter or Instagram.
If you'd like to receive an email each time a new blog post goes live it's EASY to
Subscribe to our blog!
Save