by Texas Homesteader ~
Spring is drawing near. We're all ready to get in our gardens, with dreams of lush growing vegetables dancing in our heads.
So I'm sharing this garden roundup post to offer insight into garden planning, raised beds, edible landscape, saving money in your garden and more.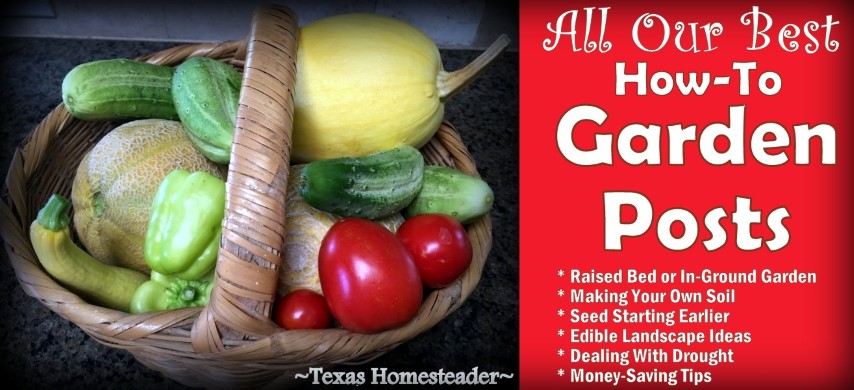 For easy reading I've separated these important garden posts below into categories. But if you want to see ALL my garden posts (including monthly garden updates, etc.) you can see them all by clicking this button: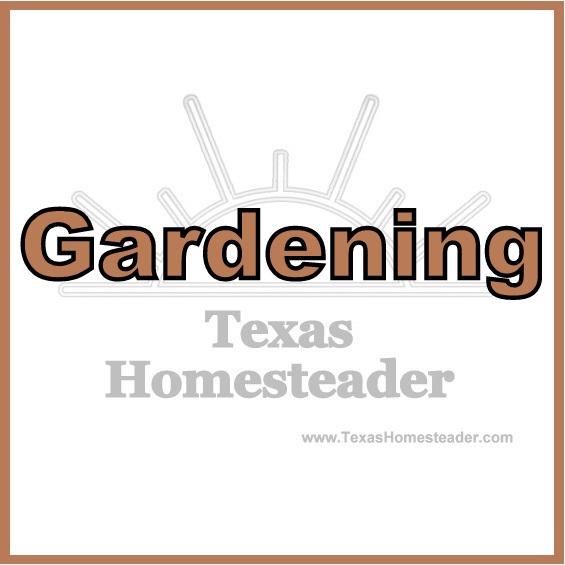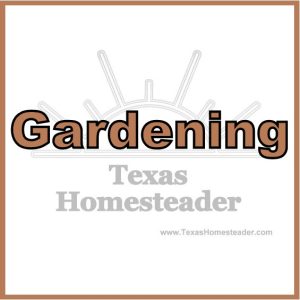 Without further adieu, following are my most important garden posts. Click the links for more detailed information. Enjoy!
---
Garden Planning, Seed Starting Posts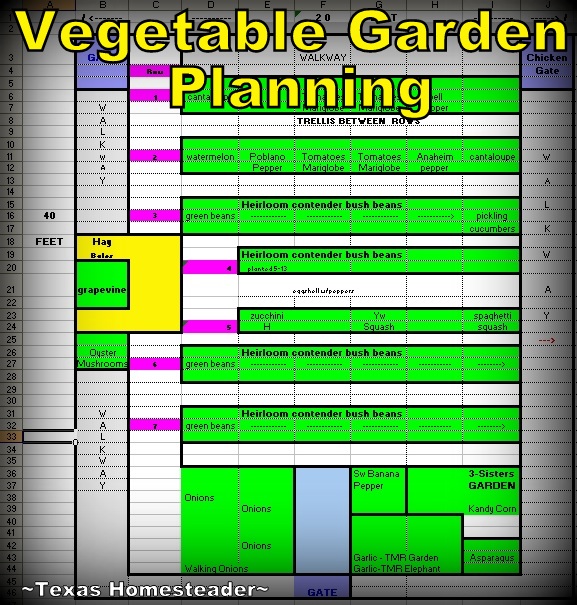 4 Ways Vegetable Gardening Can Change Your Life – It's simple, but it's true, come see how gardening helps you lead a happier, healthier life!
Vegetable Garden Planning Made Easy – I use this homemade spreadsheet as a yearly planner.
My Temporary Indoor Greenhouse Setup – This allows me to use heirloom seeds and plant heirloom variety seedlings in the garden.
Homemade Biodegradable Pots – I repurpose cardboard tubes for free, biodegradable pots – then plant pot & all!
Easy Homemade Seed Tape – I make my own homemade seed tape using bathroom tissue, seeds and a 'glue' made of flour and water. No more wasting those super-tiny seeds.
Lazy Gardener's Plant List – Plant these things only once but eat for years.
---
Raised Beds, Garden Styles & Edible Landscape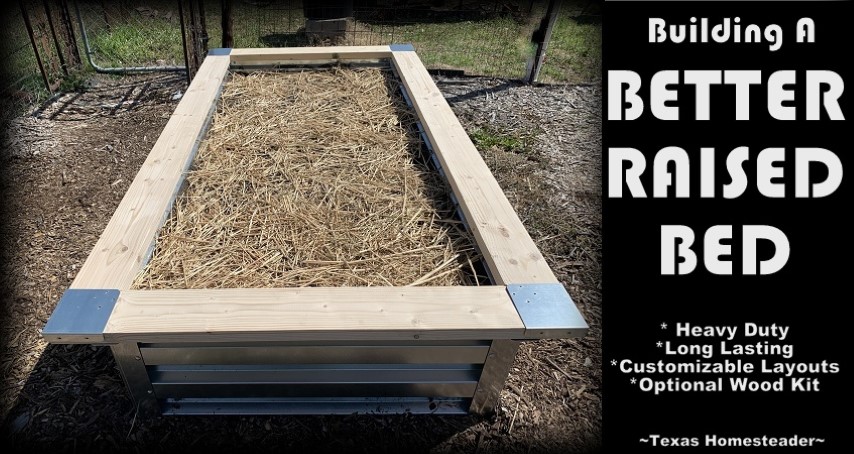 Where I Found The Best Raised Bed – There are some pretty chincy beds out there, too fragile to even hold the soil without braces! Come see where I found the BEST heavy duty raised bed. (and there's a coupon code too!)
Planting A Large Galvanized Trough – Some of my raised beds are just old animal water troughs.
Using EcoBricks In Raised Beds – What are EcoBricks, and how do they benefit my garden?
Temporary Cold Frame Using Hay Bales – A quick cold frame setup and the hay bales are used in my garden afterward as natural mulch.
Edible Landscape – Just because a plant grows food doesn't mean it can't be beautiful and decorative in your landscape.
Small Tire Raised Planter – This planter is nearly indestructible, even with Texas spring time hail storms!
Planting A Blueberry Bush In An Old Galvanized Tub – I love how this planting turned out using an old rustic tub for a miniature blueberry bush.
Keeping Landscaping Mint Contained – You know how mint is an accomplished escape artist in the garden? Here's how I keep it safely contained.
Planting Potatoes For Easy Harvest – This potato planting strategy makes harvesting the potatoes easy. #WorkSmarterNotHarder
3 Sister's Garden – A symbiotic planting strategy used by Native Americans where plants actually help each other.
---
Garden Planting, Soil & Compost Posts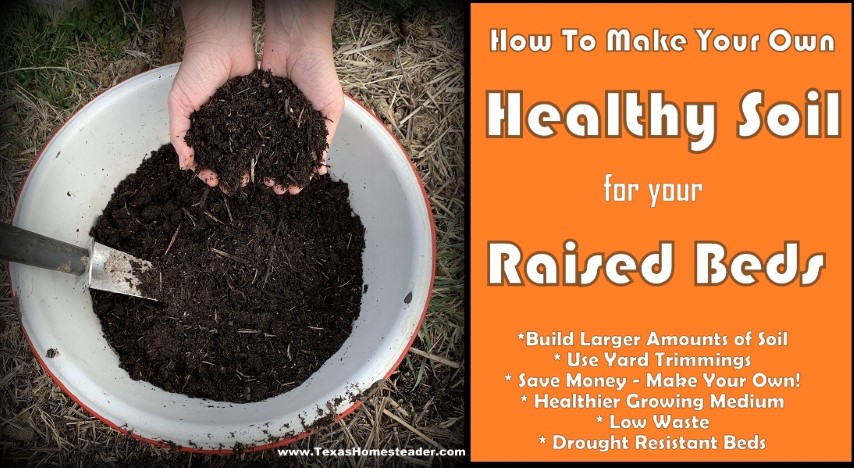 Make Your Own Fertile Soil – This is how I used the hugelkultur method to make fertile soil for our garden beds using what we had laying around – sticks, twigs, grass clippings, etc.
Simple Composting Guide – Composting isn't difficult. I'm breaking it down for you here.
Manure For Fertilizer – Raising cattle I have all the manure I want readily available. Come see how I use it.
Leaves For Mulch/Compost/Soil Amendment – Don't overlook the incredible value of leaves. They can do lots in the garden.
---
Rainwater, Irrigation & Drought Management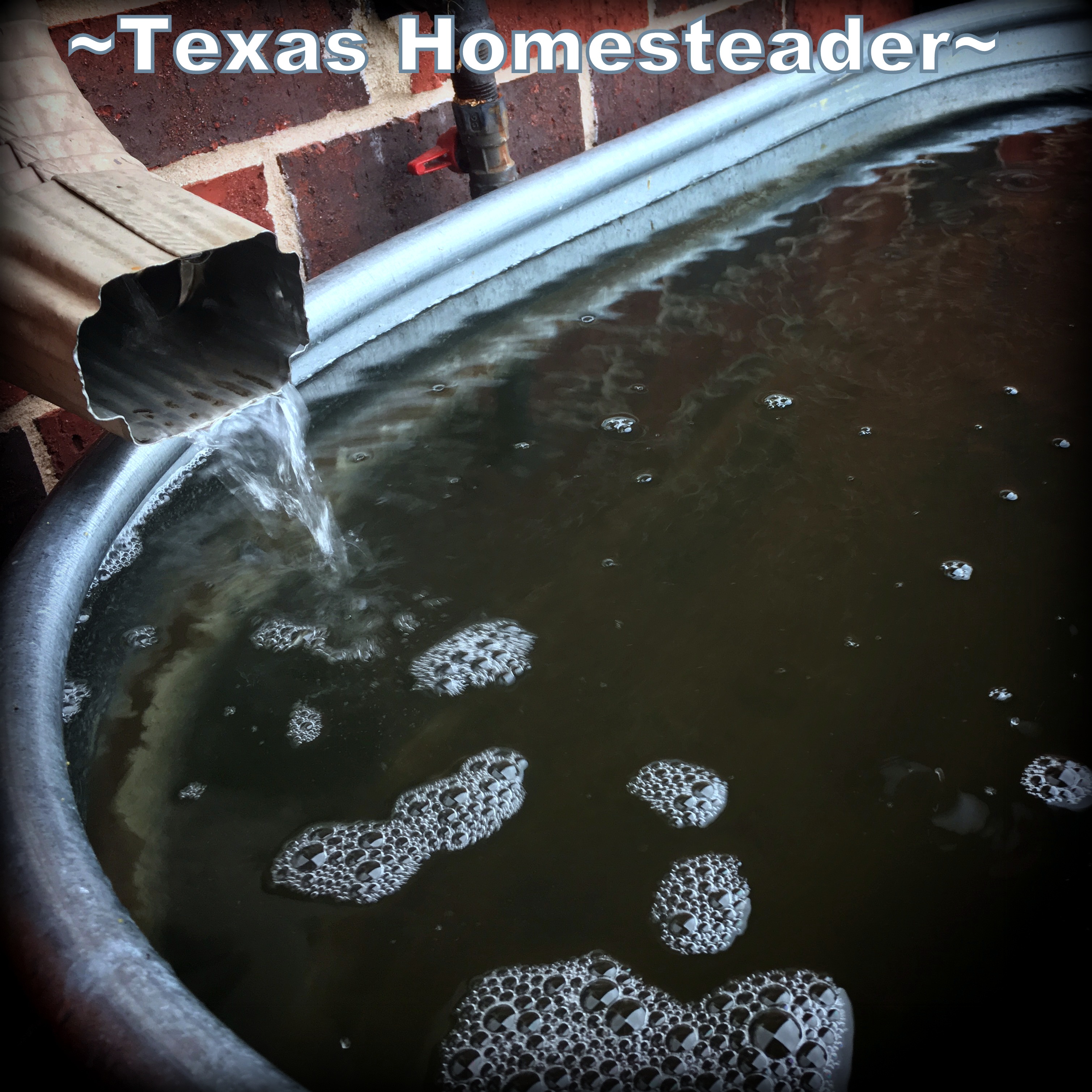 3 Rainwater Catchment Systems – Sharing the 3 simple ways we capture and use rainwater here on the Homestead for 100% of our outdoor watering needs.
How We Deep-Soak To Conserve Water – I repurpose coffee cans in a very helpful way in our garden during drought seasons.
Living Mulch Using Vining Plants – A two-fer idea for using natural mulch that FEEDS YOU!
Free Wood Mulch – No need to resort to buying wood mulch in mammoth disposable plastic bags. I found where to get it for FREE!
---
Garden Tricks & Tips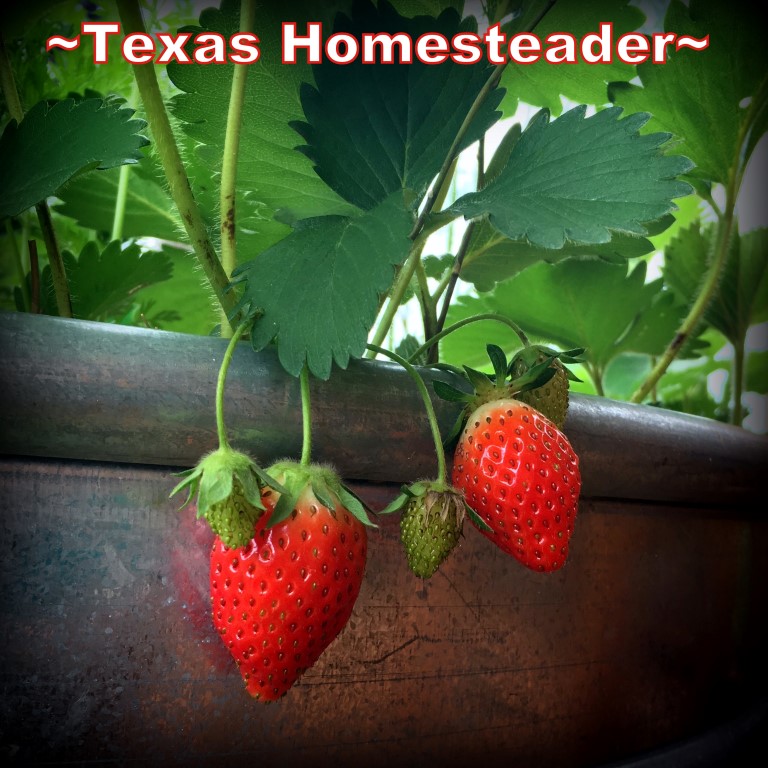 Trick birds away from your strawberries – Don't you hate when your strawberries turn juicy and ripe just to have the birds get to them before you do? Here's what I do to trick the birds away from my strawberries.
Remember Where You Planted Seeds – Did you ever plant a seed and then fear weeding around it because you weren't absolutely certain exactly where the seed is? Me too, until now!
Reusing Plastic Bags – As bad as I hate plastic, if it comes into the house I make sure it gets used before throwing it away. It even has a temporary value for my garden plants.
Using Cardboard in Compost – No need to struggle tearing up cardboard for your compost. I'm sharing a tip to make it easy.
Biodegradable Weed Block – I love this biodegradable weed block to stop weeds. It's natural and uses what we already have for FREE!
Repurpose Empty Feed Sacks In The Garden – These empty heavy paper feed sacks serve an important role in our garden.
Propping Tender Seedlings – Those tender seedlings can really get pummeled in the wind. I found a natural way to prop them up. #UseWhatchaGot!
---
What To Do With Your Garden Harvest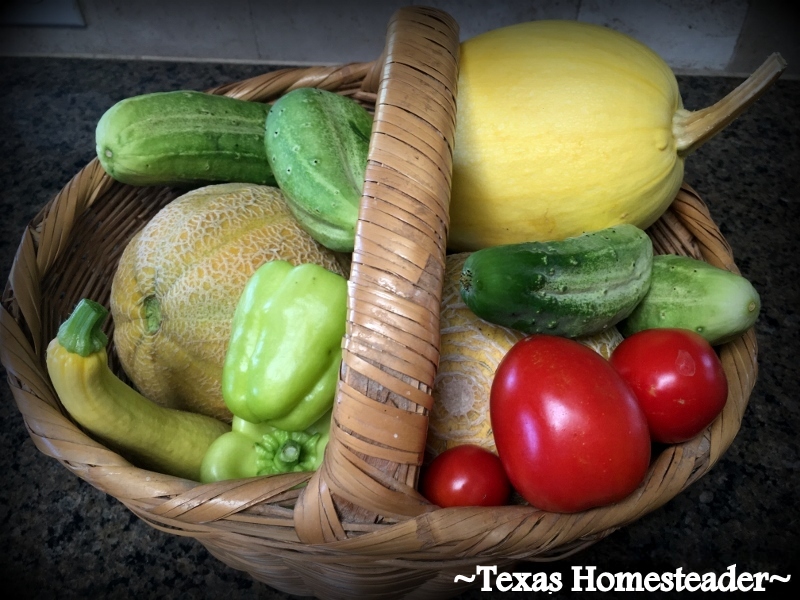 How To Tell When Watermelon Is Ripe – there are easy ways to tell when that garden watermelon is perfect for picking.
Stevia: Growing Your Own Sweetener – I love growing and using my own Stevia sweetener. It's so easy and saves me money (and calories!)
Peel A Whole Head Of Garlic In Seconds – I love this garlic-peeling trick. And it really works!
Sweet Pickles 1 Quart At A Time – I don't over-plant picking cucumbers. So I make these refrigerator pickles one quart at a time.
Accumulating Okra Until You Have Enough To Fry – If you've only planted a few okra plants like I do, you'll need a way to accumulate them until you have enough to fry.
Heat-Free Tomato Peeling – Here in the hot & humid south, I can't stand to boil water & dip tomatoes to peel them. Here's my heat-free way to accomplish the same thing.
Stopping Bermuda Grass – If you know, you KNOW. Bermuda grass is the bane of all gardener's existence around here. I've found a way to keep it OUT of my garden!
My Energy-Free Herb-Drying Setup – I grow lots of herbs and dry them for use throughout the year. Many have asked about my herb-drying setup so I'm sharing it here – no additional energy needed.
So there ya go, hopefully you've gained some tidbits you can use for your own garden. Gardeners: UNITE!
~TxH~
Preserving The Harvest Posts
…And Much MORE!
Dehydrating Posts

C'mon by & sit a spell! Come hang out at our Facebook Page. It's like sitting in a front porch rocker with a glass of cold iced tea – lots of good folks sharing! You can also follow along on Pinterest, Twitter or Instagram.
If you'd like to receive an email each time a new blog post goes live it's EASY to
Subscribe to our blog!