by Texas Homesteader ~
A few months ago RancherMan & I joined my parents for a quick dinner at a local restaurant. On the sidewalk outside the restaurant was a cute planter. Upon closer inspection, it looked like a small, thick tire that was painted & then planted.
RancherMan said it was probably a riding lawn mower or golf cart tire. I loved it! Heck you always wonder what to do with an old tire anyway. And their disposal is always an issue.
Plus I often worry that planters that you buy just can't hold up to the rough Texas weather year after year. Spring hail storms can render that cute ceramic planter useless in short order!
These repurposed-tire planters seemed to be the best of both worlds – interesting looks, very durable and using something previously wasted. I decided to give it a try.
But I didn't have an old lawn mower tire and I really didn't want to buy a new one. It seems like such a waste of resources to buy a perfectly good usable tire & paint it!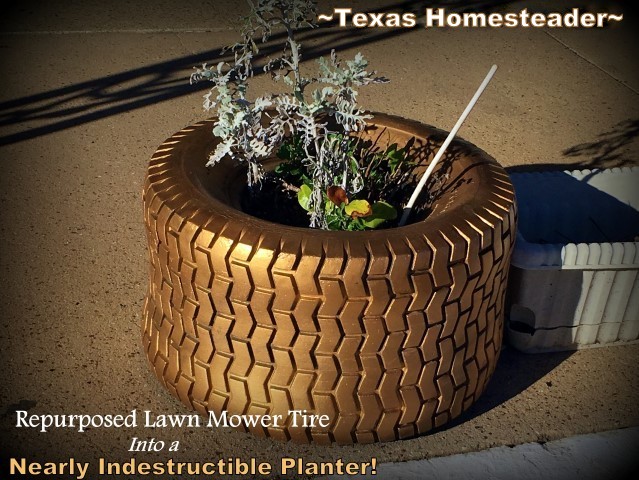 Then one day RancherMan was chatting with the local small-engine repairman and mentioned that we'd take an old tire off his hands if he had one laying around. Come to find out, he DID! And he was oh-so-happy for us to haul it away for him.
Although it wasn't quite as tall as the one I'd seen before, it should still do the trick nicely.
I'm tellin' ya, you know it's true love when your honey comes home with a 'gift' for you & that gift is a dirty old used lawn mower tire! But I'm not gonna lie, I was pretty excited. LOL.
Prepare Tire For Painting
First I needed to clean the grime off of that old tire. I used a galvanized tub, water from my rain barrel, a tiny squirt of grease-cutting dish soap, a hefty dose of baking soda and a stiff brush. That old tire cleaned up in no time.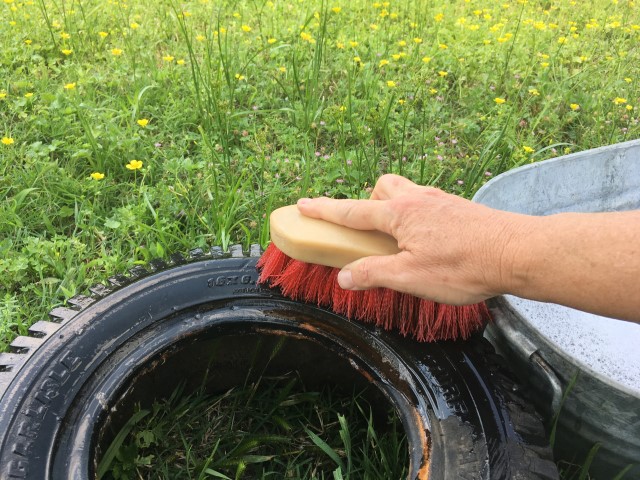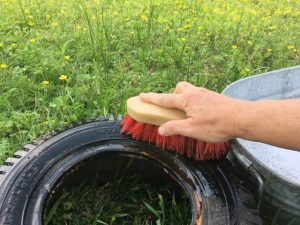 Then for some reason my camera malfunctioned. So I don't have several of the procedural photos to show you. Luckily it's pretty easy to describe.
I needed the planting side enlarged. So I carefully took a good sharp knife and cut out a ring of the center from one side of the tire. Enlarging the hole was easy.
There was a raised circle on the side of the tire that I was able to use as a guide. (I left the flip side intact.) This will open up the planting top a little more.
After the tire was clean and the center removed from one side, I placed it on the hay fork of the tractor. Rustoleum Hammered Copper spray paint was the color I chose to paint it.
I love this color! I sprayed on several coats and let them dry thoroughly between each coat.
Place Your new Planter In Its New Location
After it dried it was time to place it in my front 'flower bed'. I cleared and leveled a spot and placed the planter in the location I wanted. Now I needed dirt to fill it. Hummmm….
I have some container mix soil that I've purchased. But I want this planter to hold a lavender plant. So I went out to the pasture and scooped up some sand and mixed just a little planting mix so that the soil was mostly sandy.
Then I planted my tiny little lavender. Isn't it cute?? It won't be long before it grows & adorns our home with the fragrant blooms of lavender. (breathes deeply…) I can't wait.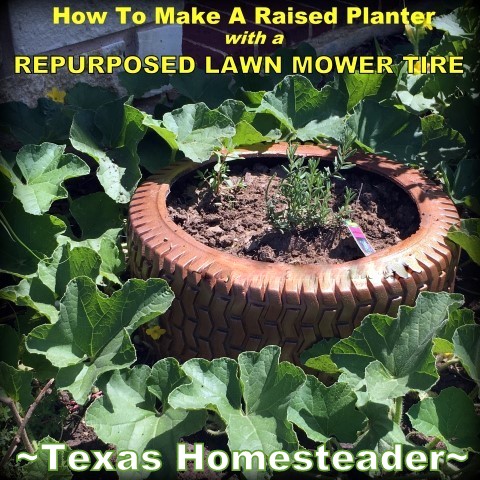 That's all there is to it. I really love this planter! It was easy to make. Plus it's not too bold, but adds a little splash of color to my flowerbed.
And a raised planter should help my little lavender plant since they really don't like to have soggy feet. Yea!
Now as the lavender grows and fills out, it will continue to hide this cut out center. But the pretty hammered copper colored tire planter will still be visible. Oh yeah, I likey!
So if you need a raised planter that can withstand what Mother Nature doles out whether sun or hailstorms, give this cute idea a try. I love the way mine turned out. And heck, it's practically indestructible!
~TxH~
Reducing Household Waste
…and Many More Repurposing Posts
Other Low-Waste Stories
C'mon by & sit a spell! Come hang out at our Facebook Page. It's like sitting in a front porch rocker with a glass of cold iced tea – lots of good folks sharing! You can also follow along on Pinterest, Twitter or Instagram.
If you'd like to receive an email each time a new blog post goes live it's EASY to
Subscribe to our blog!
Save
Save
Save
Save
Save