by Texas Homesteader ~
*affiliate link
I've been on a journey toward zero waste for years. Will I ever be truly zero waste? Probably not. But I know each step I take is just that much more waste diverted. One place I was bothered mightily was the sheer waste of disposable razors.
Buy – Use – Throw Away – REPEAT…
PLUS not remembering which replacement heads fit the particular brand of disposable razor I'd purchased weeks before meant I was replacing the whole shebangie every time. More plastic, more money, even more waste!
I wanted to try a safety razor but I was nervous. Aren't they dangerous? Maybe I'll cut myself?
As it turns out, all those fears were unfounded. A safety razor has been one of the most awesome (and frankly luxurious) zero-waste steps I'd taken so far.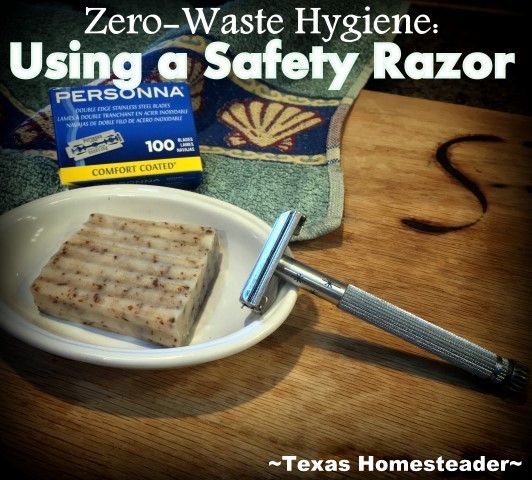 Although I know you can still easily buy a brand-spankin' shiny new *safety razor online, I love all things vintage.
So I sought out an older razor and found a vintage 1950's one that I've used for over 5 years now. (RancherMan uses a vintage 1960 Gillette flair-tip safety razor.)
I've never cut myself using my safety razor. Although my razor is old and the finish is long gone, you can still easily find vintage safety razors in near-pristine condition like this one.
Isn't she a beauty??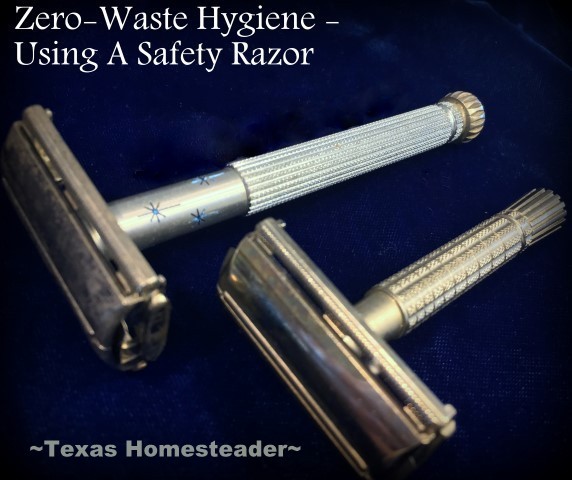 No more flimsy plastic razors in our shower. No more constantly buying a new replaceable head entombed in plastic And more importantly – no more waste.
This was such a fantastic no-waste move for us!
But what about actually using a safety razor? Is it really easier to cut yourself?
Well, I will say that I too was afraid that by using a safety razor I would be more likely to cut myself than the standby flimsy disposable plastic versions I'd been using.
My fears were completely unfounded – nary a cut in over 5 years!
From my experience shaving is easy using my safety razor.
The first few times I barely touched the razor to my skin, fearful I'd cut myself. But I found that you just shave with a lighter hand using only the weight of the razor as the downward pressure.
Start slowly and go gently, being careful around turns like at the ankles & knees. But once you get the hang of it, there's no difference to your task of shaving.
And I don't even use specially-purchased shave creams. I just use my own luxuriously latherful homemade soap to make a thick lather on my legs.
Then I simply let the weight of the razor itself (no additional pressure from me) do the work. No cuts!
The Right Razor Blade For Us
The blade you buy could make a difference too. RancherMan did his research & found Personna blades are a good, sharp beginner blade that may be less likely to cut than some of the high-end professional blades. So that's what we bought.
Heck it comes in a quantity of 100, so it'll last both of us for quite a while.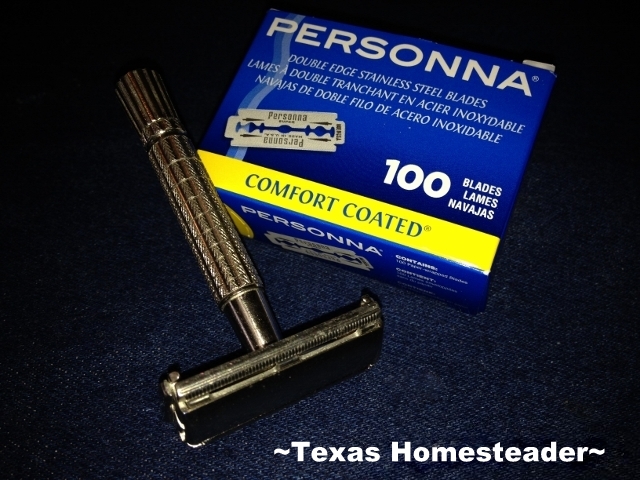 And the blades were individually wrapped in paper and sold bundled in a paper box. No plastic, only recyclable and compostable paper packaging – yea!
And they're very inexpensive & easy to find. Heck you can even have them delivered right to your front door!
You can find *Personna Blades at WalMart (order online for easier product location) or if desired they're also on *Amazon here.
~TxH~
Links In This Post:
Zero-Waste Health & Beauty


C'mon by & sit a spell! Come hang out at our Facebook Page. It's like sitting in a front porch rocker with a glass of cold iced tea – lots of good folks sharing! You can also follow along on Pinterest, Twitter or Instagram.
If you'd like to receive an email each time a new blog post goes live it's EASY to
Subscribe to our blog!