by Texas Homesteader ~
*contains affiliate link
Low-Waste Toothbrush Option: A Snap toothbrush can lower your toothbrush waste by 93%! Replace only the worn heads and reuse the handle over & over again.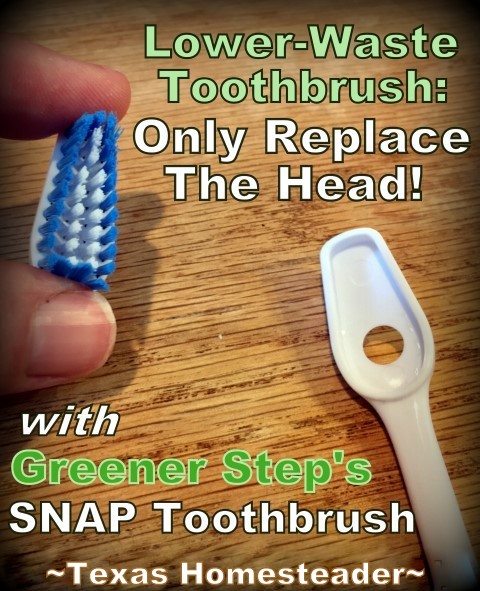 (Note: Some links in this post will take you to other related articles for further information. But links preceded with * are affiliate links. If you click and buy something I could receive a tiny commission.)
As hard as I try to eliminate waste, there are some places where I just sigh & accept that plastic landfill-bound trash is just a part of my life. Like our toothbrushes for instance.
Then I heard about a more traditionally-styled eco friendly toothbrush where you only replace the small brush head & reuse the handle. Now color me intrigued!
Other Eco-Friendly Toothbrush Options
To eliminate the revolving trash of replacing my worn toothbrushes over & over, I first tried bamboo toothbrushes. I loved the concept of compostability, and was willing to power through a different experience for this lower-waste option.
But I had some issues with the bristles coming out in my mouth. And more importantly I just could never get used to the feel of bamboo in my mouth.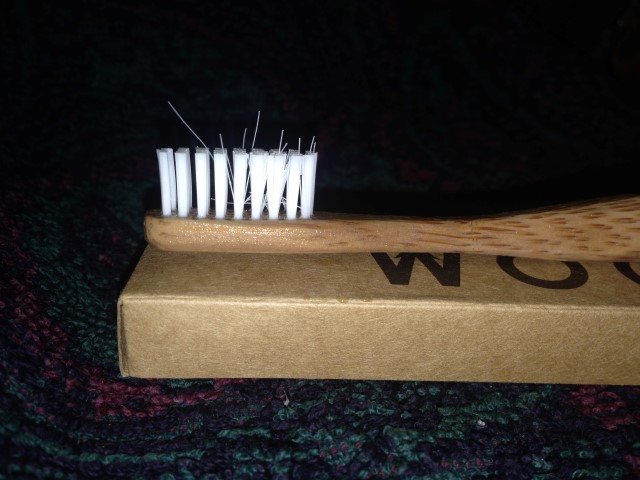 Plus since it had nylon bristles, the toothbrush head portion wasn't compostable.
So that meant at the end of the toothbrush's life I either had to snap off the head and throw it away, or soak & pull the bristles out with a pair of pliers and throw them in the trash before composting the rest.
Ugh… So with a sigh I went back to traditional plastic toothbrushes sold in a big plastic package. Eco-fail?
Not to be deterred I went looking for a better solution for us.
Toothbrush With Reusable Handle
Now although these toothbrushes were sent at no cost to me to try out & review, please remember that my words will be my own. I'll share the real story with y'all, no fluffy obligatory stuff from me, oh no!
Enter the Snap Toothbrush. The handles are contoured and have grips on them too. Unlike the bamboo toothbrush, the Snap toothbrush is much more like the traditional toothbrushes I'm already used to.
The material is the same as my standard toothbrush and the handle & bristles are contoured too. This should make for an easier transition to a new tooth-brushing experience than what I endured using bamboo toothbrushes.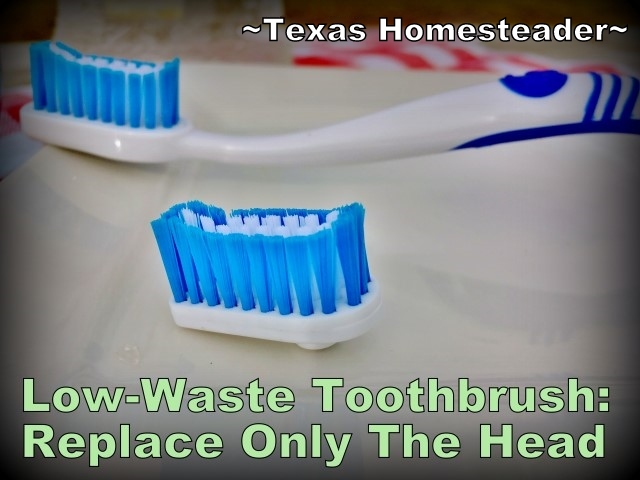 The replaceable heads snap in easily, and when I'm ready to replace them they snap out.
Yes there's still something to throw away when the bristles wear & need to be replaced. But I'm not tossing the whole toothbrush – just the tiny head.
This step alone will reduce my toothbrush landfill-bound trash by a whopping 93%! Oh yeah, this may very well be the toothbrush solution I've been looking for.
So I reached out to Roberto Rivera, owner of GreenerStep. I asked if he would send a couple of their Snap Toothbrushes for me to try in exchange for my honest, open review of the pros & cons of his product. As you can imagine, the crunchy-green enviro-girl in me was thrilled when he said yes.
Biodegradable Wrapping
When the toothbrushes arrived I saw a note on the packaging stating their plastic wrappers were 100% biodegradable.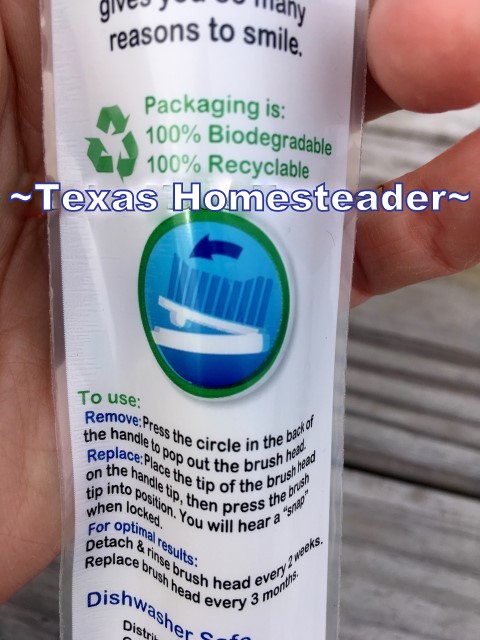 I asked Mr. Rivera about this & he said:
"Our bags are treated with an additive that enables plastic bag to

biodegrade

in landfills faster. Also, since we are using a standard plastic the bags can also be recycled. Ideally, we would love eliminate packaging because it is so wasteful, but that is just not an option, so we went with what we thought was a good compromise when it came to the bags. The other thing we've done with packaging is to launch multi-pack that are designed to cram cram as many brush heads as possible in a very small space. For example, we sell a 12 pack that is roughly the size of a toothpaste carton but it contains 2 complete toothbrushes and 10 extra brush heads."
Of course I'd much prefer paper or cardboard wrappings that I could just toss into my composter. But at least the plastic they're using should degrade. I'll do some research to see what this actually means for the environment but I love the theory.
To test the biodegradability of the packing I've dug a hole and put the wrapper into the ground. I left it for several weeks and when I went to dig it up I could not find any remnants.
I'm still not convinced that biodegradable plastic is the answer. I'd much rather the toothbrushes be sold in paper. But…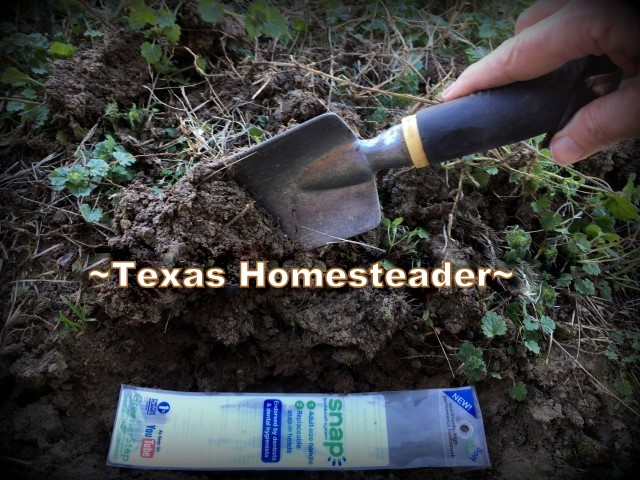 Eco Friendly Toothbrush Design
The handle on the Snap toothbrush is much like any traditional toothbrush, complete with a contoured brush head & contoured handle with easy-to-hold grippers.
The small soft-bristle head snaps easily into the handle but won't come out until you manually remove it.
In comparing, the 'footprint' of the Snap Toothbrush is slightly larger than my old toothbrush. Although I did notice the small size difference as I brushed with the Snap toothbrush the first time, it was a minor difference & took very little time for it to become second nature.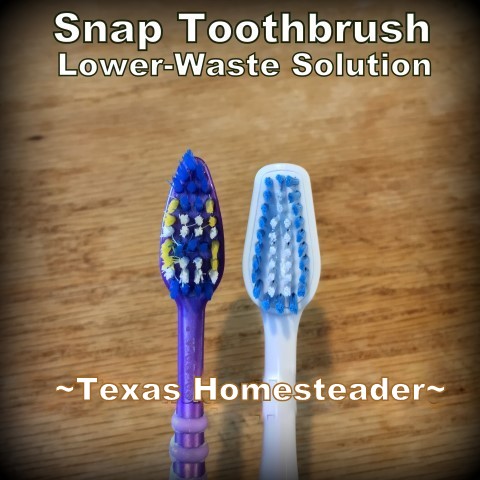 Pros & Cons
Here is a list of what I consider to be pros & cons about the Snap Toothbrush
PROS:
Special design means you're replacing only the head as it wears out – NOT the whole toothbrush. That's a 93% reduction in plastic waste over a standard toothbrush
Snap toothbrushes are BPA free
The bristles are shaped to get around teeth easier for a good cleaning experience
The handle is contoured with easy-to-hold grippers
Greener Step has offered a 15% discount to our readers. WOO-HOO!
As of this writing, a Snap toothbrush costs only $2 (even lower with bulk orders & 15% discount!)
Wrapper is advertised to be both biodegradable and recyclable
Snap Toothbrush is made of material I'm already used to with a standard toothbrush
GreenerStep is an environmentally-aware company, pushing for lower & lower waste for their products & packaging
CONS:
Although the packing is both recyclable & biodegradable, I'd prefer the toothbrush be sold in simple compostable paper or cardboard
The 'footprint' of the replaceable head is slightly larger than my standard toothbrush
These toothbrushes are made in China. As an American I'd love for them to be made here.
What Did We Think?
I will say this in full honesty – I'm absolutely LOVING this toothbrush! It's all RancherMan & I use.
Unlike my bamboo toothbrush experience, I feel much more comfortable using this Snap toothbrush. It has the same feel of the traditional toothbrushes I'm already used to.
And since I'm only replacing the bristle head, this will be a very eco-friendly toothbrush swap from my standard throw-away toothbrushes.
I love that this Snap toothbrush lowers my toothbrush waste by 93%!
Enviro-WIN!
Special Discount Offered To Our Readers!
For a limited time, Mr. Rivera has offered YOU, my dear readers, a 15% discount to try 'em for yourselves! Just go to the SNAP Toothbrush Discount Page, place your order and enter the code SnapFan and they'll pull 15% off your order. (Link above supplied by Mr. Rivera since he tells me their discount page is different than their main website's URL)
(Note: You can often find Snap Toothbrushes on Amazon!)
We LOVE These Toothbrushes!
So after my initial trial use I immediately bought about 20 replacement heads from GreenerStep so I'll have 'em ready as it's time to replace them one-by-one. I figure hey, there's a 15% discount and it's got to be easier to ship many heads at one time.
Plus since the environment is my drive in the first place, there will be less shipping waste with a bulk order than sending several smaller orders to my door.
My recommendation? If, like me, you're frustrated with plastic trash that you feel you have no control over when it comes to your toothbrush – go, go, GO NOW to GreenerStep and see for yourself. I'm sure you'll love this eco friendly toothbrush as much as we do!
Tell 'em Texas Homesteader sent ya.
2022 Update:
I recently ordered more SNAP toothbrush heads and was extremely disappointed to find them delivered in this big, honkin' piece of plastic.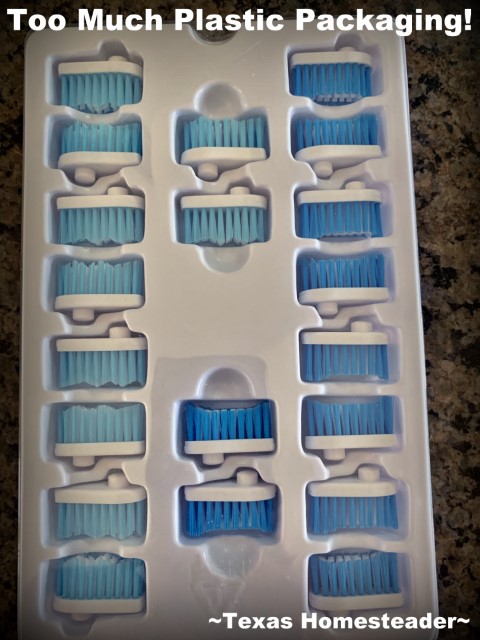 I contacted Mr. Rivera and voiced my concern that shipping the replacment heads in this huge square of plastic flies in the face of their plastic reduction business model of their toothbrushes. I asked if they were considering other more eco-friendly options instead. Mr. Rivera was very forthcoming and honest when he replied:
Thanks for sharing your concerns about our plastic packaging. We are in the process of developing new packaging alternatives that use natural fibers. Unfortunately, current levels of demand have been pretty slow so we are still working through older inventory that utilizes the old packaging. We recognize that we can do better so our goal is that in a year or two all of our packaging will be made 100% out of natural fibers. Our focus originally was on the toothbrush design itself and we made some compromises and less than optimal decisions on the packaging side that we later regretted. We have learned from this and thanks to feedback from customers like you will be correcting this in the future.
Best, Roberto
I certainly hope they find a better alternative for packaging their toothbrush head replacements soon! I'll keep you informed as I learn more.
~TxH~
This post categorized in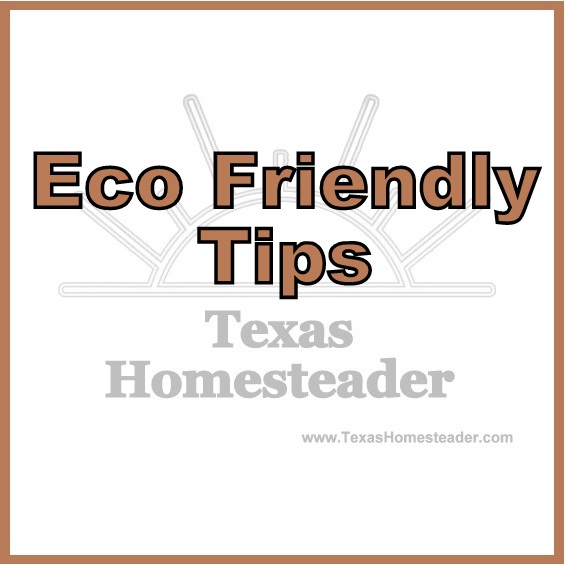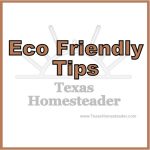 Zero-Waste Health & Beauty


C'mon by & sit a spell! Come hang out at our Facebook Page. It's like sitting in a front porch rocker with a glass of cold iced tea – lots of good folks sharing! You can also follow along on Pinterest, Twitter or Instagram.
If you'd like to receive an email each time a new blog post goes live it's EASY to
Subscribe to our blog!