by Texas Homesteader ~
*contains affiliate link
RancherMan & I are new beekeepers.  We wanted to begin raising bees for many reasons: to help the declining honeybee population, to aid in our vegetable garden pollination and of course – HONEY!  But there's another beehive product that's been very helpful – all-natural beeswax.  We harvested a couple of frames of honey last fall so I could FINALLY have raw honey which contained ragweed pollen. I'm hoping consuming that raw unfiltered honey will help with my fall allergies.  But how exciting that I now have natural beeswax too.
I purified the wax from those frames and decided to use some of it to make beeswax lip balm for myself as well as part of our homemade Christmas Gifts.  It really couldn't be easier – only 3 ingredients!  Check it out, y'all.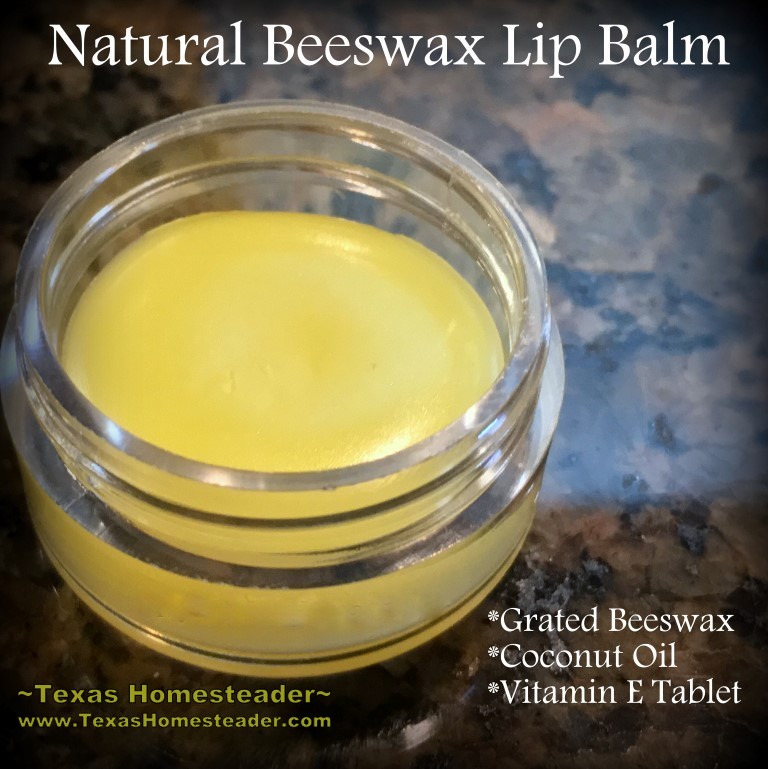 NOTE: I have affiliate links on this blog! This means if you click on one and make a purchase, I could earn a small commission. This does not affect the price of your purchase, but it is a wonderful way to support this blog. THANK YOU!  You can read my full disclosure statement here
I'd already melted and hardened that beeswax into a long sheet and then cut it into chunky bars last fall when it was harvested.  Now I pulled one of those bars out and grated it into a small supply of beeswax for my lip balm project.
(Note:  When I have extra beeswax I'll often sell it on my Online Store.  Anything purchased from our online store helps support this blog.  So thank you!


RancherMan & I got into the kitchen & started assembling our simple lip balm ingredients:  grated beeswax, organic coconut oil & vitamin E tablets along with a glass measuring cup & a metal skewer to stir with.  And we also brought out a supply of small plastic containers to hold our lip balm.  (ours were purchased at a craft store but you can get these *cosmetic containers on Amazon & they'll ship 'em right to your door!)
We wanted to start small.  So to fill about 3 of these small pots we measured out 1 teaspoon grated beeswax and 2 teaspoons coconut oil.  We added the oil of 1 vitamin E tablet by piercing the end with a pin & squeezing the oil into the measuring cup.
Then we placed the measuring cup with the ingredients into the microwave for 30 seconds.  After that time we brought it out of the microwave & gave everything a stir to blend it all together.  Then another 30-second stint to finish melting the ingredients.
If there were any pieces of unmelted wax or oil we gave it another stint in the microwave for just 10 seconds at a time, stirring well afterward each time.  You don't want to overheat your lip balm, you're just heating the mixture long enough to gently melt everything together.
Then we poured the melted mixture into our small lidded pots and sat them aside to cool.
For tinted and colored lip balm
When I'm making this lip balm for myself I tint it with a small amount of lipstick stirred into the melted wax ingredients. Then I pour it all into a repurposed mint tin. It's a no-waste way to keep my lips soft!
But since we were making these lip balms as part of our Homemade Christmas Gifts we wanted a subtle pink color and maybe a little fruit flavor for our grandbabies.  Hummm…
To accomplish this we ended up adding small amounts of unsweetened cherry-flavored drink mix into the other ingredients for color and flavor, before stirring & melting.
Not much now! Qe ended up using only less than 1/2 pkg of cherry drink mix for just over 7 pots.  Although more drink mix would result in a brighter red color & more cherry flavor, since it's unsweetened it can get tart quickly if you use too much.  We ended up with a lightly flavored & nicely colored lip balm that worked out about right for us.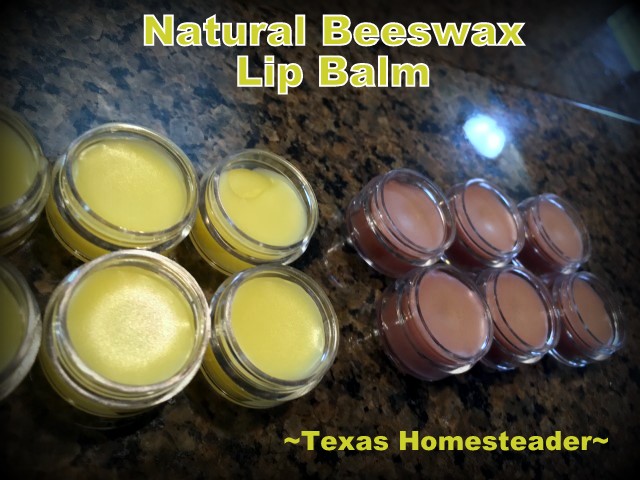 For our gifts we printed up a label and cut the edges with decorative scissors for a pretty presentation. I love the smooth, natural feel of this beeswax lip balm and they were very well received gifts too.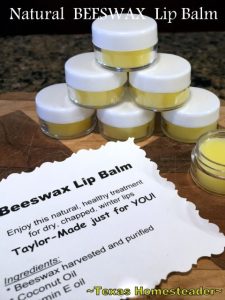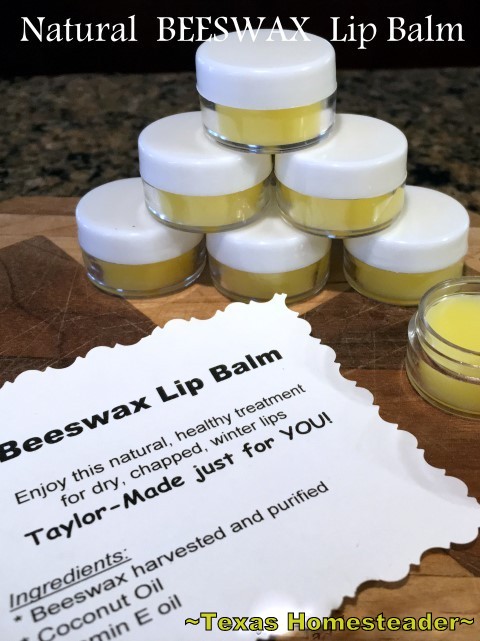 Anyhoo… if you're trying to stick with more natural ingredients for your lips, here's an super-quick & very easy recipe for homemade natural beeswax lip balm in minutes!
IMPORTANT NOTE!
Remember, coconut oil melts at 76 degrees.  So it's best not to store these lip balms in your coat pockets.  Even though they'd probably be fine during the winter months, it could make for an oily mess if it melted in the warmer temps while your coats were in the coat closet in the summer months!  It's best to store these tubs of lip balm in a drawer to assure there's not a melty mess later.
Beeswax lip balm
2 parts coconut oil
1 part beeswax

Vitamin E tablet
for 3 small pots:
2 teaspoons coconut oil
1 teaspoon beeswax
1 vitamin E tablet contents (prick bottom & squeeze oil out, discard casing)
With a pin, prick the bottom of a vitamin E tablet and squeeze the contents into a glass measuring cup.  Discard the vitamin casing.  To the measuring cup add 2 teaspoons of coconut oil and 1 teaspoon grated beeswax.
Microwave the contents 30 seconds & stir.  Microwave again 30 seconds & stir.  If any solids remain, microwave in 10-second increments stirring after each time.  Do not overheat.
Pour into small lidded pots and leave lids off until contents have completely cooled (about an hour depending upon the size of your pots).
~TxH~
Links In This Post
Gift Ideas
Low-Waste Gift Wrapping & Presentation
Other Christmas Posts You Might Like:


C'mon by & sit a spell!  Come hang out at our Facebook Page. It's like sitting in a front porch rocker with a glass of cold iced tea – lots of good folks sharing!  You can also follow along on Pinterest, Twitter or Instagram.
If you'd like to receive an email each time a new blog post goes live it's EASY to Subscribe to our blog!
*Amazon affiliate
Save
Save
Save
Save