by Texas Homesteader ~
You can make a cute Santa's sleigh using inexpensive dollar-store candy. What a cute gift idea – our grandkids loved them!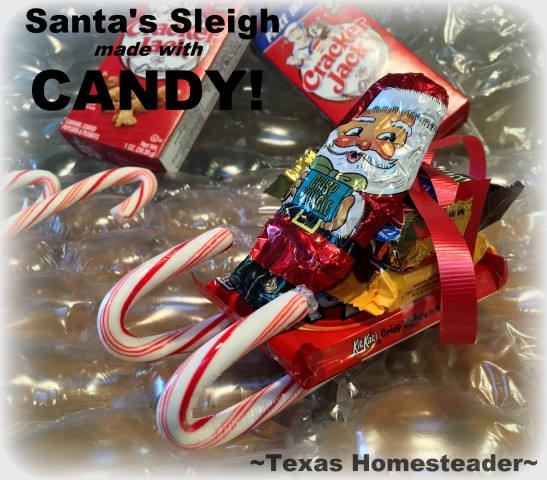 Grandchildren's Gift Ideas
Several years ago our kids requested no more toys for Christmas for our grandchildren. They already had so many toys that the mountains of additional toys they received each Christmas was beginning to be overwhelming.
So we started a tradition of Experience Gifts for them. We'll gather them all up and go do something fun with them.
We'll take them out to eat, do a fun activity together and bring them to the Homestead to have a slumber party with their cousins.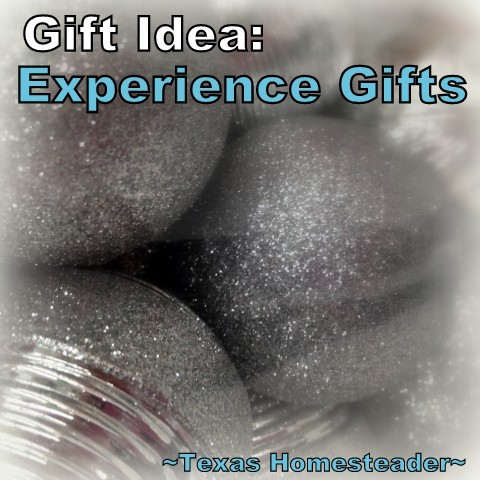 Sometimes the activity is a live Christmas play, the Children's museum or a drive-through Christmas light display at the lake. We've taken them to a Ninja Warrior Obstacle Course and also Rock Climbing. This annual experience gift is so much fun for them and us too!
Small Gift To Open Christmas Day
But then we gather as a family on Christmas day. Although the grandkids have often already received their gift a couple of weeks earlier. I hate that there's no gift for them on this day.
So I like to make them a little sumpin' for Christmas day:
Snowman Christmas Trailmix Snack Jar
Personalized Denim Hand Warmers
Gloves & Candy Made Into A Snowman
This time I decided to make Santa sleighs for them using inexpensive dollar-store candy. A cute gift and a little something sweet for them too.
What's Needed To Make A Candy Sleigh?
I used a Kit Kat bar for the base and candy canes for the sleigh's runners.
Then I arranged small fun-sized candy bars on top of my sleigh, added a chocolate Santa and wrapped it all with ribbon, topped with a bow.
I use a hot-glue gun to add a tiny dot of hot glue to hold everything together.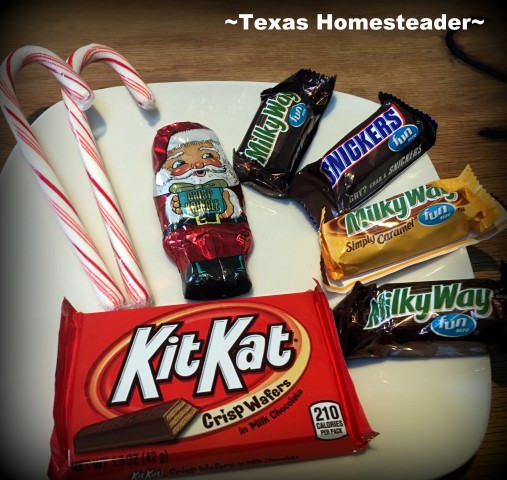 Assembling Santa's Candy Sleigh
To assemble Santa's candy sleigh I start with the sleigh's base and the pile of candy gifts:
Kit Kat Bar on the bottom
2 fun-sized candy bars on the end of the Kit Kat bar
Stack 2 more fun-sized candy bars on top of the first
It helped to anchor the candy bars with a tiny dot of hot glue. The kids will be able to easily get to the candy but it will still hold everything together a little better in the meantime.
I used fun-sized candy bars, but I think it would stack better to use the single-size candy bars that are actually wrapped with foil paper. I think they're Hershey's Miniatures?
The fun-sized candy bars I used have the tails on the ends of the wrapper and the package has a little air in it too. So stacking them neatly required a little working.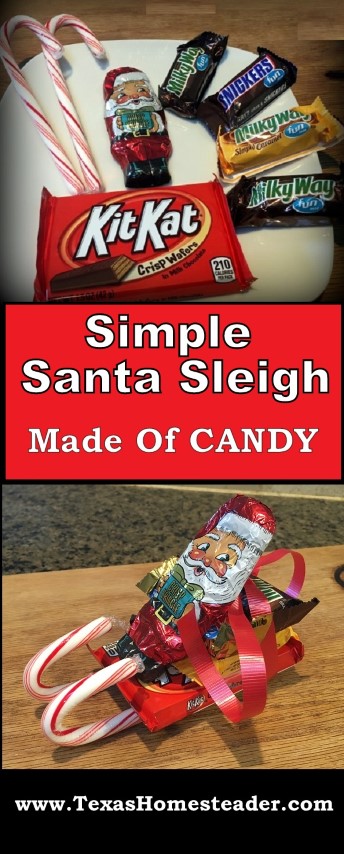 The miniatures would stack much nicer, but keep in mind they'll probably require more candy bars since they're smaller.
Candy Canes As Santa Sleigh Runners
Then I flip my sleigh over and add the candy-cane runners. I added a line of hot glue to the bottom of the Kit Kat bar and pressed a candy cane on each edge.
RancherMan & I discussed whether it would be easier to attach the runners first or after the candy bars were placed. He convinced me to add the candy canes after the candy bars.
I'm not convinced that it wouldn't be a touch easier the other way around. But it was still pretty easy to do this way. A quick line of hot glue & press 'em into place.
Old Saint Nick With 'The Look'
Finally I add a chocolate Santa to the front to finish my sleigh. I get a kick out of his expression here. It's oddly similar to a signature face our family makes called 'The Look'.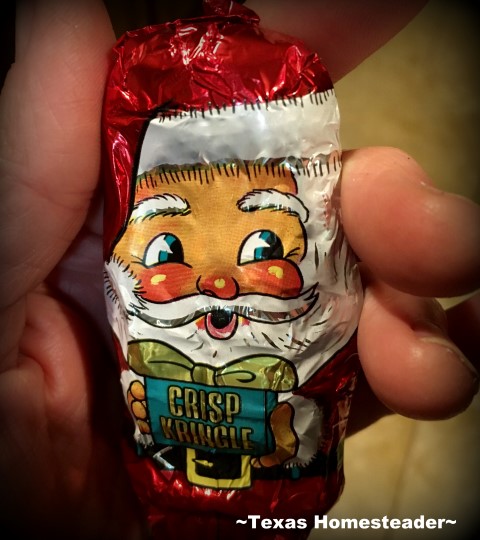 This particular look has been used in wedding photos, graduation photos and probably every family-gathering photo we've ever taken together. Too funny and a perfect Santa for these candy sleighs!
When it was all assembled I used a thin ribbon around the sleigh to tie down the candy bars. I topped it all with a tiny bow.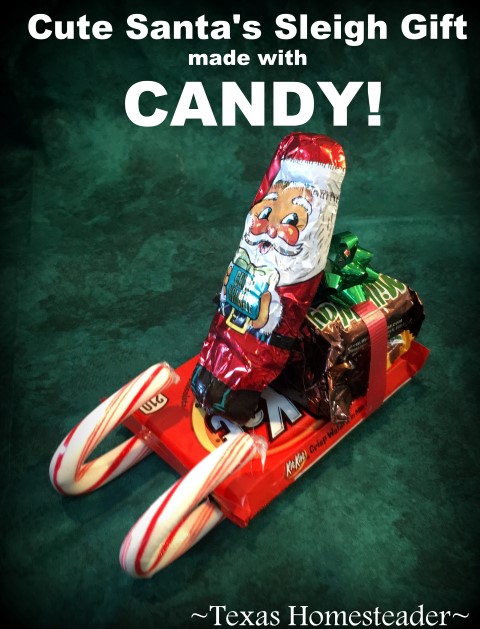 Adding A Box of Cracker Jack to Santa's Sleigh
I didn't include it on this tutorial, but we picked up a box of Cracker Jack caramel-coated popcorn for each of the kids.
Oh man, these bring back some of my own childhood memories! I loved Cracker Jack when I was a kid!
I used a thin ribbon to tie each Santa sleigh to a box of Cracker Jack. Not only does this help keep everything together better but, you know, Cracker Jack!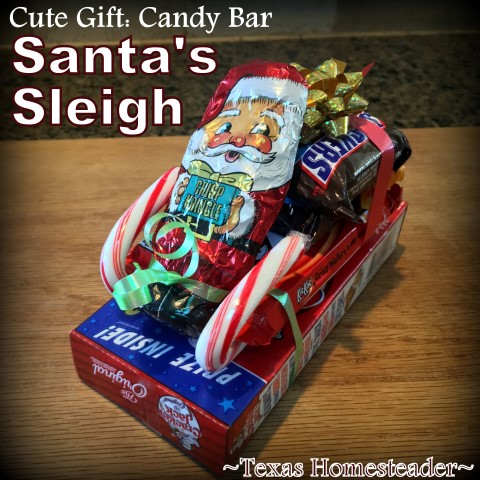 These sleighs are adorable – I think they turned out really cute. And I know the grandkids will enjoy them too.
They'd make great gifts for teachers, co-workers, kids, almost anyone!
~TxH~
Other Christmas Posts You Might Like:
Gift Ideas
Eco-Friendly Gift Ideas: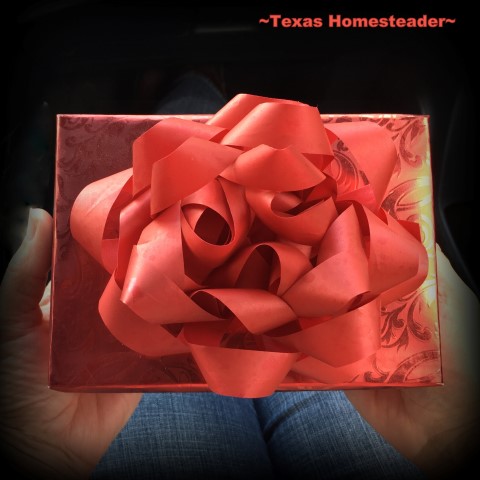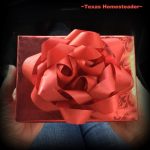 Low-Waste Gift Wrapping & Presentation

C'mon by & sit a spell! Come hang out at our Facebook Page . It's like sitting in a front porch rocker with a glass of cold iced tea. There are lots of good folks sharing! And you can also follow along on Pinterest, Instagram & Twitter
If you'd like to receive an email when a new blog post goes live,
subscribe to our Blog!