by Texas Homesteader ~
Whether you live in a tiny home or RV, or you just want to scale down holiday decorations, a small Christmas tree can be beautiful, meaningful & sentimental. Come see how we really made our small tree shine!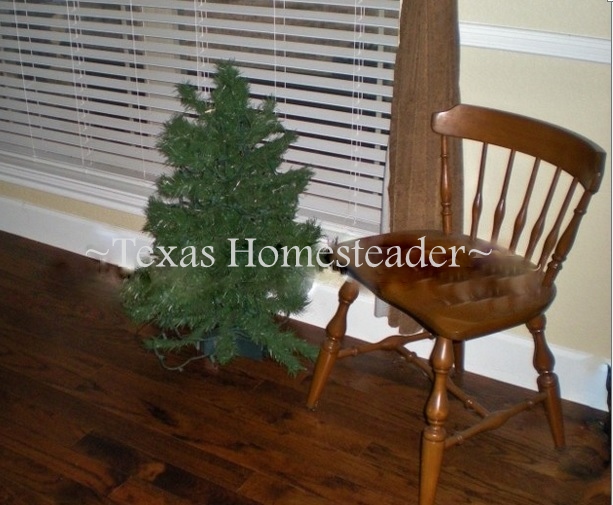 Christmases Past
When the children still lived at home we always had a standard 7-8 foot tall Christmas tree. It was fully decorated from head to toe with mass-produced glass-ball ornaments of all shapes, colors & sizes. Oftentimes it was a fresh tree cut at a Christmas tree farm.
But when the kids were all in their teens we purchased a 7-foot artificial tree. Each year RancherMan would drag all four clunky sections of it down from the attic.
Together we'd assemble all the little branches – their exact trunk location based on their length. Assembling and decorating that tree took quite a bit of time & RancherMan was NOT fond of this task.
Purposely Scaling Down
One year he'd had enough. He pulled the top quarter off of the tree since it was the only section that was permanently intact. Then he stuck the plastic stand on the bottom of this tiny section and declared "From now on, let's make THIS our Christmas tree!"
Although I initially protested mightily about having a 3-ft tall Christmas tree, I've found I really enjoy the smaller size of the tree now.
I've learned you don't have to decorate a huge tree to make a big impact. Several simple yet sentimental decorations decorate it.
And I love that the ornaments on this tiny tree are meaningful to me, unlike the fragile glass-ball decorations of Christmases past.
Set The Small Christmas Tree Up High
First of all the tree's small size needs a little boost to bring it off the floor. So we bring out a small wooden folding table when it's time to set it up.
Setting it on that table brings the tree higher off the ground. It also helps disguise the fact that it's so tiny.
To hide the folding table I wrap a deep blue tablecloth with snowflake designs around it & clasp the cloth in the back to hold it in place. Now it's time to decorate our tree.
Sentimental Decorations
I have several things that I enjoy using for decorations. One of my favorites is the tiny silver baby spoon used by our children when they were infants. A thin satin red ribbon hangs it on the tree each year.
What a wonderful, sentimental symbol of wonderful Christmases of the past and the blessings we've received throughout the years. It's been on our tree every year since they were toddlers.
I also have a very small number of gifted ornaments from the kids' past such as "Baby's First Christmas" from Hallmark and the like. But none of our decorations are fragile.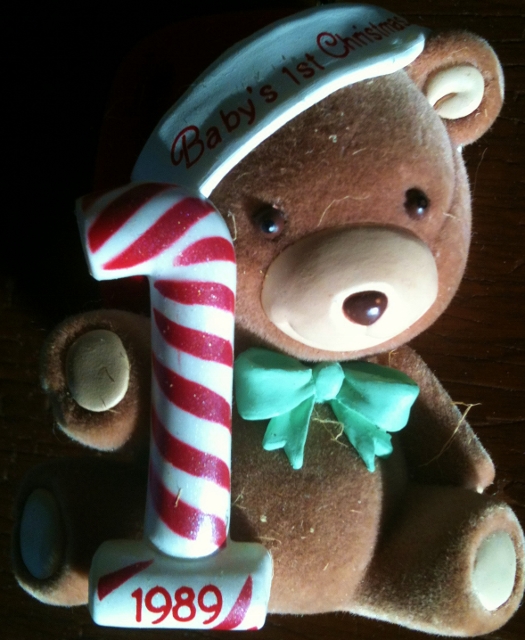 And I like to use Texas-themed cookie cutters made of both metal and plastic. They are hung on the tree with a short length of twine.
I've been known to take them off the tree, wash them, use them to make cookies & then wash & rehang them on the tree. Now THAT'S a dual-purpose ornament!
Edible Ornaments
And finally there's my most fun decoration where I hang candy all over the tree – I call it "EDIBLE ORNAMENTS".
Sometimes I use bent paperclips to attach tootsie rolls or sweet tarts, but I always have festive candy canes as well. The grandkids know that they are welcome to enjoy them each time they come to visit.
When Christmas is over I crush any leftover candy canes and use them for a sweet minty flavor in cookies or stirred into a cup of hot tea.
Sentimental Vintage Tree Topper
Topping the tree is the very same angel that topped our tree when I was a child. This angel was already VERY used when it was given to us.
Sweet neighbors who were updating their own decorations back in the late 1960's gave it to our family when my parents were very young and just starting out.
It topped my childhood tree every Christmas for many years.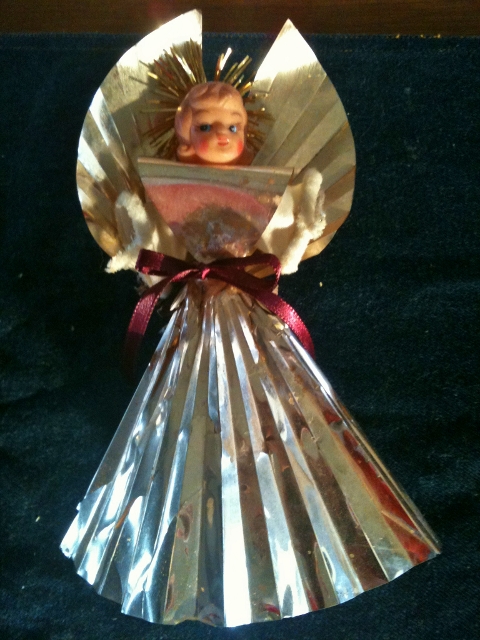 When mom & dad decided it was time to retire this old tattered second-hand ornament I begged for it. It's adorned my tree every year since.
Aaaaahhhh… sweet childhood memories.
Festive Packages Add A Finishing Touch
I'm not near organized enough to have my shopping complete & all my packages wrapped & under the tree yet. But you can see that even with what I do have completed so far, the gifts actually help lend a festive mood around our tree.
And they're all wrapped in a way that prevents mountains of trash from heading to the landfill on Christmas morning.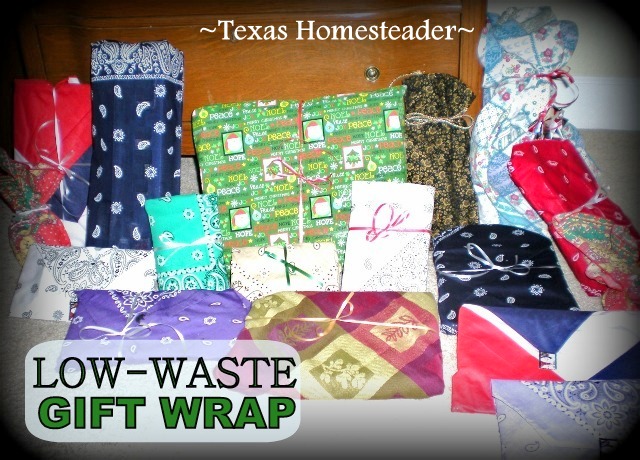 You see, I'm using colorful cloth such as bandanas and reusable cloth bags to wrap our gifts.
I'm even making my own denim cloth bags by repurposing RancherMan's worn jeans. And of course we also present low-waste gift baskets filled with our homemade goodies.
All of these methods of wrapping our gifts are environmentally friendly.
So our gifts are festively presented and there's NO TRASH! You know I love that.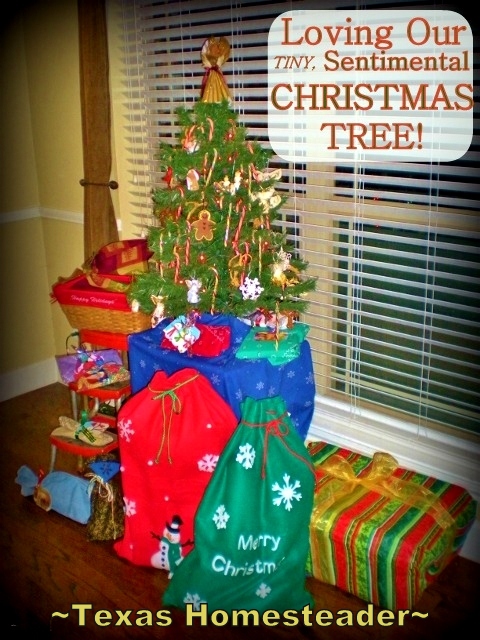 By employing these tricks of decorating we have lots of festive punch in our home while keeping to a bare minimum the sheer volume of decorations.
And that means less that must be packed up and hauled into the attic at the end of the season.
Now you know RancherMan loves that!
What about you – do you have sentimental decorations that you are sure to use each year?
~TxH~
Other Christmas Posts You Might Like:
Gift Ideas
Eco-Friendly Gift Ideas: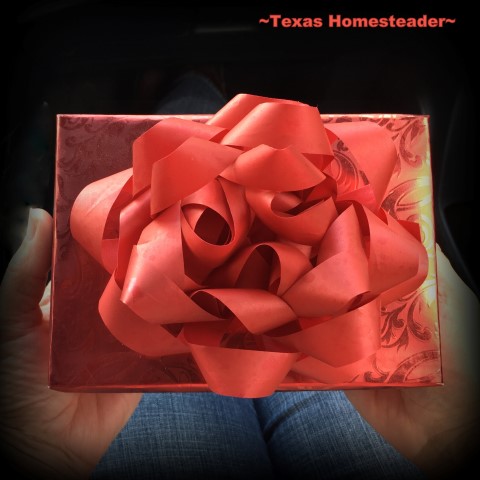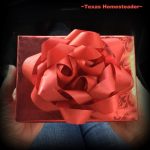 Low-Waste Gift Wrapping & Presentation


C'mon by & sit a spell! Come hang out at our Facebook Page . It's like sitting in a front porch rocker with a glass of cold iced tea. There are lots of good folks sharing! And you can also follow along on Pinterest, Instagram & Twitter
If you'd like to receive an email when a new blog post goes live,
subscribe to our Blog!
Save
Save
Save
Save