by Texas Homesteader ~
*contains affiliate link
I used reclaimed aged wood from our old 1880's barn, vintage clothespins and my favorite Homestead photos to produce a wall photo feature we love!
(Note: Some links in this post will take you to other related articles for further information. But links preceded with * are affiliate links. If you click and buy something I could receive a tiny commission.)
I love rustic country-chic decorating style. We still have some old barn wood from when we refurbished our Old 1880's Barn.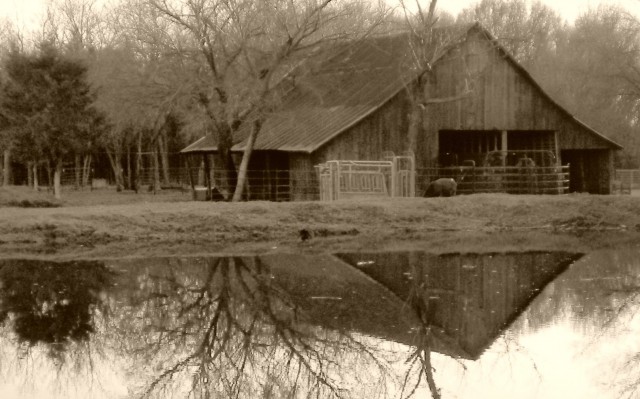 So we've been using it as we revamp our guest bedroom. We'd already made a headboard with some of the wood.
But I'd like to make a wall feature as well with some of that rustic reclaimed barn wood to display some Homestead photos.
Using Reclaimed Wood In Décor
Last week I shared with you the headboard that RancherMan & I made from repurposed barn wood pulled from our 1880's barn when it was refurbished a few years ago. I absolutely LOVE the way it turned out!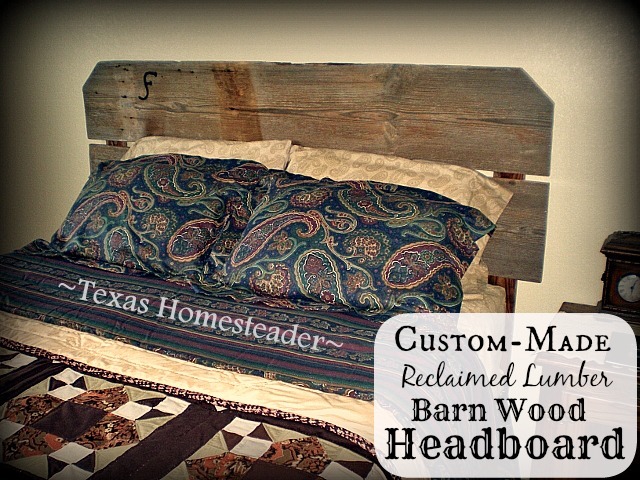 But now what to do with that wall? RancherMan & I don't like much visual clutter so I was in a quandary.
Do we just leave the wall blank? Well, maybe, but I think it looks a little TOO bare. What to do…
Then I remembered a great piece of old aged wood that RancherMan had to cut off the original boards we were using for the headboard because it was split.
But I loved the split. And the ridges. And the knot-holes. All the rustic ruggedness of it!
I thought it was a beautiful piece of aged wood. So I asked him to save it for me. My mind was spinning on ideas to make a meaningful pictorial wall feature.
I'm Not Particularly 'Artsy'
Now there are lots of artistic people in my family. MOST members of my family actually!
But the artsy tendencies skipped me for some reason. Oh I can usually plink something out if I can see a picture of it first and go verrrry sloooowly.
But I'm not good at actually picturing a project in my mind and seeing it through to the finish and having it turn out even remotely the way I originally envisioned it!
I'm also the eternal optimist. So I jumped in with both feet anyway. I started by picking out several pictures that I had taken around our homestead over the years & contacted a local printer in town.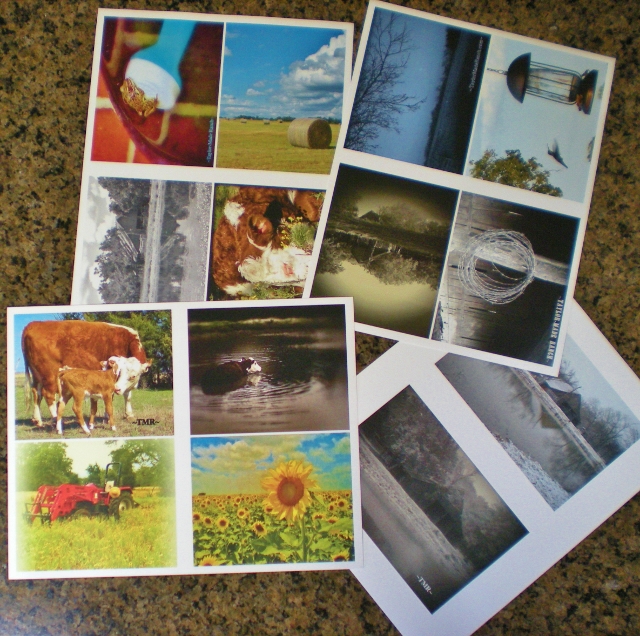 Bada-bing, bada-BOOM for a whopping $1.29 and in about 24 hours time they reproduced several full-color pictures for me. Gotta love living in a small town!
Mounting the Photos
I cut out each photo with my handy-dandy *photo trimmer
and set them all aside. But these prints were printed on card stock. For what I had in mind I needed them to be a little more sturdy. Hummm…
I KNOW! I'll cut out pieces of cardboard and mount the pictures to them, almost like matting. But where to find the cardboard for the mats?
I started looking around the house for colors, textures & thicknesses I wanted and found the perfect thing.
Use Whatcha Got For Photo Mats!
I disassembled the packaging from a 12-pk case of cola and voila – that cardboard was the color I wanted and the thickness I needed. (say it with me folks – my motto? USE WHAT YA GOT! LOL)
Using one of my prints as a template I cut out appropriate-sized squares of cardboard for my mat. Yeah, I like that! So far, so good.
Then it was simply a matter of a few squiggly lines of glue on the back of the pictures, attach the mat and use two of my heaviest books to press the pictures to the mats for awhile.
Ironically, both heavy books I used were volumes of Amy Dacyczyn's *Tightwad Gazette
– they're faves of mine.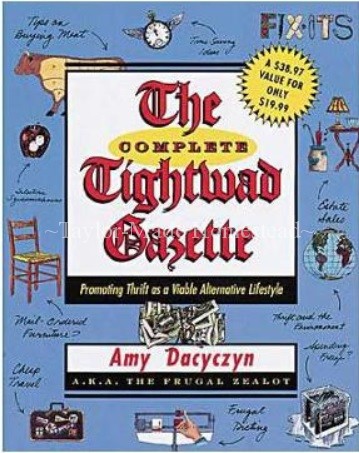 You Tightwad Gazette lovers know what I mean when I say that I think Amy would be so proud of this project!
How To Further Age Old Barnwood
Now that the pictures are cut out and glued to their mats I turned my attention to that old barn wood board.
Sigh… What a beautiful piece of wood. So interestingly ridged. Such perfect patina. So beautiful. And since it came from my own old barn so meaningful to me.
But being artsy can be harsh sometimes. So I pulled out the hammer & hacked up the smoothly-cut edge with the claw of the hammer so it would have a more rugged appearance. LOL
Then I hammered a couple of star-headed nails on each end of the board, strung & wrapped some jute-like baling twine and attached some vintage clothes pins so I could tell what kind of spacing I'd need and how many photos I could use.
Hanging A Wooden Photo Board On The Wall
Now this wall-feature board is going to be hanging on the wall. In our guest room. OVER THE HEADS OF OUR SLEEPING GUESTS!!
There's no better way to be declared the worst hostess ever than maiming your guests in their sleep during their overnight stay at your hacienda…
So I wanted to make absolutely sure it was secure when I hung it on the wall. I asked RancherMan to put some heavy picture-hanging wire on the back of the wood, using screws to securely anchor it in place.
Adding Photos To My Barn Wood Photo Board
Then when all was finally ready I hung the wood on the wall and placed my favorite newly-printed photos on it using those lovely aged vintage clothespins.
I had more pictures printed than I actually needed so I'll be able to change them out periodically if I like. And that certainly works for me since I picked out the photos that I loved the most!
Now that my little work of art is finally finished I take a step back to see how she looks…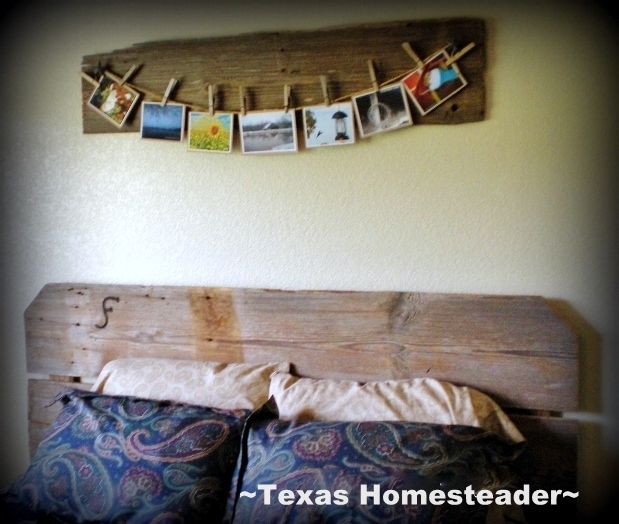 I love this wall feature, and it came out exactly as I hoped it would. (fist pump!)
Because I'm distress-painting the furniture in this room with white paint, I'm thinking about maybe milk-washing this old piece of wood of my wall feature to tie the aged barn wood patina of the headboard with the distressed white of the other furniture.
But then again I may leave it alone, it looks great like it is. Decisions, decisions…
Whaddya think?
~TxH~
This post categorized in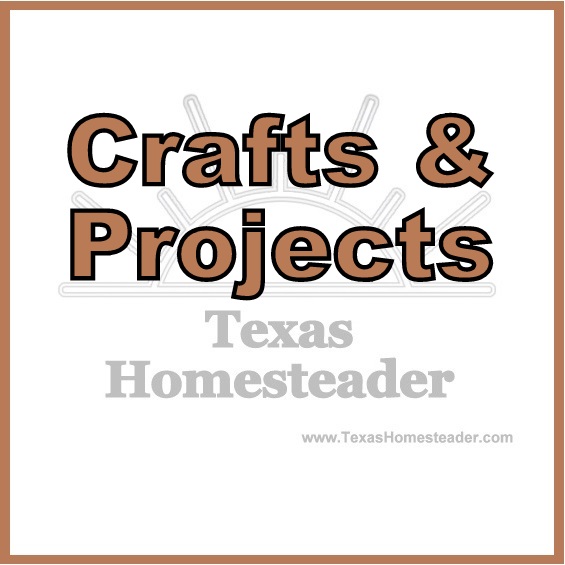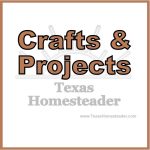 Our Favorite Crafts & Projects
…and many MORE!


C'mon by & sit a spell! Come hang out at our Facebook Page. It's like sitting in a front porch rocker with a glass of cold iced tea – lots of good folks sharing! You can also follow along on Pinterest, Twitter or Instagram.
If you'd like to receive an email each time a new blog post goes live it's EASY to
Subscribe to our blog!
* A word about our Affiliate Link – We are currently enrolled as an Amazon Affiliate. Occasionally I will insert an affiliate link into one of my posts if I think it may be of interest to you. Both of the items linked in this are things I use and love! If you click on any of my affiliate links and buy something (almost anything, not just what was linked) I get a small referral percentage from Amazon. But here's the really important part – the price you pay for your items is UNCHANGED.
When you buy something through the affiliate link it's a great way to support this blog without anything coming out of your pocket. So please click often!
Save
Save
Save
Save