by Texas Homesteader ~
Fall is here, y'all! So I thought it would be fun to make flannel-shirt decorative pillows for our guest bedroom. It was easy, even for my novice sewing skills.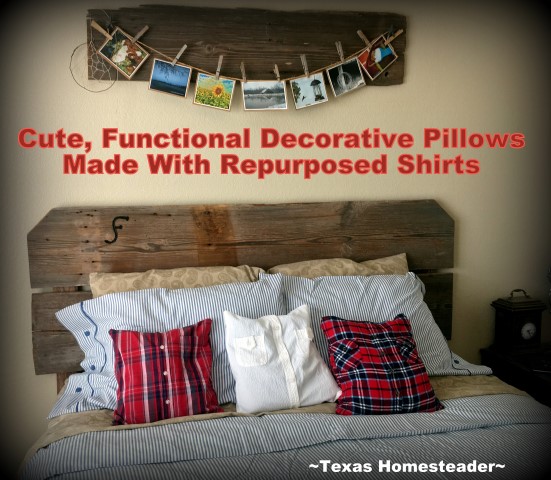 Now I know some folks relish in changing the décor for their homes or porch with each changing season. Although it looks great, seasonal décor changing has never appealed to me. I guess I'm just not a Pinterest-worthy decorator. LOL
But still, there's just something about the arrival of cool temperatures after a long, blisteringly-hot summer… I started getting the hankering for some cute flannel and/or plaid accents.
And here's the kicker: I use those decorative pillows in my guest bedroom to store my spare sheets. It would be a great place to stash the grandchildren's PJ's and what not I think too. Clever, no?
Rustic Décor
I love our rustic country guestroom decor. RancherMan and I made the Reclaimed Barnwood Headboard with weathered wood taken from our beloved 1880's Barn.
We also made the reclaimed wood Wall Hanging, embellished with interesting pictures from around our homestead.
And of course we wanted to provide comfort for our guests with a comfy mattress & nice linens. But now I wanted to add a splash of plaid color too.
If you have some old flannel shirts laying around that are no longer being worn – awesome! You can use them to make these pillows & nothing even needs to be purchased.
But we didn't, so I went thrift shopping for the perfect flannel shirt to repurpose. The perfect one was found in the kid's section for $1 and knew it would be mine.
Well, I actually bought 2 more shirts – a plaid one & a lightweight white one to see what I'd like best. I ended up using all 3!
First I washed 'em up and when they were dry I started my project.
Making My Flannel Shirt Throw Pillow
I contemplated how big I wanted my throw pillow to be. For my use I decided on about 12-15″, but depending on the size of the shirt you use your pillow could be a different size.
So I measured & marked a line higher than the pockets since those pockets are a main feature for my pillows. Another line about 15″ down (but about 1/2″ below one of the lower buttons) to make my throw pillow.
That gives me the pocket feature I want plus the size of the pillow I need by the time seam allowances are made.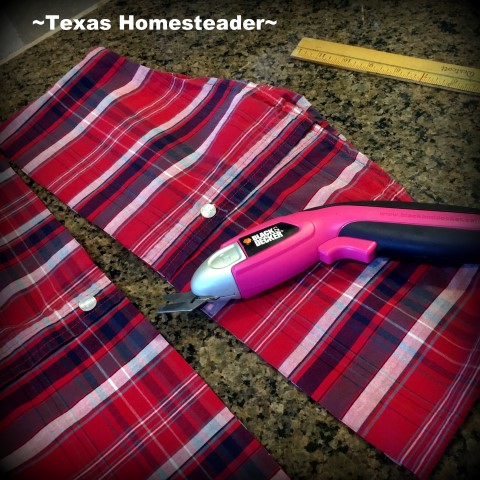 Then using those lines as a guide I cut the shirt into a square. I turned the fabric with right-sides touching, pinned and then sewed a quick seam all around the pillow.
Since this pillow will be holding heavy sheets, I sewed a double seam for strength. Then I turned the shirt pillow right-side out again. Voila!
Pretty Yet Functional Pillow
Now I've always been a fan of hiding things in plain sight. For instance, our extra guest pillows are tucked inside pretty pillow shams on our guest bed, More of them are decorating our futon and even two more on RancherMan's & my bed in the master bedroom.
Those extra pillows are available should we need them, but also decorative in the meantime.
So using my new flannel pillows to hold our extra set of guest bedroom sheets seems like a natural extension of that mindset for me. I simply folded my extra sheets where they would fit snugly inside the pillows, tucked them inside and buttoned up the pillows.
Cute! And the sheets provide my pillow filling, although I'll admit it's a pretty heavy throw pillow. I think it would be a cute way to store the grandchildren's PJ's, and would make a much lighter-weight pillow too.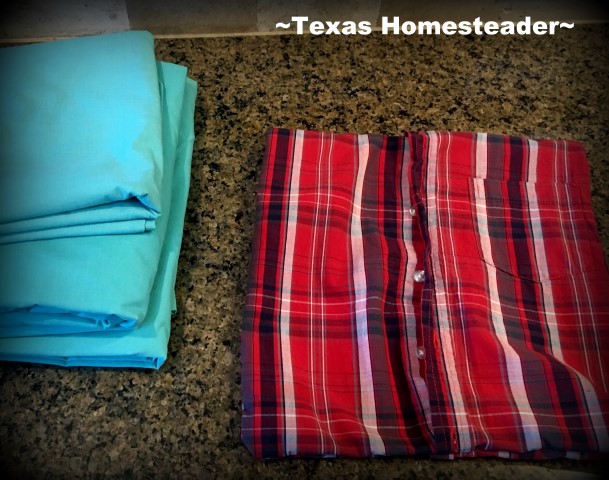 Although the pillows are heavier than typical throw pillows with traditional floofy filling, I didn't have to buy a special filling product for my pillows.
And my extra sheets have a handy storage place now – right atop the bed & hidden in plain sight! I love the way they turned out. Give it a try!
~TxH~
Links In This Post:
Other 'Make It Yourself' Ideas


C'mon by & sit a spell! Come hang out at our Facebook Page. It's like sitting in a front porch rocker with a glass of cold iced tea – lots of good folks sharing! You can also follow along on Pinterest, Twitter or Instagram.
If you'd like to receive an email each time a new blog post goes live it's EASY to
Subscribe to our blog!