by Texas Homesteader ~
When my children were babies I of course used baby wipes by the thousands! But now my children are grown and I have grandbabies to enjoy.
I'm in a different place in my life and thankfully the flurry and time-crunched period of my child-rearing days have slowed down.
But recently I found myself in need of a small supply of baby wipes. In my more time-crunched days I would have simply driven to the store and purchased what I needed. But now I hate to buy something I can easily make myself.
So onto the internet I went looking for solutions. There are several different ways to make wipes but I only needed a few for temporary needs.
So I sweet-talked RancherMan into surrendering some of his heavy paper shop towels – PERFECT!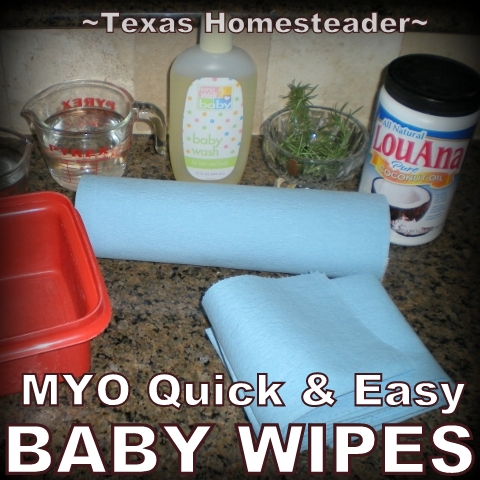 Making Your Own Baby Wipes Is EASY!
I tore off several shop towels and folded them in half longways, then folded the strip in half as well to give me the size I wanted.
Then I placed the folded wipes into a lidded plastic container. I nestled half of each wipe between half of the next wipe kind of like Kleenexes are nestled together in the box. I thought that might make using them pop-up easy.
But I don't think this was necessary and it really didn't add any convenience. So I'll probably skip that next time & just stack them on top of each other.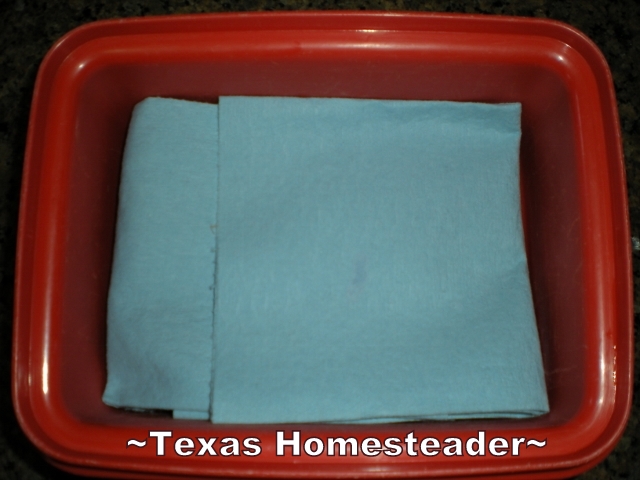 3 Simple Ingredients For Baby Wipes
2 1/2 cups of hot water was heated and I added 2 tablespoons of coconut oil for a natural moisturizer and 2 tablespoons of baby wash for gentle cleaning.
The mixture was blended together and when fully incorporated I poured the liquid slowly over my folded paper towels.
I flipped the towels and poured just a bit more to that side to saturate the bundle.
(NOTE: Remember oil and water don't mix, so have the liquid still swirling when you're pouring the liquid over the towels)
When I'm done I simply wash the jar and return it to my cabinets. (I use these wide-mouth jars for storing leftovers in the fridge). The lidded Tupperware can then be washed out as well & put away.
There ya go – Voila! No additional items bought and no additional containers to the landfill. Win/Win!
~TxH~
Zero-Waste Health & Beauty
Want To See Our Natural Cleaning Posts?
C'mon by & sit a spell! Come hang out at our Facebook Page. It's like sitting in a front porch rocker with a glass of cold iced tea – lots of good folks sharing! You can also follow along on Pinterest, Twitter or Instagram.
If you'd like to receive an email each time a new blog post goes live it's EASY to
Subscribe to our blog!