by Texas Homesteader ~
We've written before about the trouble caused by wild hogs on a farmer or rancher's property. These animals are highly destructive as they root and dig. They can completely tear up a pasture in no time flat. And they not only damage to the pasture or crops, but also to the equipment used to work that land whether it be crop harvester or tractor.
The good news is – it's just PORK and it's delicious! Feral hogs are simply domesticated hogs that have escaped into the wild.
Having a hunter husband means there's opportunity to not only remove these damaging creatures from our property but feed ourselves as well. One of my favorite ways to use this pork is with shredded pork BBQ sandwiches.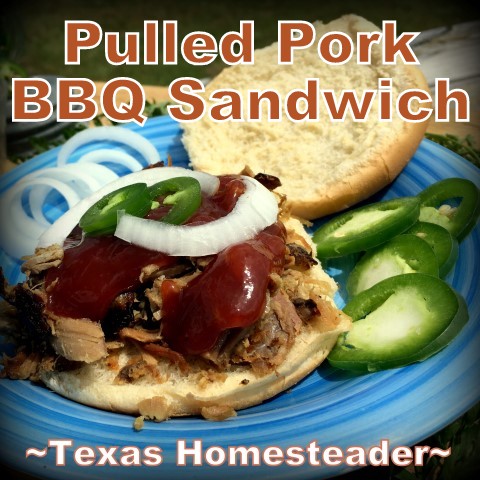 I usually use the shoulder roast for my pulled pork recipe because when planning the meal as a roast the bone in a shoulder roast is more inconvenient to try to carve. But this cut works awesome for shredding. (NOTE: Check out this HUGE shortcut for shredding cook roast)

Cook Once, Eat Twice
I've written before about my preferred method of cooking with the 'cook-once-eat-twice' method so this day I actually cooked four different pork roasts!
I put one large roast in my smaller slow cooker for a carved pork roast dinner later. And I placed three smaller shoulder roasts in my* larger Rival slow cooker for my favorite pulled pork BBQ.
I like to use Planned Leftovers when cooking pork roast. One night is a delicious roast supper, then subsequent nights utilize leftover pork roast for brand new dishes. Such delights as Carnitas Tacos, Pulled Pork Enchiladas or even a Hearty Stew!
Flexible Seasonings
The recipe for my pulled pork roast is pretty basic and always changing. Simply throw a shoulder roast into the slow cooker and season with salt and cracked pepper and maybe a quick splash of "Claudes" pork marinade. (I just like the slightly smokey flavor that imparts to the meat).
I like to keep the seasoning during cooking on the light side. That way I can shred & freeze the cooked pork for other things in the future like pulled pork enchiladas and such.
But if I'm making it solely for BBQ, the other seasonings are usually just what sounds good at the time. Maybe some chipoltle seasoning or a sprinkle of RancherMan's favorite Homemade BBQ Rub. Truly, whatever floats your boat for BBQ seasoning will work here.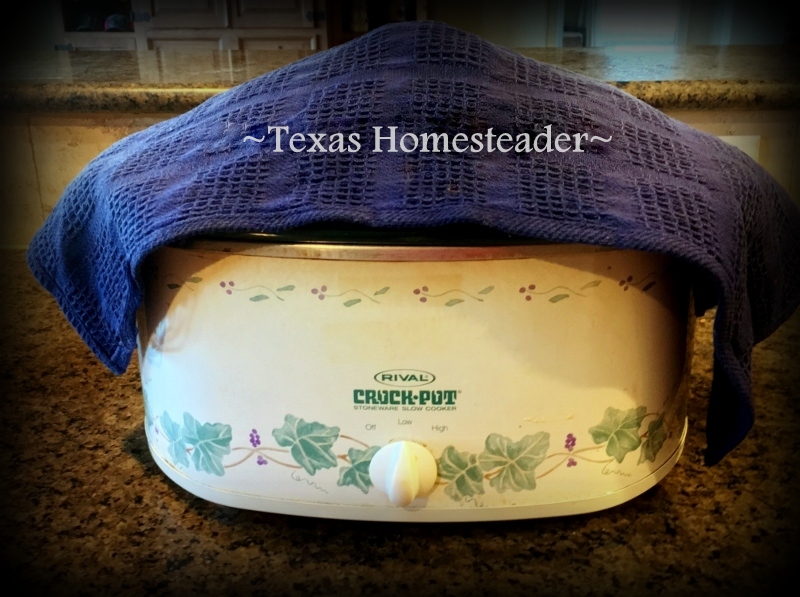 Then I let it cook in the slow cooker for about 5 hours until the meat falls off the bone. Cooking Tip: Cover the top of your slow cooker with a kitchen towel. It will make the Food Cook Faster.
Preparing Cooked Meat
I then remove the meat and use THIS SHORTCUT to quickly shred the meat. Then I add some Homemade BBQ sauce and mix well. We spoon some of that flavorful pork onto a bun & add a quick squirt of mustard for a little tang. Of course I add as many jalapenos as I can physically fit under that top bun!
(By the way, check out the recipe for those delicious jalapeno-cheese buns that I made with some of RancherMan's homebrew)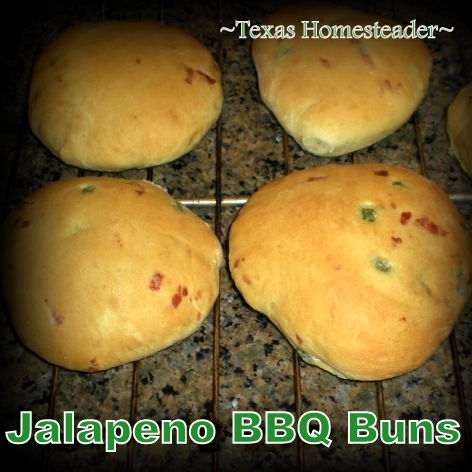 What's your favorite way to cook pork roasts?
~TxH~
Want to see other Leftover Pork Roast Meal Ideas?
Pork Roast Recipes:
Recipes with Leftover Pork Roast:
New Meals Remade With Leftovers
…and MUCH MORE!


C'mon by & sit a spell! Come hang out at our Facebook Page . It's like sitting in a front porch rocker with a glass of cold iced tea. There are lots of good folks sharing! And you can also follow along on Pinterest, Twitter & Instagram
If you'd like to receive an email when a new blog post goes live,
subscribe to our Blog!