by Texas Homesteader ~
After the holiday feast is over, what do you do with all that leftover turkey & dressing? RancherMan loves when I make Turkey & Dressing Patties from them. They're like Potato Cakes, but using turkey & dressing instead. Come see.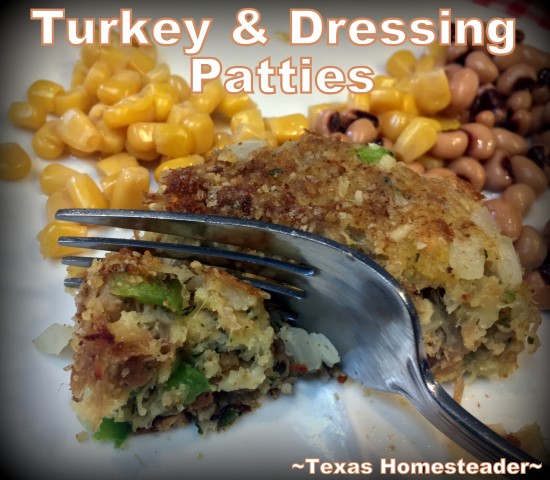 What To Do With Leftover Holiday Food?
Aaaah the holidays. A special time of the year when friends and family gather to bask in the warmth of their relationships and enjoy some really good food. So much food in fact that oftentimes the day afterward can leave you scratching your head. Wow, there's so much food leftover! What do I do with it all??
Well when you're tired of eating the same leftovers over & over again, the freezer can be your friend. Or my favorite: planned leftovers. That's where you make a whole new meal from those delicious leftovers.
Take that turkey & dressing for instance. I repurpose them into turkey & dressing patties and RancherMan couldn't be happier! Crispy turkey/dressing patties topped with gravy is our favorite post-Thanksgiving meal.
They're similar to potato cakes but with chopped leftover turkey, leftover dressing and a handful of sautéed onions. Mix it all together with an egg, form into a patty, coat with breadcrumbs, lightly fry them into crispy perfection and BOOM!
RancherMan always raves and asks for seconds. (and thirds…LOL) Chalk one up for eliminating food waste deliciously!
Gathering Holiday Leftovers for Turkey/Dressing Patties
(although my family has always called it dressing, some folks call it stuffing instead)
It's pretty common have leftovers from the two most popular Thanksgiving holiday foods:
If you don't have leftover dressing just use an inexpensive box of the commercial stuff. I promise it still works great in this recipe.
To make my turkey & dressing patties I take some of the leftover turkey & the dressing I'd made, mince an onion & bell pepper and mix it all together.
I'll add some bread crumbs and an egg for binding it all together. Then I roll it into about 2″ balls.
The last step for me is to roll each ball in additional bread crumbs (because I love the crunchy outside that gives)
Then I place them in a skillet of hot grease and press lightly with my spatula to slightly flatten them.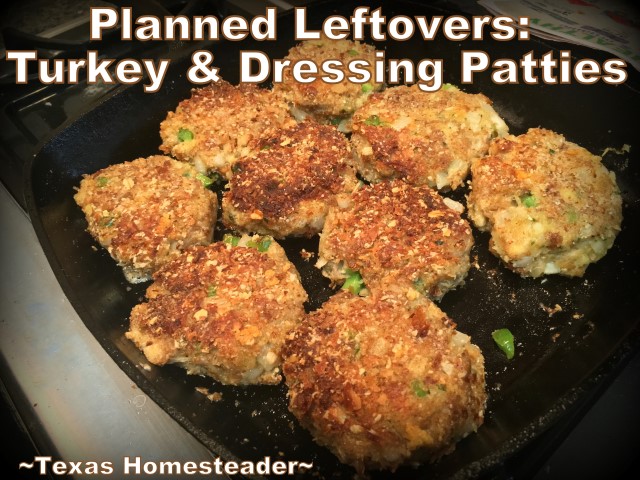 Frying The Turkey/Dressing Patties
I typically prefer to use bacon grease for these because it's plentiful, it's free and it adds a nice flavor. But feel free to use whatever grease you prefer when frying these turkey & dressing patties.
I cook the patties on each side until they're golden brown and then bring them out to drain.
In my Paperless Kitchen I haven't purchased paper towels in more than a decade. So my method of draining fried foods is to lay them on a plate topped with black & white newspaper. The newspaper soaks up the excess grease and I'm ready to serve.
RancherMan loves these Turkey & Dressing Patties. If you give them a try, I'm guessing you'll love them too.
Did you make these Turkey & Dressing Patties? Please rate the recipe in your comment below!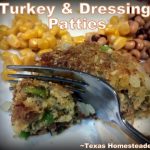 Leftover Turkey & Dressing Patties
Leftover turkey & dressing made into a whole new (delicious) meal! What a great way to delight your family while eliminating food waste. It's delicious! #TexasHomesteader
Ingredients
Ingredients:
3

cups

Leftover stuffing

(can use 1 box stuffing mix, prepared)

2

cups

Cooked, chopped turkey

1/2

cup

Diced onion

1/4

cup

Diced bell pepper

1/4

cup

Bread crumbs

1

large

Egg

optional: Additional bread crumbs to coat
Instructions
Instructions:
Add all ingredients together and mix to combine thoroughly. (If you don't have leftover stuffing, just make a box of stuffing mix according to the directions & use 3 cups of that prepared dressing instead)

In a skillet heat enough oil to cover bottom of skillet.

Roll turkey mixture into approximately 2" balls.

Roll in additional bread crumbs to coat if desired.

Place in hot oil and press with the back of a spatula to flatten slightly.

Cook until brown and flip to cook other side. Drain cooked patties on paper and serve hot.
~TxH~
Other Planned Leftover Posts
Want to see other Meal Ideas?





C'mon by & sit a spell! Come hang out at our Facebook Page. It's like sitting in a front porch rocker with a glass of cold iced tea – lots of good folks sharing! You can also follow along on Pinterest, Twitter or Instagram.
If you'd like to receive an email each time a new blog post goes live it's EASY to
Subscribe to our blog!