by Texas Homesteader ~
I had leftover loaded chili cheese fries and didn't want to just throw them away. My superpower is eliminating food waste. I'm not kidding, y'all!
Come see what I did with those unappealing leftover Chili-Cheese Fries.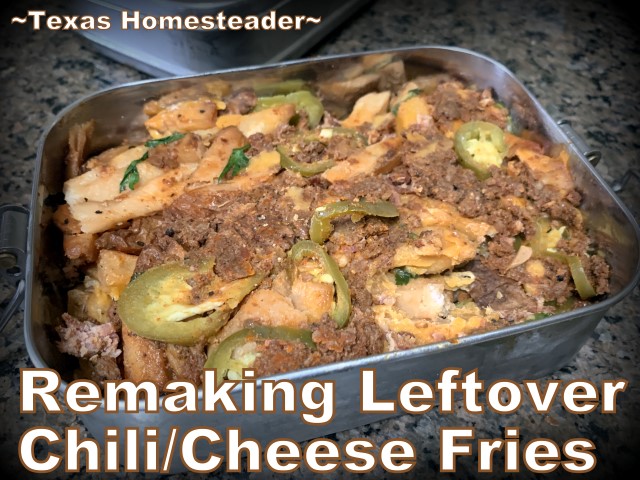 I'm typically able to fully (yet deliciously) utilize all the food we we have in various ways so it's not wasted. My food-waste skills have been honed for decades.
I use Planned Leftovers cooking to purposely cook more than we'll eat in one setting. I do this with the intention of making a whole new meal of it later.
Planned Leftovers Reduces Food Waste
Case in point? I'll cook a huge Pork Roast. After we've enjoyed our supper I'll put it in the fridge to remake that cooked meat into supper in a flash in subsequent nights.
One night I might shred some cooked roast and turn it into Pulled Pork Enchiladas. Another night I'll make more of that meat into Carnitas Tacos. Still another night I'll use some of that meat for Pulled Pork BBQ Sandwiches.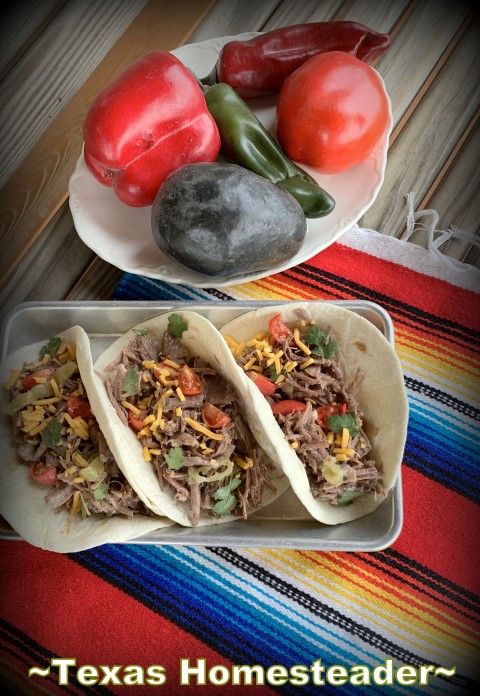 See what I mean? Using leftovers doesn't have to be boring. Just remake those leftovers into a whole new meal a-la-Planned Leftovers!
Leftover Chili Cheese Fries
RancherMan & I don't go out to eat at a restaurant often. But when we do I'm sure to bring along my Repurposed Denim Dish Carrier. I love this carrier and I get lots of compliments on it.
What a fun way to reduce waste, especially those horrid Styrofoam clamshells you're forced to use if you want to keep that uneaten portion of your meal. Yeah, I hate Styrofoam.
When the meal is over I'll pack up anything we were too full to finish. In this case it was Chili Cheese Fries.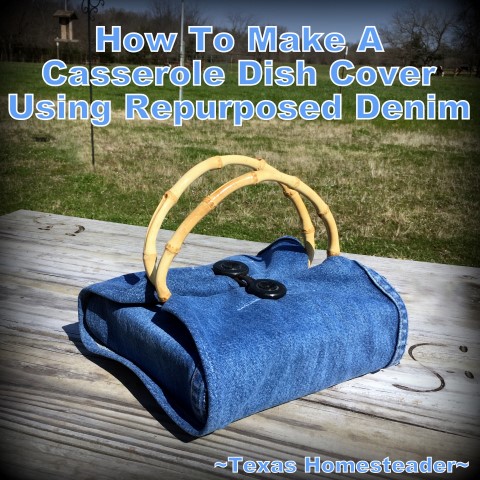 Now french fries are among the hardest leftover food to repurpose. I'll often try to revamp them by dry-heating them on a hot cast-iron griddle. At least that way they'll be edible – crispy on the outside and soft on the inside.
But they're certainly never as delicious they were the night before.
Looking For Inspiration
So I'm staring at these cold, unappealing leftover chili cheese fries and my mind is spinning for inspiration. Hummm…. Potatoes? Chili? Cheese? Onions? Jalapenos? I KNOW! I'll refashion them into a frittata.
I'm often making frittata meals with leftovers. For me, it's basically scrambled eggs, with SPUNK!
Our hens are still providing a hearty supply of eggs. So I decided to make a frittata of sorts with my leftover chili-cheese fries. Y'all know I'm a shoot-from-the-hip kinda girl in the kitchen!
I took out the blob of cold fries and diced them into little cubes. Then I brought out a handful of eggs and beat them with a fork, dumping them into my hot cast-iron skillet.
I topped the whole shebangie with the chopped potatoes and then scrambled it all up.
Then I brought out some tortillas and spooned a healthy portion of the frittata mixture into the middle.
I also diced up a cherry tomato from the garden, squeezed some hot sauce on top and then rolled the deliciousness into a frittata that you can eat with one hand.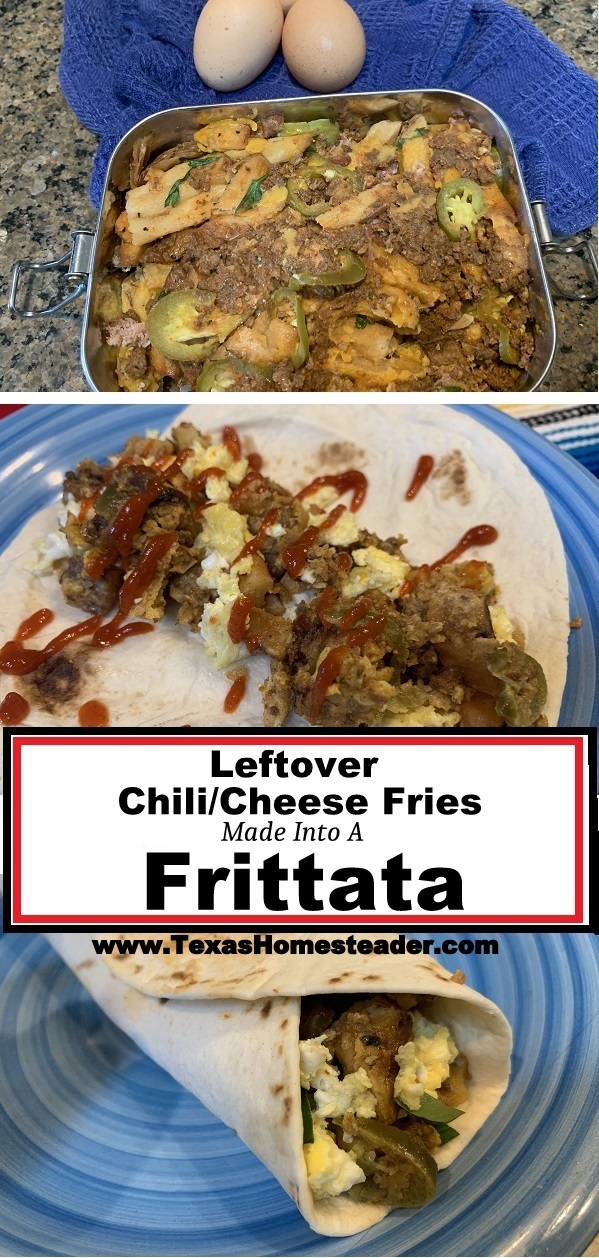 It was delicious! Who knew leftover fries could actually be so tasty??!!
So next time you're looking at leftover food you're not sure you can get your family to eat, just remake it into something they will!
~TxH~
Other Planned Leftover Posts
…and MUCH MORE!


C'mon by & sit a spell! Come hang out at our Facebook Page. It's like sitting in a front porch rocker with a glass of cold iced tea – lots of good folks sharing! You can also follow along on Pinterest, Twitter or Instagram.
If you'd like to receive an email each time a new blog post goes live it's EASY to
Subscribe to our blog!