by Texas Homesteader ~
I cooked a huge pork roast & made easy enchiladas the next night with the leftover meat! Planned leftovers is an important part of meal planning in my Homestead kitchen.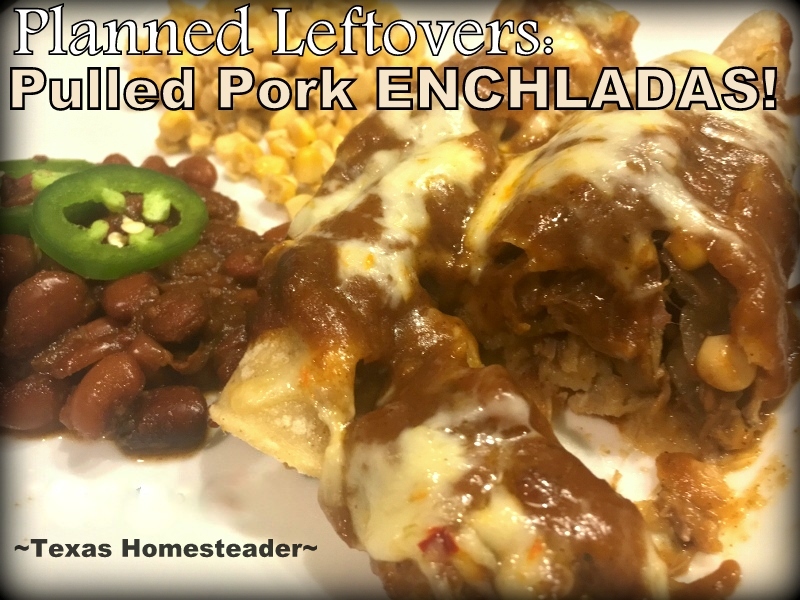 Planned leftovers method of cooking is where I purposely cook more of a main ingredient to use the leftovers in a whole different meal on another night. It's an important way I'm able to cook Homemade Meals Daily The EASY Way!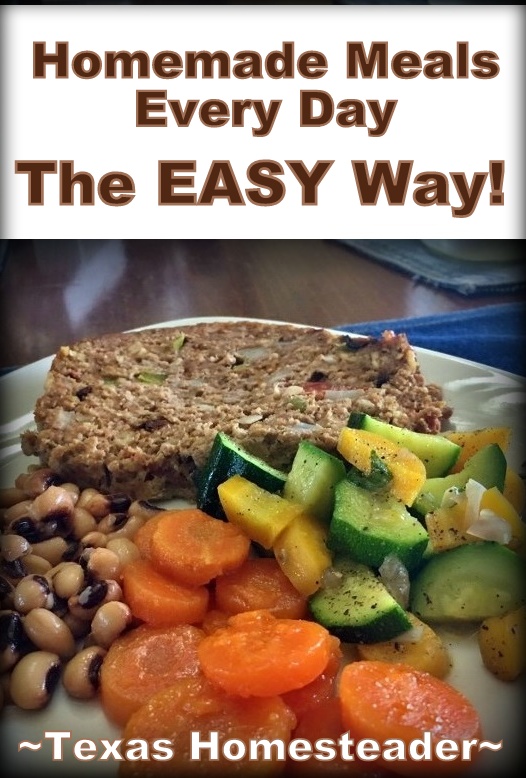 Meal Planning with Planned Leftovers
I know meal planning is an important way to save money in the kitchen. But I don't LIKE to cook!
Thankfully I'm able to employ tricks such as Planned Leftovers to save money and reduce my time in the kitchen too.
You see, Planned Leftovers is where a large amount of one ingredient is cooked all at once, then other completely different meals are made with the leftovers.
For instance, I cooked a huge pork roast and then made many different meals with the leftover meat including, BBQ Sandwiches, Carnitas Tacos, a Meaty Stew and… Pulled Pork Enchiladas!
Meat For Shredded Pork Enchiladas From Leftover Roast
Since the main ingredient (the meat) was already cooked I just needed to pull everything together.
First I pulled out about 3 cups of leftover pork roast. Then I Shredded the Meat in minutes with my KitchenAid. Finally I placed that shredded meat into my grandmother's antique cast-iron skillet.
There was no need to add any oil, I just wanted the bottom layer browned. So I turned the heat onto medium high to brown the meat. And I didn't stir it during its stint in the skillet.
It took about 3 minutes before those bits were browned the way I wanted them.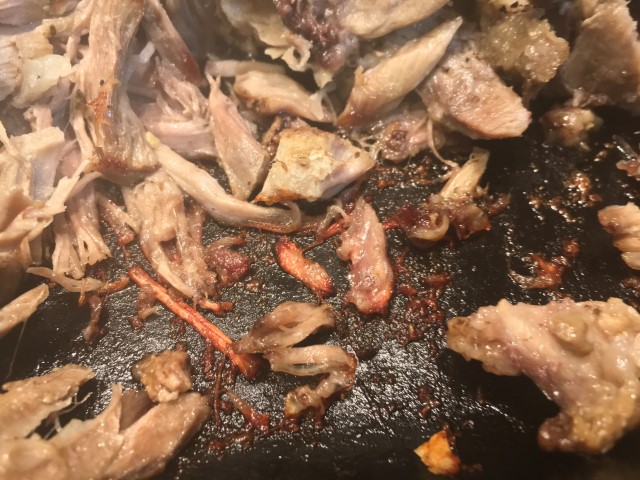 Beans & Corn In Enchilada Ingredients
Then to the meat mixture I added a cup of leftover homemade Ranch-Style Beans leftover from the other night & a cup of my home-canned corn .
I knew I'd need enchilada sauce but I didn't have any in the pantry. You know my battle cry:
USE WHATCHA GOT!
Since my ranch-style beans ended up with much more juice than I wanted I used the excess juice to make my own enchilada sauce.
I figured heck, the bean juice already has all the seasonings of enchilada sauce anyway, right??!
So I put about 2 Tablespoons of Bacon Grease in a pan, added about 2 tablespoons of flour and cooked it a bit before adding about 3 cups of the bean juice.
In my opinion it's much the same procedure as making a thin enchilada-flavored gravy. It worked well for me but you can just use enchilada sauce if you like.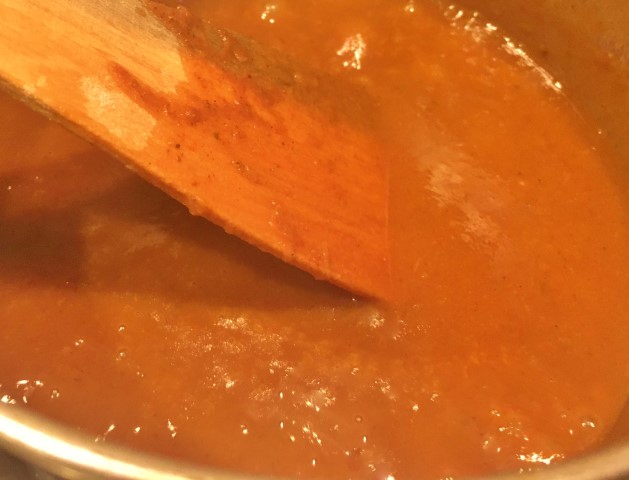 Using Leftover Roast For Enchiladas
Now that I have enchilada sauce I stirred about 1/2 cup of the sauce into the meat and set the rest of the sauce aside for the enchilada assembly.
My enchiladas also need some bell pepper & onion. Luckily I anticipated this and cooked an excess of onions and peppers with the roast last night. Planned Leftovers, bebe!
So I pulled out the leftover cooked bell pepper & onion from my pork roast a few nights earlier and chopped them up.
I ended up with about a cup of cooked onions & about 1/2 cup of cooked bell pepper. I stirred everything into the meat mixture.
Finally to the whole shebangie I added 1/2 cup of shredded cheese. Now it's time to start assembling our enchiladas.
I pulled out 3 of my grandmother's vintage 7″x7″ CorningWare baking dishes since that's how many would fit in my oven at one time.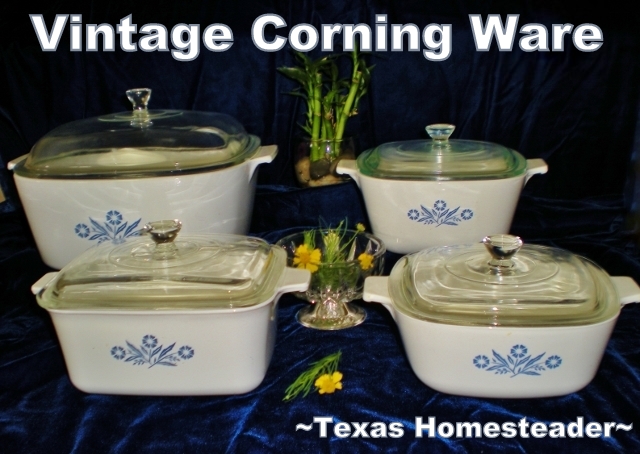 To keep the enchiladas from sticking as they cooked, I first smeared just a bit of my 'enchilada sauce' on the bottom of each of those baking dishes.
Assemble Pulled Pork Enchiladas
Now I know that corn tortillas roll better without cracking if you heat them slightly first. So they got a few seconds in the microwave to heat 'em up.
UPDATE: I often make my own quick & easy Corn Tortillas now!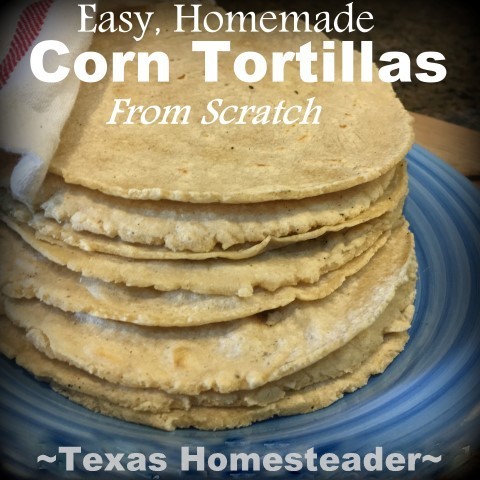 Then I started filling my corn tortillas with the prepared enchilada mixture. It took about 1/3 cup of meat mixture for each enchilada.
The procedure was easy:
Add 1/3 cup meat to a warmed tortilla, roll the tortilla & place seam-side-down in the baking dish.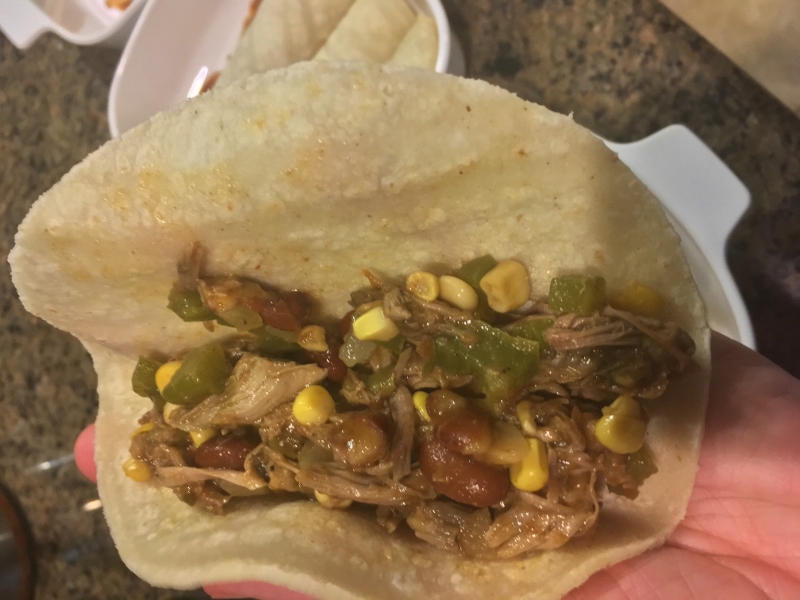 Each of my grandmother's dishes held 4 enchiladas for a total of 12. I even had plenty of meat leftover should RancherMan desire to enjoy for lunch tomorrow.
Leave The Ends Uncovered!
After all the enchiladas were assembled and tucked into their baking dishes I took the rest of that enchilada sauce I'd sat aside and poured it over the middle of the enchiladas.
I only poured the sauce over the middle, leaving the ends uncovered. This will make them lightly crispy on the ends, RancherMan likes them that way. I must admit, so do I!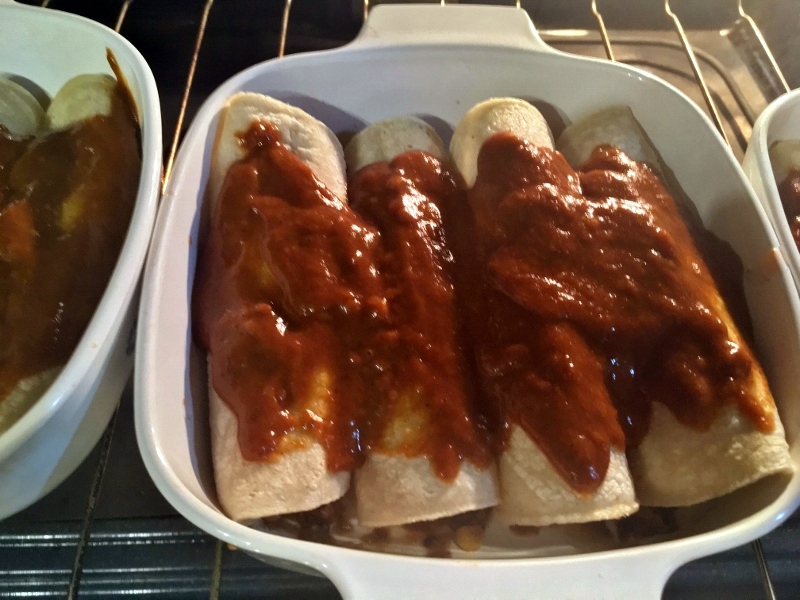 Then into a preheated 350-degree oven for 10 short minutes. Everything's already cooked, I really only want it heated through.
Top With Cheese & Allow It To Melt
After that time I brought the enchiladas out of the oven and spread more cheese evenly over the middle of the enchiladas. Again I left the ends uncovered. That's just the way we roll in our household!
Then back into the oven for 5-10 minutes. After that final stint in the oven the cheese was lightly browned & delightfully melty.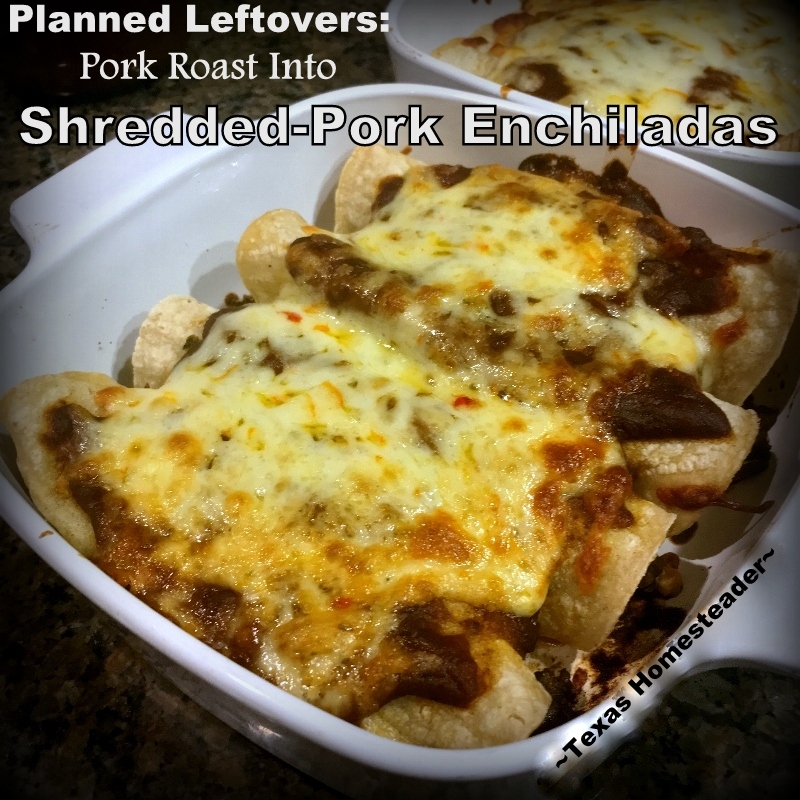 I added a couple of side dishes and BOOM! Hearty, delicious homemade supper. And since we each could eat 2 enchiladas, there were still two more prepared enchilada meals to put into the freezer for later.
I like to have a nice reserve of home-cooked entrees in the freezer so that we can enjoy homemade greatness when the day's been crazy-busy!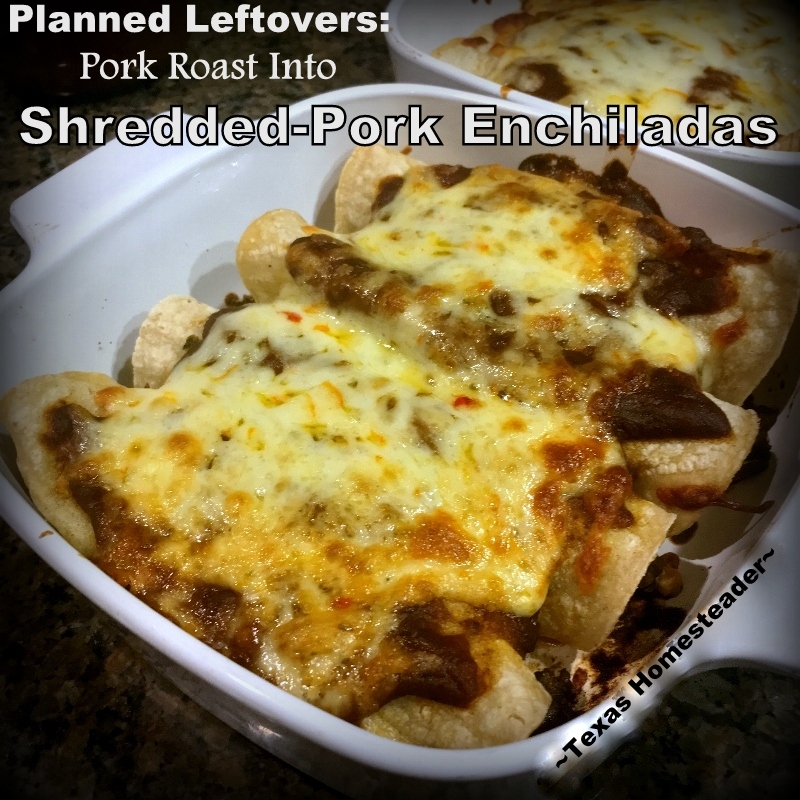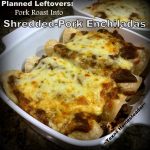 Planned Leftovers: Pulled Pork Enchiladas
Ingredients
Ingredients:
3

cups

leftover pork roast

shredded

1

cup

leftover pintos or black beans

drained

1

cup

whole-kernel corn

drained

1

cup

leftover cooked onions

chopped

1/2

cup

leftover cooked bell pepper

chopped

2.5

cups

shredded cheese

I used Jalapeno Muenster

12

white-corn tortillas

3

cups

Enchilada Sauce
Instructions
INSTRUCTIONS
Preheat oven to 350F

Heat cooked shredded pork (without stirring) on high heat until bottom is nicely browned - about 3 minutes.

Add the corn, beans, onions, bell pepper, ½ cup enchilada sauce and ½ cup cheese to meat and mix to combine.

Spread a thin layer of reserved Enchilada Sauce on the bottom of each baking dish.

Place 1/3 cup of filling into a corn tortilla and roll up and place in the baking dish seam-side down.

Pour remaining Enchilada Sauce over middle of enchiladas, leaving ends uncovered.

Bake for 10 minutes.

Remove from oven and sprinkle remaining cheese on top. Then bake for a further 10 minutes until the cheese is melted.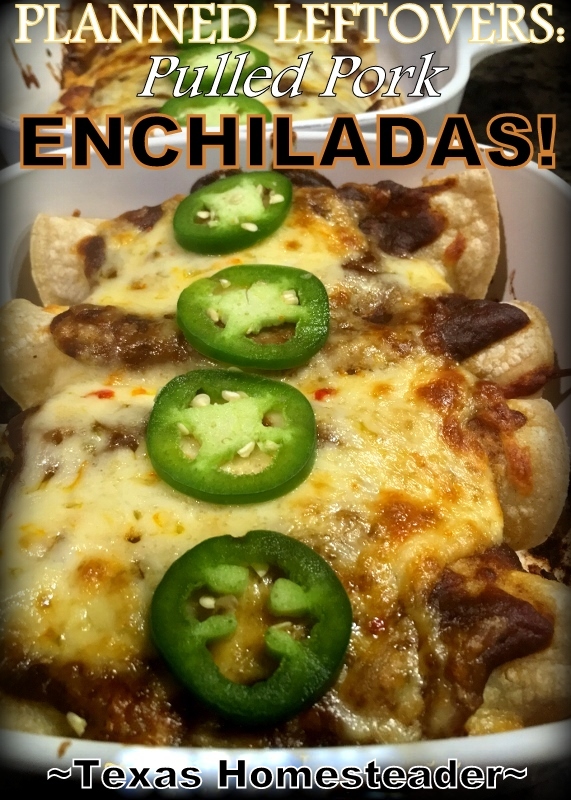 Want to see other Leftover Pork Roast Meal Ideas?

Pork Roast Recipes:
Recipes Using Leftover Roast:
New Meals Remade With Leftovers
…and MUCH MORE!


C'mon by & sit a spell! Come hang out at our Facebook Page . It's like sitting in a front porch rocker with a glass of cold iced tea. There are lots of good folks sharing! And you can also follow along on Pinterest, Twitter & Instagram
If you'd like to receive an email when a new blog post goes live,
subscribe to our Blog!
Save
Save