by Texas Homesteader ~
I know meal planning is an important way to save money in the kitchen. But I don't LIKE to cook!
Thankfully I'm able to employ tricks such as Planned Leftovers to save money and reduce my time in the kitchen too.
You see, Planned Leftovers is where a large amount of one ingredient is cooked all at once, then other completely different meals are made with the leftovers.
For instance, I cooked a huge pork roast and then made many different meals with the leftover meat including, BBQ Sandwiches, Carnitas Tacos, a Meaty Stew and… Pulled Pork Enchiladas!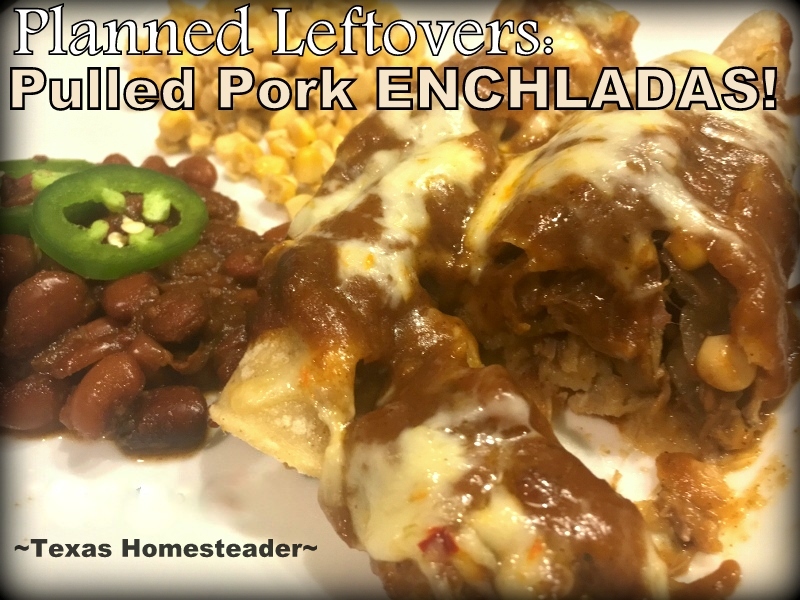 Cook Some Browned Bits Into Leftover Roast
Since the main ingredient (the meat) was already cooked I just needed to pull everything together.
First I pulled out about 3 cups of leftover pork roast. Then I Shredded the Meat in minutes with my KitchenAid. Finally I placed that shredded meat into my grandmother's antique cast-iron skillet.
There was no need to add any oil, I just turned the heat onto medium high to brown the meat. I just wanted the bottom layer browned so I didn't stir it during its stint in the skillet.
It took about 3 minutes before it was browned the way I wanted it.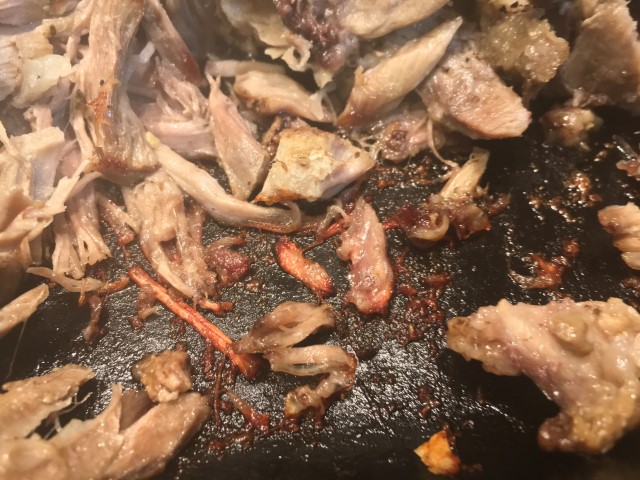 Use Whatcha Got!
Then to the meat mixture I added a cup of leftover homemade Ranch-Style Beans leftover from the other night & a cup of my home-canned corn .
I knew I'd need enchilada sauce but I didn't have any in the pantry. You know my battle cry:
USE WHATCHA GOT!
Since my ranch-style beans ended up with much more juice than I wanted I used the excess juice to make my own enchilada sauce.
I figured heck, the bean juice already has all the seasonings of enchilada sauce anyway, right??!
So I put about 2 Tablespoons of Bacon Grease in a pan, added about 2 tablespoons of flour and cooked it a bit before adding about 3 cups of the bean juice.
In my opinion it's much the same procedure as making a thin enchilada-flavored gravy. It worked well for me but you can just use enchilada sauce if you like.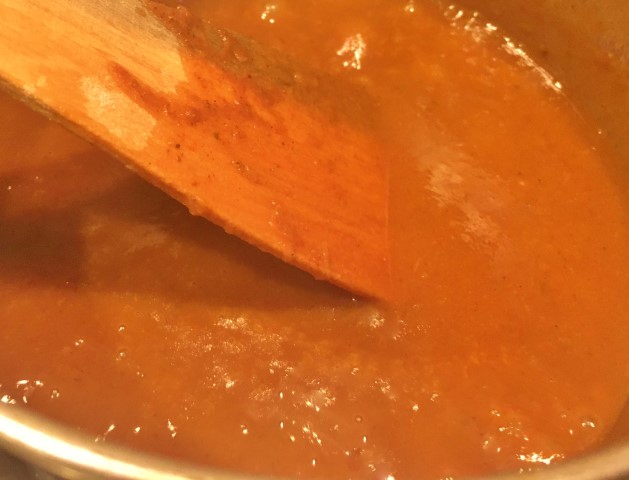 Using Up My Leftovers
Now that I have enchilada sauce I added 1/2 cup sauce in with the meat and set the rest of the sauce aside for the enchilada assembly.
My enchiladas also need some bell pepper & onion. So I pulled out the leftover cooked bell pepper & onion from my pork roast a few nights earlier and chopped them up.
I ended up with about a cup of cooked onions & about 1/2 cup of cooked bell pepper.
Finally to the whole shebangie I added 1/2 cup of shredded cheese. Now it's time to start assembling our enchiladas.
I pulled out 3 of my grandmother's vintage 7″x7″ CorningWare baking dishes since that's how many would fit in my oven at one time.
To keep the enchiladas from sticking as they cooked I smeared just a bit of enchilada sauce on the bottom of each of those baking dishes.
Assemble Enchiladas
Now I know that corn tortillas roll better without cracking if you heat them slightly first. So they got a few seconds in the microwave to heat 'em up.
UPDATE: I often make my own quick & easy Corn Tortillas now!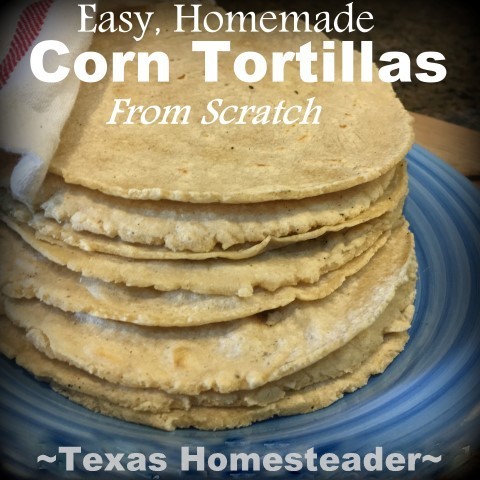 Then I started filling my corn tortillas with the prepared enchilada mixture. It took about 1/3 cup of meat mixture for each enchilada.
The procedure was easy:
Scoop 1/3 cup meat, add to hot tortilla, roll the tortilla & place seam-side-down in the baking dish.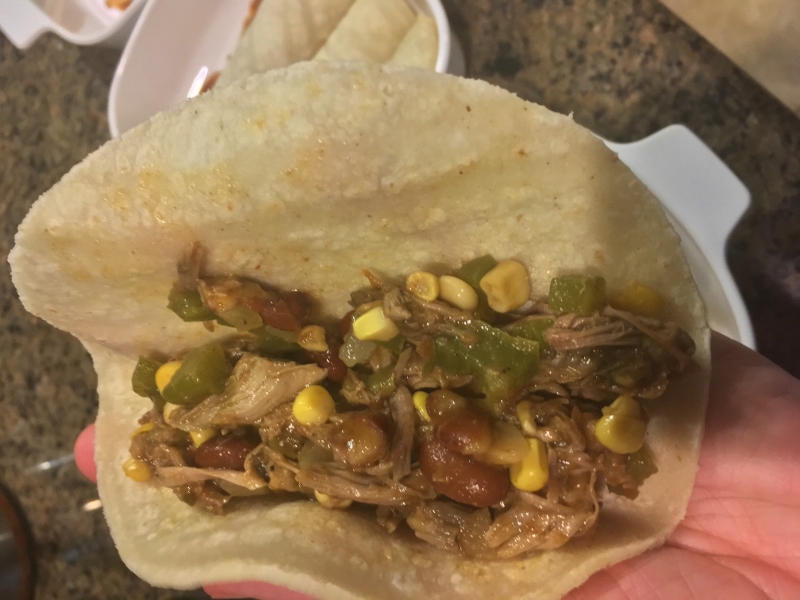 Each of my grandmother's dishes held 4 enchiladas for a total of 12. I even had plenty of meat leftover should RancherMan desire to snack on this seasoned meat for lunch tomorrow.
Even at that, there was still prepared enchilada meat to go into the freezer. Yep, really should have started with only 3 cups of leftover roast!
Leave The Ends Uncovered!
After all the enchiladas were assembled and tucked into their baking dishes I took the rest of that enchilada sauce I'd sat aside and poured it over the middle of the enchiladas.
I only poured the sauce over the middle, leaving the ends uncovered. This will make them lightly crispy on the ends, RancherMan likes them that way. I must admit, so do I!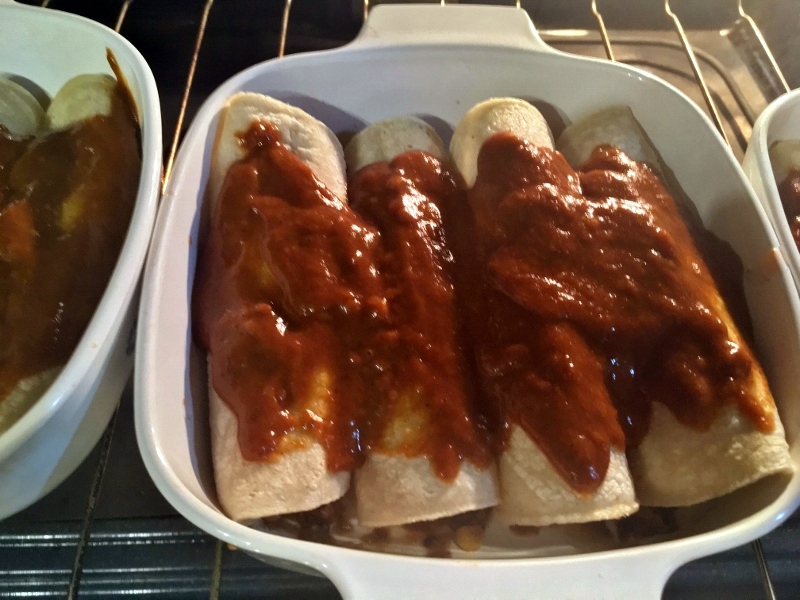 Then into a preheated 350-degree oven for 10 short minutes.
After that time I brought them out of the oven and spread more cheese evenly over the middle of the enchiladas. Again I left the ends uncovered. That's just the way we roll in our Household!
Top With Cheese & Allow It To Melt
Then back into the oven for 5-10 minutes. After that final stint in the oven the cheese was lightly browned & delightfully melty.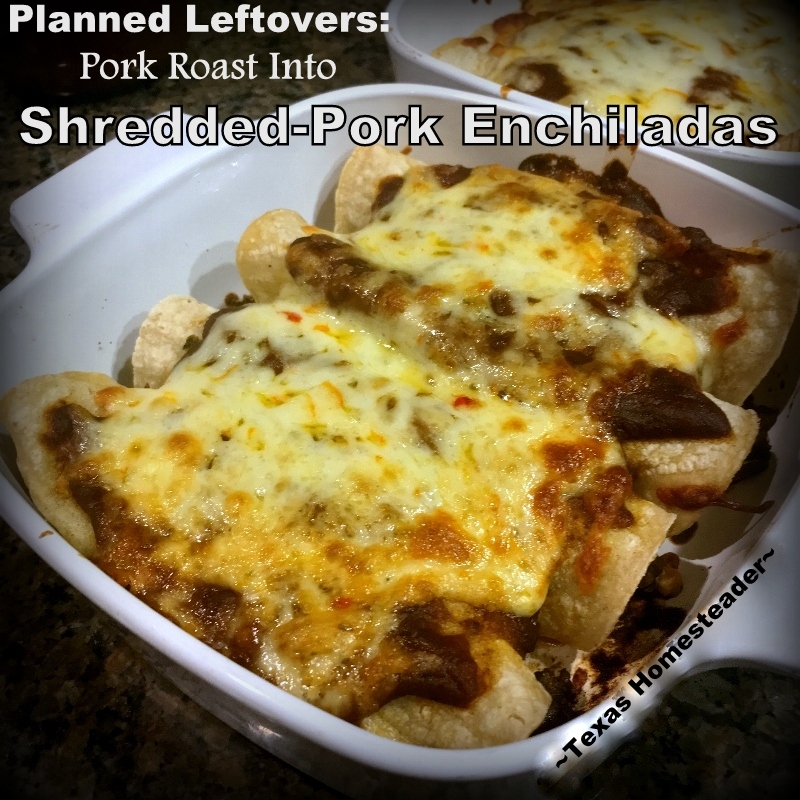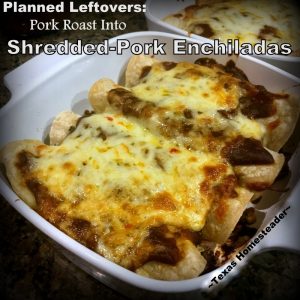 I added a couple of side dishes and BOOM! Hearty, delicious homemade supper. And since we each could eat 2 enchiladas, there were still two more enchilada meals to put into the freezer for later.
I like to have a nice reserve of home-cooked entrees in the freezer so that we can enjoy homemade greatness when the day's been crazy-busy!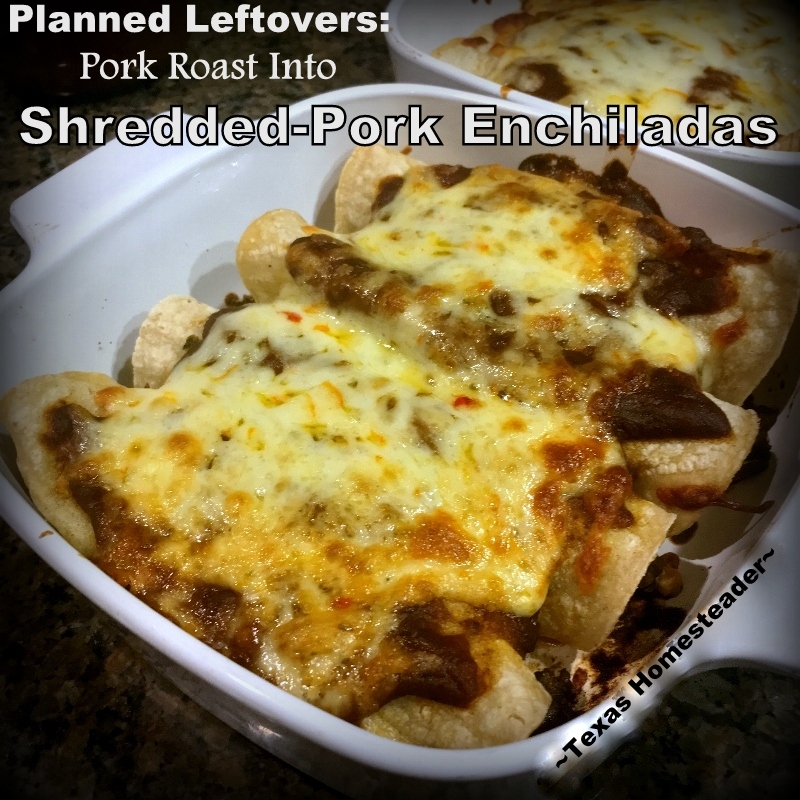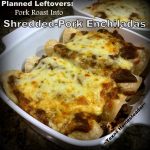 Planned Leftovers: Pulled Pork Enchiladas
Ingredients
Ingredients:
3

cups

leftover pork roast

shredded

1

cup

leftover pintos or black beans

drained

1

cup

whole-kernel corn

drained

1

cup

leftover cooked onions

chopped

1/2

cup

leftover cooked bell pepper

chopped

2.5

cups

shredded cheese

I used Jalapeno Muenster

12

white-corn tortillas

3

cups

Enchilada Sauce
Instructions
INSTRUCTIONS
Preheat oven to 350F

Heat cooked shredded pork (without stirring) on high heat until bottom is nicely browned - about 3 minutes.

Add the corn, beans, onions, bell pepper, ½ cup enchilada sauce and ½ cup cheese to meat and mix to combine.

Spread a thin layer of reserved Enchilada Sauce on the bottom of each baking dish.

Place 1/3 cup of filling into a corn tortilla and roll up and place in the baking dish seam-side down.

Pour remaining Enchilada Sauce over middle of enchiladas, leaving ends uncovered.

Bake for 10 minutes.

Remove from oven and sprinkle remaining cheese on top. Then bake for a further 10 minutes until the cheese is melted.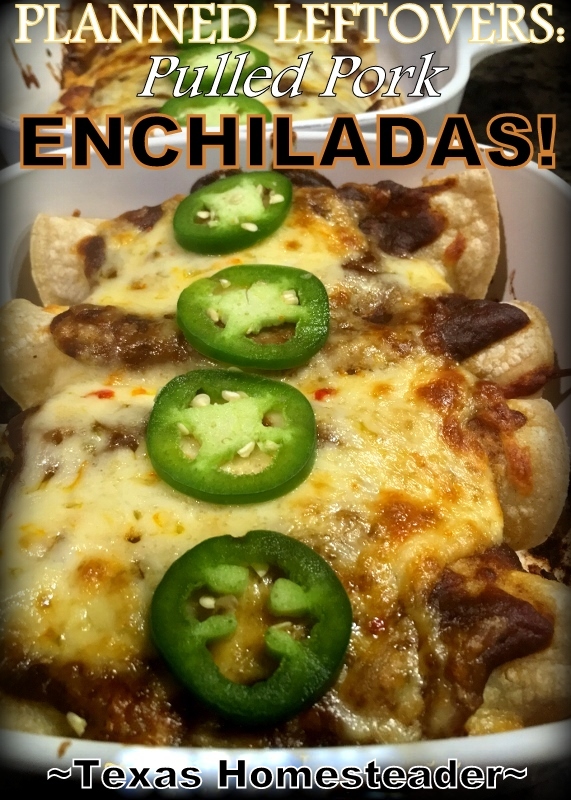 Want to see other Leftover Pork Roast Meal Ideas?

Pork Roast Recipes:
Recipes Using Leftover Roast:
New Meals Remade With Leftovers
…and MUCH MORE!


C'mon by & sit a spell! Come hang out at our Facebook Page . It's like sitting in a front porch rocker with a glass of cold iced tea. There are lots of good folks sharing! And you can also follow along on Pinterest, Twitter & Instagram
If you'd like to receive an email when a new blog post goes live,
subscribe to our Blog!
Save
Save