by Texas Homesteader ~
*contains affiliate link
My kitchen doesn't have oodles of different sizes and brands of fancy cookware. But back in 'the day' I was the same as probably most of my friends. I was rushing out to buy the latest and greatest cookware and food storage systems. After awhile my cupboards were stuffed to overflowing. And I could never find what I wanted when I needed it.
So I culled back HEAVILY and donated a tremendous amount of stuff to Goodwill, keeping only the things I actually used. I'm more likely to toss leftovers in glass jars in the fridge instead of using the tumbling mountains of plasticware for instance.
But let me introduce you to my absolute favorite item in my kitchen: my grandmother's antique cast-iron skillet. (spotlight please…)  Isn't she a beauty?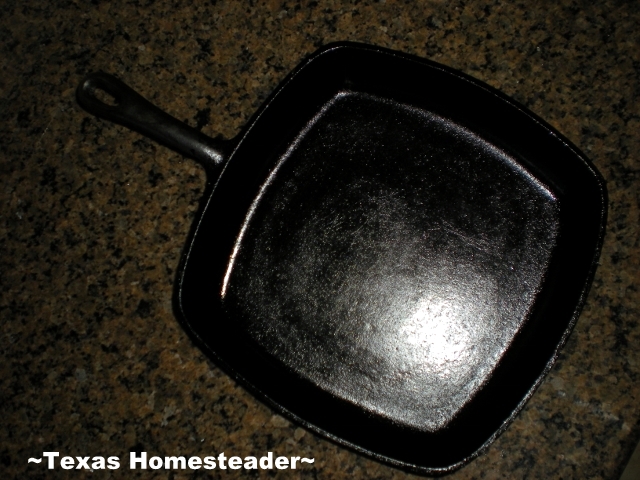 Precious Gift
This skillet was given to me by my grandmother many years ago. She received it as a wedding gift when when she and my grandfather married in 1934. Grandma was an amazing cook and this skillet was used almost daily in providing for her family.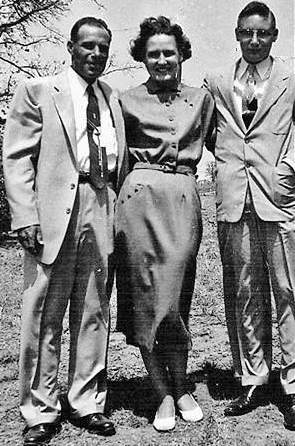 By the time she gifted it to me it was perfectly seasoned and virtually non-stick. I only have one other kind of skillet, a stainless steel one for when I'm not cooking savory dishes. (like when I'm making homemade Chocolate Pudding, etc)
Stovetop or Oven Use
But this cast-iron skillet is my go-to piece of cookware, especially for frying foods like fried potatoes or RancherMan's favorite Poor-Man's Steak. (ie: stuffed hamburger). I love that it's oven safe as well. So I also bake cornbread, cobbler and other items in it too.
Keeping it properly seasoned is a snap. If I'm frying something I simply wipe out the interior after it's cooled and then store it away. But I've learned that if I cook something messy in it I only need to use a scrub brush and hot water to clean the interior. (I'm not gonna lie, it was VERY difficult for me to come to terms with never using soap in the skillet as I was cleaning it!)
After it's been scrubbed clean I set the skillet on a hot burner until all moisture evaporates.  When the skillet is completely dry I coat the inside with a thin coat of shortening before storing it away.
Cast Iron Lasts For Decades
I'm amazed that this skillet has already seen so many decades of faithful service. And I love that I'll still be able to pass it down to my own children. And they can pass it on to theirs!

If you aren't lucky enough to receive an old cast iron skillet from your grandmother, they're easily purchased new. I found cast iron skillets on *Amazon here
.  Seasoning a new cast-iron skillet is easy. But nowadays you can even purchase your cast iron pre-seasoned.
Properly cared for cast iron is highly durable cookware that you should be able to use for decades. And it only gets better with use. Now THAT'S an environmentally-friendly purchase.
Do you have a favorite piece of cast iron?
~TxH~
Read More About How Grandma Would Do Things
Other Low-Waste Stories


C'mon by & sit a spell!  Come hang out at our Facebook Page. It's like sitting in a front porch rocker with a glass of cold iced tea.  There are lots of good folks sharing! 
And you can also follow along on  Pinterest,  Twitter,  Instagram  or  Instagram.
If you'd like to receive an email when a new blog post goes live,
subscribe to our Blog!
*Amazon affiliate
Save
Save
Save
Save