by Texas Homesteader ~
Although cleaning and caring for cast iron is somewhat different than other materials, it's not hard nor complicated.
A few simple tricks will keep your cast iron rust free, virtually non stick and ready to serve you well for decades.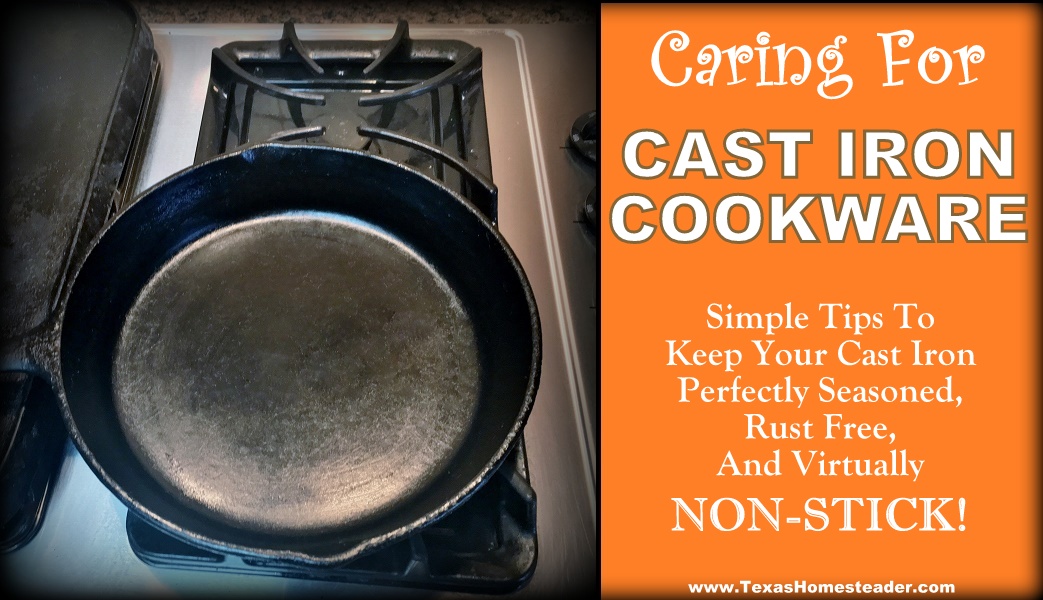 (Note: Some links in this post will take you to other related articles for further information. But links preceded with * are affiliate links. If you click and buy something I could receive a tiny commission.)
Simplifying My Kitchen Cookware
But back in 'the day' I was the same as probably most of my friends. I was rushing out to buy the latest and greatest cookware and food storage systems.
Several years ago I culled back HEAVILY and donated a tremendous amount of stuff to a thrift store, keeping only the things I actually used.
The most-used item in my Homestead kitchen is my small collection of vintage cast-iron skillets, passed down to me from both my father & my grandmother.
Precious Antique Cast-Iron Skillet Gift
Cast Iron skillets are the preferred cookware in my Homestead kitchen. But let me introduce you to my absolute favorite item in my kitchen: my grandmother's antique cast-iron skillet.
(spotlight please…) Isn't she a beauty?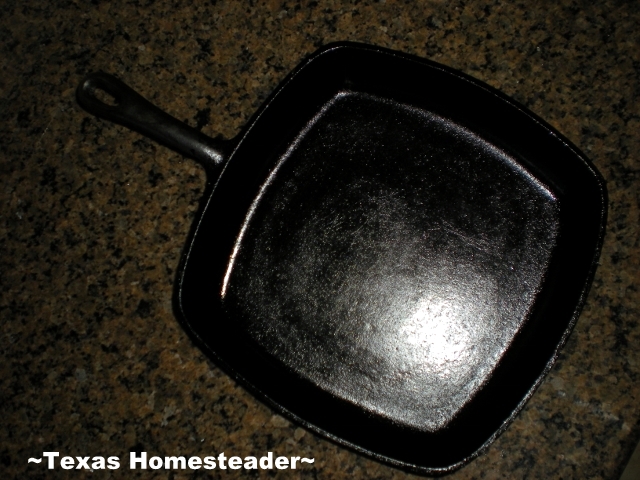 This square cast iron skillet was given to me by my grandmother many years ago. She received it as a wedding gift when when she and my grandfather married in 1934.
Grandma was an amazing cook and this skillet was used almost daily in providing nourishing food for her family.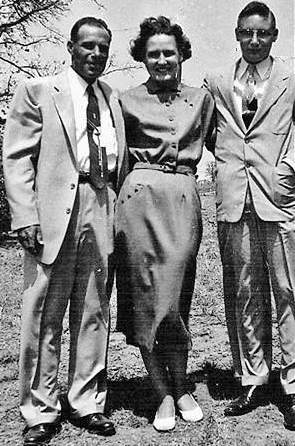 By the time she gifted the skillet to me it was perfectly seasoned from decades of home cooking. The surface was virtually non-stick too. I use it often.
I've also received a couple of vintage 10″ round cast iron skillets from my father.
These are so helpful because I like to make a double batch of No-Knead Skillet Bread and like to bake both loaves at the same time!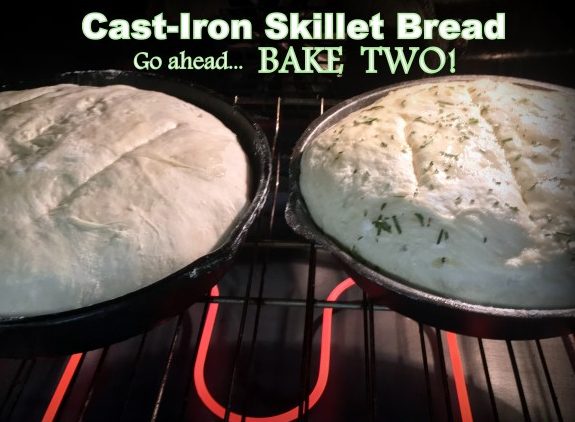 I also have various-sized griddles, comals, and other cast iron cookware that I use often.
Cast Iron For Stovetop or Oven Use
Cast iron is my go-to piece of cookware for virtually everything.
Stovetop Cast Iron Cooking: I most often use cast iron on the stovetop for: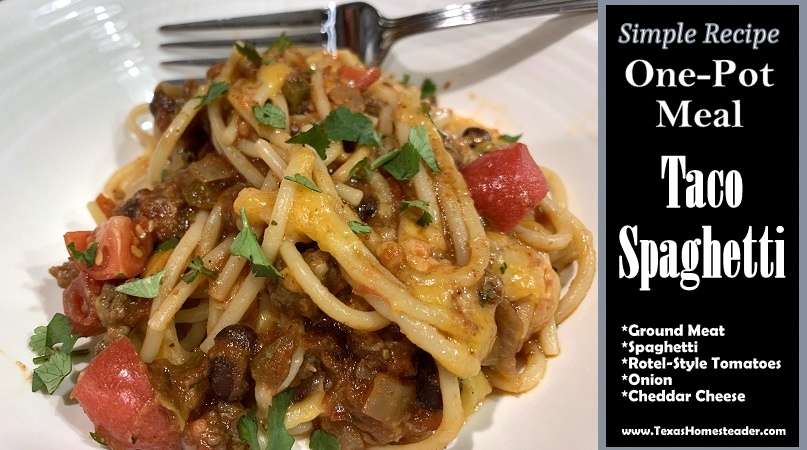 Cast Iron Oven Cooking: And I love that my cast iron skillets are oven safe as well. So using my cast-iron skillets I also typically bake: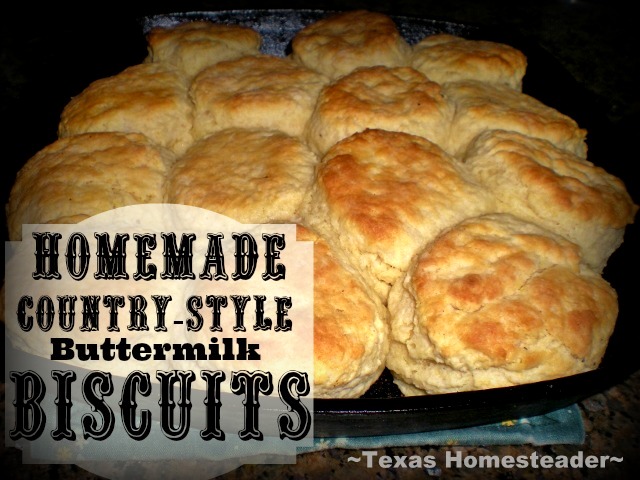 Cleaning My Cast Iron Skillet
Keeping my cast iron skillets properly cleaned & seasoned is a snap. If I'm frying something I simply wipe out the interior of the skillet of any residual food after the skillet's cooled.
Any coating of oil left behind after cooking just helps to protect the seasoning of the cast iron.
But to clean the skillet after anything other than frying, I only need to use a scrub brush and some hot water to clean the interior. Soap is not necessary.
Although some cast-iron users will include soap in the cleaning, I feel it compromises the perfectly seasoned non-stick surface that was decades in the making.
So to keep that perfectly-seasoned surface I love, I never use soap when cleaning my cast-iron skillets. (Although I'm not gonna lie, it was VERY difficult for me to come to terms with never using soap in the skillet as I was cleaning it!)
Food Occasionally Clings To Cast Iron Surface
Now although the gorgeous surface of my cast iron skillet is virtually non-stick, there are cooking mishaps that cause things to stick in my skillet from time to time.
Errors such as not allowing the surface to heat enough before adding eggs for scrambling or when trying to fry very starchy varieties of potatoes.
But for those occasional messier things this is my favorite hack for cleaning my cast iron in those rare times when food clings to the surface of my cast-iron skillets:
Into my cooled skillet I pour in just enough water to barely cover the surface. Then I place the skillet on a burner set the flame to medium heat.
Since there's so little water in the skillet, the water starts to simmer within a very short amount of time.
Now I turn off the heat and place the cover on the skillet. I'll let the steam do all the work while I clean the rest of the kitchen.
By the time I'm done I remove the lid and any food that's been stuck on the surface is softened & scrapes away effortlessly.
Maintaining Seasoning On Cast-Iron Surface
After my cast iron skillet has been scrubbed clean, I set the skillet on a hot burner until all moisture evaporates. I never walk away during this step because I've gotten distracted before. Eh hemmmmm…
Besides it only takes a few seconds for the heat to dry all the moisture that remains on the skillet's surface.
When the skillet is completely dry I remove it from the heat and coat the still-warm inside surface with a thin coat of shortening or bacon grease before storing it away.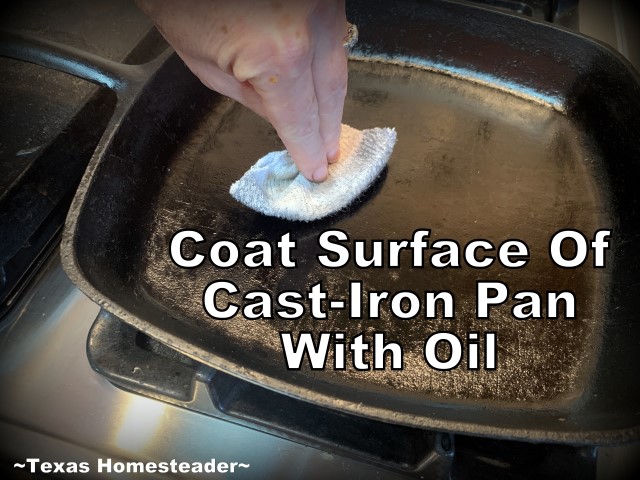 This helps protect the skillet against moisture. And remember that moisture is the enemy for cast iron.
Cast Iron Cookware Lasts For Decades
I'm amazed that this skillet has already seen almost a century of faithful service. And I love that I'll still be able to pass it down to my own children. And they can pass it on to theirs!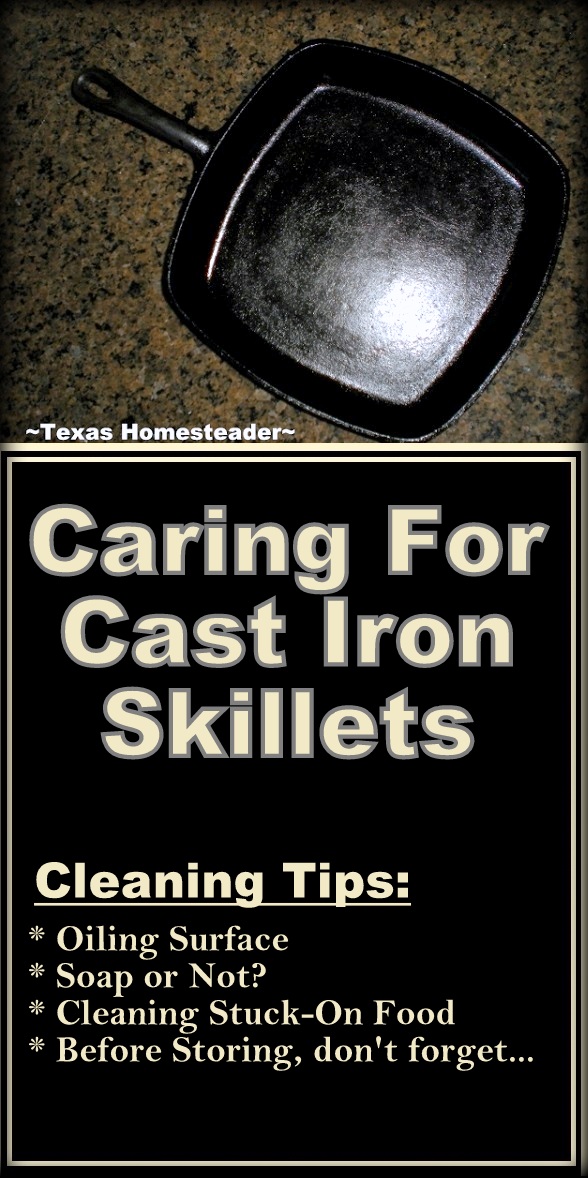 Where To Find Cast Iron Cookware
If you aren't lucky enough to receive a vintage cast iron skillet from your grandmother, they're easily found at antique stores or thrift store.
You can still purchase cast-iron skillets new as well. I found cast iron skillets on *Cast Iron Skillets on Amazon.
Seasoning a new cast-iron skillet is easy. But nowadays you can even purchase your cast iron pre-seasoned.
Properly cared-for cast iron is highly durable cookware that you should be able to use for decades. And it only gets better with use. Now THAT'S an environmentally-friendly purchase.
Do you have a favorite piece of cast iron?
~TxH~
Read More About How Grandma Would Do Things
Low-Waste Stories

C'mon by & sit a spell! Come hang out at our Facebook Page. It's like sitting in a front porch rocker with a glass of cold iced tea – lots of good folks sharing! You can also follow along on Pinterest, Twitter or Instagram.
If you'd like to receive an email each time a new blog post goes live it's EASY to
Subscribe to our blog!
*Amazon affiliate
Save
Save
Save
Save