by Texas Homesteader ~
This one-pot taco spaghetti gets supper on the table fast. A delicious taco-inspired pasta meal that's ready in only about 30 minutes!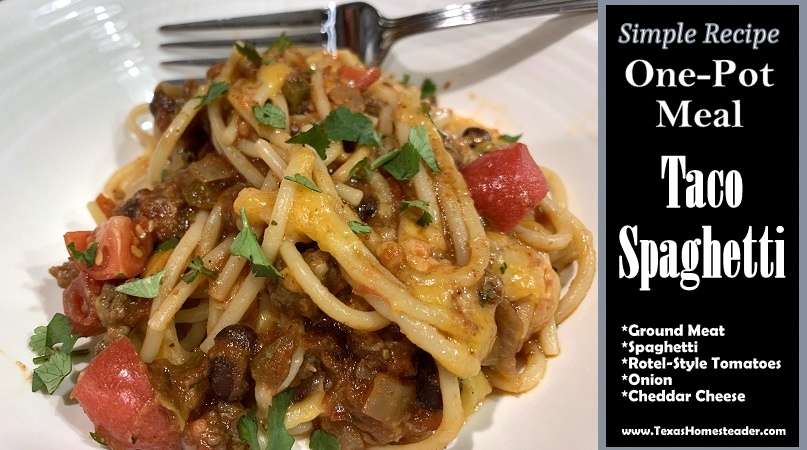 Taco Spaghetti A One-Pot Meal
Everyone knows that spaghetti is a simple yet delicious one-pot meal. But, you know, sometimes you want something with a little more zing. A little something different. You know, just a little more excitement.
How about giving plain ole spaghetti a facelift? How about giving it a taco theme for a little Mexican flair?
It sounded good to me. So I decided to give a taco-styled spaghetti idea a try.
It's a simple dish, and the kids will love it too. I mean – spaghetti AND tacos? What's not to love??
So if you're after the one-pot preparation simplicity of a spaghetti supper but want to try something different, this taco spaghetti is an easy, cheesy, delicious option for your family too.
Simple 30-Minute Suppertime Recipe
I'm a big fan of simple recipes. You know how it is, sometimes the day is long and you just can't stand the thought of being tied to the kitchen for a long time. Oh believe me, I get it.
Plus I'm a big fan of one-pot meals too. Less to dirty up (and less to CLEAN up) in the kitchen is always a homerun in my book!
This Taco Spaghetti takes about the same amount of time as plain ole regular spaghetti. So you're still in & out of the kitchen fast.
And it's a fun flavor combination too. Just a little sumpin' different to keep them excited about suppertime.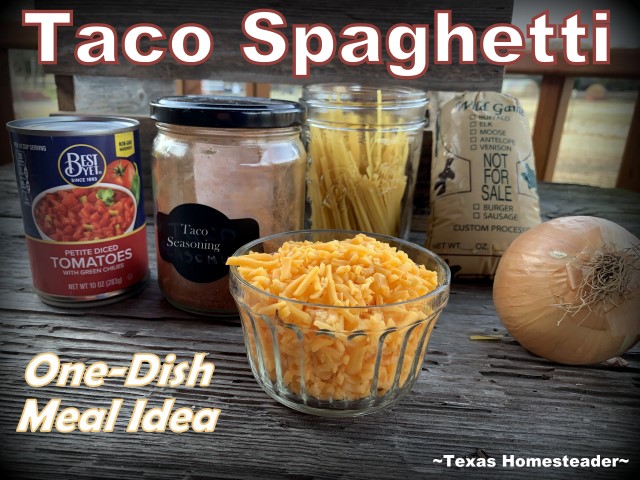 Plus you can add whatever garnishes you like. I often top servings with a dollop of sour cream and chopped fresh tomatoes.
Ground Meat Options
For my taco spaghetti recipe I needed about a lb of ground meat. I typically use ground unflavored pork in any recipe calling for ground meat.
RancherMan's a skilled hunter so we always have Wild Hog ground pork in the freezer! But of course you can opt for ground beef here.
So first I bring out my cast-iron dutch oven. I love this thing – it's big enough to allow the spaghetti to simmer without anything boiling over and it has a lid.
If you're using a skillet you'll need something that's 12″ or bigger to keep everything contained. Or just a larger soup pot if that's what you have.
Shortcuts For Faster Meals
Some say you need to sauté the onions in oil until they're translucent first before adding your ground meat to cook. But y'all know I'm aaaaall about the Shortcuts In The Kitchen.
To streamline things I'll sometimes opt for this simple kitchen hack of using previously-sautéed & frozen onions. But if I don't have any in the freezer I'll opt for option two:
I'll go ahead & chop my fresh onions first and drop them in the skillet along with my ground meat. That way the meat & onions can both cook at the same time. Life's busy y'all – I don't have time to add any unnecessary steps!
Taco Spaghetti: Cooking Meat/Onions
So I turn on the heat and cook the meat until it's fully cooked, chopping it along the way. Sometimes I'll leave the ground meat pretty chunky so it adds a more hearty feel to the taco spaghetti.
Then I'll drain any grease away. It's important to note here that I never drain that grease into the sink – that's just a future clog in your pipes waiting to happen. (ask me how I know. Eh hemmmm…)
So I always use this Homestead Hack for Dealing With Cooking Grease in a safer way. It's poured into a jar I keep in the refrigerator. When it's full I simply screw the lid on tight and throw it away.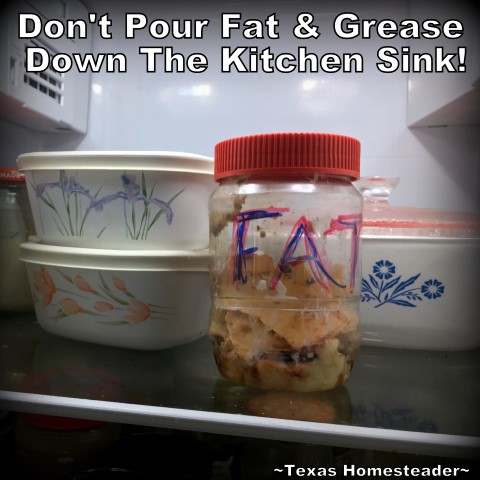 But after the meat is safely drained of any grease, it's showtime!
Assembling Taco Spaghetti
First I sprinkle the taco seasoning on the cooked meat. I use ¼ cup of my own Homemade Taco Seasoning Mix, but you can use a regular 1-oz packet of the commercial stuff here if that's what you prefer.
Then I added a can of Rotel-type tomatoes – juice and all. And I also added 3 cups of water and stirred everything to combine.
Finally I needed 8 ounces of dry spaghetti noodles. You say 8 ounces? Hummm…
How Much Is 8 Oz Of Pasta?
Now if your package of spaghetti pasta happens to be the smaller 8 oz size, that's an easy measurement. Just use that whole box.
But what about those of us who buy the larger bulk-sized packages? How much is 8 ounces of uncooked spaghetti anyway?
Here's the deal. You're going to want to end up with 5 cups of cooked spaghetti for this recipe. Although let's be honest, just a touch more or less is not going to make or break the recipe.
So if you have the larger 1-lb package, just use about half of it. You're shooting for about 5 cups of cooked spaghetti.
Long Or Short Length Pasta?
I like my cooked spaghetti noodles to be shorter. It's just easier to eat in my opinion. So I snap the fistful of uncooked pasta into 1/3rds before dropping them in my cooking vessel.
But c'mon, if slurping up those long spaghetti noodles is half the fun for your kiddos (or for YOU!) then by all means leave 'em longer!
Cooking The Taco Spaghetti
Now I give everything a quick stir and turn the heat up to get everything boiling. Then I turn down the heat and add a cover to the dutch oven to keep it at a simmer. All that's left to do is cook the spaghetti until it's as tender as you like. For me it's about 15 minutes.
After 15 minutes I'll check my spaghetti. Are the noodles now as thick as I like? Yep.
How about tenderness, are the noodles as tender as we like? If not I'll typically just turn the heat off and let the noodles sit beneath that lid in the hot dutch oven a little longer. The residual steam makes the noodles more tender.
If I'm left waiting for a bit, maybe in the meantime I'll whip up a quick salad for us to enjoy. I mean, why not? I can mix up my favorite homemade Healthy & Creamy Salad Dressing in about a minute or less and I have containers of the prepared fresh veggies just waiting in the fridge. A fresh salad can be whipped up in minutes.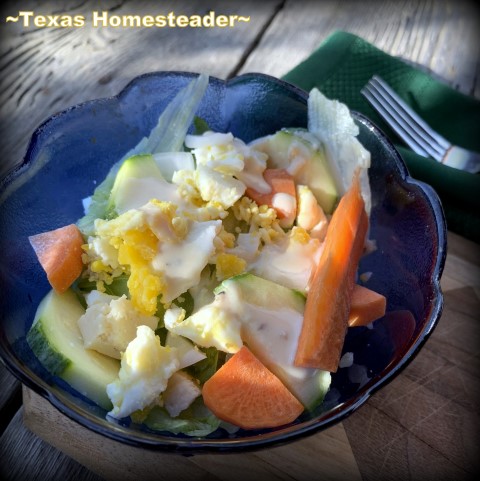 When my Taco Spaghetti is ready to serve I'll add about half of my shredded cheese into the skillet of spaghetti and stir it to incorporate everything and allow that cheese to turn all melty. YUM!
Then to serve I'll spoon some of that deliciousness into wide bowls for RancherMan & myself and top with our favorite taco toppings.
I like to add a sprinkle of the remaining shredded cheese & some chopped cilantro. Sometimes I'll chop a fresh tomato to add on top & maybe a dollop of sour cream.
It's such a flexible recipe – just add whatever fun taco toppings your family likes!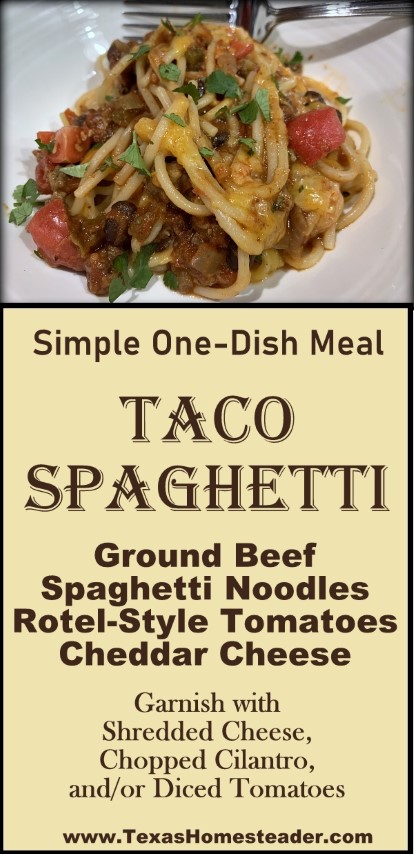 So there ya go. A meal that's just as easy as plain ole spaghetti, but with a fun taco twist for a little sumpin' different.
And with one-pot meal preparation convivence too!
Give it a try!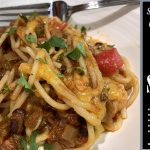 Taco Spaghetti
This one-pot taco spaghetti gets supper on the table fast. A delicious meal that's ready in only about 30 minutes! #TexasHomesteader
Ingredients
Ingredients
1

pound

ground beef

½

yellow onion,

chopped (about ¼ cup)

1

1-oz Pkt

Taco seasoning

(or ¼cup homemade taco seasoning)

1

10-oz Can

Rotel-style tomatoes,

undrained

1

8-oz Pkg

Spaghetti noodle pasta,

uncooked

3

cups

Water

1

cup

Shredded cheddar cheese,

divided

½

cup

Chopped cilantro
Instructions
Instructions:
Brown ground meat and onion in dutch oven or 12" skillet until meat is no longer pink and onions are soft and translucent. Drain away grease.

Add taco seasoning, water, an undrained can of Rotel-type tomatoes and uncooked spaghetti (snapped into 1/3rds if desired).

Bring the mixture to a boil over high heat, then stir and place cover on skillet. Reduce heat to maintain a simmer for about 15 minutes or until spaghetti is tender.

Remove from heat. Sprinkle half of the cheese into the pan and give a quick stir to evenly distribute all ingredients.

Serve in wide-mouth bowls, top with a sprinkling of the remaining cheese and cilantro (and if desired add optional dollop of sour cream and/or chopped tomatoes for garnish.)
Recipe Notes
Recipe Notes
Leftovers can be stored in the refrigerator for about 3-4 days.
~TxH~
This post categorized in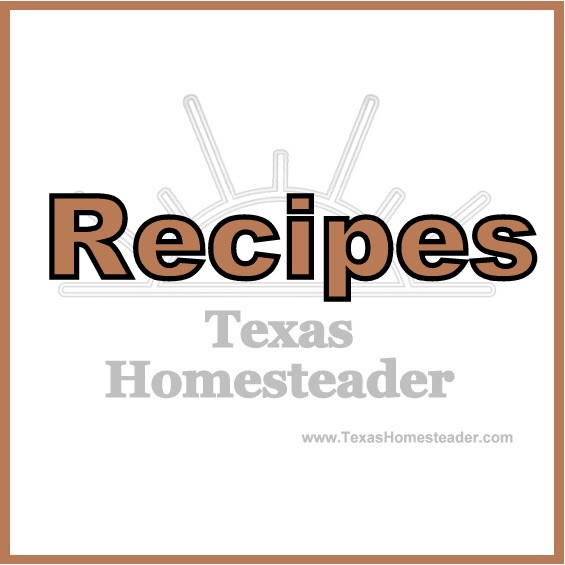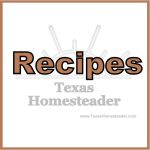 Links In This Post
Our Favorite Tex-Mex Recipes
Want to see other Meal Ideas?





C'mon by & sit a spell! Come hang out at our Facebook Page. It's like sitting in a front porch rocker with a glass of cold iced tea – lots of good folks sharing! You can also follow along on Pinterest, Twitter or Instagram.
If you'd like to receive an email each time a new blog post goes live it's EASY to
Subscribe to our blog!