by Texas Homesteader ~
Instant Pot spaghetti is a fast & easy One-Pot Meal. After cooking the meat, just pressure cook for 8 minutes & allow to rest for 10. No danger of pasta water boiling over & making a mess on your stove. Just delicious spaghetti supper FAST.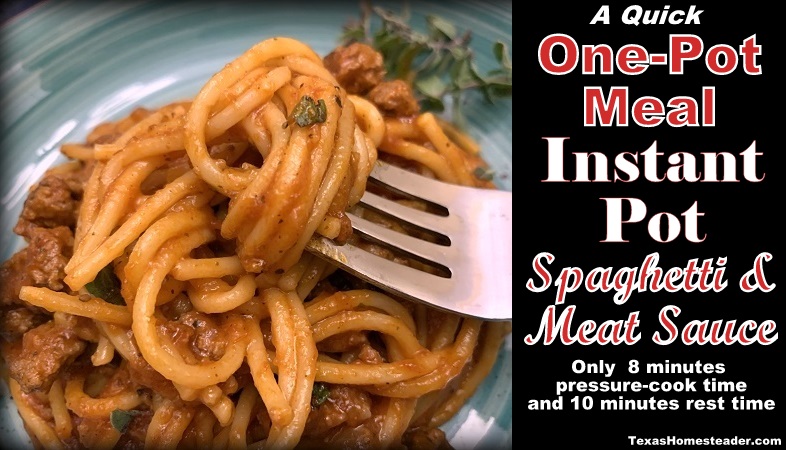 (Note: Some links in this post will take you to other related articles for further information. But links preceded with * are affiliate links. If you click and buy something I could receive a tiny commission.)
How To Make Instant Pot Spaghetti With Meat Sauce?
Wondering how quickly this one-pot meal really comes together? Well here's how fast:
Sauté beef and onion, deglaze pan with a little broth.

Add pasta sauce, seasonings, spaghetti and more broth.

Pressure cook 8 minutes, release pressure and fluff with tongs.

Allow to sit about 10 minutes to soak up remaining sauce.
Really – that's IT! Intrigued? Well read on, dear friends!
Spaghetti Is An Instant Pot One-Pot Meal!
I'm sharing one of my favorite one-pot meals: Instant Pot Spaghetti and Meat Sauce. I love how this recipe means only one pot needs to be washed! I cook the meat and the pasta noodles in the same IP insert pan.
And since I'm only adding the amount of broth needed to cook those noodles no straining is needed. Not only does that keep me from wasting one precious drop of my Homemade Broth, so I don't even need to wash a strainer, y'all.
After cooking the meat, a short 8 minutes of IP pressure cooking and a quick 10-minute rest time is all it takes to whip up this meaty Instant Pot spaghetti dinner.
Cooking Ground Meat & Onions In An Instant Pot
Unless I'm using my Homestead Hack of using pre-sautéed and frozen chopped onions, I typically cook the ground meat and onions / garlic together instead of sautéing the onions and then cooking the meat.
It's just a handy shortcut for me. Less time in the kitchen is the whole point of a one-pot meal #amiright??!
So I chop the onions, mince the garlic and toss 'em in at the same time I add my ground meat.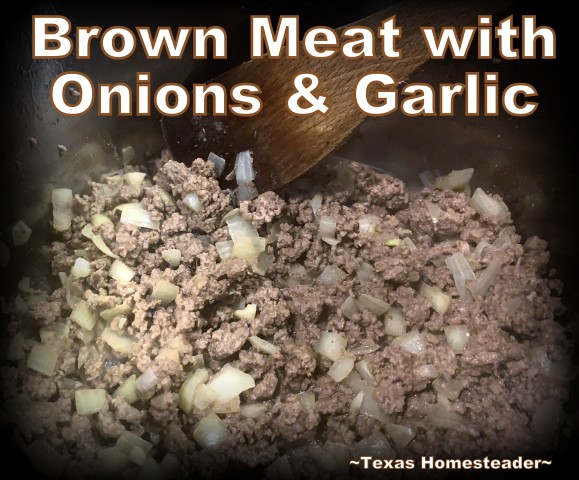 I don't usually add any oil since I know the meat will produce some oil on its own.
Then I cook the meat until no pink remains being sure to keep it stirred. If needed I'll drain any grease from the meat after it's cooked.
Why Do You Have To Deglaze With The Instant Pot?
Deglazing is simply splashing in a little liquid and then scraping any stuck bits off the bottom of the pot. This keeps those small bits from burning as they're pressure cooked.
So after cooking/draining the ground beef I deglaze the pan by splashing in about 1/2 cup of the broth and deglazing the pan by scraping the bottom with a wooden spatula to dislodge any stuck meat from the bottom of the pot.
Once I'm assured nothing is stuck to the bottom of the insert pan, it's showtime!
I just start dumping in the remaining ingredients in a layer.
Layering Instant Pot Spaghetti Ingredients
It's important to add liquid both beneath the dry spaghetti noodles and some on top too. That puts the pasta between layers of liquid to help everything cook evenly.
Since I already have 1/2 cup of the broth on the bottom from deglazing the pan, I snap 8 ounces of raw spaghetti noodles in half and fan them in a cross-cross manner across the top of the meat, being sure to expose as much pasta surface as I can.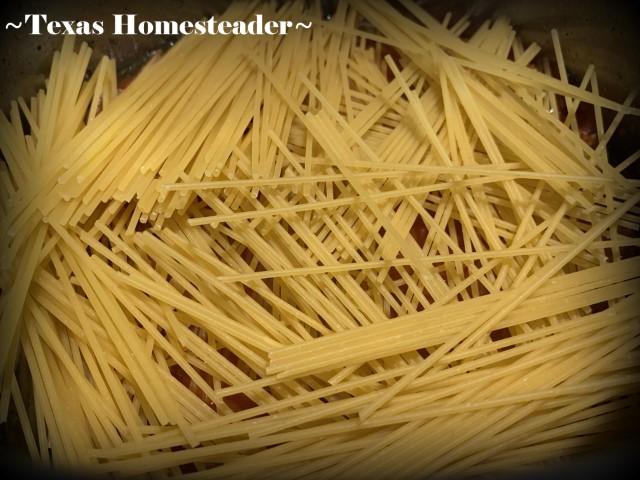 IMPORTANT: Don't stir the ingredients from here on out. Just layer and cook!
I pour the pasta sauce and the rest of my broth on top of the raw spaghetti noodles. Again – no stirring here. You're just layering the ingredients to cook.
Now I lock the lid on top of my Instant Pot, press +/- to reach 8 minutes cook time, make sure the vent is on 'SEALING' and walk away.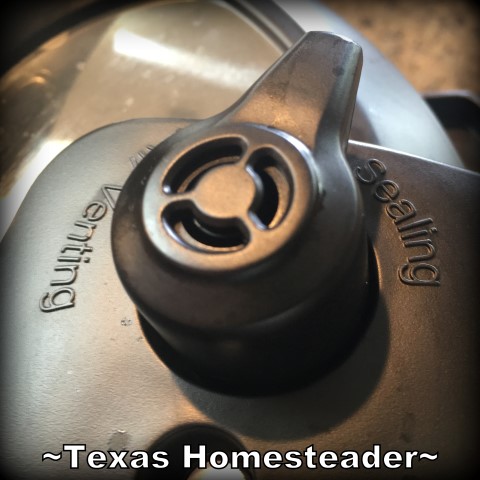 Cooking Spaghetti In The Instant Pot
It will take a few minutes for the IP to come to pressure before beginning pressure cooking. I just cook for 8 short minutes.
I flip the switch to 'venting' and release all the pressure before carefully lifting the lid from the IP. It's important to lift the lid away from you to avoid steam burns.
Now I'll warn ya, when you open the lid & peek inside the IP inner liner you may be initially concerned. Your spaghetti probably looks way too juicy.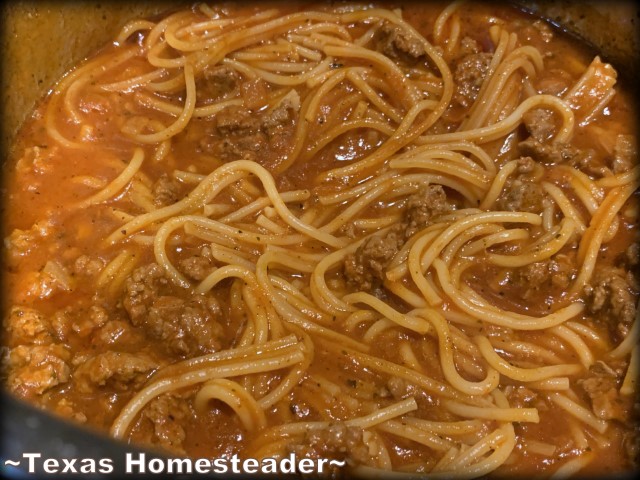 No worries y'all. Use a pair of tongs to fluff the pasta and just let it rest in the inner liner with the lid removed for about 10 minutes.
All the juices will be soaked up perfectly by the pasta and it will be ready to serve!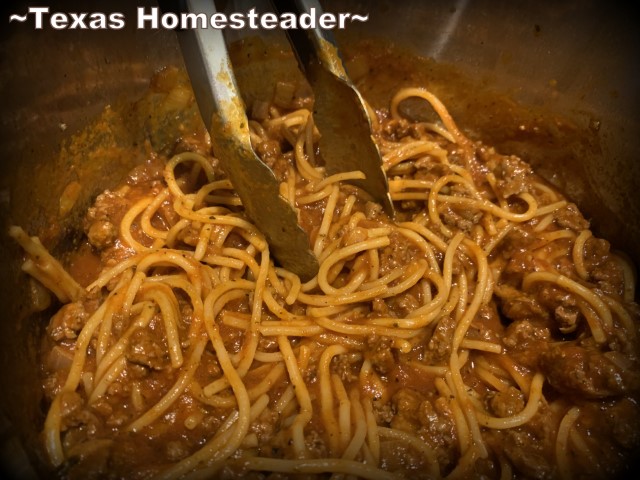 How To Serve Instant Pot Spaghetti FAST!
I placed hearty servings of spaghetti into wide-rimmed bowls.
The abundant oregano is usually still producing in my Edible Landscape. So I oftentimes harvest a small portion and mince the leaves to sprinkle over the top.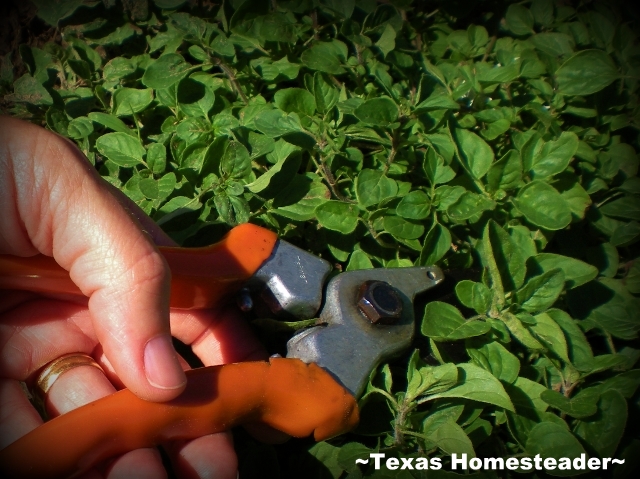 Sometimes I also sprinkle a little cheese on top for good measure. Most people like parmesan cheese but RancherMan's not a parmesan cheese fan. At all!
So if I'm adding cheese I'll use grated Mozzarella or Monterrey jack cheese – but truth be told any white cheese will do here.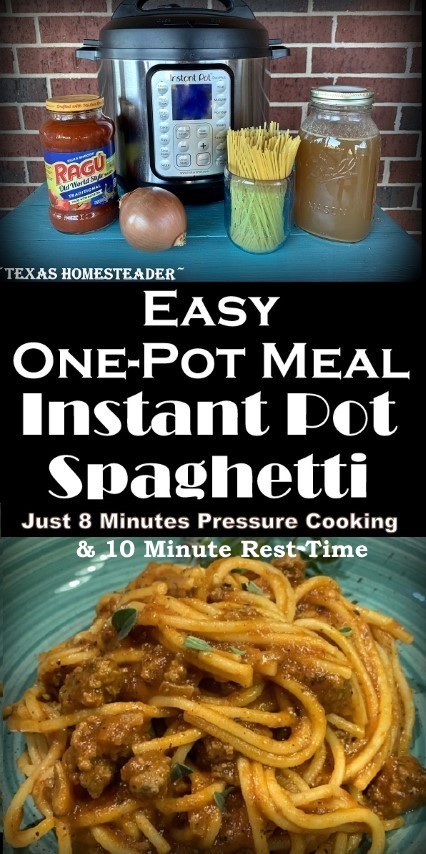 Now all that's left to do is to dig in and ENJOY!
---
Did you make this dish? Please rate the recipe in your comment below!
---
Instant Pot Spaghetti and Meat Sauce
Looking for a one-pot meal that can get your family fed fast? This Instant Pot Spaghetti recipe is simple and requires 8 minutes pressure cooking with a 10-minute rest. So go ahead, plan on serving delicious spaghetti tonight! #TexasHomesteader
Rest Time For Pasta To Absorb Sauce
10
minutes
Ingredients
1

pound

Ground meat

(I often use ground wild pork or venison)

½

cup

Chopped onion

1

clove

Garlic,

minced

½

teaspoon

salt

½

teaspoon

Dry basil

½

teaspoon

Dry oregano

2

cups

Broth, divided

(can use water if necessary)

1

24-oz jar

Tomato-based spaghetti sauce

(about 3 cups)

8

ounces

Dry spaghetti pasta noodles,

snapped in half

Optional

Grated Parmesan cheese for serving

Optional (I use Monterrey jack or mozzarella, but any white cheese will do)
Instructions
INSTRUCTIONS
Turn electric pressure cooker on to sauté. Once heated add ground meat, ½ cup chopped onion and one minced clove of garlic. Break the ground meat up into large pieces with a wooden spoon. Stir while cooking until meat is fully cooked and no longer pink, about 5 minutes. Turn off the sauté function and drain grease if needed.

Add ½ cup of the broth or water to the pot. Scrape the bottom of the pot to deglaze & remove any stuck-on bits. Add the 24-oz jar of sauce on top of the meat and season with the ½ teaspoon salt, ½ teaspoon oregano & ½ teaspoon basil, then stir to combine well.

Break the spaghetti strands in half and spread them evenly in a criss-cross manner over the ground beef mixture. From this point on, DO NOT STIR.

Pour the remaining 1½ cups of broth or water over the pasta noodles. Do not stir.

Place the lid securely on the pressure cooker. Set to cook on high pressure for 8 minutes. (Note: The cooker can take approximately 10 minutes to reach pressure and begin cooking countdown)

After the 8-minute cooking time is up, turn off the pressure cooker and do a quick release of remaining pressure. Carefully remove the pressure cooker lid being sure to open away from you to avoid steam burns.

Using tongs, gently fluff the spaghetti into the sauce. NOTE: The spaghetti will look overly juicy. Allow it to remain in the IP liner for and additional 10 minutes and the pasta should fully absorb the juice.

Serve immediately with a topping of grated cheese or minced fresh oregano if desired.
Recipe Notes
NOTE: Once you add the pasta noodles, it's important to not stir the ingredients. Just criss-cross pasta, layer ingredients and cook.
Also, when 8 minutes of cooking time is up you may notice the spaghetti seems too juicy. Allow it to remain in the inner liner for an additional 10 minutes to continue soaking up the sauce.
~TxH~
Other Instant Pot Recipes:
Want to see other Meal Ideas?





C'mon by & sit a spell! Come hang out at our Facebook Page. It's like sitting in a front porch rocker with a glass of cold iced tea. There are lots of good folks sharing!
And you can also follow along on Pinterest, Twitter, Instagram
To receive an email when a new blog post goes live it's EASY to
Subscribe to our blog!