By Texas Homesteader ~
Chicken Fried Rice makes good use of leftover meat & rice to get supper on the table fast. A delicious yet very flexible recipe for those busy nights.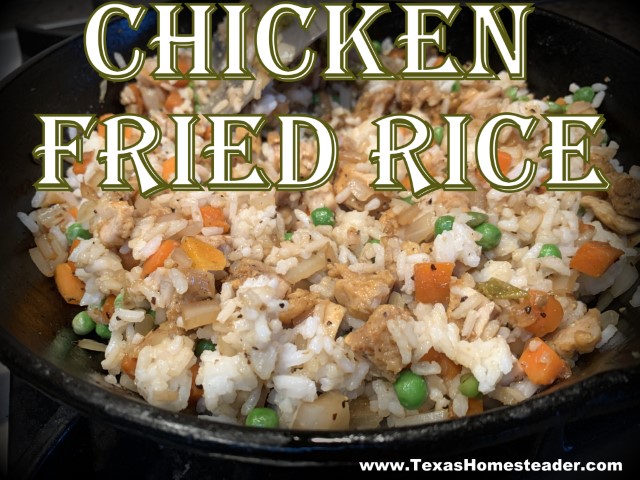 Benefits of Leftover Food
I'm a big fan of Planned Leftovers. That's the method of cooking when some of the components of today's meal were actually prepared for a completely different dish yesterday.
It's a super-fast meal since some of the ingredients of tonight's entrée have already been cooked.
For instance, I have leftover grilled fajita chicken and some plain long-grain rice in the fridge needing to be used.
So I'll combine them deliciously to make a completely different meal tonight with an oriental flair. Chicken Fried Rice!
Using Planned Leftovers
There's a whole list ideas at the bottom of this post for making good use of purposely-planned leftovers. But today I'm using those planned leftover shortcuts to make chicken fried rice.
You see, when RancherMan fires up the grill – I make sure he fills that entire grill surface up! He may start off grilling venison for instance, but I'll bring all manner of food out to him to grill at the same time.
So he'd cooked chicken breasts and we'd enjoyed some of them as chicken fajitas one night. But then…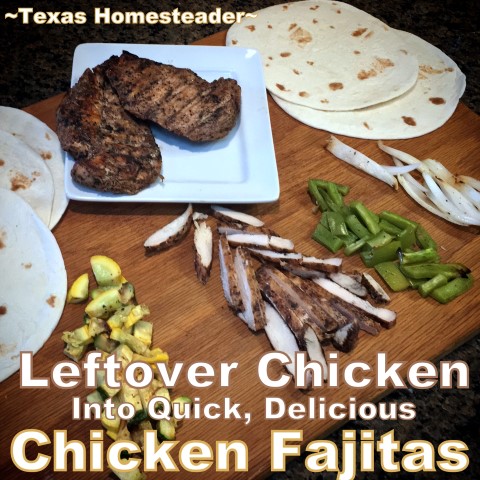 There was plenty of grilled and seasoned chicken leftover to use for my chicken fried rice.
This will be perfect – the meat is already cooked and delightfully seasoned. Tonight's meal will be on the supper table fast, thanks to planned leftover's cooking.
It's just one of the shortcuts I utilize to be able to Make Homemade Meals Daily The EASY Way.
So first I'll bring the Fajita Chicken Meat out of the fridge & chop it into cubes. I've now got about a cup of chopped meat.
You can make it even meatier if you want. Or if you don't want to use chicken feel free to use chopped ham or beef.
That's the beauty of homemade meals. Make it however you like it! But we're making chicken fried rice today.
I've also got about 3 cups of cold, cooked rice in the refrigerator. For this chicken fried rice it's important that the leftover rice be chilled. It just makes it all come together best.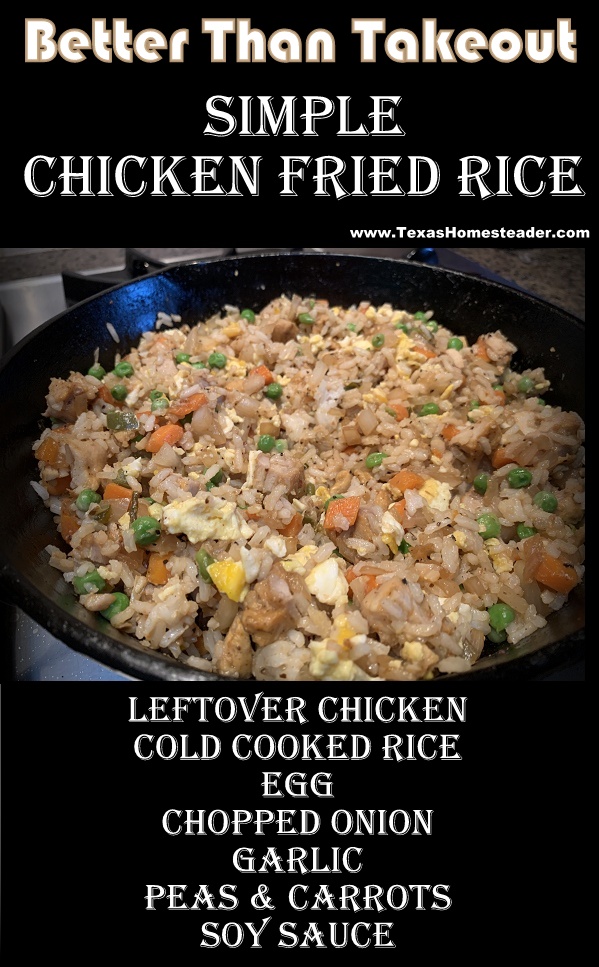 Chicken Fried Rice Ingredients
So I gather up my other ingredients – about a cup of chopped onions, and a cup of frozen peas and carrots, a couple of eggs plus some soy sauce.
And for us, I'll be using the last of the grilled jalapenos from our cookout the other day. It's not an official part of the recipe, but RancherMan & I like our food spicy!
Now it's showtime. This meal comes together quickly y'all, so hold on to your hats!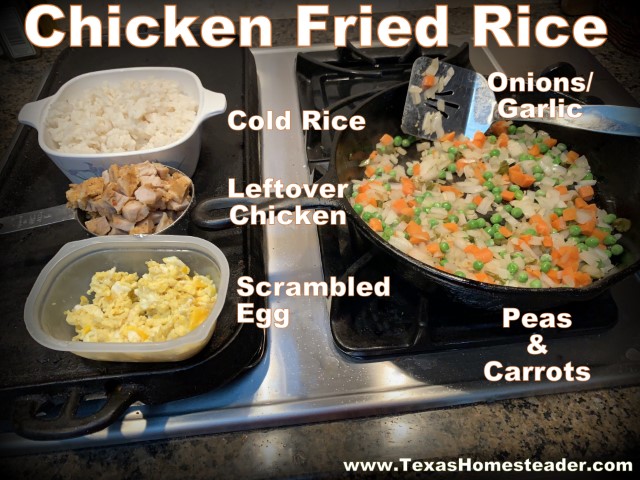 Quick-Cooking Chicken Fried Rice
I brought out my 10" cast-iron skillet and placed a little bacon grease in it, allowing it to heat up while I mixed a couple of eggs with 2 tablespoons of water.
When the grease was melted and the skillet was hot I dropped that mixed egg in and scrambled it. (see below 'What I'd Do Differently)
After the eggs were scrambled I scooped them away and put them into a container to sauté the onions next.
Into that same skillet I added another small tablespoon of bacon grease and sautéed the chopped onions and minced garlic.
You can use butter, olive oil or vegetable oil to sauté the onions & garlic if you want. But in our homestead, Bacon Grease is King! For many reasons.
It's readily available, it's a free byproduct and it adds a nice flavor to our food too. But whatever you typically sauté onions with works here.
I'll toss in the peas & carrots toward the end of the onion sauté too. They're already cooked tender crisp having been frozen and thawed, so adding them at this stage just mixes the flavors best in my opinion.
Now comes the last step. We added the soy sauce, the cup of chopped cooked chicken and the 3 cups of cold leftover cooked rice and stirred everything for a few more minutes to blend all those delightful flavors.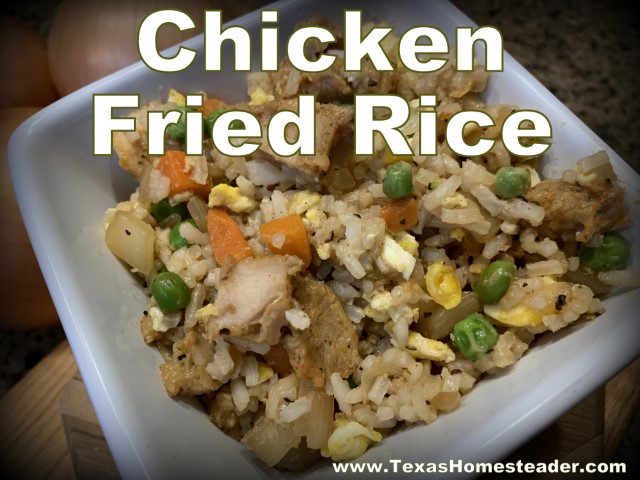 In just a few minutes, all those leftovers were blended into a delicious meal.
What I'll do differently next time:
Peas & Carrots
Sweet peas are definitely part of the actual recipe along with the carrots. It's a traditional ingredient in fried rice. Plus it adds a nice color to the rest of the ingredients. Presentation is half the meal, y'all!
But in the future I may omit frozen peas and carrots from the recipe and just opt for a handful of steamed chopped carrots instead.
It's not that we don't enjoy peas, and I like the way they make the finished dish look. But I don't like to buy frozen veggies because of the plastic bag they're sold in. And I've never been successful growing sweet peas. I'd think canned peas would be too soft to use here.
So from now on I'll probably just peel and chop some fresh carrots and then place them in the microwave with a little water to steam while I'm sautéing the onions & garlic.
And I may add strips of red bell pepper while I'm sautéing the onions too. I love the flavor of bell peppers and the color would provide a nice presentation as well. Plus I always have red or green bell pepper growing in my garden.
Making one (or both) of these substitutions would eliminate a plastic bag coming from the frozen-foods section as well as the cost. (Have I mentioned lately how much I Hate Plastic?? LOL)
But feel free to use frozen veggies if you like here. Or heck, experiment with different flavors, colors & textures of other veggies to come up with YOUR family's fave. Just shoot for about 1.5 cups of steamed veggies.
Scrambled Egg
I started off scrambling the eggs first and then removing them, placing them into a container and setting it aside while I sautéed the onions & garlic. But I'm wondering – why add that step?
From now on I'll sauté the onions FIRST, then push the cooked onions to the side of the skillet and scramble the egg next chopping it with the spatula as it cooks. Finally I'll just mix it all together and continue on with the recipe.
Fewer steps? Fewer preparation dishes to wash? Yes please!
Serve 4? Or More?
Anyway, the recipe below is the base recipe I use.
Since RancherMan & I are empty nesters, this recipe makes about 4 servings which is just right for us. We'll enjoy chicken fried rice for supper one night and often have enough left over for lunch the next day too.
But you can double the recipe if you like to increase the servings if you're feeding a crowd.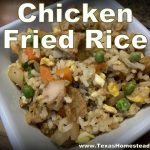 Chicken Fried Rice
This delicious chicken fried rice recipe gets supper on the table fast! It takes advantage of planned leftovers, using a cup of leftover meat and 3 cups of leftover rice stir-fried into a quick supper. #TexasHomesteader
Ingredients
Ingredients
1

cup

cooked chicken

I used cooked chopped fajita chicken – can use ham, beef, etc

3

cups

chilled leftover cooked white rice

– must be cold

1

cup

chopped onion

about 1 medium-sized onion

2

cloves

garlic

minced

2

eggs,

mixed w/2 tbsp water

2

Tbsp.

butter, olive oil or bacon grease, divided

(I used bacon grease)

2

Tbsp.

soy sauce

1

tsp.

black pepper

1

8-oz

bag frozen peas and carrots - about 1 ½ cups,

thawed
Instructions
INSTRUCTIONS
Add 1 Tbsp grease in a large skillet over medium heat until melted and skillet is hot.

Add 1 cup chopped onion & 2 minced garlic cloves. Sauté until the onion is soft. Add 1 ½ cups of thawed previously-frozen peas and carrots (if using) and mix to blend. Then push the mixture to one side of skillet.

In a small bowl, beat egg with water. Into the unoccupied area of the skillet add 1 Tbsp grease. After it's melted add the mixed egg, chopping with spatula & scrambling until cooked. Then blend egg in with onion/vegetable mixture.

Add 3 cups cold, cooked rice, 1 cup chopped chicken, 2 Tbsp soy sauce & 1 tsp black pepper. Stir-fry together about 3-5 minutes, stirring until mixture is well combined.
Recipe Notes
Note 1: You can use other kinds of leftover cooked meat if desired such as chopped ham or beef.
Note 2: Instead of a bag of frozen peas & carrots, you can lightly steam fresh veggies of your choice. I like chopped carrots, chopped bell pepper and/or maybe fresh green beans snapped into 3/4" pieces. Lightly steam in your microwave, drain and use in this recipe.
~TxH~
New Meals Remade With Leftovers
…and MUCH MORE!


C'mon by & sit a spell! Come hang out at our Facebook Page . It's like sitting in a front porch rocker with a glass of cold iced tea. There are lots of good folks sharing! And you can also follow along on Pinterest, Twitter & Instagram
If you'd like to receive an email when a new blog post goes live,
subscribe to our Blog!