by Texas Homesteader ~
Got leftover chicken and wondering how to use it? I use Planned Leftovers cooking! Turn leftover chicken, a few dried out corn tortillas and a few cans of veggies to turn leftovers into delicious, hot & satisfying Chicken Tortilla Soup!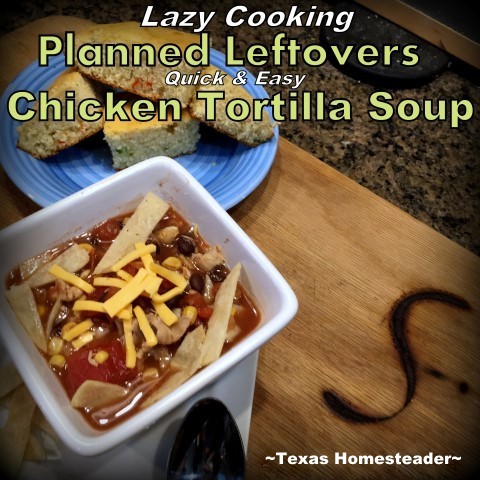 Eliminating Food Waste Using Leftovers
I've written before about how I love the Cook-Once, Eat-Twice method of cooking. And of course its close relative the Planned Leftovers method too. Using these two cooking methods reduce food waste.
With Cook-Once Eat-Twice cooking you might for instance cook several meatloaves or stuffed peppers so you can freeze it to enjoy the same entrée later.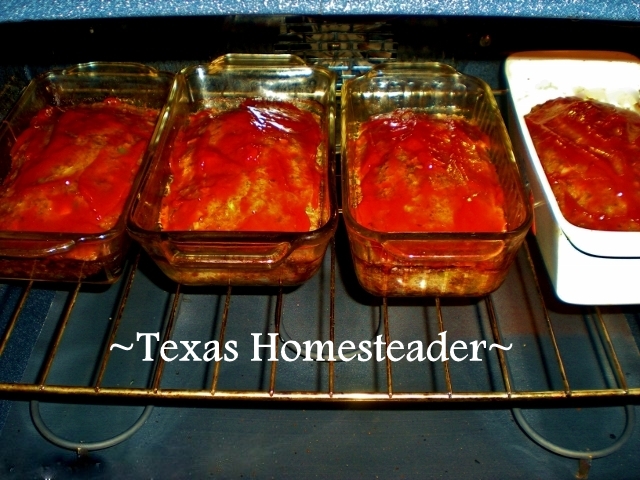 With Planned Leftovers you cook much more than you'll eat at one meal so you can remake the leftovers into something completely new and delicious on another day.
I wrote recently about cooking el mucho quantities of pork roast to use for planned leftovers. But today I'll share the planned leftovers I enjoyed from a recent Slow Cooker Sticky Chicken I made.
Planning Your Leftovers Meals
You see, we had company coming for a visit so I plopped a whole chicken and some spices into the slow cooker to cook a whole chicken. My Sticky Chicken recipe includes lots of savory spices.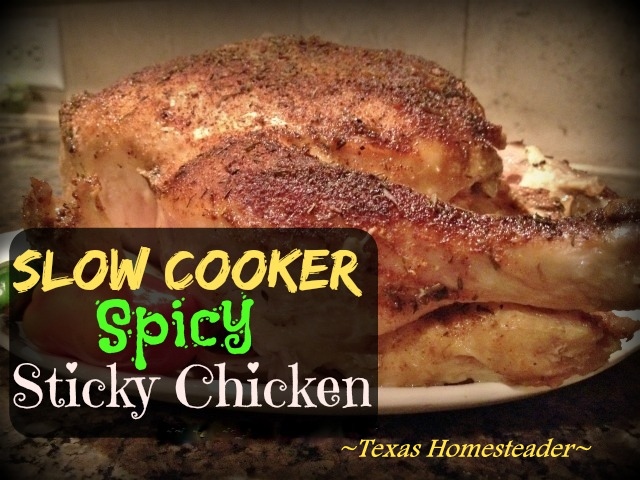 Heck if you're gonna have company you might as well make something delicious that requires precious little time in the kitchen #amiright??
After that chicken was enjoyed that night I pulled the remaining meat from the bones & then turned that carcass into plenty of Homemade Chicken Stock. (I add a secret ingredient to leach more calcium out of those bones!) That leftover chicken meat & broth will come in handy for today's soup.
Now I typically have lots of options for remaking these chicken leftovers. I've written about 6 ways I'm able to make meals from a single chicken.
But today's cold and rainy, a perfect day for a Spicy Chicken Tortilla SOUP!
Assembling The Chicken Tortilla Soup
So I take that leftover chicken & shred it up, plopping it into my slow cooker. Then I added about a cup and a half of my homemade broth & 2 cans of diced tomatoes – juice & all.
Finally I drained a can of black beans and a quart jar of Home-Canned Corn and dumped them in as well. I tossed in some minced garlic & chopped onions, a little cumin, salt & pepper & gave it all a quick stir.
When the top was replaced onto the slow cooker I set the dial to low and let the flavors all marry for about 3-4 hours.
(I used this Homestead Hack to keep the slow cooker at a nice heat level during its cooking time.)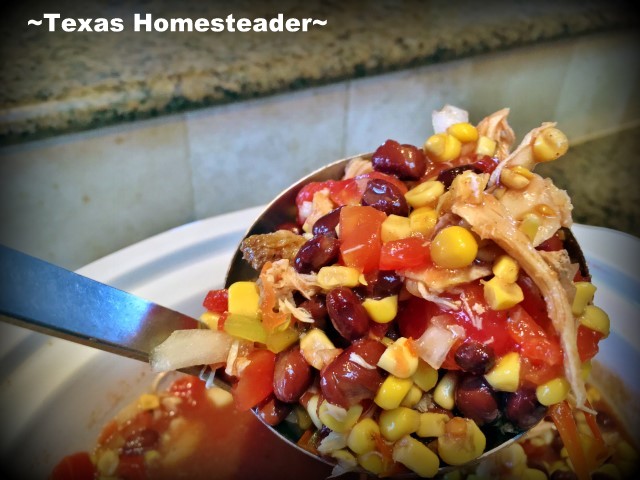 Then right before serving I took the last 2 dried-out corn tortillas that were left in the fridge from our Homemade Taco Shells a few nights ago. I sliced those tortillas into about 1/4″ strips that were 2-3″ long and stirred them into the hot soup.
Some people like to lightly fry these corn tortilla strips to give them a little extra crunch before placing them atop the soup.
Sometimes I do that too, but typically I'll just add the tortilla strips as they are. In & out of the kitchen FAST with fewer dishes to clean is my jam, y'all.
Fast Homemade Cornbread
But what should I make to go with it? I decided to bake up a skillet of Spicy Jalapeno Cornbread, what a perfect accompaniment!
Finally our meal was ready to be served. I ladled out hearty bowls of soup, sprinkling a little cheese on top.
Aaaahhhh – sure hits the spot on a cold rainy day! And there's enough left over for us to enjoy for lunch tomorrow too!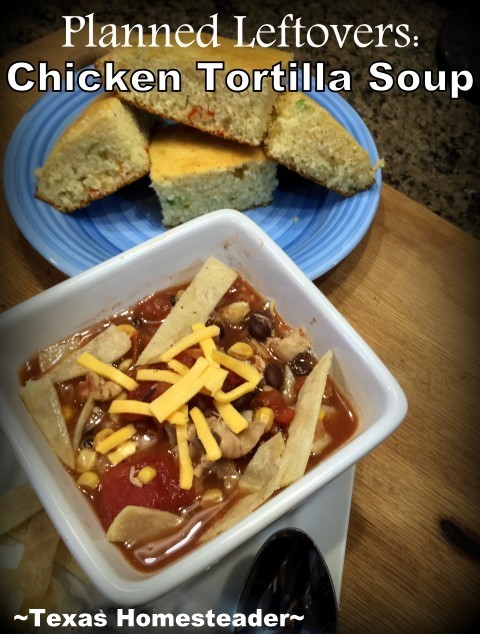 Planned Leftovers Reduces Food Waste
By utilizing planned leftovers cooking, I'm able to incorporate leftovers from several different meals into this one delicious soup. Oh yeah, reducing food waste is my secret super power!
The corn tortillas were leftover from our carnitas tacos the other night, leftover chicken & broth from my slow cooker sticky chicken meal previously, and using some home-canned corn from the pantry.
The beauty of this soup is that you can use whatever you've got. Want your soup meatier? Feel free to add more chicken. Don't like black beans? Add canned pintos instead or leave them out completely.
The world is your oyster, make it the way you & your family like it.
But by cooking this way I'm able to make sure no leftover food is left to go bad, and our grocery budget stays tiny – yet we eat very well.
Leftovers can be delicious!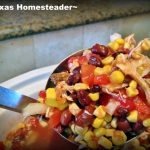 Lazy Cooking: Spicy Chicken Tortilla Soup
Ingredients
Ingredients:
1-2

cups

leftover cooked chicken,

shredded or cubed

2

15-oz cans

diced tomatoes,

undrained

1

15-oz can

black beans,

drained

1

15-oz can

corn,

drained (I used a home-canned pint)

1.5

cups

chicken broth

I used homemade broth

1

onion,

chopped

1

clove

garlic,

minced

1

tsp.

cumin

2-4

corn tortillas,

sliced into 1/4 inch strips

1/2

cup

shredded Mexican blend cheese
Instructions
Directions:
Place shredded or chopped leftover cooked chicken into a slow cooker. Add all other ingredients and stir gently.

Cover & cook on low heat for 3 hours to allow flavors to marry.


Just before serving, add tortilla strips to slow cooker. Stir to blend. Serve soup in soup bowls, topping each serving with cheese.
~TxH~
Our Favorite Tex-Mex Recipes
New Meals Remade With Leftovers
…and MUCH MORE!

C'mon by & sit a spell! Come hang out at our Facebook Page. It's like sitting in a front porch rocker with a glass of cold iced tea – lots of good folks sharing! You can also follow along on Pinterest, Twitter or Instagram.
If you'd like to receive an email each time a new blog post goes live it's EASY to
Subscribe to our blog!
Save
Save
Save
Save