by Texas Homesteader ~
We love hot soups during the cold winter months. They can be inexpensive, nutritious and delicious. Comfort food at its finest! Come see our 10 favorite hot & hearty soup recipes.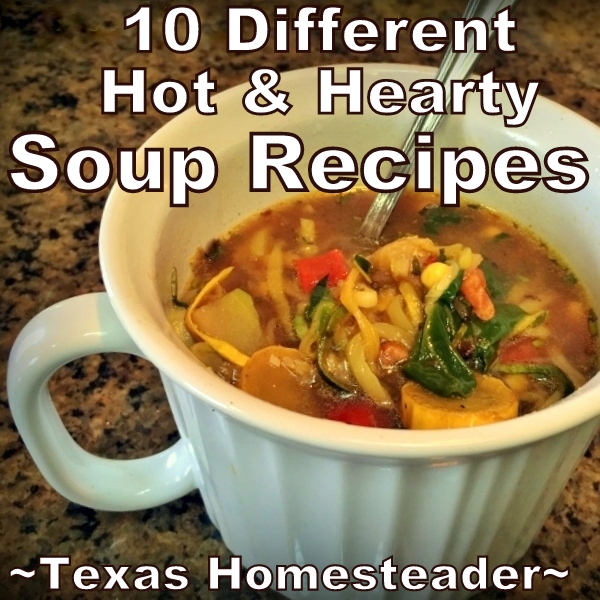 Cold Weather, Hot Soup
The cold winter months typically mean we're enjoying some pretty soup-heavy meals in our home. Although we eat soup all year long there's nothing like a hot, nourishing bowl of soup when the weather's blustery outside.
But y'all know I don't enjoy being in the kitchen. So my homemade soups need to be quick & easy, yet delicious & comforting.
Are you looking for a quick and super-easy soup idea for supper tonight? Well you're in luck. Check it out, here are several different faves in our household. The links to each of these recipes are in the titles. Enjoy!
This soup makes good use of leftover chicken. Although RancherMan & I are very fond of spicy food, you can make this soup as spicy (or not) as you wish. Plus it's pretty darn easy. Open up a few cans of veggies and dump it all in.
---
We were headed out of town to visit my dad. I like to bring food with us so he doesn't feel he needs to 'entertain'. So I was whipping up a meal that morning to share. But I needed something quick that traveled well. Enter this super easy Italian-flavored soup. He loved it!
---
Do you ever have one of 'Those Days'?? Yeah, me too. Sometimes you come in dragging after a long hard day and you just want to put something hot & hearty on the table and QUICK. This tasty taco soup has seen us through many of those days!
---
Leftover smoked sausage, some home-made chicken broth and the last of our fresh potatoes & onions made for a delicious bone-warming meal on a raw, cold winter's day.
---
Come see how I put together what I call 'Endless Soup'. By using this replenishing method we both have hot, healthy lunches for about a week! This is my favorite and most-used soup recipe at our home.
---
I'd cooked a huge pork roast. I planned to remake the leftovers into new dishes later in the week such as Carnitas Tacos, spicy Pulled-Pork Enchiladas and more. But here's the quickest & most basic delicious leftover soup recipe idea: a Hearty Stew in minutes!
---
A friend mentioned that cabbage stew was a healthy soup option on her Weight Watchers program. Although I wasn't really looking to lose weight I'd been wanting to try this soup for a while. This soup was surprisingly good.
---
One of my most popular recipes on the blog, and winner of an award from Working Ranch Magazine, this chili recipe is hard to beat. I love chili that contains beans, but RancherMan typically declares that it's not 'real chili' if it contains beans. I appease his purist NO BEANS IN THE CHILI mindset by including one of his favorites – dark beer!
---
I wanted to make RancherMan a homemade Chicken Pot Pie. But although cooking with cream-of-something soup helps to make a recipe quick & easy, you know those commercial cans of soup are full of sodium. The good news is this cream-of-chicken soup recipe is super easy to make yourself. Check it out, y'all!
---
Most soups start out with broth as a main ingredient. But again, commercial broths are full of sodium and preservatives. You're NOT gonna believe how easy it is to make yourself. I make it in a slow cooker sometimes, but since getting my Instant Pot I'm amazed how how much faster & easier it is!
---
So there are a few delicious recipes for you if you're looking for a soup inspiration for supper tonight. What are your favorite quick & hearty soups to feed your family??
~TxH~
This post categorized in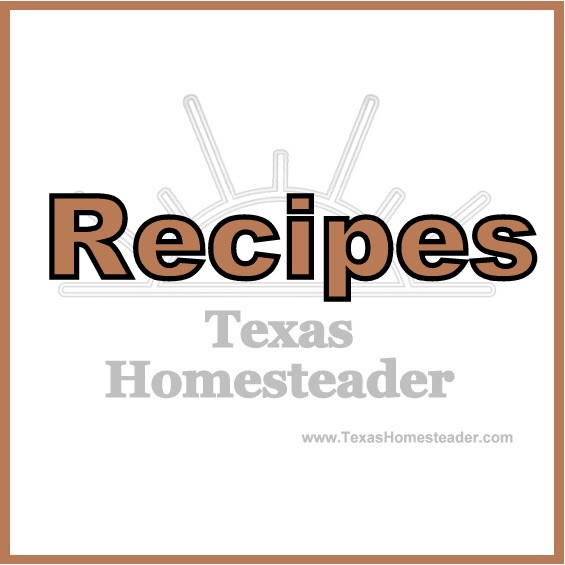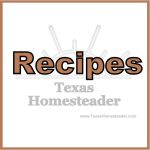 Want to see other Meal Ideas?





C'mon by & sit a spell! Come hang out at our Facebook Page. It's like sitting in a front porch rocker with a glass of cold iced tea. There are lots of good folks sharing!
And you can also follow along on Pinterest, Twitter, Instagram
To receive an email when a new blog post goes live it's EASY to
Subscribe to our blog!