by Texas Homesteader ~
I like to cook with planned leftovers in mind. Recently I cooked up a huge pork roast in a slow cooker. Come see the many dishes I have planned with that one roast.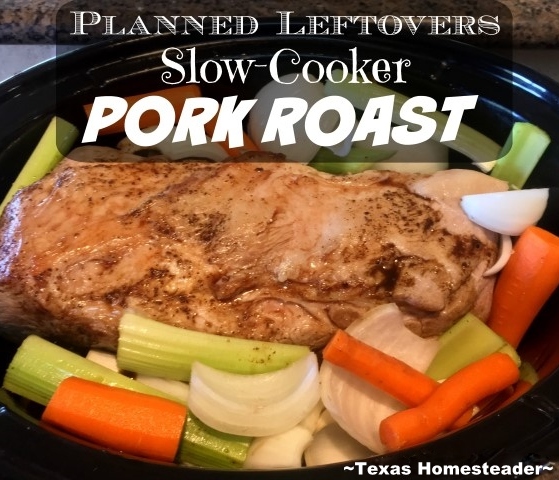 Planned Leftovers Style Cooking
I'm a big fan of planned leftovers. Similar to Cook-Once, Eat-Twice, planned-leftover cooking is where you purposely cook more than you plan on eating at one sitting so you can use the leftovers in different dishes later.
One of my favorite foods to use when I'm purposely planning for leftovers is pork roast. I mean, who doesn't love a delicious roast with carrots & potatoes for supper?
Then it's easy to turn that leftover meat into other dishes for completely different entrees. So I often cook a large enough roast to assure I have plenty leftover meat for future meals.
Cooking Pot Roast
Sometimes I use my Instant Pot to make a delicious IP Pork Roast. It's delicious and I can make all kinds of gravy at the same time. Potatoes or carrots, or not – it's delicious.
But when life is busy and we're working in the pastures all day I often cook my pork roasts in a slow cooker.
What's not to love? You plop your roast, some carrots & potatoes and a little seasoning into the slow cooker and then just plug-er-in! The slow cooker then cooks your roast to delightful perfection while you're away.
Now if I'm cooking a Wild-Game Pork Roast I typically season it pretty heavily to offset any subtle tale-tale wild taste. (although our wild hogs typically taste very mild).
Easy Does It For Roast Seasonings
But if I'm cooking up a pork roast with planned leftovers in mind I will flavor it a little more generically. Typically salt & pepper, dried basil and maybe some Worcestershire sauce is all it needs. I don't want heavy seasonings to interfere with the flavors I'm planning for other dishes using the leftover roast.
Cooking Multiple Roasts At One Time
Recently RancherMan & I ran across a rockin' sale on pork roast so we picked up a monster roast – 21 pounds in fact!!
It's the largest roast I'd ever purchased in my life. Heck we thought it was a brisket – it was THAT large!
So we brought it home and RancherMan cut that huge roast into three chunks the sizes to fit into my regular slow cooker, my larger slow cooker and my mammoth slow cooker.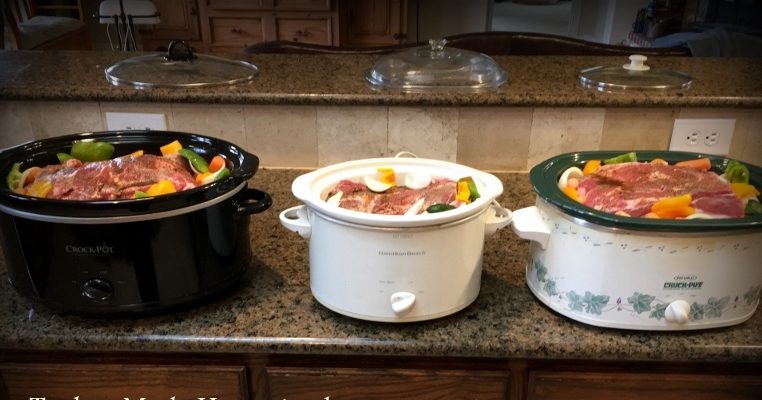 Heck we might as well cook them all at once, right??! Here's how I prepared the slow cookers:
Potatoes On Bottom
First I washed enough potatoes to fit into the bottom of the slow cooker. If they were small I put them in whole but if they were larger I cut them in half. This lifts the roast off the bottom of the slow cooker.
Oftentimes it's recommended that you seer the roast surfaces first in a little oil to seal in the juices. But I hate the mess that makes – another skillet to clean and the residual splattered oil to deal with. So I often skip this step and my roast still turns out delicious. But feel free to seer your roast first if you like.
Instead I just rinsed off my roasts & then place them on top of the potatoes in my slow cookers. When my roast is in place I season it with salt & pepper, some Worcestershire sauce and then sprinkle on a little dried basil.
Finally I tuck the other vegetables around the roast, depending upon what I have. Typically I'll chunk up an onion, wash & peel a few carrots, chunking them into about thirds and tuck them around the roast. If I have celery I'll often wash & cut each rib into about 3-inch pieces and add that too.
Cook Pork Roast to 160 Degrees Internal Temp
Now all that's left to do is put the cover on the slow cooker and cook my roast on low for about 8-10 hours (depending upon the size of the roast and the power in that particular slow cooker). The roast is fully cooked when the internal temperature reaches 160 degrees.
When the roast is done I'll remove & arrange the cooked veggies onto a platter and bring the roast out to rest for about 10 minutes before carving it.
The roast shreds easily but for our first supper of roast & veggies I'd like to serve thick slices of roast. So for this first meal I'll use an electric knife to carve out our servings.
If I have time, sometimes I'll take some of the juices in the bottom of the slow cooker, add some flour or cornstarch & broth and cook up a hearty gravy to ladle over the roast slices & potatoes. It's delicious and RancherMan loves it!
Sectioning Off Leftover Roast
Now the main ingredient in my planned leftovers is ready to go. After sectioning off enough for our supper I'll often section off more for a planned leftover meal in a day or so.
Then I'll package up the rest and freeze it for later inspiration. I freeze the roast into meal-sized portions for ease of making meal plans in the future.
Some of the recipes I like to use for the planned leftovers with this roast, include Carnitas Tacos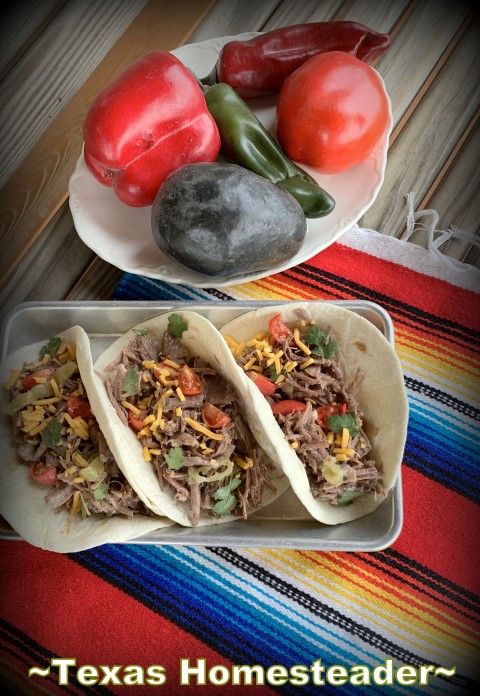 Tip: you can use flour tortillas for the carnitas tacos or easily make your own crispy taco shells with corn tortillas.
I also have planned to make Pulled-Pork Enchiladas, Spicy Pork Empanadas, pulled-pork BBQ sandwiches and even a Delicious Stew.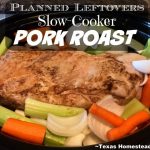 Easy Slow-Cooker Pork Roast & Veggies
Pork roast is a fave in the Taylor Household. And with the convenience of the slow cooker, what's not to love? Tender, juicy & delicious. And I always make a lot so there will be leftover meat for other delicious meals too.

Ingredients
Ingredients
3

lb

. pork shoulder roast

3-4

potatoes

, cut in half if necessary

3

carrots

, peeled and cut into thirds

1

onion

, cut into chunks

2

celery ribs

, cut into thirds

salt and pepper to taste

2

Tbsp

. Worcestershire sauce

1

Tbsp

. dried basil
Instructions
Instructions
Wash potatoes - cut in half if necessary. Place potatoes on the bottom of slow cooker.

Place roast on top of potatoes. Season roast with salt and pepper, Worcestershire sauce & dried basil.

Surround roast with carrots, celery and onion.

Cover & cook on LOW for 8-10 hours, or until roast reaches an internal temperature of 160 degrees.

Arrange cooked vegetables on a platter and set the roast aside to rest for 10 minutes. It will shred easily so it's helpful to carve roast with an electric knife after it's rested.
~TxH~
Want to see other Leftover Pork Roast Meal Ideas?

Pork Roast Recipes:
Recipes Using Leftover Roast:
New Meals Remade With Leftovers
Beef
…and MUCH MORE!


C'mon by & sit a spell! Come hang out at our Facebook Page . It's like sitting in a front porch rocker with a glass of cold iced tea. There are lots of good folks sharing! And you can also follow along on Pinterest, Twitter & Instagram
If you'd like to receive an email when a new blog post goes live,
subscribe to our Blog!
Save
Save
Save
Save
Save
Save
Save
Save
Save
Save