by Texas Homesteader ~
"COOK ONCE EAT TWICE" method of cooking means homemade meals are a snap to enjoy now & freeze some for later, and less cleanup too!
The idea is simple – cook LOTS of a specific main entrée and enjoy it at mealtime that day. Then portion out & freeze the rest for quick meals later.
It's been a game-changer for me.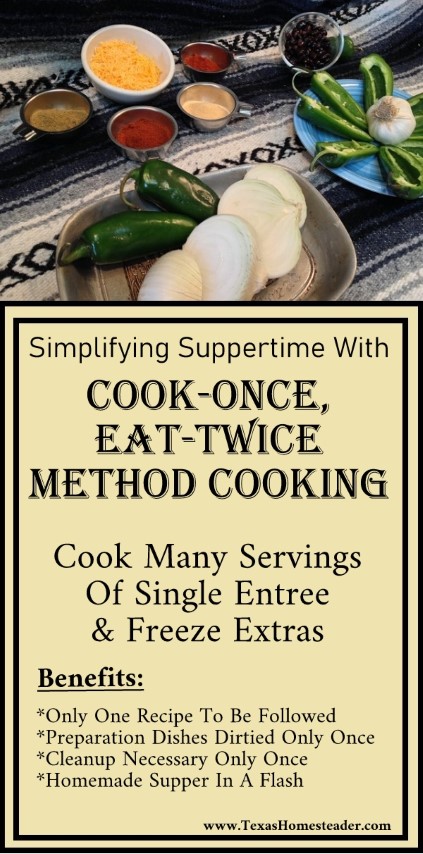 Serving Our Family Healthy Homemade Meals
Many of us have something in common – we desperately want to serve our families healthy homemade meals.
But we're often being stretched in so many ways it's hard to find the time to do so.
You know how it is. With good intentions we buy those healthy foods only to run out of time when the supper hour nears. With hungry mouths to feed we give up & grab a quick drive-through meal instead.
The result is significantly more expensive and also less healthy than a home-cooked meal would be. But whaddya do??
This dinnertime rush was a common problem for me too, years ago. But things changed for me when I discovered the "Cook Once Eat Twice" method of cooking.
Once A Month Freezer Cooking? NOPE!
Some people love to do once-a-month freezer cooking. That's where you plan what you'll serve all month, then cook and freeze all those meals in dinner-sized serving sizes.
Although that does streamline actual dinner preparation by being able to thaw and heat a pre-made dinner in a flash, it wasn't an ideal solution for me.
Pulling out all those recipes, gathering all those ingredients and spending the whole day or WEEKEND!) cooking? Nope. Just didn't work for me.
I can never find a full day to plan and cook a full month's worth of meals. It's too much of a time drain for our busy lifestyle. And looking up all the recipes and pulling out so many ingredients and seasonings. Just. Ugh…
Cook-Once, Eat-Twice Cooking To Stockpile Freezer Meals
What did work for me and was much more simple was the cook-once, eat-twice method of cooking. You're basically just cooking one entree, but cooking several servings of it at one time.
Now THIS I can get into. There are so many benefits to this.
Although I end up with several meals of that entrée, with Cook-Once, Eat-Twice methods I'm:
Reading and following only one recipe.
Pulling out & returning all the ingredients/seasonings only once.
Dirtying/cleaning up up the preparation dishes only once.
Turning on the oven only once. (An energy savings too!)
Yet I have several entrees in the freezer just waiting for me to thaw, heat & serve for a hearty homemade meal.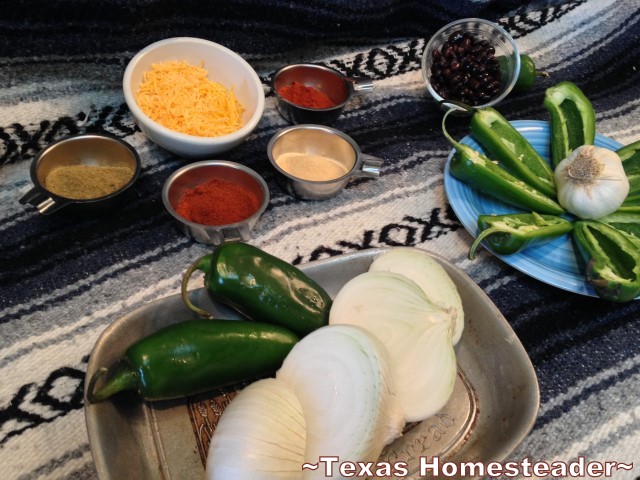 Extra Cooked Meals In The Freezer
To preserve those cooked meals I simply section off supper-sized servings of that entrée, place it in a repurposed bag. Then I place all the servings into freezer bags and add a label.
Into the freezer they all go awaiting their need for supper. I simply decide the night before what we'll have for supper the next day and pull out a supper-sized serving, placing it in the refrigerator to thaw.
The next night I simply heat the entrée, add a couple of veggie sides or a salad and BOOM! Homemade meal in a flash.
It's one of my favorite Homemade Meal Every Day Shortcuts, y'all! And so much easier than once-a-month cooking.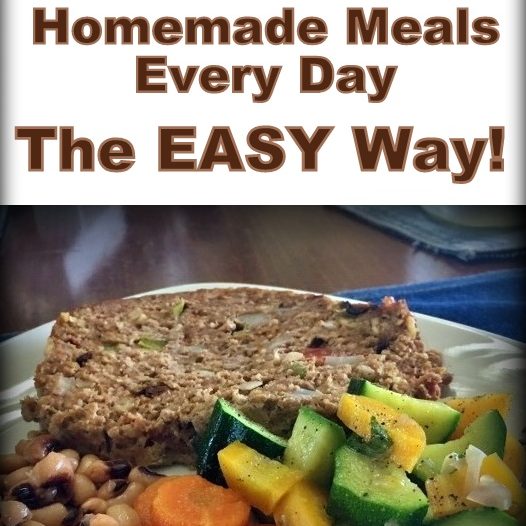 Filling The Oven With Several Pans Of Meatloaf!
Here's an example – recently I decided I was really in the mood for Savory Meatloaf. It's one of my favorite meat dishes and I typically use some of the lean ground pork from the wild hogs RancherMan harvests.
I can fit several loaf pans in my oven at the same time. So I mixed up the meatloaf & filled the oven to capacity.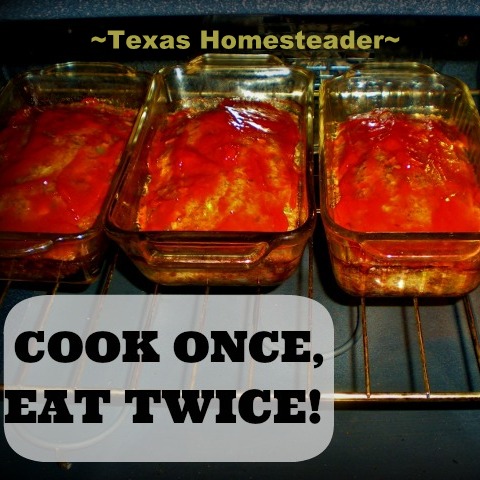 In making my meatloaves I was able to use up several pounds of meat from the freezer and turn it into delicious ready-to-eat meals for both now & later.
RancherMan & I enjoyed the meatloaf for supper that night and of course I had to put a few servings in the fridge so he could enjoy meatloaf sandwiches.
But the rest was sectioned up into meal-sized servings, each serving placed in a repurposed plastic bag. (have I mentioned lately how much I HATE plastic bags & make sure to reuse them at least once before recycling or throwing away??).
Each of these meal-sized bags of meatloaf are then placed in a zippered freezer bag for freezer protection.
And of course a label is inserted inside the freezer bag to identify the contents.
What Can Be Made With Leftover Meatloaf?
Leftover meatloaf is a great thing to have in my freezer. That's because there are so many ways you can use leftover meatloaf:
Use it as a dinner serving of Meatloaf
Crumble leftover meatloaf for the meat in Spaghetti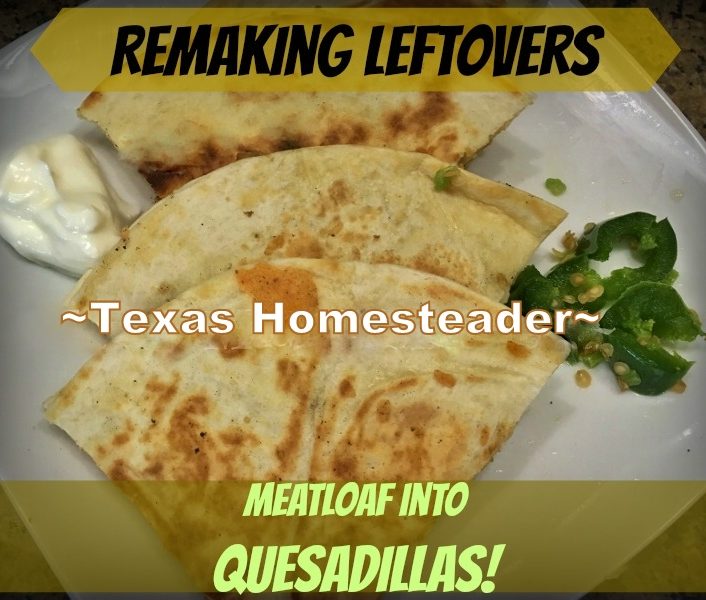 Pretty much anywhere you can use a shortcut of cooked seasoned hamburger meat. How versatile!
Easier Cooking: Only Dirty Food-Prep Dishes Once
The real beauty of this method of cooking is that all those food-preparation dishes like knives, spoons, cutting boards, mixing bowls, measuring cups etc were only dirtied once.
Plus the oven was only fired up once saving both energy and time. Yet we have about 10 meals worth of meatloaf waiting in the freezer for us to enjoy over the next several weeks.
I use this same procedure with other main entrees such as pork roast, stuffed bell peppers, homemade ravioli, etc.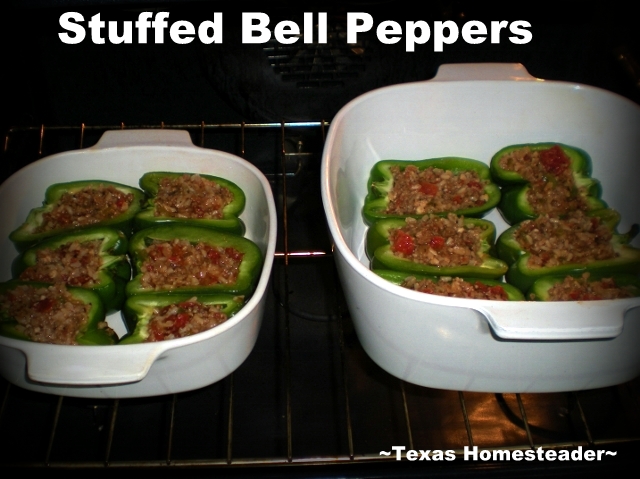 From-Scratch Cooking with Freezer Convenience
Now that I have all those different homemade entrees in the freezer, making dinner will be a snap.
When I'm planning supper for the next day I check out the contents of my main-entrée drawer in my freezer to see what's already cooked for us to enjoy.
I'll decide what sounds good, pull out the main entrée I'm planning for the following day's meal and place it in the fridge to thaw overnight.
The next day when I'm preparing supper I simply heat the main entrée, add a couple of vegetable sides or even make a whole pan of Roasted Veggies and voila – homemade in minutes!
I'm also able to save quite a bit of money by using all food I've purchased.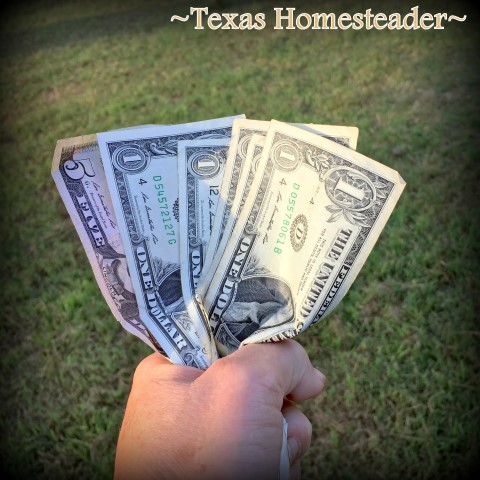 And the meals are homemade so they're significantly more healthy than commercially-prepared or convenience foods high in salt, fat and preservatives.
Planned Leftovers Cooking A Large Roast
I also use the Planned Leftovers method of cooking to streamline our meal prep. It's similar in theory to cook-once, eat-twice cooking.
But with planned leftovers I'm cooking a large amount of an ingredient and then turn the leftovers into completely different meals.
For instance, I'll cook a huge Pork Roast and enjoy roast & potatoes for supper.
Then I'll use this shortcut to quickly Shred Leftover Roast to make brand new dishes, such as:
Pulled Pork BBQ, (go ahead & make (Homemade Honey-Sweetened BBQ Sauce too)
Hearty Meaty Stew quick!
Carnitas Tacos, (you can even MYO Crispy Taco Shells in Minutes)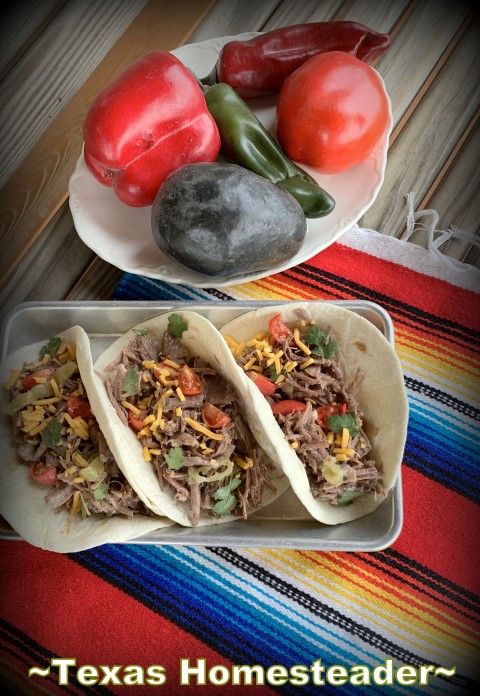 See what I mean?? One large roast initially cooked but several completely different dishes are now a snap!
How do you streamline the dreaded rushed supper hour?
~TxH~
New Meals Remade With Leftovers
Beef
…and MUCH MORE!


C'mon by & sit a spell! Come hang out at our Facebook Page . It's like sitting in a front porch rocker with a glass of cold iced tea. There are lots of good folks sharing! And you can also follow along on Pinterest, Twitter & Instagram
If you'd like to receive an email when a new blog post goes live,
subscribe to our Blog!