by Texas Homesteader
*contains affiliate link
This past fall I was so thrilled when I suspected that our remote-pasture property contained Soapberry Trees. I excitedly harvested a few berries and took pictures of the berries, the tree, the bark. I submitted those pictures to my local Extension Agent for identification.
Her response was that these trees were indeed the Western Soapberry Tree. Meaning that these berries actually contain soponin – a soapy substance used by early settlers for cleaning, laundry, etc. I dried the berries and have been using them in my laundry, comparing it to the more common soap nuts which I've purchased and used before from * Amazon
.  I'm very pleased with the results.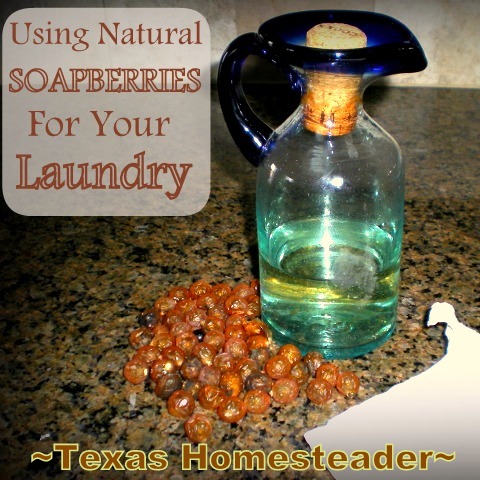 After the soapberries were fully dried I decided to give them a trial run in our washing machine.  I took a handful of soapberries and placed them in the cotton draw-string bag that I previously used with my *soap nuts I bought from Amazon.
Soapberries vs. Soap Nuts
Since my soapberries are smaller than soap nuts I added more berries than I did the nuts, but about the same overall measurement (about 7-8 berries to 4-5 nuts)  Then I tossed them in my washing machine with a load of laundry.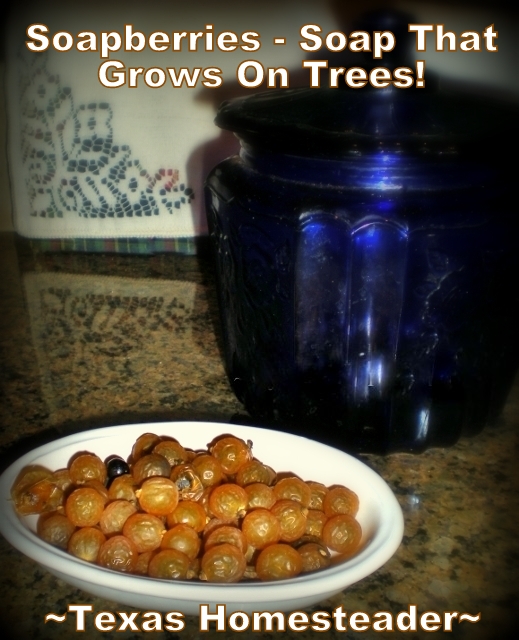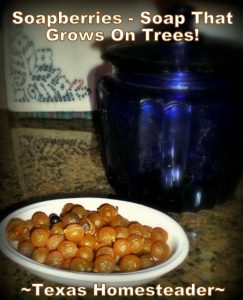 Soapberries react to agitation & water similarly to soap nuts in that they don't foam up much. So you can't tell its efficiency based on how many bubbles you see (or don't). But when I pulled that load of laundry out and hung it on the line, I saw no difference from other cleaning agents I'd used in the past. And that includes my Homemade Laundry Detergent or even brand-name laundry detergents.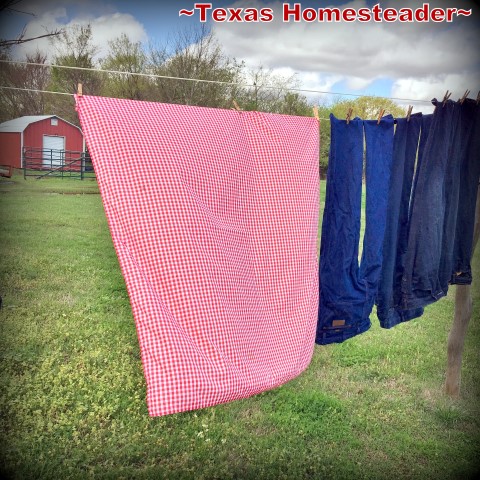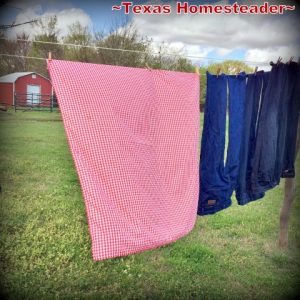 Soapberries Best For Lightly-Soiled Laundry
I think that if I had heavily soiled laundry such as manure-covered denim or heavily stained shirts I might use something heavier duty. But for towels, sheets, napkins and lightly soiled laundry these soapberries do just fine.
I don't think soapberries lend much of a scent of their own to my clean laundry. But I typically use my own Laundry Scent Booster with towels and napkins, they always come off the line with a delightful aroma anyway! And I'm thrilled that it's yet another product I can provide for myself instead of purchasing.
*Update:
Other Soapberry Uses: Shampoo
I have a super-smart friend from whom I always learn oh-so-much. Recently we were at a luncheon together & she mentioned that she's using her harvested soapberries for shampoo – no conditioner required. So I tried it!
I put dried soapberries in water and let it sit for about 6 weeks before I strained out the berries. Then I use it as shampoo to clean my hair. I've also used rainwater for the infusion, and even mint-infused rainwater. I love it all! And I especially love the zero-wastiness of it. 🙂
Want To Read More About Soapberries?
~TxH~
Want To See Our Natural Cleaning Posts?
C'mon by & sit a spell!  Come hang out at our Facebook Page. It's like sitting in a front porch rocker with a glass of cold iced tea – lots of good folks sharing!  You can also follow along on Pinterest, Twitter or Instagram.
If you'd like to receive an email each time a new blog post goes live it's EASY to
Subscribe to our blog!
* A word about our Affiliate Link – We are currently enrolled as an Amazon Affiliate.  Occasionally I will insert an affiliate link into one of my posts if I think it may be of interest to you!  If you click on any of my affiliate links and buy something (almost anything, not just what was linked) I get a small referral percentage from Amazon.  But here's the really important part – the price you pay for your items is UNCHANGED.
When you buy something through the affiliate link it's a great way to support this blog without anything coming out of your pocket so please click often!