by Texas Homesteader ~
My homemade laundry detergent smells great but sometimes you want a stronger scent. I make a simple laundry scent booster using only 2 simple ingredients – Epsom salt & essential oil.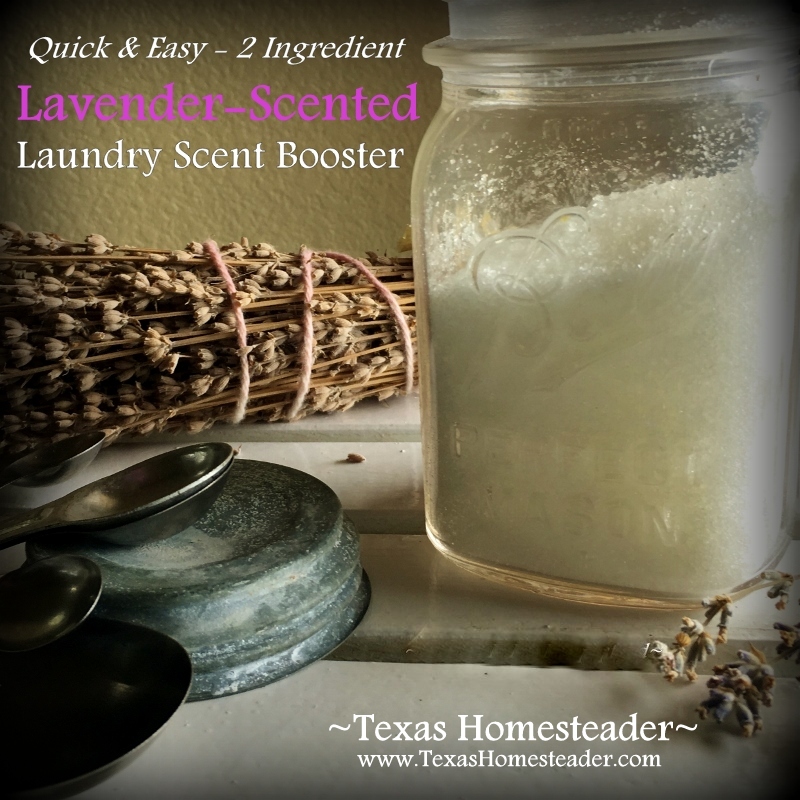 Although I love the scent of sunshine on our clean line-dried laundry, sometimes you want a little sumpin' more.
That's when I took matters into my own hands and using a couple of standard items made a delightful lavender-scented laundry scent booster. Come see!
Homemade Laundry Products
I have been making my own homemade laundry powder for several years now. I love that it's so inexpensive. And that it's even effective enough for tough laundry problems here on the Homestead, such as mud or manure on heavy denim fabric.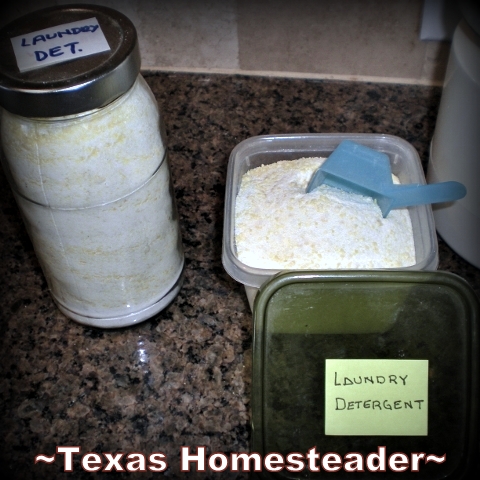 I also love that making it is environmentally friendly and that it uses simple and easy-to-obtain ingredients.
But there is one thing I did miss about my days using the commercial stuff:
The scent.
Now my laundry powder smells good, don't get me wrong. It smells like, well SOAP. Clean and lightly scented. But sometimes you want a little more fragrance.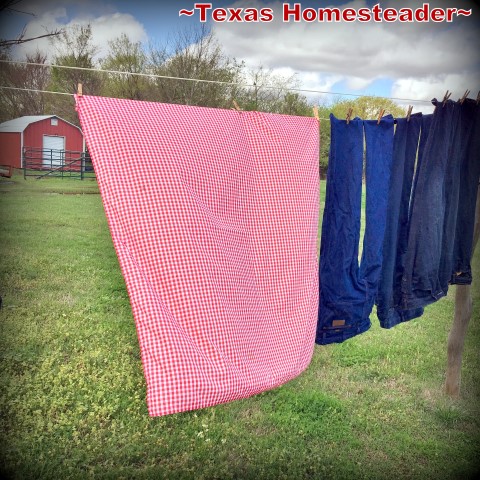 As it turns out making a scent booster for your laundry detergent is inexpensive and super easy.
Laundry Scent Booster
Those commercial laundry scents are overpowering to me so I shun them. I don't want to add heavier scents directly to my homemade detergent because I really enjoy the scent of the SUNSHINE on my line-dried laundry most of the time.
But sometimes you want your towels, cloth napkins or sheets to have just a little more scent.
I ran across this idea over at Simply Shellie and figured I'd give it a try since it only called for two simple ingredients – Epsom salt and a few drops of essential oil.
I used a favorite essential oil that I already had: Lavender!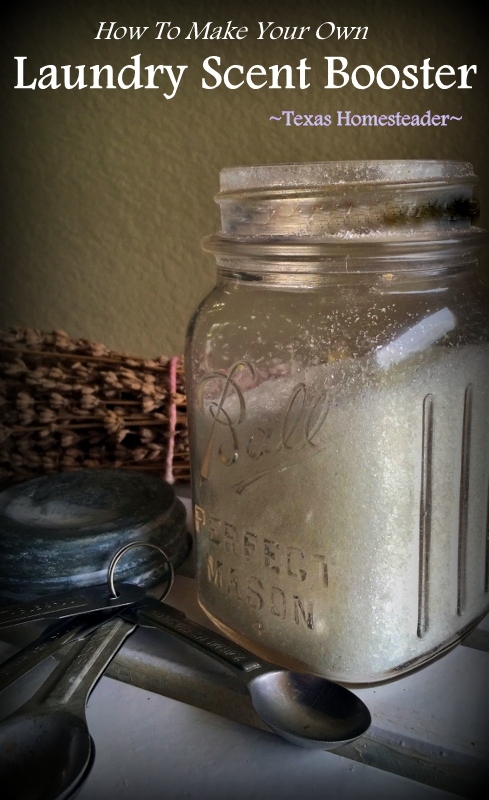 So here's how I made it: (but remember you can use whatever EO or FO scent you like, or even a combination of 2 or 3!):
Homemade Laundry Scent Booster Recipe
2 cups Epsom salts

30 – 40 drops of your favorite essential oil (I used lavender)
DIRECTIONS:
Measure 2 cups Epsom salts into a large bowl.
Add approximately 30 – 40 drops of your favorite essential oil, (either one scent or a blend of two or more scents).
With a whisk stir the Epsom salts to assure the essential oil is completely distributed throughout the salt.
Store your laundry scent booster in a pint canning jar – be sure to label the contents!
TO USE:
Add about 1-2 tablespoons along with your laundry detergent, wash as usual.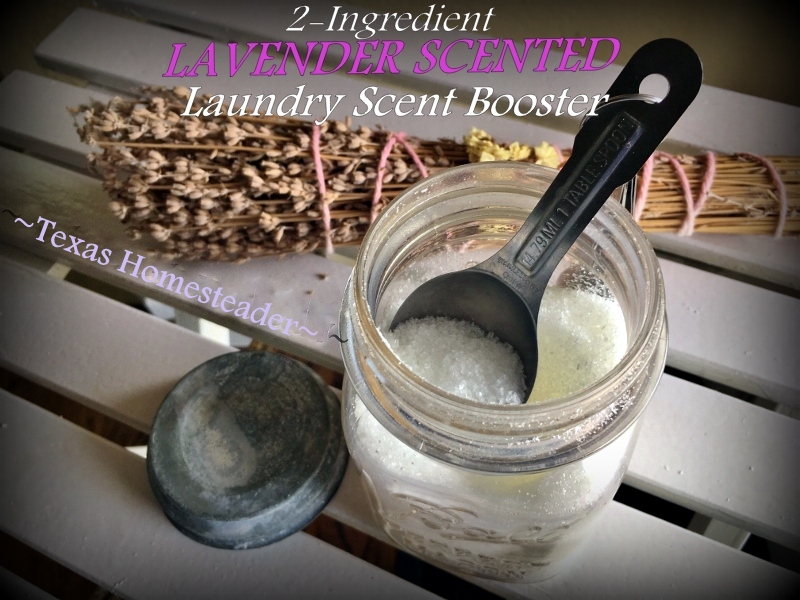 Ta-daaaa!! Really, that's it!
Caution: Don't Add Too Much Essential Oil
After I made my lavender-scented laundry booster I made one with lemon fragrance as well. Oh the possibilities are endless!
But be careful not to add more than 40 drops of essential oil. I mean, essential oil is OIL, after all. Sure don't want to add lots of oil to your clean laundry, do ya??


I place a load of sheets into the washing machine. Then I added my standard tablespoon of homemade laundry detergent and then added about the same amount of my lavender scent booster right in with my laundry detergent.
Push the button & wash the sheets as usual.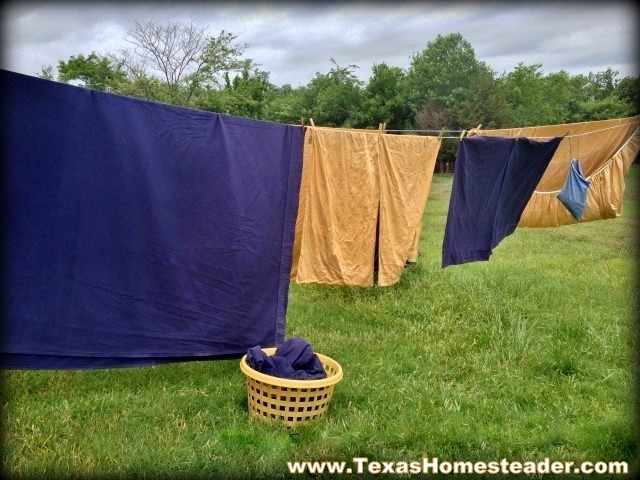 After the sheets were washed I hung them on the line beneath that big beautiful blue NE Texas sky.
(breathes deeply) Ummmm… smells wonderful!
It's not overpowering in its scent. Just a light, delightful waft of aroma. And the subtle scent of lavender remained on my sheets when I made the bed with them later in the day.
So there ya go. This laundry booster was very inexpensive to make and took me mere minutes to mix it up.
SCORE!
~TxH~
This post categorized in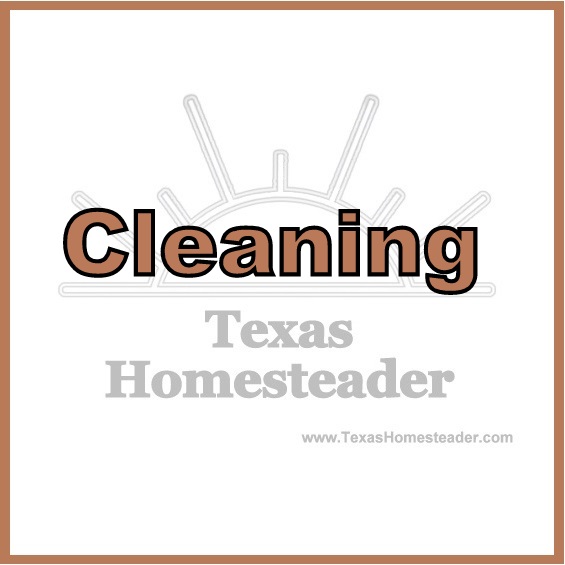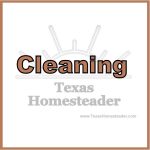 Want To See Our Natural Cleaning Posts?
C'mon by & sit a spell! Come hang out at our Facebook Page. It's like sitting in a front porch rocker with a glass of cold iced tea – lots of good folks sharing! You can also follow along on Pinterest, Twitter or Instagram.
If you'd like to receive an email each time a new blog post goes live it's EASY to
Subscribe to our blog!
Save
Save
Save
Save
Save
Save
Save