by Texas Homesteader ~
*contains affiliate link
Did you know you can make a sweet gummy-chew candy from excess garden squash?
Recently I was skimming my Facebook newsfeed and I saw someone post about making a sweet chewy fruit-flavored treat from overgrown excess garden squash. Whaaaaaa….??? I'm intrigued!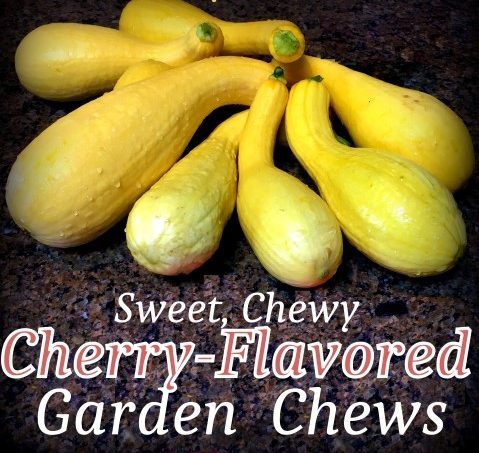 (Note: Some links in this post are for further information from earlier posts I've written. But links preceded with * are affiliate links. If you click them and buy something (almost anything, not just the item noted) I could receive a tiny commission. But the price you pay will NOT change. It's an easy way to support this blog without anything coming out of your pocket. So click often! Thank you!)
Squash Produces Too Heavily
Squash is a prolific veggie. Summer gardens are often so overloaded with zucchini & yellow summer squash that although you anxiously enjoy it the moment it's harvest-able in the spring, soon your family tires of squash every night.
You then attempt to preserve some for winter months but still that squash harvest keeps coming
Every. Single. Day.
Finally in a futile attempt to dodge being consumed by the giant growing mountain of squash you start giving it away to grateful friends and family… for a while.
Soon even they run when they see you coming toward them with yet another squash harvest in hand.
You can't stand to see that beautiful garden produce go to waste. But "What's a girl to do?" you wonder to yourself as you slowly disappear beneath the growing squash harvest pile…
Sweet Tooth Snacking
RancherMan is a grazer, and he loves to grab a handful of something to snack on throughout the day. Lately he's really enjoyed dried fruit such as cranberries or raisins. But, you know, that gets expensive after a while.
I saw on my FB newsfeed that Common Sense Home had made their excess squash into a sweet gummy chew. I wondered if this would satisfy RancherMan's sweet/chewy snack urge. So I sat out to experiment.
Test Batch One: Lemon Flavor
Now they used juice concentrate to make their chews. But I wanted to use what I had on hand. RancherMan suggested lemon flavor. Although I was skeptical, I made a lemon concentrate by first making a simple syrup and adding bottled lemon juice.
But when RancherMan tried these lemon-flavored chews he was not wowed. He said there was not enough fruit flavor, and still too much squash flavor.
I tried rolling them lightly in powdered sugar to reduce the tartness of the lemon but they were still not what we were looking for. He suggested I try grape flavor. Hummm, really?
I'm skeptical that grape flavor would work either but I'll see what I can do since, you know, I still have so much squash coming from the garden. eh hemmmm.
Test Batch Two: Grape Flavor
For the second attempt I made my simple syrup and flavored it with two packets of powdered unsweetened grape drink mix.
These finished grape-flavored chews were indeed stronger flavored, so one point for that. But I was distracted and left them on the dehydrator a little longer than I'd like.
Although they still turned out chewy and had a stronger fruit flavor than the lemon flavored chews did, RancherMan was still not wowed.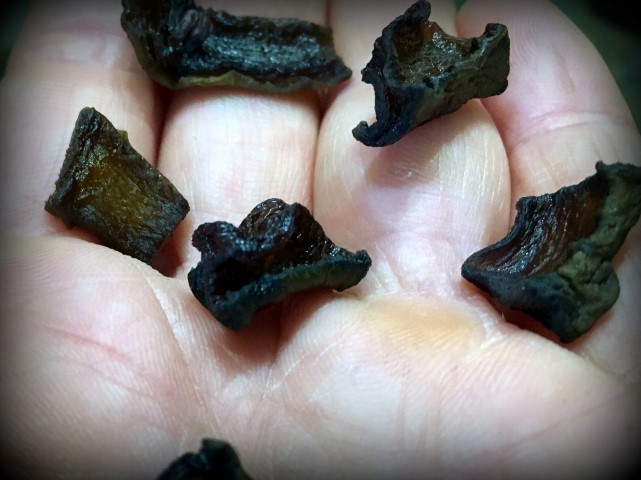 (back of hand to forehead in dramatic Gone-With-The-Wind flair)
I'll not be deterred, I'll NOT!
Test Batch Three: Cherry Flavor Is A WINNER!
I thought perhaps I should use a stronger-flavored fruit such as cherry. So for the third attempt I made my simple syrup of 1 part sugar to 4 parts water & stirred in two packets of unsweetened cherry drink mix.
Since I had black cherry concentrate in the fridge I went ahead & added about 2 tablespoons of the concentrate too. Use Whatcha Got, y'all!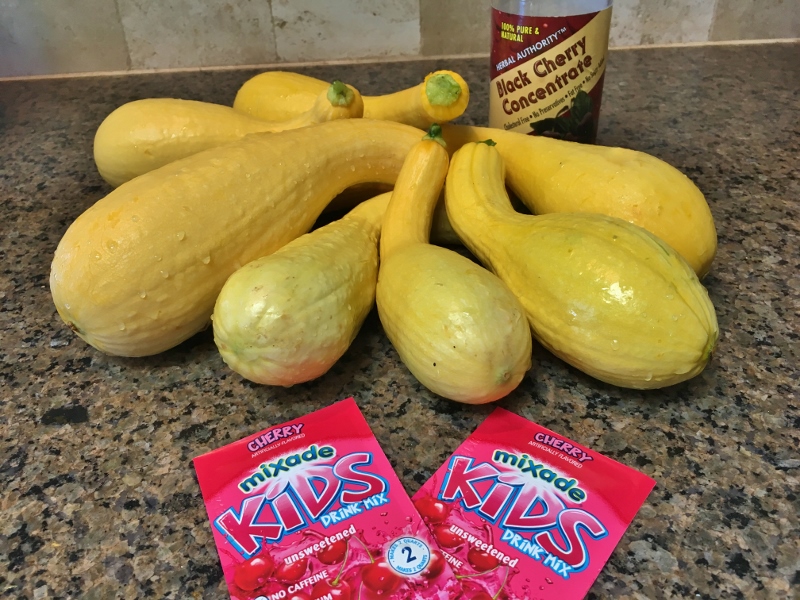 I simmered the syrup until all sugar was dissolved and then turned off the heat & turned my attention to the mountain of squash on the counter.
I washed, trimmed and peeled my squash and then cut it into lengthwise quarters & scooped out the seed section with a spoon.
Some of my 'normal sized' squash were thin boats by the time I scooped out the seeds. So from now on I'll go ahead & allow the squash to grow into larger overgrown Franken-Squash before I harvest them for my gummy treats.
Then I cut the squash a litter larger this time – about 1″ to perhaps 1.25″ chunks. The dehydration process removes most of the moisture so they shrink quite a bit. These larger chunks allow the chewy texture to remain when they're done dehydrating.
Now I turn the heat back on to heat my simple syrup and I add my prepared squash until the chunks were just barely covered by syrup and simmered them for 30 minutes until the squash was lightly tender.
I still had prepared squash waiting so I used a slotted spoon to remove the cooked squash into a colander and added the next batch of cubed squash to the syrup and got it simmering while I was finishing up with the first batch.
Dehydrating The Gummies
While squash batch 2 is simmering I thoroughly drained the previous batch of cooked squash and laid it onto my *Excalibur Dehydrator trays. I tried to evenly space them without allowing them to touch each other.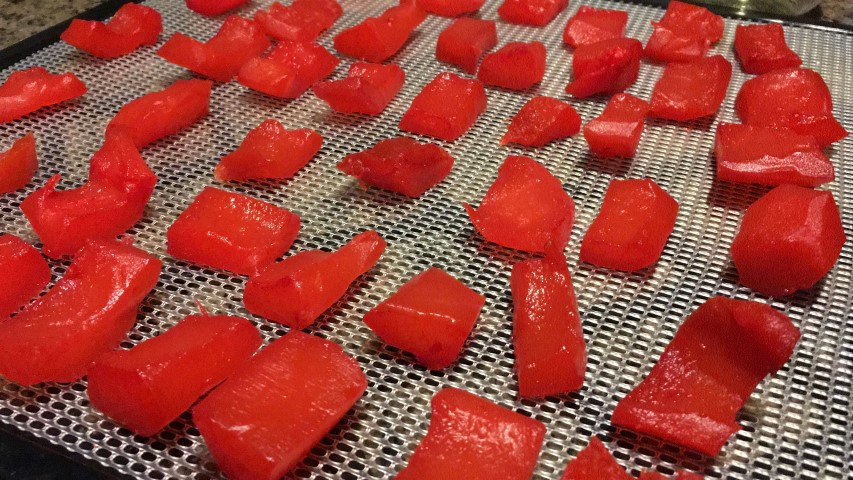 When all my trays were full I placed them into my dehydrator set to 135 degrees and dehydrated them until they were still tacky but no longer actually sticky.
The time for this step varies based on your location, your humidity level, how thick you cut your squash chunks, etc. It can be anywhere from 8 to 12 hours.
Mine were about right in 8 hours. But after I turned off my dehydrator I left them on the trays inside the dehydrator overnight just to make sure the pieces were completely air dried.
Finally, I put them in the jars and left them on the counter for a couple of days with the lids loose in the event any moisture remained.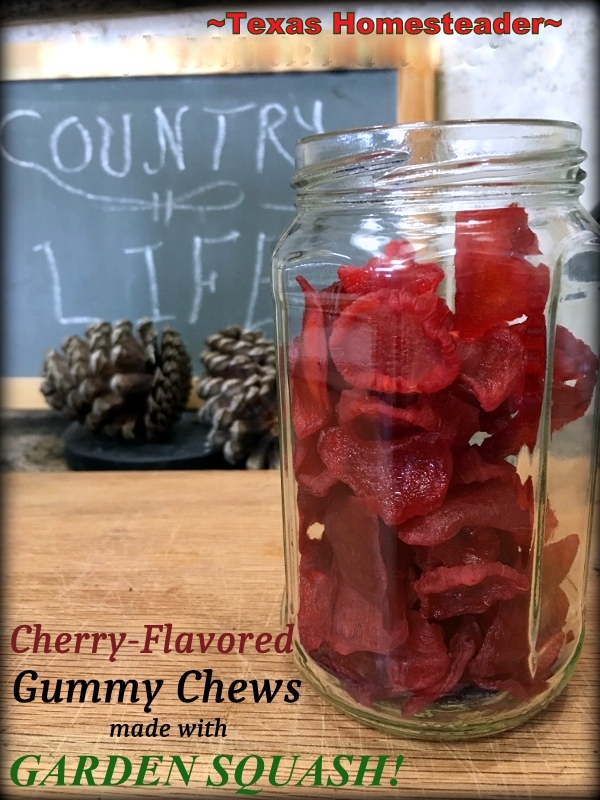 Now that my cherry chews are done I can place them in a jar and store them in the fridge and eat them over the next 30 days or so. But mine never even got to that stage!
But RancherMan raved and kept coming back again and again grabbing handfuls of these treats.
We Love Cherry-Flavored Gummy Chews Candy
I'd say this was certainly successful – he's still raving! I'm able to provide RancherMan's sweet chewy treats but I'm not having to purchase them.
Plus this cherry-flavored gummy chews candy is making good use out of my mountains of garden squash (both yellow summer squash and overgrown zucchini).
And, you know, my friends and family no longer run from me when they see me approach with more garden squash! LOL Here's the recipe as I made it: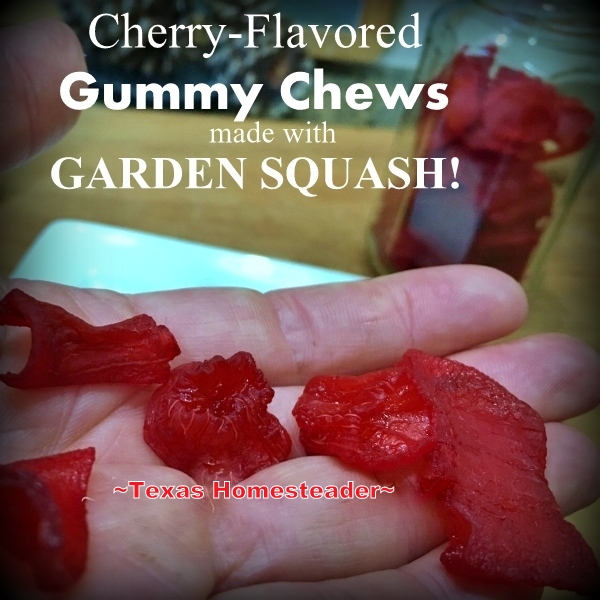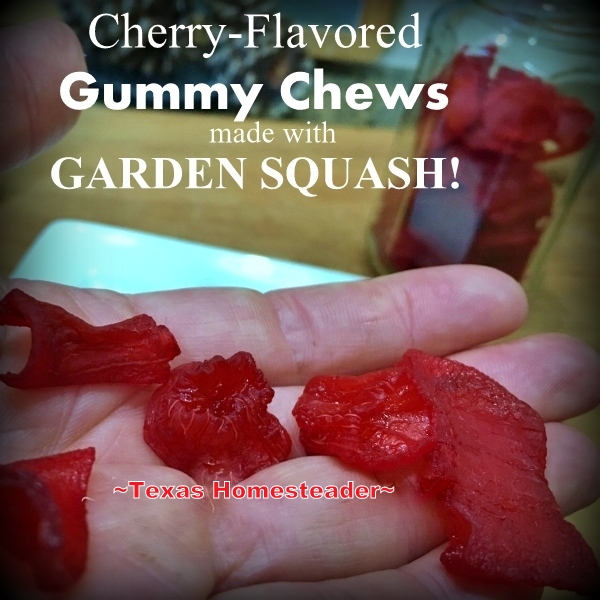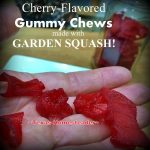 Cherry Gummy Chews
Is your garden giving you TONS of squash?  Have you ever heard of making a sweet treat with it?  OMGosh y'all - you're gonna love these cherry gummy chews made from squash! #TexasHomesteader
Ingredients
1

cup

sugar

4

cups

water

2

envelopes unsweetened cherry drink mix

2

Tablespoons

Black Cherry Concentrate,

optional
Instructions
Prepare squash by washing, trimming ends, and peeling. Cut squash in half and then in half again longways. Scoop out seeds with a spoon and cut into chunks of about 1 to 1 1/4 inches.

Make enough simple syrup to barely cover your prepared squash in a ratio of 1 part sugar to 4 parts water. (For a medium-large saucepan - dissolve 1 cup sugar into 4 cups water) Add 2 packets of unsweetened cherry drink mix and optional cherry concentrate if desired. Simmer while stirring to thoroughly combine & completely dissolve sugar.

Add prepared squash to cherry syrup until squash pieces are just barely covered by syrup. Simmer 30 minutes until squash is lightly soft. Remove with slotted spoon into colander.

Place cooked squash onto dehydrator trays, spacing evenly without pieces touching each other. Place trays in dehydrator set to 135 degrees. Rotate trays every couple of hours for even dehydrating. Gummy chews are ready when they are soft and lightly tacky but no longer sticky.

Store in glass jars in the refrigerator and consume within about 30 days or so.
~TxH~
Snacks We Love
~ ~ ~ ~ ~ ~ ~ ~ ~ ~ ~ ~ ~ ~ ~ ~


C'mon by & sit a spell! Come hang out at our Facebook Page. It's like sitting in a front porch rocker with a glass of cold iced tea – lots of good folks sharing! You can also follow along on Pinterest, Twitter or Instagram.
If you'd like to receive an email each time a new blog post goes live it's EASY to
Subscribe to our blog!
*Amazon affiliate
Save
Save
Save
Save
Save
Save
Save