by Texas Homesteader ~
When I asked RancherMan what veggies he wanted me to plant in this year's garden he emphatically said "SPAGHETTI SQUASH!!"  I must admit I was a little surprised at his enthusiasm.  LOL
Spaghetti squash cooks into strands that visually resemble strands of spaghetti.  Now to me it doesn't taste like pasta at all. Its taste is of a mild squash that lends itself well to the other flavors you add to the dish. And it's certainly  low-carb way to get a dish that at least looks like pasta!
But we love spaghetti squash and although there are many ways to prepare it, I make a sort of vegetarian lasagna  that's always been his fave.  It's served right in the shell so it has a beautiful presentation as well.  Recently I was able to harvest our spaghetti squash and whip up his favorite cheesy spaghetti squash dish.  It was easy, delicious, healthy and quick to prepare.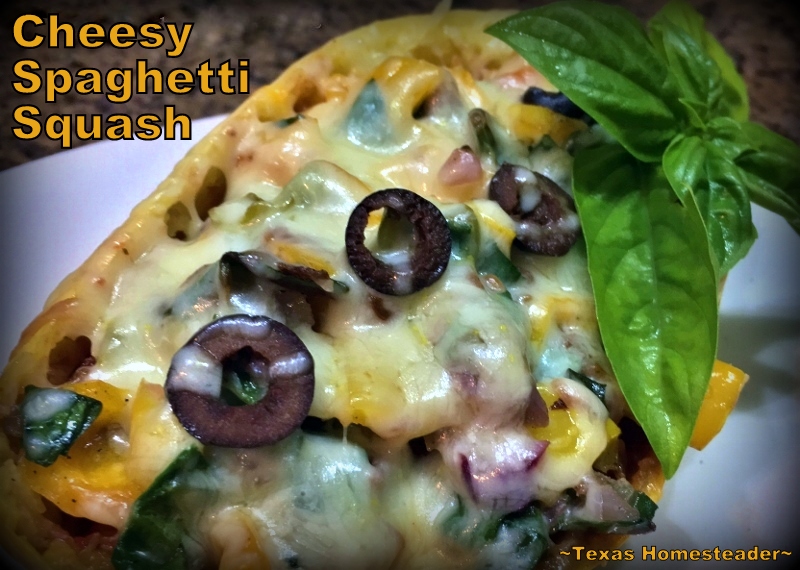 Quick & Easy Cheesy Spaghetti Squash
I cut and seeded my spaghetti squash and placed the halves cut-side-down in a pie plate with about 2 tablespoons of water.  I microwaved them for about 9-10 minutes but your time may vary depending upon the size of your spaghetti squash.  While the squash was cooking I diced some onions & bell pepper and sauteed them with minced garlic.  At the very end I tossed in some sliced Malabar Spinach and turned off the griddle to let the flavors meld while I worked on my squash.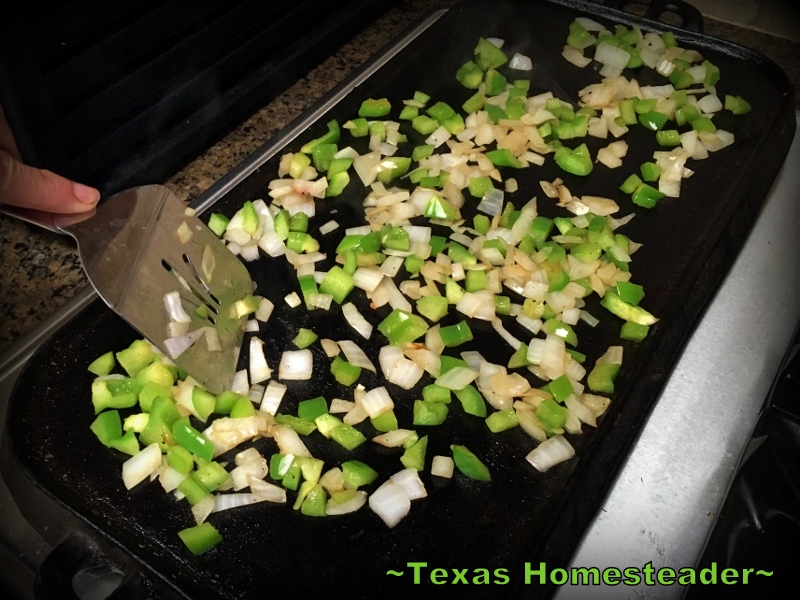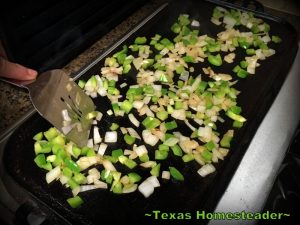 When the squash was cooked I allowed it to cool just a bit and scraped out those delicious spaghetti-squash strands with a fork, emptying each half of the squash shell.  I sat aside the empty shells since I'll actually be using them as the serving bowls.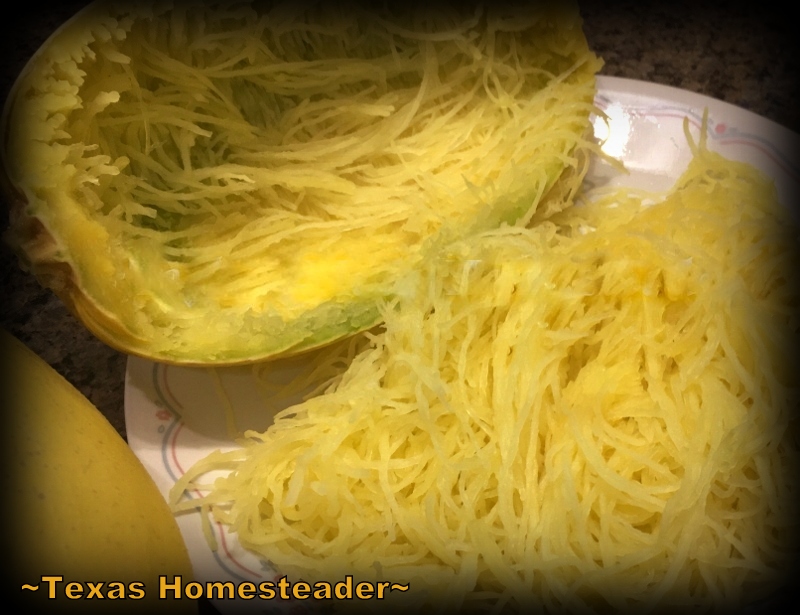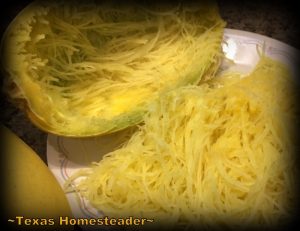 Assemble The Squash In The Shells
I put the squash strands and the sauteed bell pepper mixture in a bowl, added some fresh chopped basil from the garden and some Italian seasoning as well as some salt & pepper.  You could add leftover meat here as you wish – leftover meatloaf or cubed chicken would be good options. But RancherMan just wanted the squash tonight.
I like to stir in some pasta sauce now for some tomatoey goodness –  you could stir in some of your homemade pasta sauce  or even a can of commercial sauce at this point. But I used small pieces of my Italian Flavored Tomato Leather that I'd already preserved from our garden tomatoes.  I also stirred in some chopped fresh tomatoes to give it a chunkier texture & I stirred it all together to blend.
Then it was a simple matter of filling each empty squash shell half-full with the squash mixture, sprinkling on some cheddar & mozzarella cheese, then finish filling up the shell and topping with more cheese. (I wanted mozzarella, RancherMan wanted sharp cheddar.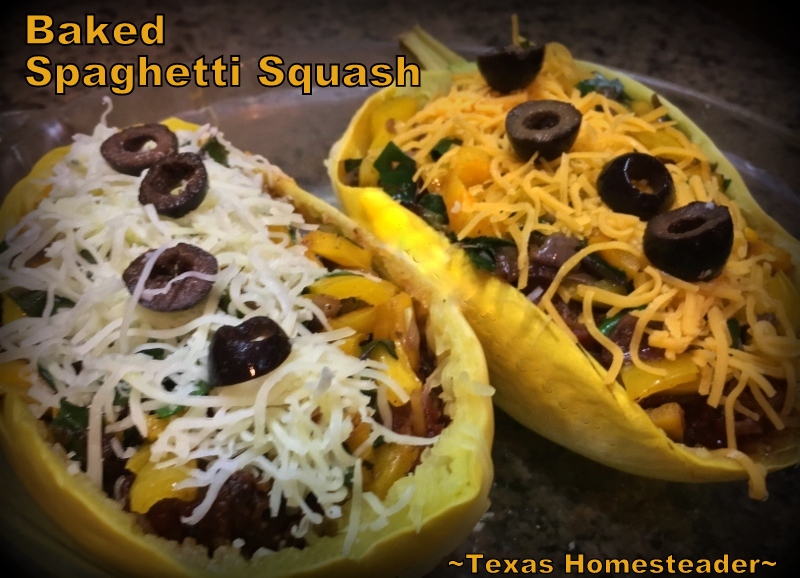 I topped each half with some sliced black olives for a finishing touch and microwaved the halves just long enough to make the cheese all melty and delicious.  And with that, dinner was served!  It was delicious, healthy and oh-so-quick to prepare!  I love that I could use our garden goodness to provide this quick and healthy meal for us.
Win (10) FREE Spaghetti Squash Seeds!
(Sorry, this contest has reached the deadline)
Do you love spaghetti squash as much as we do?  Well I harvested the seeds from our garden spaghetti squash and I'll be giving away 10 Spaghetti Squash Seeds to TWO lucky winners!  Enter the RaffleCopter below and two winners will be chosen at random.  Good luck!
Save
Save
Save
Save
Save
Save