by Texas Homesteader ~

Are you wondering what to do with that garden-fresh spaghetti squash? I like to cook it in the microwave & then shred the strands with a fork.
Then I sauté onions, garlic & bell pepper, add the cooked squash, mix it all with cheese and serve the cheesy spaghetti squash right in its own shell.
RancherMan will happily eat his squash… if I serve it lasagna style!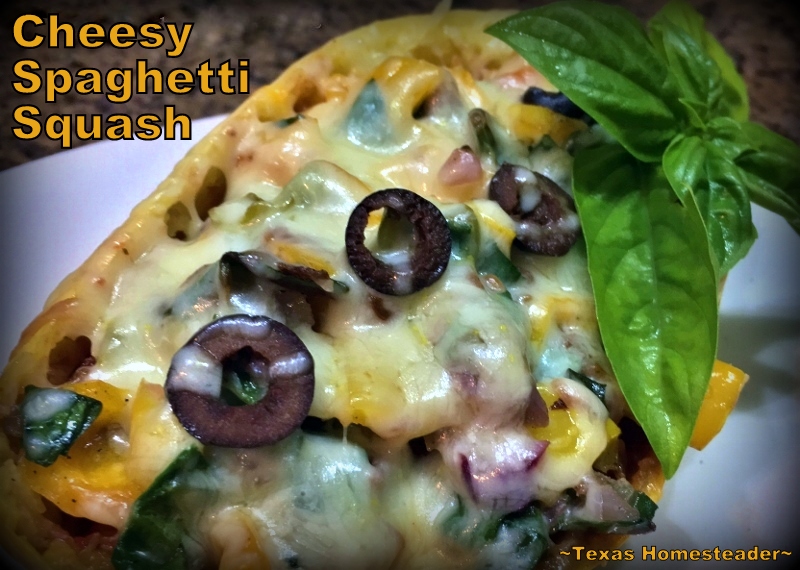 Recently I was gifted a freshly-harvested spaghetti squash from a sweet friend's garden. YIPPEE! Of course I already knew what I was going to do with it.
I am apparently genetically unable to actually follow a recipe. LOL. So I'll include the recipe below that I use as a guide.
But truly I use whatever's being harvested in the garden when I make this dish. It's a great way to use up those fresh garden vegetables. Sometimes I even dice up yellow summer squash & include it in the mix.
Wait, Squash *IN* the SQUASH?? Why that's CRAZY talk!
Cooking My Spaghetti Squash
Anyhoo, here's what I did today: First I cut the spaghetti squash in half longways and scooped out the seeds.
I placed the squash cut-side-down in a pie pan and added about 2 tablespoons of water. Then I covered it and placed it in the microwave on high for 10 minutes.
When the squash was cooked I allowed it to cool slightly then took a fork and scraped the squash into spaghetti-like strands.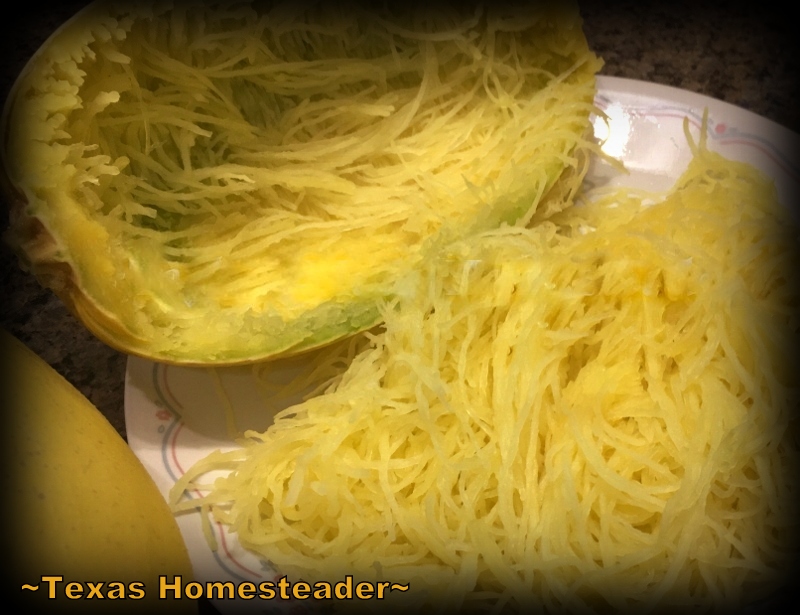 Then I mixed in about 1/2 cup of shredded cheese and mixed it in until the cheese melted.
Cooking The Other Veggies
Meanwhile I started preparing the veggies for the filling. I minced a clove of garlic & chopped some onion and bell pepper that I had in the fridge needing to be used.
It was all sautéed on my cast-iron griddle with just a touch of Bacon Grease.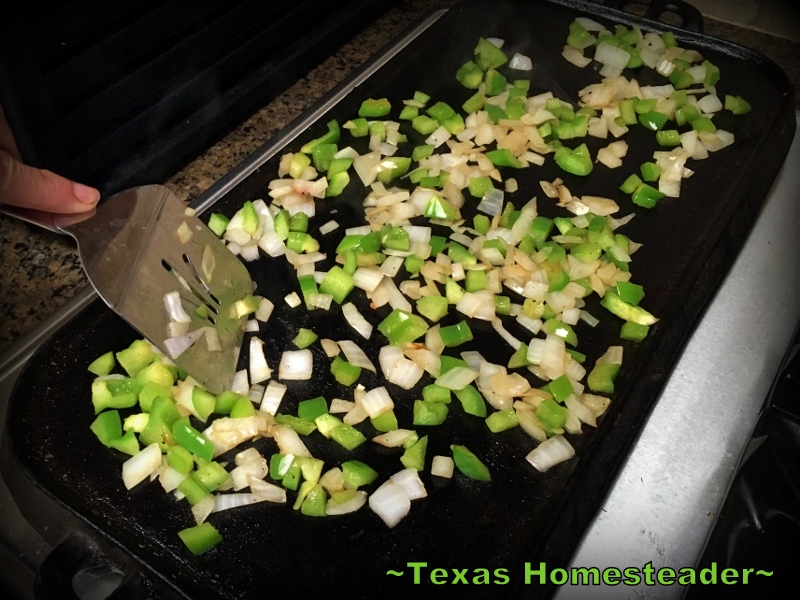 After sautéing the veggies I added a chopped tomato and some freshly-harvested and minced oregano. Then I cooked it until the veggies were tender & the liquid was gone.
Putting It All Together
I had leftover pasta sauce from my homemade ravioli. So into a bowl I added squash strands, the leftover sauce & the sautéed veggies and stirred it all to mix.
If you don't have leftover pasta sauce available, you can just use a jar of pasta sauce. You're wanting just enough to coat the spaghetti squash strands. It will vary depending upon how saucy you like it and how big your spaghetti squash is.
Anyway, I placed the mixture into the hollowed-out squash shells and topped it with just enough shredded cheese to lightly-cover the top.
I like mozzarella but RancherMan wanted cheddar.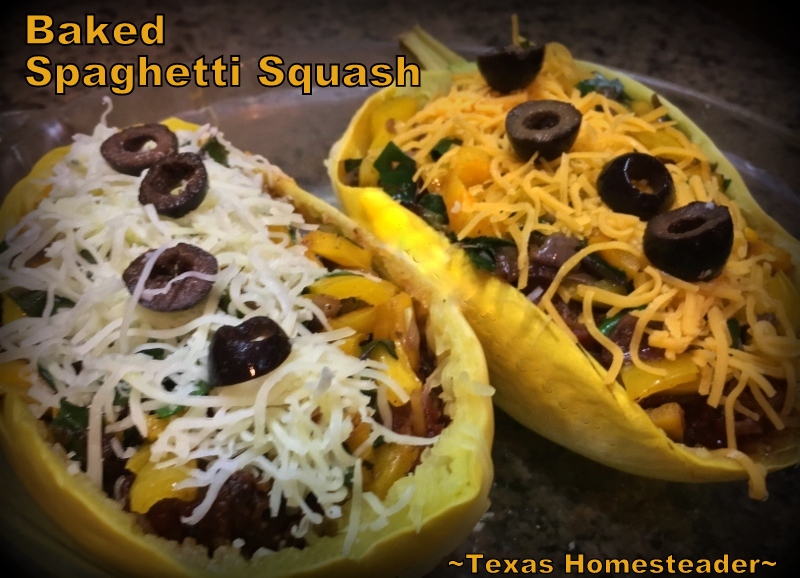 The filled squash shells were placed into a microwave-safe casserole dish and placed it in the microwave on high for 1 minute, just long enough to melt the cheese. VOILA!
A Versatile Recipe
There are of course lots of options for this recipe. But then again I'm sure you expected that since I never have a one-size-fits-all meal.
In the past I've added crumbled cooked ground meat for a little meatier fare. But tonight I just cooked the veggie version so I could use items in the fridge needing to be used. RancherMan and I both devoured it – absolutely delicious!
In case you're the "follow the recipe" type, here's the recipe I based tonight's meal on.
I originally got a base recipe from allrecipes.com. But I've amended it over the years to make it into a recipe that fits us best. You feel free to do the same, ya hear??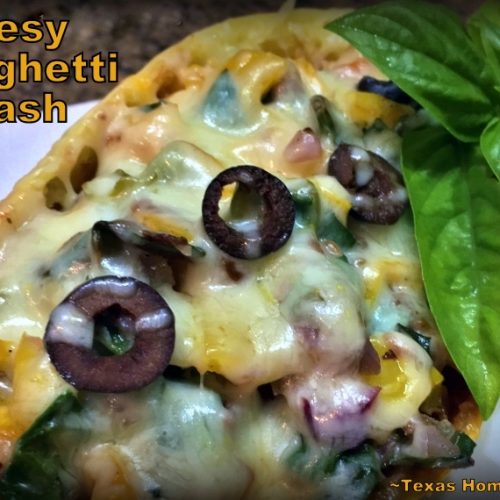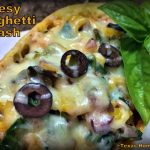 Spaghetti Squash Cooked In Its Shell
This easy cheesy garden spaghetti squash recipe is simple to make and fun to eat. It's cooked in its own shell! We like to make it lasagna flavored but there are lots of easy ways to customize it for your family's tastes. #TexasHomesteader
Ingredients
Ingredients
1

spaghetti squash

halved lengthwise and seeded

1

purple onion

chopped

1

clove

garlic

minced

1

fresh tomato,

chopped

1

can

pasta sauce

1

tablespoon

dried Italian seasoning

salt & black pepper to taste

1

cup

shredded mozzarella cheese

1/2

cup

shredded Parmesan cheese
Instructions
Directions
Cut squash in half lengthwise, remove seeds and place squash halves cut side down in a microwavable dish with a few tablespoons of water. Heat on high for 8-10 minutes.

Meanwhile in a skillet over medium heat add about 2 tablespoons olive oil & saute onion and garlic until golden brown. Stir in chopped tomato, seasoning and salt & pepper. Cook for about 10 minutes, or until the liquid from the tomato cooks out. Stir in pasta sauce. Heat until warm.

Remove squash strands from cooked squash with a fork, reserving the shells. Stir in 1 cup shredded mozzarella cheese and mix until blended. Add the veggie/tomato sauce from the skillet and mix again until thoroughly mixed. Spoon the mixture into the empty hollowed spaghetti squash shell and top with Parmesan cheese. Place filled squash shells in a microwave safe dish and microwave on high for 1 minute, or until cheese melts. Enjoy!
~TxH~
Want to see other Meal Ideas?





C'mon by & sit a spell! Come hang out at our Facebook Page. It's like sitting in a front porch rocker with a glass of cold iced tea. There are lots of good folks sharing!
And you can also follow along on Pinterest, Twitter, Instagram
To receive an email when a new blog post goes live it's EASY to
Subscribe to our blog!
Save
Save
Save
Save
Save