by Texas Homesteader ~
I love fried chicken. What I don't love is the added fat caused by all that soaked-in oil, or cleaning the grease-splattered mess left on my stove.
But now I use my Air Fryer to make healthier fried chicken without all that grease, y'all. Just a single tiny teaspoon of olive oil! And it cooks up fast too.
(Note: Some links in this post will take you to other related articles for further information. But links preceded with * are affiliate links. If you click and buy something I could receive a tiny commission.)
How To Make Air Fryer Chicken:
Here's how easy it is to get crispy fried chicken breasts that are healthier and made in an air fryer:
Coat Chicken Pieces With A Small Amount of Olive Oil

Press Coated Chicken Pieces Into Seasoned Breading

Cook In Air Fryer for 4 Minutes, Flip, Cook Another 4 Minutes

DONE!
Traditional Fried Chicken Often Makes A Greasy Mess!
RancherMan loves fried chicken, but I seldom make it. Now I'm fine with serving less healthy fried foods in moderation. But besides the large quantity of grease required to fry chicken, I hated cleaning all that grease-splattered craziness too.
I use a *Instant Pot Air Fryer lid for making healthier fresh French fries and crispy salmon patties.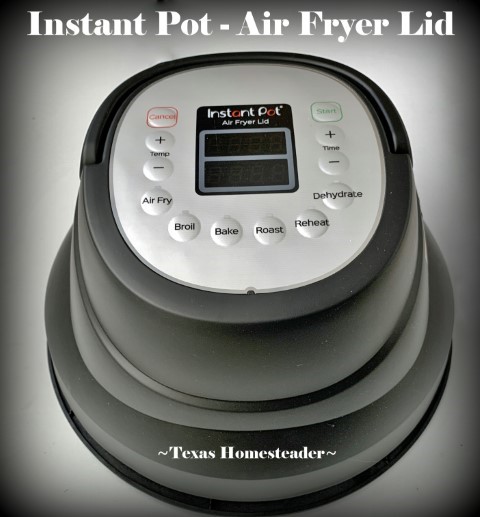 I'm still building my air fryer recipe bank, but you can see my Air Fryer Recipes by clicking the button below:

Now I'll be making the fried chicken we love. Crispy on the outside, moist and delicious on the inside. Perfect southern comfort food.
How Large Is A Serving Of Chicken?
I've read a healthy serving of chicken is supposed to be approximately the size of a deck of cards. Most chicken breasts sold are huge – so one is more than enough for servings for both RancherMan & me.
I had some boneless skinless chicken breasts in the freezer. They were purchased as a large bulk-bag of chicken breasts.
To protect the meat for freezer storage I sealed each large chicken breast in a vacuum-sealed bag using my *FoodSaver Vacuum Sealer.
I pulled one of those large boneless skinless chicken breasts from the freezer and allowed it to thaw completely in the refrigerator. Then I cut it in half to make appropriate-sized servings for RancherMan & myself.
Important Air Fryer Fried Chicken Step:

Pound To Uniform Thickness
It's important to pound the chicken meat to a uniform thickness of about ½". That assures the chicken is cooked evenly all the way through.
Otherwise the thinner portion would be overcooked and dry before the thicker portion was fully cooked. So don't skip this step!
I used the flat side of a meat tenderizer to accomplish this but you can use a meat mallet too. If you don't have either one of those you can just #UseWhatchaGot: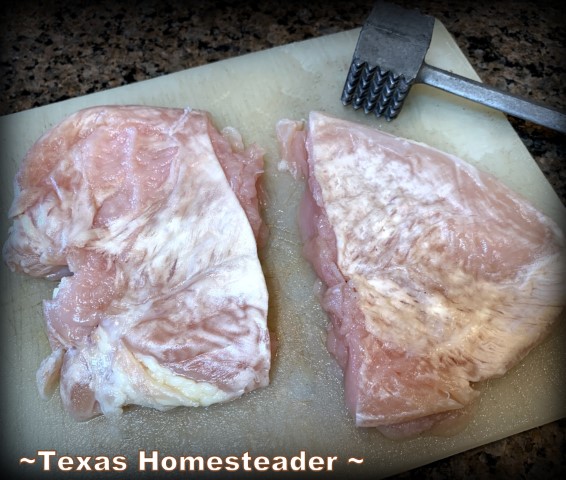 There are common household items that work as a meat mallet in a pinch:
A cast iron skillet or other heavy saucepan.
A rolling pin.
Canned food.
Fried Chicken Coating Mix Ingredients
Once the chicken breast was pounded to a uniform ½" thickness I took a tiny teaspoon of olive oil and coated each side of the chicken pieces.
Once they're coated with a thin layer of oil you can bread them with a bit of seasoned flour or breadcrumbs if you like.
But I wanted a little more substantially crispy crust so I opted to make my breading from crushed cornflakes.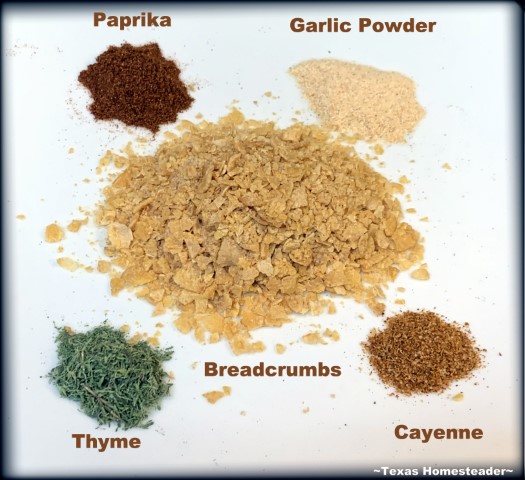 Making chicken breading is easy. Just combine:
Breadcrumbs or finely-crushed cornflakes

Paprika,

Thyme,

Garlic Powder,

Cayenne pepper,

Salt & pepper.
Using Crushed Cornflakes For Breading
This recipe coats the chicken breasts with breadcrumbs for a crispy crunch. But I often use crushed cornflakes instead – either moderately crushed or crushed finely.
I've heard the finer the breading the easier it adheres to the meat. I have a jar of manually crushed cornflakes that are left in slightly chunky bits to use for a crunchier crust for many things such as Potato Cakes and Salmon Patties.
But I also have cornflakes crushed much more finely using a coffee grinder I keep just for that purpose.
If you want to use a chunkier breading option you'll probably need to dip the meat into a mixed egg first to help the breading stick to the meat when it's cooked.
Air Fryer Cooked Fried Chicken Breast
The oiled chicken pieces were rolled in my breading mix. I pressed firmly to make sure I got a solid coating that stuck well to the surface of the meat.
I'd already preheated the air fryer to 390ºF. So I placed the breaded chicken pieces on the elevated rack of my air fryer so they'd be closest to the heat source. This will help crisp the crust quite nicely.
That one breast was perfect for both servings for RancherMan & me and they fit nicely in my *Instant Pot Air Fryer too.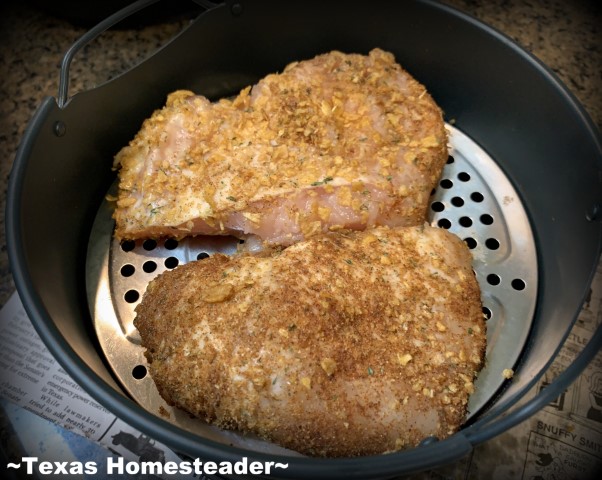 Your air fryer may be larger than mine, but if not and you'll be making more than two servings you'll probably need to cook the chicken in batches. But don't worry – cook times are short!
Cook Time For Air Fryer Fried Chicken
After placing the pre-heated air fryer lid back on top I set the timer for 4 minutes.
When the timer went off I removed the lid and using tongs I flipped the chicken to the other side to cook and crisp it as well. Then I set the timer for another 4 minutes.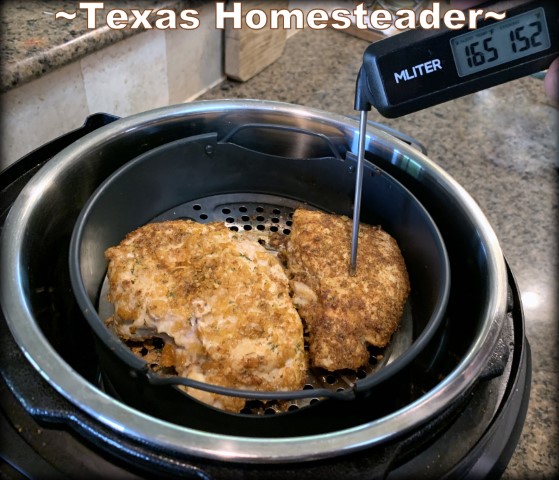 To test the chicken for properly cooked internal temperatures I used my *Instant Read Thermometer inserted into the middle of the chicken breast pieces.
I'm looking for a final cooking temperature of 165 degrees F., although I often bring chicken out somewhere between 161 and 165 since I know resting time will continue to increase internal temperatures of the meat as well.
If you need to cook the chicken longer just return the air fryer lid and cook for another minute or two before checking again with an instant-read thermometer.
The Secret To Tender, Juicy Fried Chicken
We've all struggled with serving chicken that's moist, tender and delicious. But often we end up with chicken that's dry or chewy. What's the secret??
Use a thermometer so you cook the chicken to a safe internal temperature but no higher. THAT'S THE SECRET TO TENDER, JUICY CHICKEN!
The chicken was perfectly cooked, crispy on the outside yet tender and juicy on the inside. I couldn't be more pleased.
What Goes With Crispy Fried Chicken?
Crispy fried chicken is a comfort food down here in the south, and many other areas too!
You can pair any number of things with fried chicken, but here are our favorites: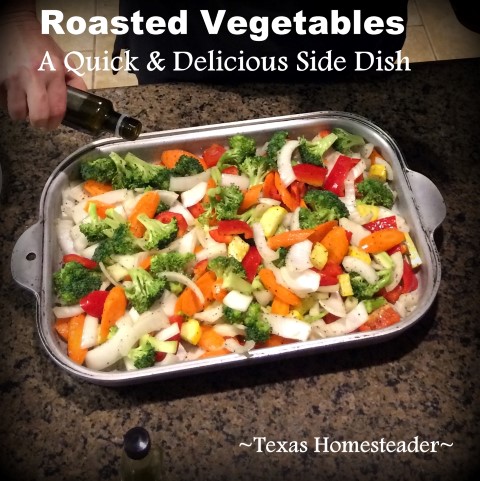 Cleanup was a snap. No messy grease splatters on my stove to clean, no leftover grease to drain and discard, no scrubbing to get cooked-on breading out of my skillet. I simply washed my stainless steel Air Fryer insert and put it away for next time.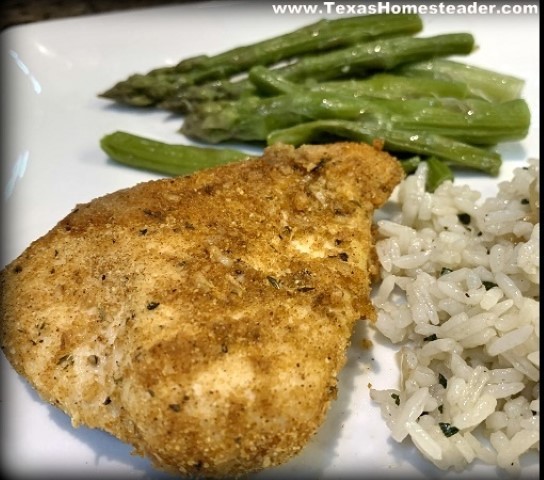 Fried chicken is definitely on my tight list rotation from now on. Below I've shared the recipe for making two servings of chicken for RancherMan & myself.
Did you make this Air-Fryer Fried Chicken? Please rate the recipe in your comment below!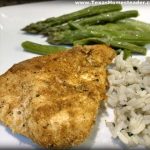 Air Fryer Fried Chicken Breast
This air fryer cooked fried chicken recipe gives you delicious southern fried chicken flavor fast but without all the fat & calories. Boneless skinless chicken breasts are breaded with savory breadcrumbs seasoned with paprika, thyme, garlic powder and just a touch of cayenne pepper. Delicious, easy, healthy and FAST fried chicken the air fryer way. #TexasHomesteader
Ingredients
1

6-8 oz

Boneless skinless chicken breast,

cut in half

1

teaspoon

Olive oil

½

cup

Breadcrumbs

( I use finely crushed cornflakes)

2

teaspoons

Paprika

1

teaspoon

Garlic powder

1

teaspoon

Dried thyme

⅛

teaspoon

Ground cayenne pepper

Salt & pepper to taste

(I use 1/2 teaspoon salt, 1/4 teaspoon pepper)

¼

cup

freshly grated Parmesan, optional

(I often leave this out)
Instructions
Cut boneless skinless chicken breast in half. With a meat mallet pound each piece to a uniform thickness of ½ inch. (This is important!) Then place the pounded chicken into a bowl.

Drizzle the chicken pieces with a tablespoon of olive oil and toss to coat all surfaces. Sprinkle chicken with salt and pepper.

In another bowl combine the breadcrumbs, Parmesan cheese (if using), paprika, garlic powder, thyme, cayenne pepper, and salt. Mix until evenly blended.

Coat each portion of chicken breast in breadcrumb mixture. (Be sure to press firmly to properly coat the surface of the chicken.)

Preheat air fryer to 390 degrees F. Then arrange the chicken in a single layer in the basket. (NOTE: You may need to cook the chicken in batches depending upon the number of servings you're cooking and the size of your air fryer.)

Replace the air fryer lid and cook the breaded chicken breasts on the first side for 4 minutes. Then using kitchen tongs, carefully flip the chicken, and continue cooking for 4 to 5 additional minutes. (NOTE: Your time may vary depending upon the thickness of chicken pieces.)

Cook chicken until crust is golden brown & internal temperature of the chicken reads between 162 degrees and 165 degrees F. when checked with a quick-read thermometer. (internal temperature will continue to rise as it rests – you want a final temp of 165 degrees).

Enjoy the fried chicken hot.
~TxH~
This post categorized in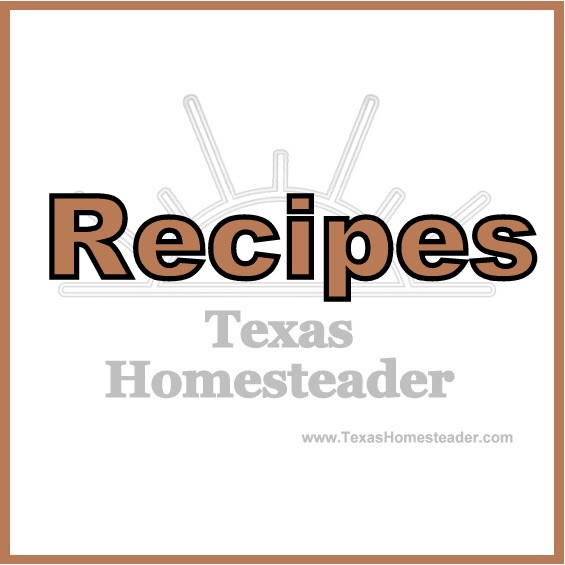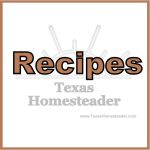 C'mon by & sit a spell! Come hang out at our Facebook Page. It's like sitting in a front porch rocker with a glass of cold iced tea. There are lots of good folks sharing!
And you can also follow along on Pinterest, Twitter, Instagram
To receive an email when a new blog post goes live it's EASY to
Subscribe to our blog!