by Texas Homesteader 
RancherMan & I love ranch-style beans. I'm told that although these beans are on almost every grocery store shelf down here in the south, it's somewhat harder to find in the more northern states. So in case you're not familiar with them, ranch-style beans are just beans but they're different – zestier & spicier and we love them!
Recently I was making my weekly endless soup and I decided I wanted something with a Mexican flair. I wanted to include more intense spices, maybe make it into something like a taco soup.
So when I started planning what I would mix into my soup I thought how wonderful it would be if we had a can of ranch-style beans to stir in. That would be perfect. But alas none could be found in our pantry. I wondered if you could make your own ranch-style beans. So I hit the internet and read somewhere that it's basically just pinto beans simmered in a chili sauce. OK, I can do that! I always have dried beans in my pantry, it's a staple at our house.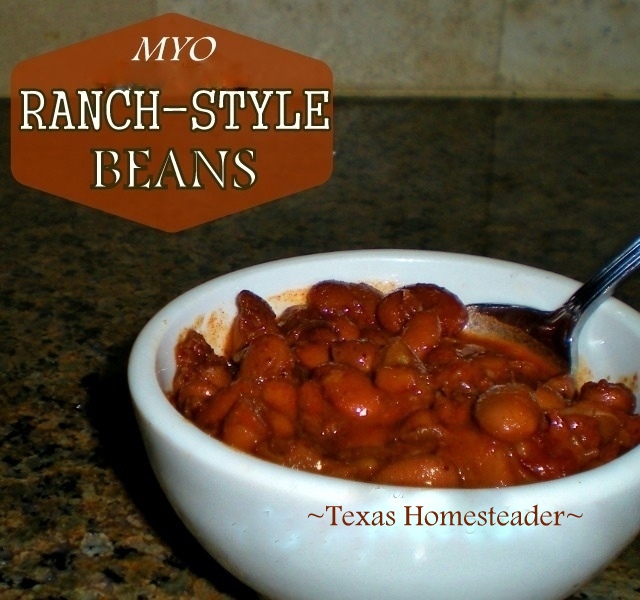 Large-Batch Cooking
I like to cook from scratch whenever possible. Although I always have a package of raw pintos for making one of our favorite meals of beans & rice with cornbread, I've never really tried to do anything else with them. Since I like to use the cook-once-eat-twice method where you cook large quantities of an entree at one time & freeze the rest for quicker meals later, I brought out an entire 32-oz bag of dried pintos.
Then I sorted through them, washed them & put them aside. I didn't have time for the overnight soak that I usually do with the beans so I just tossed the washed beans into my slow cooker, thawed some broth from the freezer and brought out chili ingredients – onions, garlic, chili powder, cumin, etc.  I chopped the onions, minced the garlic and threw in about 1/3 cup chili powder, some chopped dried peppers for a little extra zing, sprinkled in the other seasons and covered the beans with broth. Then I turned the slow cooker on high and hoped for the best.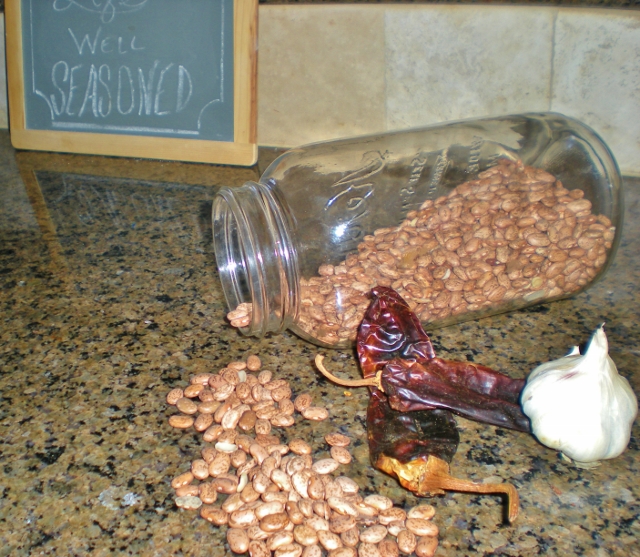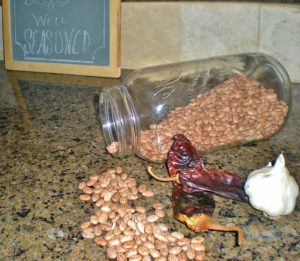 With such a large slow cooker it took quite a while before I could get it hot enough to simmer,  But when the beans were finally done I gave them a taste and was very satisfied that I had yet again found a way to make something for my family instead of buying it. And since I made the full bag of pintos into ranch-style beans it made a LOT!
Uses For My Cooked Beans
I used those beans in our soup and they were perfect for the taco soup taste I was after. They were also used as a side dish with supper another night. We loved them that way as well, topped with a couple of thin jalapeno slices. I was able to portion out the rest of this huge pot of beans into small plastic peanut-butter jars (my go-to freezer storage option) and with a quick label on the top, into the freezer they went for delicious ranch-style beans for other meals.  Love it!
Since I'm repurposing the freezer storage containers this is a very low-waste, yet inexpensive and DELICIOUS way to feed your family. And by cooking them in a slow cooker there's the added convenience of mixing it all up and forgetting about it until they are ready to enjoy. Hey, THAT'S the kind of cooking I get into! 😉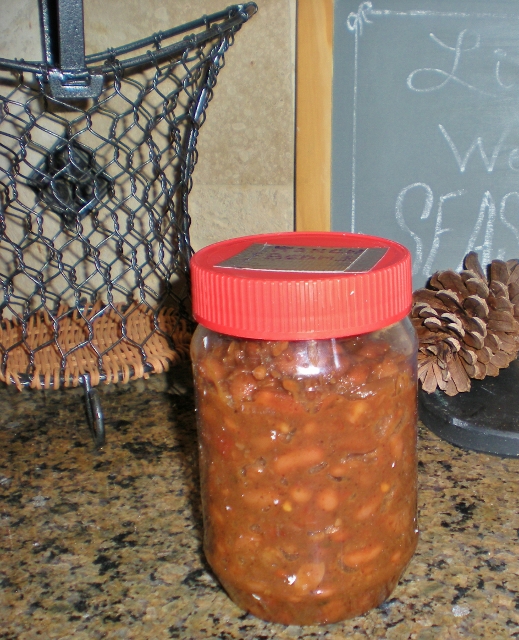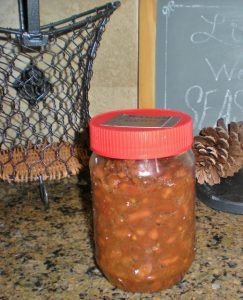 Shootin' From The Hip In My Kitchen
Now I originally found the base for my ranch-style bean recipe at HomeSickTexan. But of course I changed the ingredients to both suit our tastes as well as use what we typically have in our pantry. The original recipe also called for pre-cooking and pureeing the veggies but I didn't do any of that. I just mixed it all in & got it to cooking.
I think the beans turned out absolutely delicious, give 'em a try! The recipe below takes a large slow cooker and a full, honkin' 32-oz bag of beans. So feel free to scale it down if you have a smaller bag of beans or a smaller slow cooker. Of course they can also be simmered in a stock pot, just be sure to stir them often.
Ranch-Style Beans (large quantity)
Ingredients
Ingredients:
32

oz. bag

dried pinto beans

1/2

cup

chili powder

1-2

tablespoons

chopped dried chili peppers

8

cloves

of garlic

minced

1

large

onion,

diced

2

15-oz cans

diced tomatoes

or 4-5 medium-sized tomatoes, peeled & chopped

4

teaspoons

cumin

2

teaspoons

apple cider vinegar

2

teaspoons

paprika

1

teaspoon

oregano

1

teaspoon

brown sugar

10

cups

broth

Salt to taste
Instructions
Directions:
Sort and wash dried beans, then cover in water & soak overnight. The next morning drain & rinse beans and add chili powder, chopped dried pepper, garlic, onion, diced tomatoes, brown sugar, vinegar, cumin, paprika, oregano & broth. Stir it all together to blend & place the lid on your slow cooker and turn on high.
Recipe Notes
My large slow cooker of beans cooked in about 9-10 hours. A smaller slow cooker would probably take less time.
~TxH~
Links In This Post
Other Side Dishes We Love
…and MANY MORE!


C'mon by & sit a spell!  Come hang out at our

Facebook Page

.  It's like sitting in a front porch rocker with a glass of cold iced tea – lots of good folks sharing! 
To receive an email when a new blog post goes live it's EASY to
Subscribe to our blog!
Save
Save