by Texas Homesteader ~
Aaaaahhhh… L'amore, Valentine's Day is almost upon us.
I love Valentine's Day, it's a special day to show that special someone just how much they mean to you. See how RancherMan & I celebrate this special day to make it more special but without the burden of perceived obligation & expense.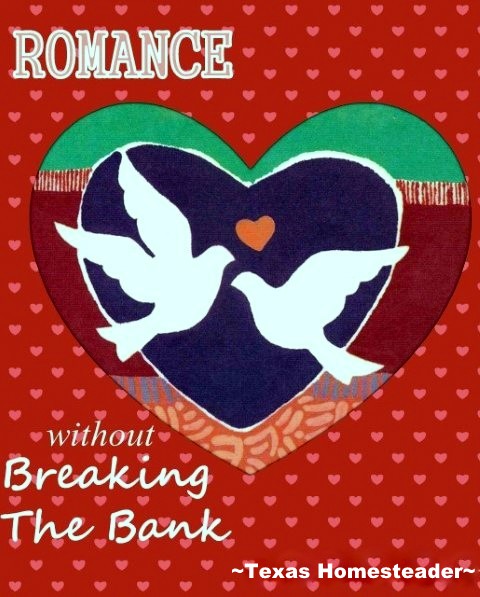 Valentine's Day Expectation Shift
When RancherMan & I were dating Valentine's Day was always a big affair. In true courting manner, there were gifts and flowers given on the big day. And make no mistake, I loved them.
But here's the deal: both RancherMan & I are hopeless romantics anyway.
So sweet nothings whispered to each other are never in short supply for us on any average ordinary day of the year.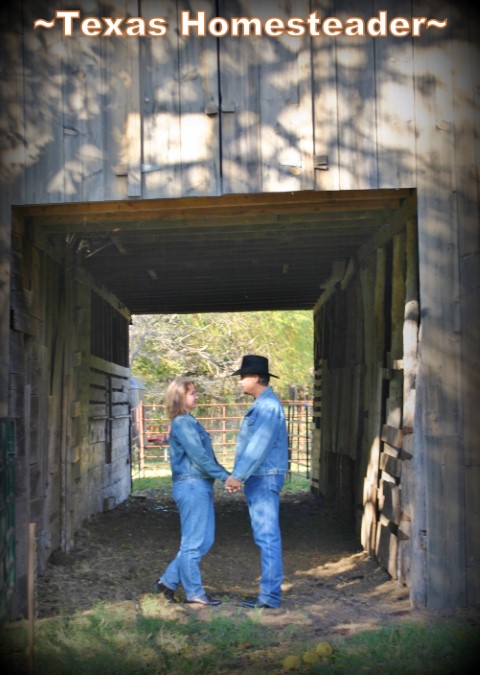 And I'm not really a material girl. So as the years went by both he & I decided we wanted something different & more meaningful for Valentine's Day.
It works for us because although we're both very careful to show each other how we feel every day, we still want to stop & focus fully on each other on this very special day.
Is Valentine's Day Just A Day Of Obligation?
I think it's kind of sad that Valentine's Day has almost become a holiday with the unspoken message:
"If you don't buy him/her that extravagant thing or gush romantic overload for this one day, they'll think you don't love them".
That's some kinda pressure, y'all!
But even then, how do you top your efforts (and their expectations) each and every year?
Flowers this year, then flowers plus chocolate next year. Add a plush teddy bear and a nice dinner out the next year, and so on.
Ugh…
Crowded Restaurants On Valentine's Day
Now of course like most people I enjoy special dinners out. But it's difficult on Valentine's Day.
Even with reservations you're waiting in long lines and being shuffled through a standing-only crowd where you sit & eat in a crowded corner as the controlled chaos of the crowd's activity around you drums your ears.
Hardly an intimate, romantic setting.
But I'm here to tell you there's a better way… For us at least.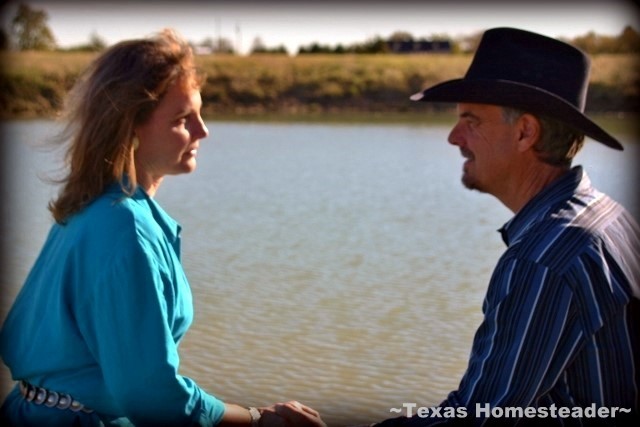 Photo Credit: Cynthia Marie Photography
Our Valentine's Day Tradition
RancherMan & I have a Valentine's Day tradition: We get together in the kitchen & make a special dinner for each other.
It's always an extravagant meal. One we wouldn't ordinarily treat ourselves with.
When shopping for the meal's ingredients there's no budget – anything's possible, the sky's the limit. It's a lot of fun to plan and shop for.
Then we get in the kitchen together and make that special meal for each other.
One year during February we were going through the 30-Day No-Spend Challenge. That's when we weren't allowed to spend a dime on food, either from the grocery stores or restaurants.
Although there were no other exceptions allowed during the entire month no matter how tough it got, our annual Valentine's Day meal was the one & only pre-planned exception.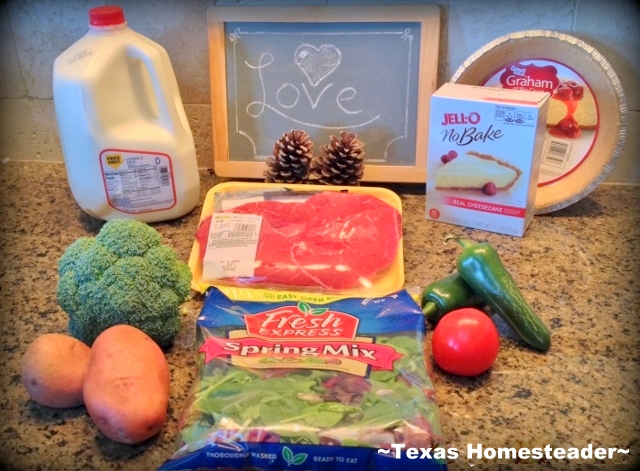 Enjoying Valentine's Day… Together
When enjoying our Valentine's Day meal we'll sit down at the table with candlelight & soft music. We'll enjoy each other's loving gesture with a glass of wine served in our finest crystal.
There's nothing wrong with flowers & chocolate. I LOVE flowers & chocolate! But I love this tradition even more.
Because although RancherMan is no stranger to the kitchen, this effort is often somewhat outside his comfort zone. But he does it out of love for me, to give of himself.
And to me, that's what Valentine's Day is all about, y'all.
When we sit down to enjoy that special meal it's a gift given directly from our hearts. And we enjoy a togetherness that might be significantlyt more difficult in a loud, crowded restaurant.
Plus, although the price tag isn't the point at all for this Valentine's Day gift, our gift to each other costs only a tiny fraction of what we'd have paid to be crammed in a restaurant. Even a lower-end chain restaurant.
How about you? How do you celebrate Valentine's Day without breaking the bank?
~TxH~
Other Frugal Tips


C'mon by & sit a spell! Come hang out at our Facebook Page. It's like sitting in a front porch rocker with a glass of cold iced tea. Lots of good folks sharing! You can also follow along on Pinterest, Twitter or Instagram.
If you'd like to receive an email each time a new blog post goes live it's EASY to
subscribe to our blog
Save
Save
Save