by Texas Homesteader ~
*includes affiliate link
I'm sharing 12 easy tips to save on groceries. Most of these tips are good for your budget AND the environment. And it doesn't get any easier than this – there are many super simple ways to make the most of your food dollars.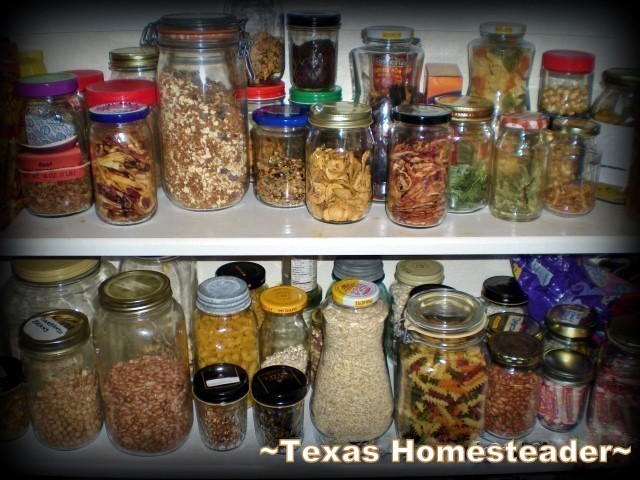 (Note: Some links in this post will take you to other related articles for further information. But links preceded with * are affiliate links. If you click and buy something I could receive a tiny commission.)
Motivation For Eliminating Food Waste
Today we're looking at trimming waste from your grocery budget. We all may have different reasons for wanting to cut back.
A large unexpected bill needs to be paid

Saving up for a new home or car

Too much month and just not quite enough money
There are any number of reasons why Financial Times Turn Tough Unexpectedly.
But or me the main motivation was a desire to have a lighter footprint on this earth of ours. And convenience foods often come with a shocking amount of over-packaged waste.
It's interesting though that my desire to have a lighter footprint also saved substantial amounts of money from our grocery budget. AND we ate healthier too.
Whatever your motivation, one of the worst budget hits is wasted food. So make sure all the food you buy goes to fulfilling your family's nutritional requirements.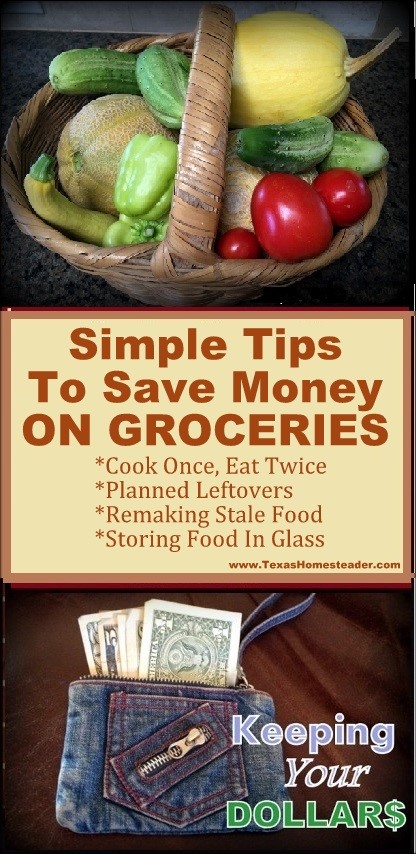 As I mentioned my goal was initially borne from environmental awareness.
It bothered me to see multiple mammoth-sized trash cans lined up at the curb at each and every house TWICE A WEEK – every week – back when we lived in the city. All that trash, where does it come from?
PreCycling

Is Better Than

Recycling
I started noticing where our home's trash came from and it was shocking to see the over-packaged waste in our consumer products.
So I started mindfully reducing the amount of trash I brought into our home in the first place. Of course I was already recycling everything I could.
But recycling – although better than landfill-bound trash – is still trash needing to be dealt with.
I became more focused on PREcycling. That is, not bringing it into our home to begin with.
Boxes and cans of convenience foods were replaced with real honest-to-goodness ingredients. And I began cooking simple meals from scratch.
And those non-recyclable cups from my favorite morning yogurt were eliminated by learning to make my own homemade yogurt in single-serving reusable 1/2-pint canning jars.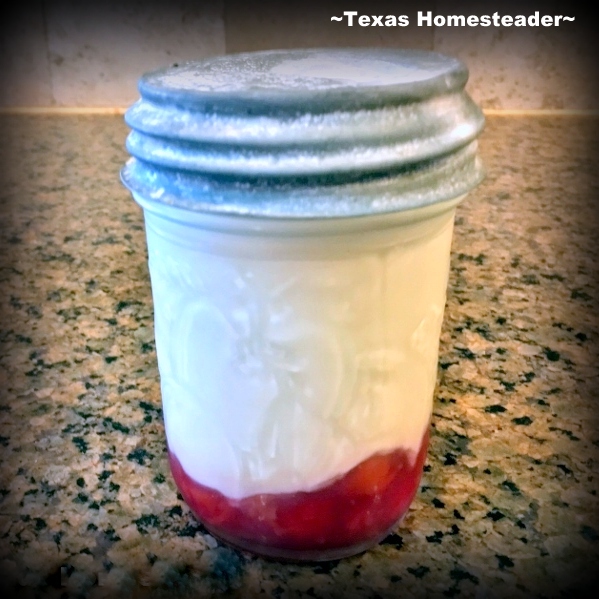 With each new step I made I was successful in eliminating more trash from going to the landfill. That made my eco-warrior heart happy.
But amazingly those steps also saved lots of money from our grocery budget.
Over the years I've gained more & more confidence to produce for myself those things I used to buy. I now typically make my meals, desserts & spice mixes from scratch.
Now lest you be very misled yes, convenience foods make an appearance from time to time in my kitchen. For me it's all about moderation and I'm certainly no Super Woman.
But here are many ways I've been able to save lots of money on our grocery budget:
Cook-Once Eat-Twice Method of Cooking
Cook-Once, Eat-Twice method is where you make more of a main entrée than you'll be eating at one sitting. So go ahead & make a LOT of that favorite entrée tonight.
Enjoy a portion for supper & freeze the rest in portion-sized servings. Now home-cooked healthy meals are as close as your freezer.
Just pull out your main dish the night before and allow it to thaw overnight in the fridge.
Then for supper all you have to do is heat up your main dish, add a couple of veggie sides or some quick & easy Roasted Vegetables and voila.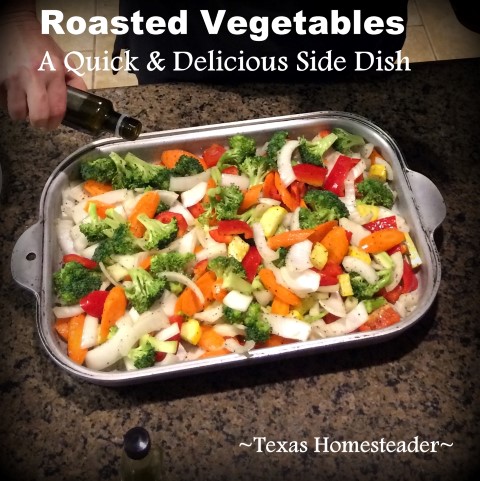 See what I mean? Cook-Once, Eat-Twice method of cooking means Supper from scratch on the table in literally minutes!
Planned leftovers Method of Cooking
Planned Leftovers is similar to Cook-Once, Eat-Twice method of cooking.
Cooking with planned leftovers means you're cooking more of a main ingredient that you will later turn into a completely different meal.
Leftover Pork Roast you enjoyed tonight can be turned into: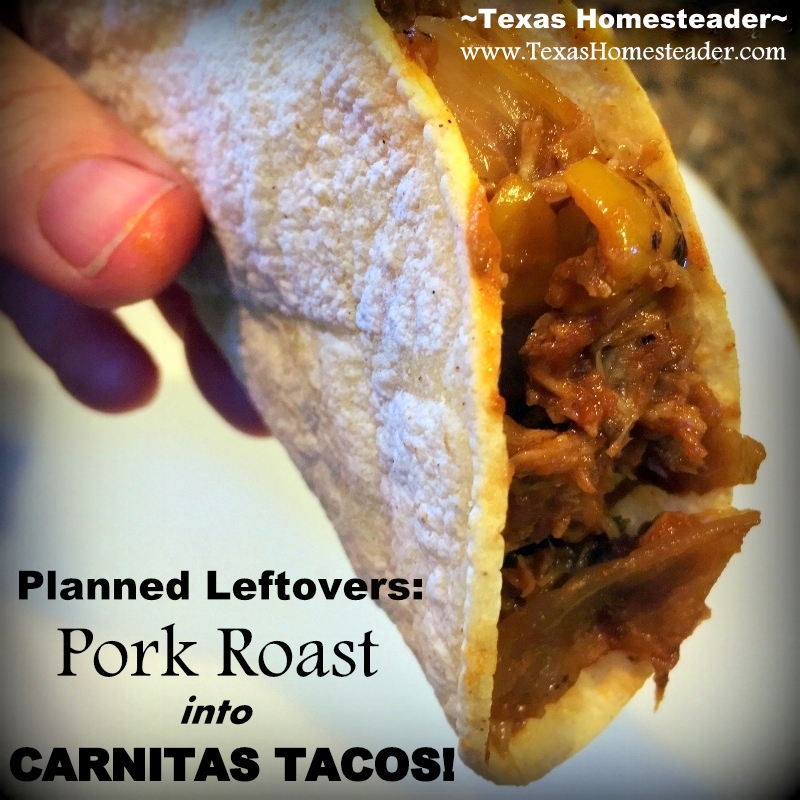 Leftover chicken can be turned
See what I mean? Once again homemade supper is on the table FAST since the main ingredient's already been cooked. Check out all our planned leftovers posts:

Make Soup!
Keep a container in the freezer and add bits of leftover food. You can even keep juice drained from cans of veggies for free vegetable broth & you'll be on your way to a great starter point for homemade soup.
I have Several Soup Recipes that we love. Most involve adding some sort of leftovers. And I like to make endless soup to keep me in hot lunches for a week. It's EASY, healthy & very inexpensive!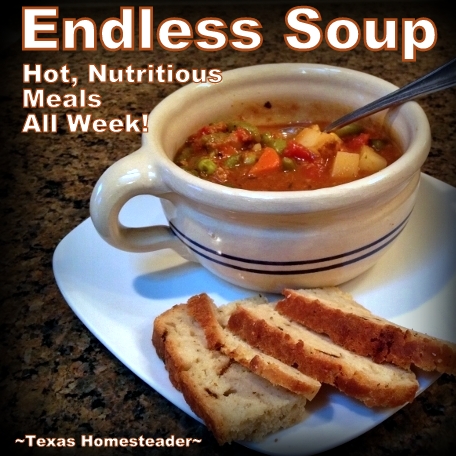 Store Leftovers in Repurposed Glass Containers
That leftover food has already been bought and prepared. So all the hard work has already been done.
Don't let those leftovers sit in the fridge until they become a science fair experiment. Keep 'em in repurposed Glass Jars. That way you can see & enjoy those leftovers either for supper the next night or maybe a quick lunch instead of eating out.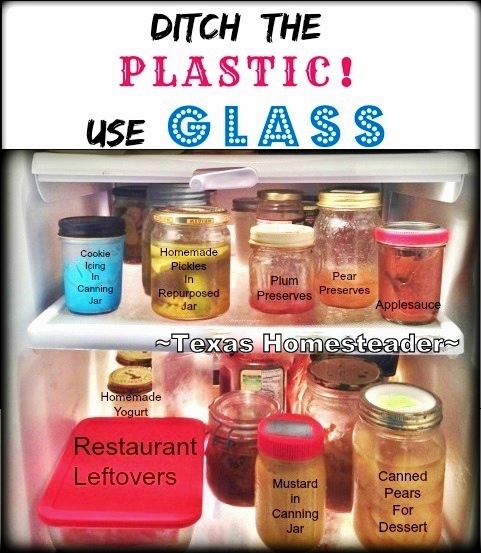 Use Stale Food in Another Dish
There are many ways you can use stale food in another more exciting dish.
Stale Bread Into
Lightly-Soured Milk Into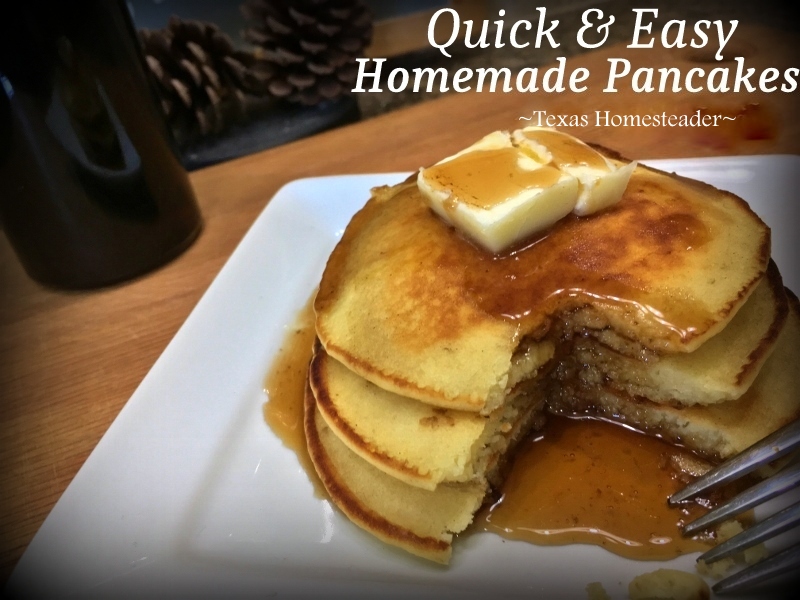 And potatoes that are starting to get soft can be cooked into mashed potatoes.
You get the idea – use it up!
Use ALL Of Your Food
Washed veggie peelings or the bones / skin of chicken, turkey or steak can be made into healthy broth.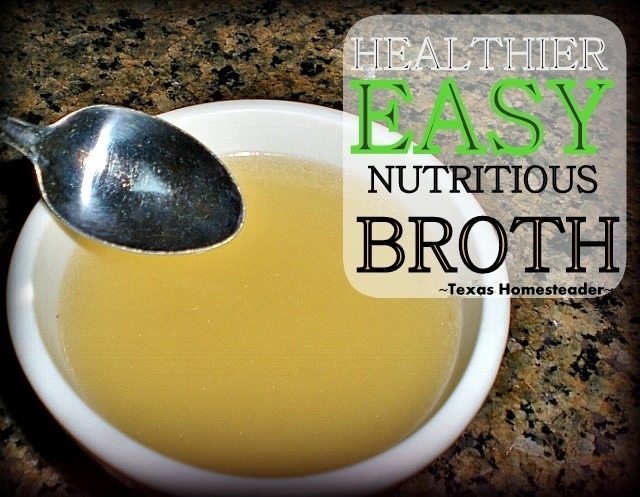 By following my procedure, that delicious bone broth's lower in fat & higher in calcium too!
Grow a Garden for Fresh Veggies
This one gets bonus points for exercise too since gardening often results in a healthy workout as well. Oh and a garden is easy on the eyes too!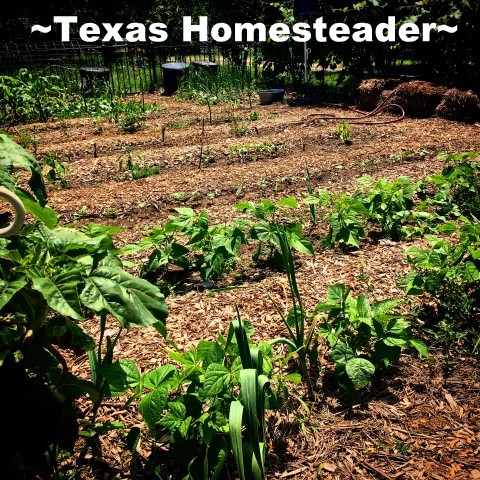 Preserve the Food You Can't Eat Fresh
You can make that produce last for months by either canning, freezing, dehydrating. Start small and expand as you gain confidence.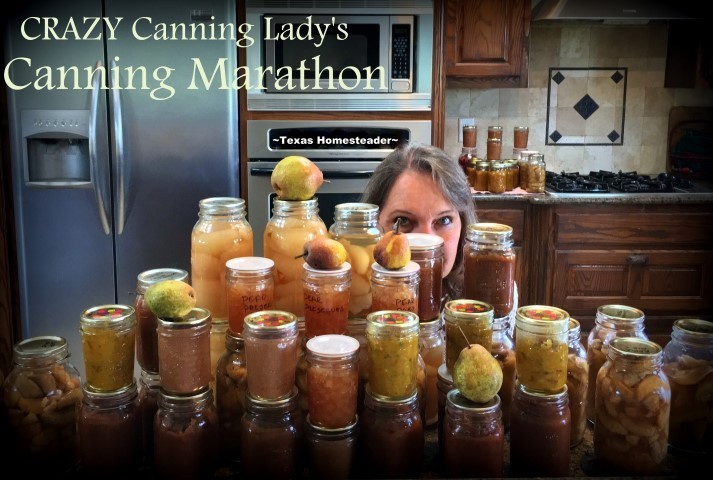 Tips For Saving Money On Fruit
No need to just grab that entire bunch of bananas and head for the register. It's ok to pull off 3-4 bananas from the bunch if that's all you'll eat before they go bad.
And I've found that oftentimes when I'm buying fruit by the pound I get more value buying the smaller-sized bananas, apples, etc.
Typically when eaten as a snack it's one fruit, large or small since few people eat half a banana or apple. I can get more smaller fruits by the pound than larger ones.
Homemade Items Instead Of Buying Premade
Inexpensive Low-Waste Treats: Buy popsicle molds and make your own popsicles using sweetened yogurt, the syrup drained from canned fruits, or this simple recipe for fudgesicles.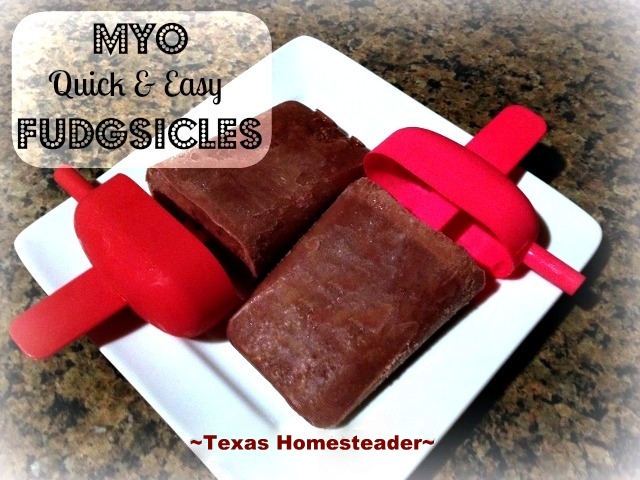 Cheap Pickles or Jalapenos: A fresh jalapeno or sliced cucumber can go into an empty jalapeno or pickle jar. The brine leftover in those empty jars will pickle that fresh cucumber or those jalapenos for very little cost and with no waste.
Just make sure to shake the jar daily until they start to pickle to keep any exposed vegetables sticking out of the brine from growing mold.
Choose Less Expensive Low-Waste Snacks
Expensive colas were replaced with fresh sun-brewed tea. (Trifecta win – hugely less expensive, much healthier and less trash since the teabag just goes into my * tumbling composter)
Popcorn is a fun inexpensive snack but I hated the waste! So we buy a bag of popcorn kernels for about a dollar and it pops up GALLONS of Popcorn with very little landfill waste.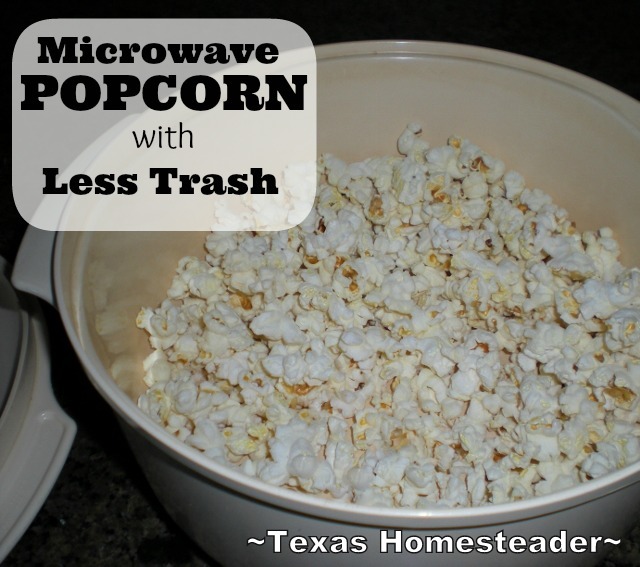 Coupons Don't Always Save Money
Use coupons only when they save money over buying the generic brand. Or when buying those name-brands that really matter to you.
You're not really saving money if you're only paying more for the name on the package.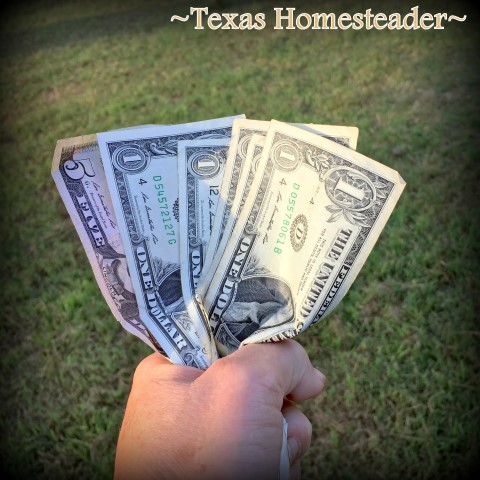 What's Your Favorite Grocery Budget Saving Tip?
These tips worked great for keeping our grocery budget low. But we're all in different places in our lives.
What works well for an empty-nester family might not work as well for a young family just starting out.
Let's learn from each other. Ware some of your favorite ways to save those hard earned dollars on your grocery budget?
~TxH~
Links In This Post:
Other Budget-Stretching Articles
Other Low-Waste Stories
Other Low-Waste Stories


C'mon by & sit a spell! Come hang out at our Facebook Page. It's like sitting in a front porch rocker with a glass of cold iced tea. Lots of good folks sharing! You can also follow along on Pinterest, Twitter or Instagram.
If you'd like to receive an email each time a new blog post goes live it's EASY to
Subscribe to our blog!

~ ~ ~ ~ ~ ~ ~ ~ ~ ~