by Texas Homesteader ~
When we moved into a rural area we discovered TV reception was poor at best. But we didn't resort to a monthly cable bill – see all the ways we easily enjoy television entertainment!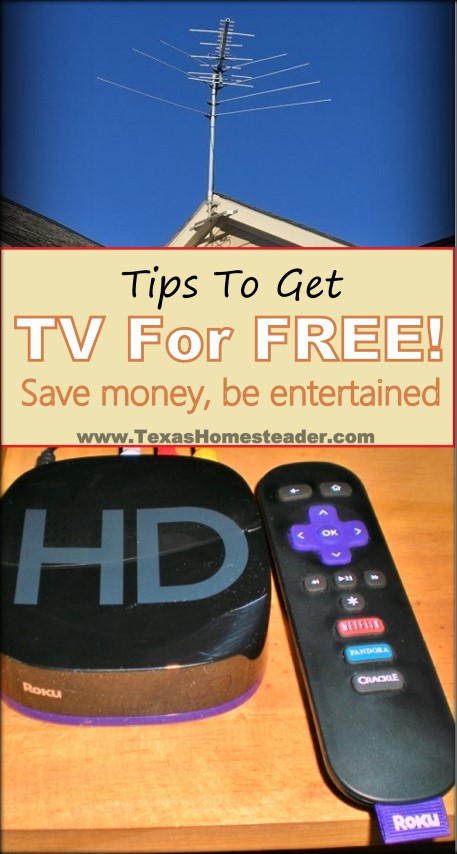 (Note: Some links in this post will take you to other related articles for further information. But links preceded with * are affiliate links. If you click and buy something I could receive a tiny commission.)
Saving Money On Television Entertainment
When we lived in the city it was easy to watch television for free through our TV antenna. But when we moved to the country we discovered that TV reception was poor.
Everyone told us we would have to get a cable or satellite subscription if we wanted to watch TV. As you can guess we immediately went on a mission to defeat that issue.
When we lived in our city home we had an antenna
in the attic that provided excellent reception. That was before digital TV.
But once we moved into our rural area we were no longer able to get acceptable reception with the same set-up.
How To Get Better Reception From Television Antenna
Since an antenna in our attic had worked great at our city home, we tried mounting the antenna as high in the attic as possible in this home when we moved here.
But the signal was very unreliable, partially due to our solar decking in the attic blocking the signal.
We contacted a local TV service company who suggested they could install an antenna on a 30′ mast and run the necessary cables for $600.
Heck $600 will get several months of cable TV! We almost caved in right then and there to subscribe to cable.
But we decided if raising the antenna was the problem we would mount it as high on the roof as possible.
After installing the proper bracket and pole to the peak of the roof and properly grounding against lightning we were able to get the antenna about 25 feet high. (our roof peek is about 20 feet high and the pole is another 5 feet higher)

BINGO!
How To Position A TV Antenna For Best Reception
Once the antenna was up in the air and clear of our solar decking, the reception improved dramatically. RancherMan then went online and found the list of FCC DTV Station Maps.
Using a compass he pointed the antenna exactly where it needed to be to get the strongest signal from the closest stations.
Since we are approximately 75 miles from the Dallas towers, we're in what's considered the 'fringe area'. That means all of our station signals are weak.
But by mounting our antenna higher in the air we found that now we have over 80 channels available.
Not bad for a one-time investment of about $200 for a new antenna & bracket.
Better Rural Reception With Antenna Power Booster
But then there was the issue of signal strength and this proved a much more difficult problem to solve.
But we refused to give up.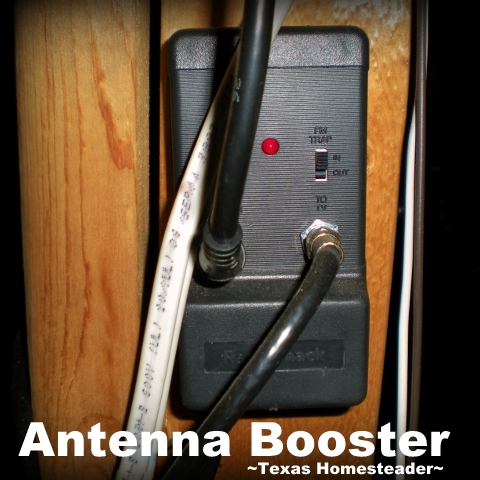 So we installed a *Power booster on the antenna. This helped our antenna reception substantially.
Streaming Shows & Movies To Your Television
We watch television via our antenna often. But as you know, broadcast TV is oftentimes less than desirable these days.
Cable and satellite offer many more television entertainment options and many more channels. But as you know, a huge percentage of those channels are either repetitive or of little interest to many people.
Thankfully it's easy stream movies & shows from the internet to your television using: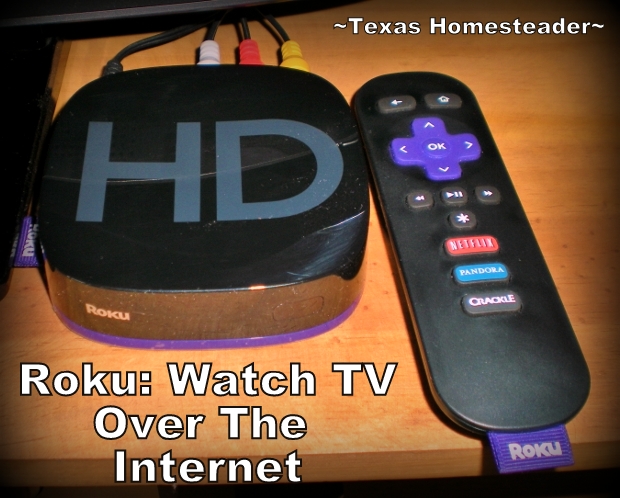 We have DSL internet and a wireless modem. So one of these streaming devices is better than cable and is a one-time purchase. We like Roku or Apple TV best.
The Roku gives us access to hundreds of free internet-based channels, including movies.
Now don't confuse this with cable. There are minimal "live" broadcasts through this device. But news is still broadcast after the fact through Roku. And countless shows are available on a replay basis.
One of my favorite Roku channels is Crackle. It's essentially Netflix with a 30 second commercial every 20 minutes or so. And it is absolutely FREE.
There are also home improvement channels as well as cooking, DIY, documentaries, old movies and cartoon channels. And there are hunting and fishing channels too.
Chrome Cast To Mirror Your Computer To Your TV
RancherMan loves his *ChromeCast. It's just a small thumb drive-looking device that plugs into the TV.
It uses the WIFI to cast shows & movies from his computer onto our TV. So by casting from his computer to the TV, he & I can schnoodle up on the couch and watch movies using this technology.
But ChromeCast doesn't work with Apple IOS and we have Apple tablets. So using the *Apple TV device we're able to mirror our Apple Tablets to our Apple TV too. (not to be confused with Apple TV streaming subscription)
Amazon Prime Lets You Stream Shows & Movies
We love Amazon Prime for free shipping. But your prime account also allows you to stream shows & movies. So we enjoy that feature often. I mean we've already paid for Prime – why not use all the benefits??
NOTE: If you don't already have it, you can totally *Try Amazon Prime For FREE for 30 days. Then place your order & get your free shipping, etc. Keep prime for 30 days FOR FREE & try it out – streaming movies, music, free shipping – the whole 9 yards! If you don't want to continue you can cancel within 30 days and pay nothing for the Amazon Prime membership trial run.
Plus there's an added benefit of no commercials while we're streaming many shows & sitcoms. That's especially handy during the holidays when the same ole "If you loved her you'd buy her a truck for Christmas" commercials play over & over again!
Lately we've been streaming the Andy Griffith Show in the evenings – aaaahhhh, it was a simpler time for sure. And a nice way to wind down after a busy day.
And y'all – you can try *Amazon Prime For FREE!
It might be a good way to see what all is available through Prime. And take advantage of that free shipping and streaming music too!
So if you live in a rural area don't give up on affordable TV. And if you live in the city, still look into the Roku, Firestick, AppleTV, ChromeCast and/or Amazon Prime options.
Cut that cable bill – your bank account will love you.
~TxH~
This post categorized in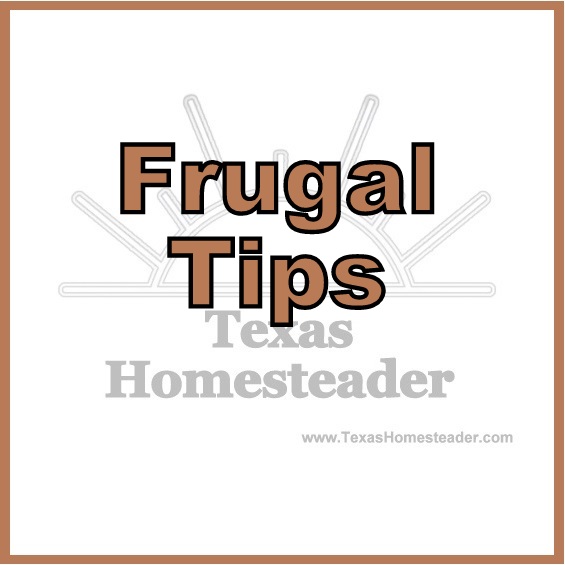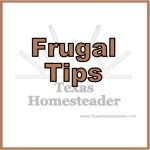 Other Budget-Stretching Articles


C'mon by & sit a spell! Come hang out at our Facebook Page. It's like sitting in a front porch rocker with a glass of cold iced tea. Lots of good folks sharing! You can also follow along on Pinterest, Twitter or Instagram.
If you'd like to receive an email each time a new blog post goes live it's EASY to
Subscribe to our blog!
References:
Save