by Texas Homesteader ~

Feral hogs are simply domesticated hogs that escaped from various farmers pens years ago and reproduced in the wild.
But in Texas they're prolific and very damaging to our pastures. Those wild hogs are easily able to root huge 2-ft deep holes along very large swaths of pasture overnight. Their damage not only destroys grazing opportunities for our cattle but also causes damage to our equipment.
Thankfully I'm married to a talented hunter-husband and he helps reduce their population by hunting or trapping these hogs and we have the pork processed locally.
Our processor has many options for the pork but one of our favorites is smoked ham. Recently I made a sandwich spread from some of that delicious ham. It's RancherMan's favorite sandwich spread.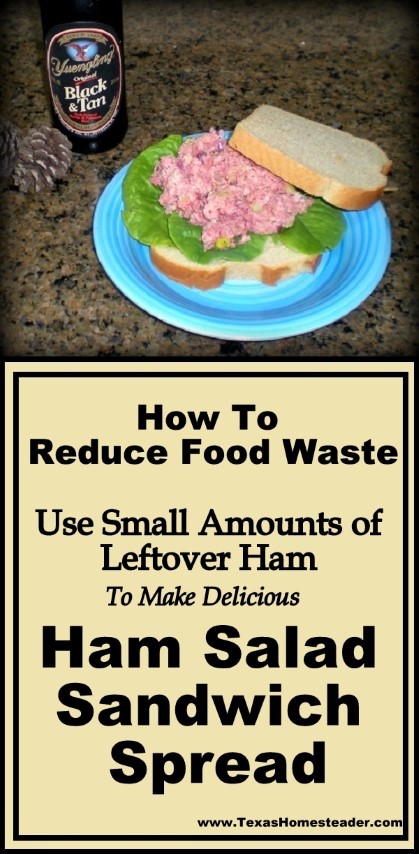 Simple, Wholesome Ingredients
First I pulled out the ingredients needed: The smoked ham slices, red onion and garlic cloves from my garden, dill pickle slices and Sweet & Savory Relish that I preserved last year, and salt / pepper.
I also needed a dollop of mayonnaise for a binder and a small squeeze of mustard for zip.
UPDATE: I'm now making my own homemade Mayonnaise these days. So easy!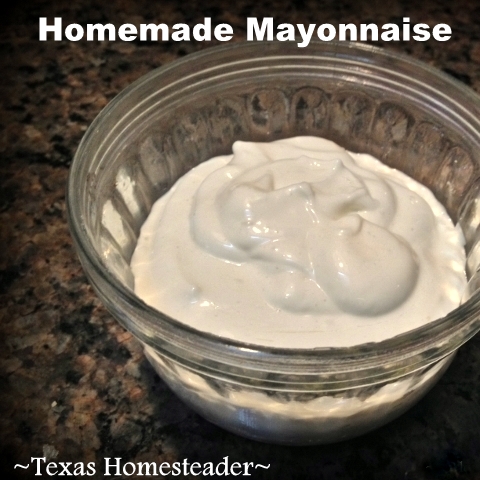 Flexible Ham Salad Sandwich Spread
When I make ham salad I really don't have any measurements. So I certainly don't have a rigid recipe.
If we have jalapenos growing in the garden we almost always chop one up and throw it in as well. But I don't think there's much of anything we don't enjoy without an added jalapeno! That's just the way we roll here on the Homestead.
But you can use some of the same ingredients you enjoy in your own sandwich spread recipe.
If you like boiled eggs in your sandwich spread – add them. If you enjoy bell pepper or celery – go for it. Sour cream or seedless grapes? You betcha.
This recipe is fully customizable to your tastes.

Grinding The Smoked Ham
I pulled out both my *KitchenAid mixer
and the *grinder attachment
. This combination has been pure gold in our household and I use it a lot!
The grinder makes short work of the ham slices. In less than two minutes they come out beautifully ground and ready to be made into ham salad.
Mixing Up The Ham Salad
Then I simply add my other ingredients to our taste. I like to go pretty sparingly on the mayo and add just enough to bind everything together.
But you can use the same ratio of mayonnaise that you'd use in your favorite sandwich spreads. Some people like to go light on the mayo, and some people like a creamier spread so they use more mayo. Whatever floats your boat works here!
Give it all a quick folding with a large spatula and it's blended into ham-salad perfection.
I feed good that in making this spread I'm utilizing organic veggies grown and preserved from my own garden, meat harvested from our ranch and a few added condiments to blend it all together.
There's no running to the store for commercially-produced sliced lunch meat. I look at this as a beneficial win/win. There are fewer wild hogs to damage our pastures and lots of good eating for my family.
Hey, that's just perfect for us!
~TxH~
Want to see other Meal Ideas?



Pork Roast Recipes:
Recipes Using Leftover Roast:


C'mon by & sit a spell! Come hang out at our Facebook Page. It's like sitting in a front porch rocker with a glass of cold iced tea. There are lots of good folks sharing!
And you can also follow along on Pinterest, Twitter, Instagram
To receive an email when a new blog post goes live it's EASY to
Subscribe to our blog!