by Texas Homesteader ~

I've discovered my favorite herb to cook with is Thyme. It's so versatile and it adds a delicious flavor to so many different dishes. I planted Thyme in my edible landscape several years ago.
They grew into tiny bushes and I cooked with fresh Thyme often. But the drought took my plants so reluctantly I decided to buy jars of thyme for awhile instead.
I was absolutely shocked when I saw the price of Thyme in the stores. Although you can buy a large container of cinnamon for .99 or less, Thyme was closer to $4 if it could even be found in our smaller rural stores!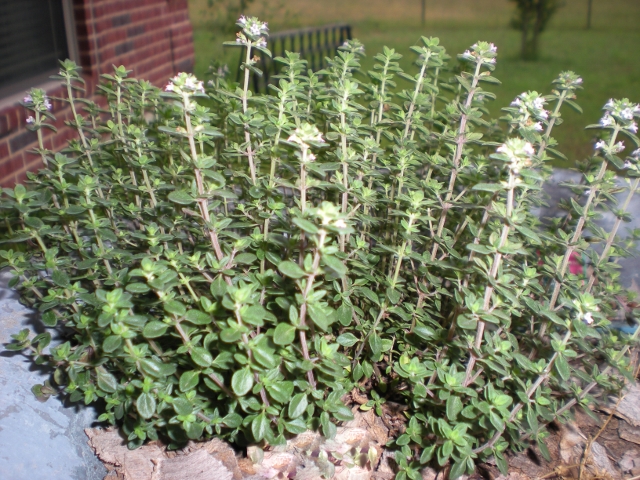 Buying A Thyme Plant Instead
Last year I came across a small Thyme plant they were trying to get rid of at the end of the season. I grabbed it thinking maybe I could grow it in a kitchen windowsill. The Thyme grew scraggly in no time and I knew I was going to lose it.
In desperation I pulled a single stem and stuck it in an outside cement planter on our south-facing porch and it thrived there all winter!  Now finally it's time to harvest and preserve some of it.
I took out the kitchen shears and lopped off the stems leaving about 1/2 the height of the plant. I brought the stems in and after a quick rinse I started pulling off the leaves. I'll keep the leaves in a bowl that I will leave on my kitchen counter. Each day I'll fluff them to ensure even drying and they'll be ready to store in about one to two weeks.
After about thirty minutes of pulling leaves I decided that was too much of a labor-intense way to harvest them so I decided to dry the rest of the stems first then crush the leaves from the stems after all is dried. With my shock over the price of this precious herb the lesson has been learned! I'll refill an empty spice container with my own home-grown Thyme.
Hopefully I'll also be able to harvest and preserve more throughout the year as well as using it fresh. I'll make sure I keep this herb container FULL!
~TxH~
Preserving The Harvest Posts
…And Much MORE!
Dehydrating Posts

C'mon by & sit a spell!  Come hang out at our Facebook Page. It's like sitting in a front porch rocker with a glass of cold iced tea – lots of good folks sharing!  You can also follow along on Pinterest, Twitter or Instagram.
If you'd like to receive an email each time a new blog post goes live it's EASY to
Subscribe to our blog!
Save
Save