Texas Homesteader ~
My garden isn't producing heavily yet, but I came across a great deal recently on a large quantity of beautiful fresh tomatoes. I froze a few of them to make my fresh tomato blender salsa and of course we ate some tomatoes fresh.
But RancherMan prefers his tomatoes cooked so we had many more tomatoes than we could eat fresh. I decided I would make them into tomato sauce, something I use quite often in my kitchen.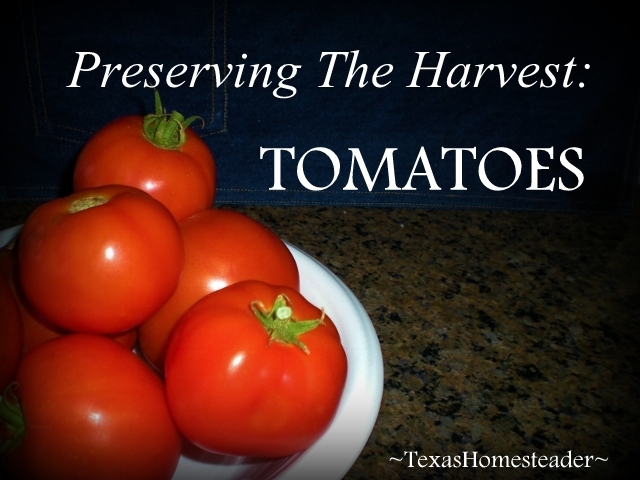 It was a multi-step process to get the tomatoes from fresh & whole to sauce. First I washed the tomatoes & used a sharp knife to core them & I sliced them into about 4 wedges. This exposed the seeds a little easier & I scraped as many seeds as I could out of the tomato and into my compost bucket. Hummm… I guess I'll be expecting tomato volunteers next year in my compost! LOL
Preparing Tomatoes
The seeds in the tomato often can give your sauce a bitter taste so I like to remove them. I didn't worry about removing each & every seed, just as many as I could comfortably get to since the sieve will remove most of the seeds for me. Some people just wait & let the sieve remove them all but I wanted to remove most of them before cooking.
Aaaanyway – I piled the tomatoes into my big slow cooker, skins and all. Then I covered them and allowed them to cook slowly on low all night long.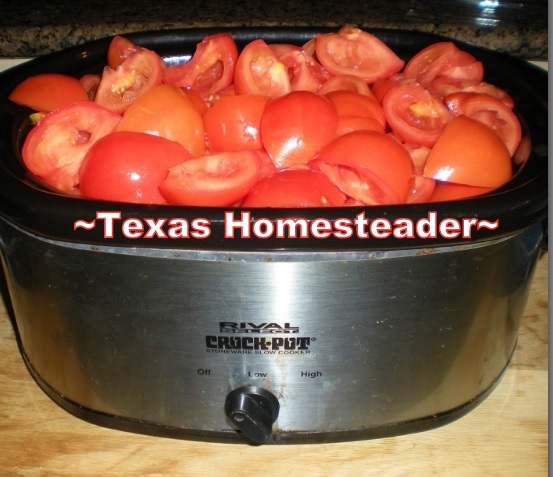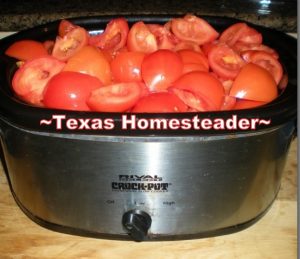 The next morning I used a slotted spoon to bring the cooked tomatoes from the slow cooker and allowed them to drain for a bit. Tomatoes hold quite a bit of water and when you're making sauce you have to simmer much of that water away. Taking as much of the moisture out of the tomatoes before cooking means your sauce will make your cook time much quicker. I just used my jelly strainer.
"Use Whatcha Got!", that's my motto!
After the tomatoes had drained quite a bit of their excess water I emptied the bowl. Then I set the sieve over a smaller slow cooker. I took the wooden plunger that comes with this sieve and smooshed all the tomatoes down. The cooked tomato came through the small holes and landed into my bowl. But the skins and what few seeds remained from the cooked tomato stayed inside the sieve.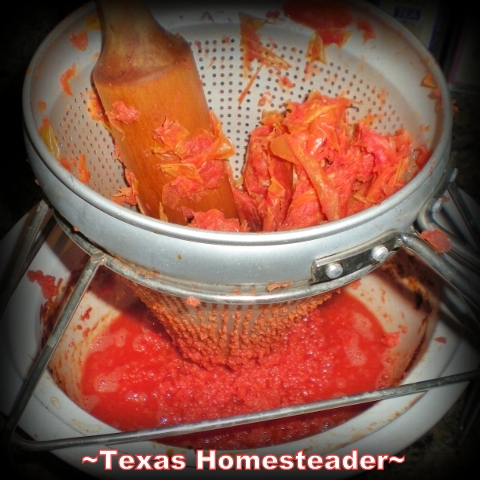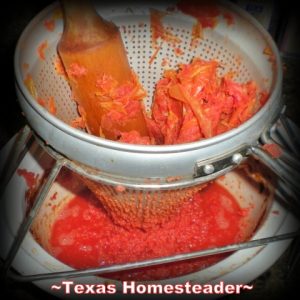 I turned the slow cooker to high & simmered the sauce with the lid off until the rest of the excess moisture was gone and the sauce was as thick as I wanted it then BOOM – there ya go: fresh homemade tomato sauce!
I was able to make pasta sauce with some of it!
~TxH~
Preserving The Harvest Posts
…And Much MORE!
Dehydrating Posts
C'mon by & sit a spell! Come hang out at our Facebook Page. It's like sitting in a front porch rocker with a glass of cold iced tea – lots of good folks sharing! You can also follow along on Pinterest, Twitter or Instagram.
If you'd like to receive an email each time a new blog post goes live it's EASY to
Subscribe to our blog!
Save