by Texas Homesteader ~
I try to eat or preserve every single vegetable that comes from our garden. I love to over plant tomatoes so we have plenty for eating fresh & also for preserving for later. But when you've eaten all you can fresh what do you do?
I'm not sure about you but around our house we make BLENDER SALSA!
Although RancherMan doesn't care to eat many tomatoes sliced raw (I know, I don't understand it either) we both love salsa – the spicier the better. Y'all are NOT gonna believe how easy this is.
Tomatoes From Freezer
Remember how I told you earlier that I preserve garden tomatoes by washing, coring, halving and freezing all of our ripe tomatoes we are not going to eat fresh? Well here's where those tomatoes really shine through!
First I take those frozen halves out of the freezer and allow them to thaw for just a bit – I don't like my salsa too watery so I'll pour out some of the juice that's extracted at thawing.
You can save this juice to add to other dishes you might cook that would benefit from a little tomato flavor. I like to freeze it into ice cubes & drop it into my soups or rice as they're cooking. Or even use these cubes when steaming veggies.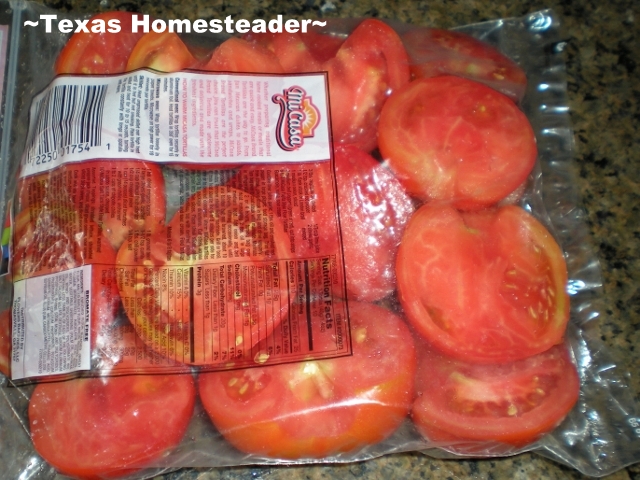 Blending Veggies Into Salsa
Anyway, now I dump the semi-frozen tomatoes into my blender, seeds, skins and all. I give it a whirr until it's smooth. (You can use canned tomatoes if your garden isn't producing yet.) Then I'll add some onion, bell pepper, garlic and jalapeno & blend again until smooth.
Feel free to use the quantities that suite your palate. We use bell pepper lightly, moderate onion & heavy jalapeno & garlic.
Then I'll add a few tablespoons of my dry mix salsa spices (recipe below) and blend one more time.
Adding Texture
RancherMan and I like a little more texture in our salsa. So I'll pour the blended mixture into a bowl and stir in some finely chopped jalapenos, onions & bell pepper. Perhaps even a chopped tomato if I want extra chunkiness.
I enjoy fresh cilantro in my salsa so if we have any it's always added at the end as well. A short stay in the fridge to marry all the flavors and now all that's left to do is bring out the chips and enjoy!
Making my own salsa from garden produce not only reduces our grocery budget but it keeps salsa containers out of the landfill.
And it's healthier for us since it comes right from our organic garden. My blender salsa is stored in a canning jar in the fridge, although to be honest we eat it up pretty quickly so it doesn't last long enough for me to say how long it will store!
Here's the recipe I use for my blender salsa spices.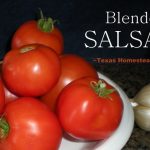 Dry Salsa Mix:
I keep this mix in a glass jar with the ingredients & measurements to use noted right on the jar so when I run out making up a new batch is a snap! #TexasHomesteader
Ingredients
1/4

Cup

Crushed

Dried Red Pepper

1

teaspoon

Dried Parsley Flakes

1/2

teaspoon

Cumin

optional

3

Tablespoons

Dried Cilantro Flakes

1/2

Cup

Dried Minced Onion

2

Tablespoons

Dried Minced Garlic

2

Tablespoons

Non-Iodized salt

1

Tablespoon

Black Pepper
Instructions
Mix all ingredients thoroughly in a repurposed jar, seal and label.

Use and 3-4 tablespoons of the mix per quart of tomatoes.
~TxH~
Preserving The Harvest Posts
…And Much MORE!
Dehydrating Posts
C'mon by & sit a spell! Come hang out at our Facebook Page. It's like sitting in a front porch rocker with a glass of cold iced tea – lots of good folks sharing! You can also follow along on Pinterest, Twitter or Instagram.
If you'd like to receive an email each time a new blog post goes live it's EASY to
Subscribe to our blog!
Save
Save