by Texas Homesteader ~

*Includes affiliate link
I was dehydrating lots of vegetables from my garden. Each one was placed in a repurposed glass jar in my pantry. Then I decided to assemble various dry veggies, add some seasoning and make dehydrated salsa in a jar as a gift. The gift recipients
LOVED IT!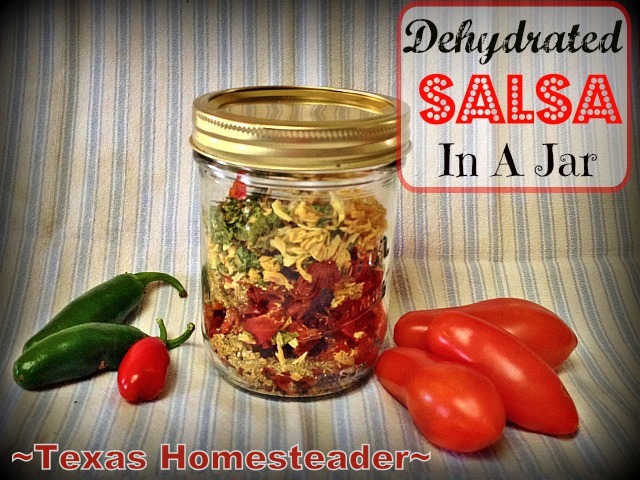 This post may contain affiliate links (marked with *) If you decide to make a purchase through one of the links contained in this post I may receive a commission. But the price you pay will not be changed. It's an easy way to support this blog without anything coming out of your pocket. So if you're interested in a product, don't be shy – click away! You can read my entire affiliate disclosure under the 'Legal' tab above.
Dehydrating Garden Vegetables
So, y'all know I've been virtually a dehydrating fool since I got my * Excalibur Dehydrator . So much fun!
I love that my healthy garden vegetables take up so little space when dehydrated and no additional energy is needed for them to stay preserved.
Recently I diced fresh tomatoes from my garden and dried them. I'll use these tomatoes the same way I'd use canned diced tomatoes, a common item on my grocery list.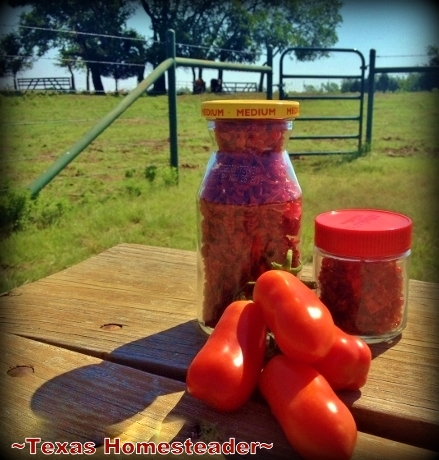 But as I bundled up those pretty red dehydrated diced tomato jewels into a glass jar I got to wondering – wouldn't it be cool if I could make salsa where all you do is add the boiling water, stir, rehydrate and eat?
I sat out to experiment.
Dehydrated Vegetables
I love to have all those dehydrated veggies in my pantry, their pretty sparkling glass jars lined up smartly on the shelves.
I've been using those dehydrated goodies in my simmering soups when I make endless-soup lunches for RancherMan & me. And of course I also often rehydrate and use them in dishes I'm cooking.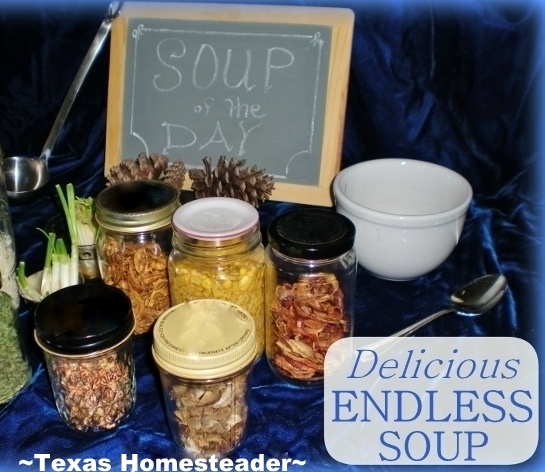 But now I'm thinking about dehydrated salsa. That would be SO COOL!
I already have all the veggies that I'd normally mix into my fresh homemade salsa dehydrated: diced tomatoes, minced garlic, cilantro, bell pepper and onion.
These have all been dehydrated over the last several months from ripe veggies straight from my garden.
OMGoodness that's a whole lot of garden goodness right there!
Combining Dehydrated Ingredients
So I started experimenting with the proportions. I pulled out a pint canning jar and poured in about a cup of dehydrated tomatoes.
Then I added about 2 tablespoons of dehydrated chopped onion, 1/2 tablespoon of dehydrated chopped cilantro, 2 teaspoons dehydrated bell pepper and about 1/4 teaspoon of dehydrated garlic and stirred it all together.
Hummm… that looks about right. Then I added two tablespoons of my own homemade dry salsa mix. that I use when I'm making Fresh Garden Salsa.
Rehydrating My Dehydrated Salsa
Now for the test run. I heated a cup of water to almost boiling and poured it into my jar of dehydrated ingredients.
I added 1/4 teaspoon of vinegar and stirred it all together, making sure to push all dehydrated bits down into the water.
Then I placed the top back on the jar loosely so it would kind of steam inside the jar and rehydrate everything.
I typically wait about 15 minutes when I'm rehydrating veggies. But since this was a larger quantity than I usually rehydrate at one time I just let the liquid cool in the jar. All in all probably about 30-45 minutes before I tasted it.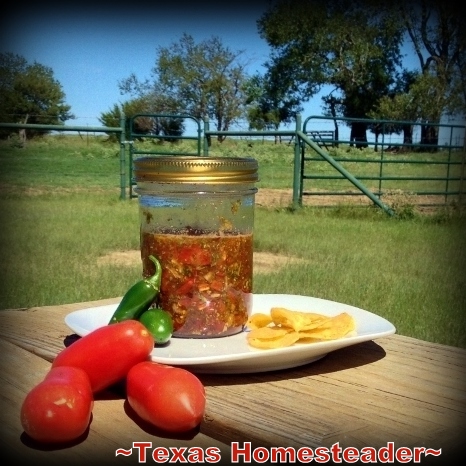 Oh yeah – this is great. I'm about to dehydrate some of my hot, hot, HOT jalapeno peppers from the garden and I'll zap the heat in my salsa a little higher with the next batch. I like my salsa SPICY!
In the meantime these jars would be a GREAT Homemade Christmas Gift Idea, don't ya think?
Here's what I bundled inside each pint canning jar. (The recipe for my dry salsa mix is included in the recipe below too!)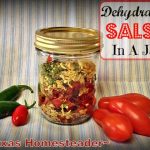 Dehydrated Salsa In A Jar Recipe
When the garden is going well, dehydrate those garden goodies and make this awesome dehydrated salsa in a jar. Great gift idea too! #TexasHomesteader

Ingredients
1

Cup

Diced Dehydrated Tomatoes

2

Tablespoons

Chopped Dehydrated Onions

2

teaspoons

Chopped Dehydrated Bell Pepper

1/2

Tablespoon

Chopped Dehydrated Cilantro

1/4

teaspoon

Chopped Dehydrated Garlic

Dehydrated Jalapeno Peppers To Taste

2

Tablespoons

dry salsa mix

(recipe below)
Dry Salsa Mix (Use separate container for salsa mix)
1/2 

Cup 

Dried Minced Onion

1/4

cup

Crushed Dried Red Pepper

3

Tablespoons 

Dried Cilantro Flakes

2 

Tablespoons 

Dried Minced Garlic

2 

Tablespoons 

Non-Iodized salt

1 

Tablespoon 

Black Pepper

1

teaspoon

Dried Parsley Flakes

1/2 

teaspoon 

Cumin 
Instructions
Directions:
Stir all dehydrated veggies and dry salsa mix into clean pint canning jar and seal jar to store.

To rehydrate - pour 1 cup very hot water into jar with veggies, add 1/2 teaspoon vinegar and stir. Replace the lid and allow the liquid to cool. When all veggies are thoroughly rehydrated remove lid and stir rehydrated salsa and ENJOY!
~TxH~
Links In This Post:
Other Dehydrating Posts


C'mon by & sit a spell! Come hang out at our Facebook Page. It's like sitting in a front porch rocker with a glass of cold iced tea – lots of good folks sharing! You can also follow along on Pinterest, Twitter or Instagram.
If you'd like to receive an email each time a new blog post goes live it's EASY to
Subscribe to our blog!
* A word about our Affiliate Link – We are currently enrolled as an Affiliate. Occasionally I will insert an affiliate link into one of my posts if I think it may be of interest to you. I receive nothing from the manufacturer, but I love this Excalibur dehydrator & thought you might too. If you click on any of my affiliate links and buy something (almost anything, not just what was linked) I get a small referral percentage. But here's the really important part – the price you pay for your items is UNCHANGED.
When you buy something through the affiliate link it's a great way to support this blog without anything coming out of your pocket so please click often!
Save
Save
Save
Save
Save
Save
Save