Texas Homesteader ~
*contains affiliate link
I've planted many bell pepper plants in my garden this year. But it's still too early in the season for them to be producing. So I stumbled upon a great deal on bell peppers at the store recently. Yeah, I mean like 15 peppers for $0.99 kinda great deal! After I fainted and before I could catch a breath I grabbed up about 5 of them. Oh I suppose I could have grabbed more but I only wanted to buy what we would use.
Other than stuffed peppers (which RancherMan absolutely LOVES) I cook with bell peppers fairly often. Once I got home I found that I still had stuffed bell peppers in the freezer. Maybe I can just freeze them to use as an ingredient in my cooking? Hummm… my freezer space is pretty tight so there's no room to chop & freeze them for later. What to do? I know – I'll dehydrate them!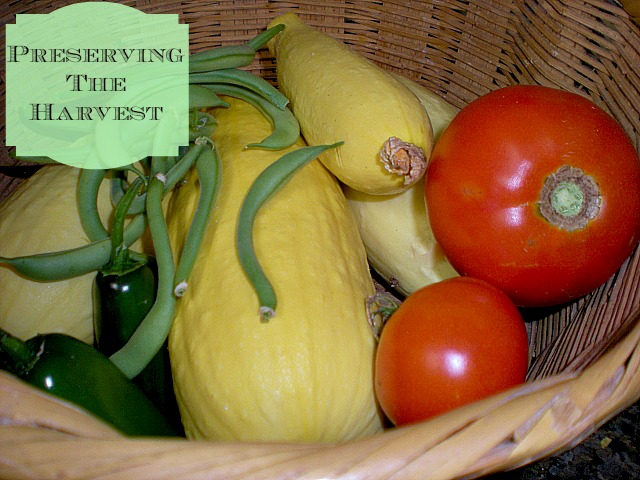 Preparing The Fresh Bell Peppers
I washed the peppers and removed the stem, white membrane & seeds. Then I quartered each pepper by cutting them in half, then half again longways.
I got busy slicing the peppers into about 1/4″ slices. You can use a mandolin for exact duplication of thickness. But I just used a good ole sharp knife and eyed the slices for consistency. When all the peppers were sliced I layered them on my dehydrator trays.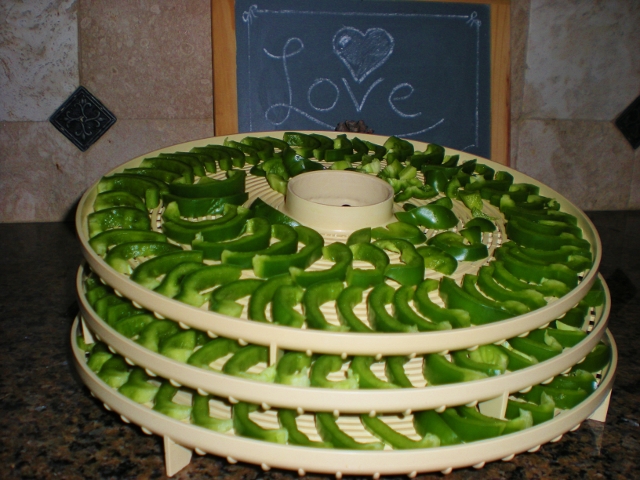 I have an * Excalibur Dehydrator
that I absolutely love with nine large trays that makes short work out of larger quantities of produce. But that would have been overkill for just these 5 peppers.
I also have a * solar oven
that I use for energy-free dehydration. But the sun's not shining today and it promises to be cloudy for several days in a row. So I'll just toss these bell pepper slices in my little household-sized dehydrator.
Bell Peppers Into The Dehydrator
I pulled out my good ole household dehydrator & ended up filling all five trays with sliced peppers. I like to do most of my dehydrating on the back porch as the aroma of drying bell peppers could be a little overpowering for the entire time they're drying. Plus in the warmer weather I don't like to add heat & humidity to the house.
So out to the back porch the dehydrator went. After a couple of hours I rotated the trays for even drying.
I need to dry the pepper strips until they're leathery. My Excalibur book says it should take between 4-8 hours. But It took about 9 hours to completely dehydrate the peppers as I sliced them. Drying time will vary based on thickness of slices, humidity, etc.
Making Sure Peppers Are Dry Enough
After 9 hours I brought the dried peppers back inside the house & left them on the counter overnight to cool and air-dry just to make sure. If dehydrated veggies aren't dry enough they will mold inside the container. That would not make me happy.
The next morning I gathered up my dehydrated peppers & placed them in a glass jar that I'll store in my pantry. A quick label to identify the contents and I'm done.
Using My Dehydrated Bell Pepper
I love that these peppers take up so little space now. Plus they need no additional energy to store like they would if they were chopped & frozen. Using them is easy too – I bring out the quantity I need and cover them (just barely) with boiling water.


I typically take the shortcut by putting just a little water in the bottom of a microwavable mug and microwave until the water starts to bubble. Then I'll bring it out and snap off pieces of bell pepper into the mug until I fill it to just below the surface of the water. Finally I cover the mug with a pot holder and let the peppers steam in that mug for about 15 minutes.
Then I take a fork & pull out the peppers, leaving the remaining water (if any) in the mug. I can now use them in my recipe.
~TxH~
Other Dehydrating Posts


C'mon by & sit a spell! Come hang out at our Facebook Page. It's like sitting in a front porch rocker with a glass of cold iced tea – lots of good folks sharing! You can also follow along on

Pinterest

, Twitter or

Instagram

.
If you'd like to receive an email each time a new blog post goes live it's EASY to
Subscribe to our blog!
* A word about our Affiliate Link – We are currently enrolled as an Affiliate. Occasionally I will insert an affiliate link into one of my posts if I think it may be of interest to you. I receive nothing from the manufacturer. But I love both my Excalibur dehydrator & my solar oven & thought you might too. If you click on any of my affiliate links and buy something (almost anything, not just what was linked) I get a small referral percentage. But here's the really important part – the price you pay for your items is UNCHANGED.
When you buy something through the affiliate link it's a great way to support this blog without anything coming out of your pocket. So please click often!
*Amazon affiliate
Save
Save
Save
Save
Save
Save