by Texas Homesteader ~
Stuffed Peppers are a favorite in our dinner repertoire. I love bell peppers and usually plant several bell pepper plants in my garden.
One of my favorite meals using bell peppers is making stuffed peppers.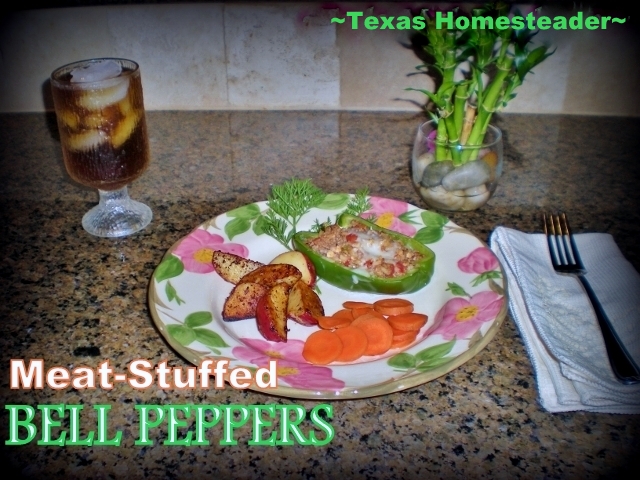 Since I almost always have bell peppers growing in the garden I love to include them in a steamed veggie medley or dehydrate them for winter use. And of course you have to have chopped bell peppers in meatloaf and many other recipes. But it's so simple to make stuffed peppers too.
Since I utilize the cook-once-eat-twice method of cooking, I'll fill the oven full of many stuffed peppers. That way I can freeze some and enjoy them later as a quick heat-n-eat supper.
Stuffed Bell Pepper Ingredients
Here are the simple ingredients I use to make stuffed bell peppers:
Onion, Garlic, Rice, Italian Stewed Tomatoes, Worcestershire Sauce and Italian Seasoning along with my ground meat and broth.
I like to use brown rice instead of white. And since I have a talented hunter husband I typically use ground pork instead of purchased ground meats. #UseWhatchaGot, y'all!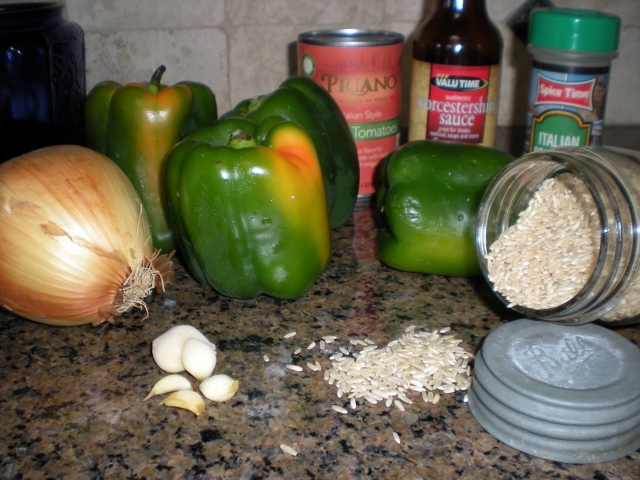 Cooked Rice Is Planned Leftovers
I usually make the brown rice first, oftentimes by making twice as much as I needed for a recipe the day before.
That way it'll already be made to streamline things at supper time when making these stuffed peppers. So I often plan a rice dish the night before. That way I can capitalize the cook-once-eat-twice method of cooking.
But if I'm starting fresh I'll saute the onions and peppers and the brown rice in a little olive oil until the onions are translucent. Then I'll add the water or broth and bring to a boil.
After it comes to a boil I'll stir it only once, cover the pan and simmer the rice for 20 minutes. Then without lifting the lid I'll turn off the heat and allow the rice to absorb the rest of the liquid for another 20-25 minutes. After that time I can fluff the rice with a fork and it's ready to go.
Stuffed Pepper Meat Filling
Now on to the meat filling. I brown the meat with chopped onion & pepper. When the meat is browned I drain the fat from the meat. If I'm using ground pork from wild hog it's already very lean so there's not much fat to drain.
When it's cooked & drained I add Italian seasonings and the stewed tomatoes.
Then I mix the meat mixture with the rice until I get the ratio that I like. Typically for me it's 2 parts meat mixture to 1 part rice. But if you want more protein and less grain, or vice versa, do what works best for you.
(The recipe calls for me to add cheese at this point and sometimes I do. But tonight I skipped the cheese in the filling and opted instead to just add a little mozzarella on top when they came out of the oven.)
Partially Cooking The Bell Peppers
Now I prepare the peppers. I like to slice them in half longways, de-seed them and microwave them for 3 minutes. This jump-starts the cooking so the peppers don't have to spend so much time in the oven.
Then I place the partially-cooked peppers in my favorite casserole dish, a vintage Corning Ware dish that belonged to my grandmother.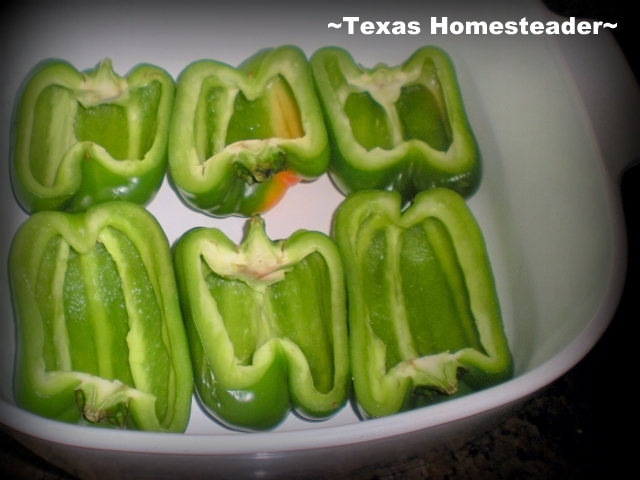 Assembling Stuffed Bell Peppers
After I get the peppers into the baking dishes I fill each half with the meat/rice filling. Then I place them in the oven and bake them at 350 degrees for about 30 minutes.
As I mentioned, I'm making enough stuffed peppers to fill that oven up so it's not pumping heat into the house this summer when I'm in the mood for this delicious main dish.
Since each half pepper is a serving for us, the 6 bell peppers means I'm making 12 servings here. After supper tonight I'll freeze the others.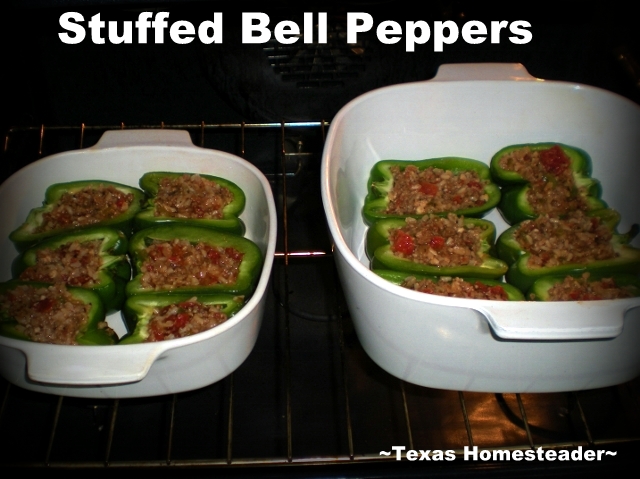 When they're cooked I sprinkle a little shredded mozzarella cheese on top and allow the cheese to melt and they're ready to go. I'll pair them with a couple of veggie sides and dinner is served.
Leftover Shortcut
If I make the rice the day before, making this dish is simply browning the meat, adding the tomatoes, microwaving the peppers & stuffing them and putting them in the oven.
While they're baking I'll steam a couple of veggies and dinner comes together in a snap.
If you think you'd like to try this recipe for yourself, I'm including the recipe below. Enjoy!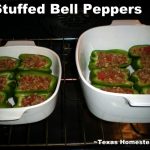 Stuffed Bell Pepper - uses 6 peppers for 12 servings
Fresh bell peppers from the garden are stuffed with meat, rice and cheese to make stuffed bell peppers. I like to make lots so I can freeze the leftovers for quick heat-n-eat meals later. #TexasHomesteader
Semi-cook bell peppers in microwave
10
minutes
Ingredients
6

green bell peppers,

cut in half lengthways & seeds removed

1

pound

ground meat

1/2

cup

chopped onion

2-3

cloves

garlic,

minced

1

Tablespoon

Italian seasoning

2

14.5 oz cans

Italian seasoned diced tomatoes, drained

1

cup

brown rice

3

cups

water or broth

2

teaspoons

Worcestershire sauce

1/4

teaspoon

salt

1

pinch

ground black pepper

1.5

cup

shredded cheese
Instructions
Chop enough reserved green pepper to equal about 1/4 cup; Set chopped pepper aside.

In a pan combine 1 cup brown rice with 3 cups water (or broth) - bring to boiling, stir once and cover pot. Simmer without stirring for 20 minutes, then without lifting lid turn off heat and leave covered 20 minutes. Then fluff with a fork and set aside.

Cook ground meat in a skillet with reserved chopped pepper, minced garlic and chopped onion over medium heat stirring until meat is browned, the juices run clear, and the onion is translucent, about 10 minutes; drain excess grease. Pour in drained diced tomatoes, Worcestershire sauce, italian seasoning, salt, and black pepper; bring to a boil and turn off heat. Stir in enough cooked rice to get the rice/meat mixture you desire. Stir cheese into ground meat/rice mixture

Place hollowed-out green peppers in a microwave-safe dish; cover and cook in microwave until bright green and steaming, about 3 minutes. Set peppers upright in a baking dish and spoon meat/rice mixture into precooked peppers.

Preheat oven to 350 degrees F. Bake peppers until cheese is melted and the peppers are tender, about 30 minutes.
Recipe Notes
Plan a meal with rice the night before and make more than you need for that meal. That way the rice is ready & waiting for this stuffed pepper meal and supper is on the table QUICK!
* * * * * * * * * * *
Want to see other Meal Ideas?





C'mon by & sit a spell! Come hang out at our Facebook Page. It's like sitting in a front porch rocker with a glass of cold iced tea. There are lots of good folks sharing!
And you can also follow along on Pinterest, Twitter, Instagram
To receive an email when a new blog post goes live it's EASY to
Subscribe to our blog!
Save
Save
Save