by Texas Homesteader ~

Single-use plastic shopping bags are being banned in more cities. But you're disappointed because you actually reused those plastic shopping bags? No worries, there's still plenty of plastic coming into your house to take their place – IF you know where to look!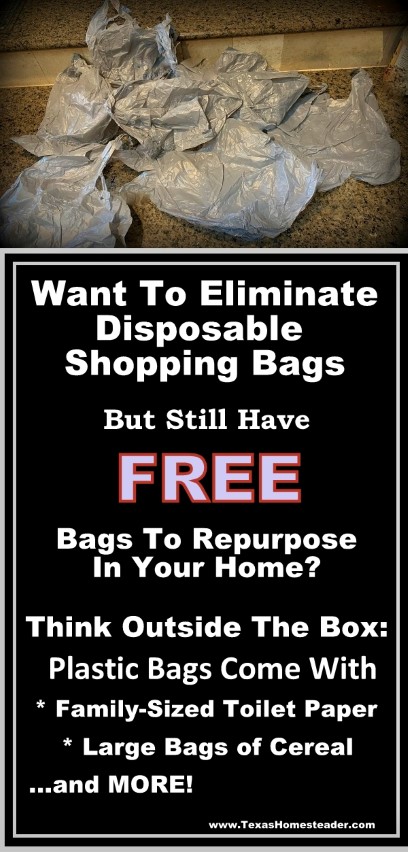 Single Use Plastic Bags Being Banned
Many cities around the United States are trying to ban plastic single-use shopping bags. These bags are a constant source of litter. And it costs cities heavily from their already-restricted budget to clean up all those bags that easily blow through the city streets and into the storm drains, into our lakes and high up in the trees.
I've had to hurry into my pasture and remove a half-eaten shopping bag from a cow's mouth as she was struggling to swallow it. Thank goodness I got to her in time. Sadly it's the carelessness of some people with this kind of litter that affects all of us.
Several cities in Texas have already banned these bags and now Dallas is considering the ban as well. Although there are some who oppose the ban, I for one applaud their decision.
Replacing Disposable Plastic Shopping Bags
I learned to shun those awful plastic shopping bags many years ago. It's simple to just bring my own easy-to-carry canvas bags to the store with me instead.
I've never experienced a problem with clerks not being able to place my purchase into my own reusable bag.
And I now most often use my favorite *Woven Market Shopping Basket. It's easy to place items in my basket as I stroll down the store aisles.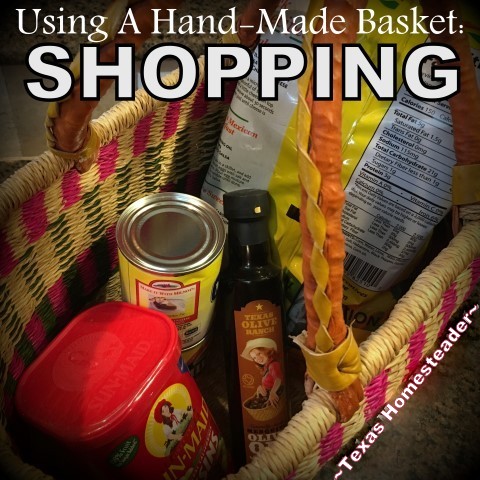 Then I simply unload the items at the cash register and the clerk scans the items and places them back into my basket for me to carry home. NO DISPOSABLE PLASTIC BAGS NEEDED!
The clerks actually love it and I'm often praised by those clerks who exclaim what a great idea it is.
Sta
rting Small To Eliminate Disposable Plastic Bags
It was a step-by-step change for me though. I began to see the negative environmental impact of plastic shopping bags a couple of decades ago.
As a result back then if I only purchased one or two things I would tell the clerk not to bag my purchase, I'd simply carry my purchase out in my hands.
I was always surprised when the clerk would exclaim "Are you SURE??"
Wow. It's like they were afraid that I wouldn't be able to carry this one thing with my own two hands without it being enclosed in another plastic bag!
Reusable Cloth Bags
Soon I began bringing my own sturdy canvas bag when I went on smaller shopping trips. And I often sacked my own groceries on small trips with the few reusable bags I'd brought so the clerks wouldn't even have to mess with it.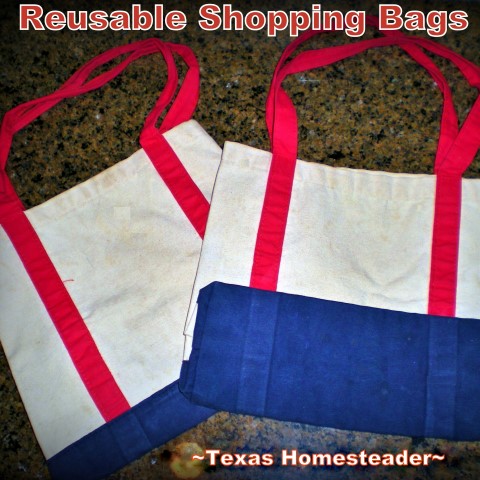 Of course this was before bringing your own bags was fashionable. Yes, I got some strange looks. But it was an issue that mattered to me so I continued on.
But back in those days on larger grocery shopping trips I stayed silent & allowed them to encase my groceries into their single-use plastic bags.
I guess I was just too embarrassed to ask them to use my bags for more than a couple of bags worth of groceries.
(yeah I know, I'm really kinda ashamed to admit that!)
Thankfully now it's actually fashionable to use reusable shopping bags. So other than occasional times when I don't catch the clerk in time, I haven't brought a plastic shopping bag home in over 5 years now.
(On that note, It kills me when I catch the clerk just as they pull the bag off the holder before I'm able to tell them I don't want a bag. So they remove my item from the plastic bag and wad it up and throw it away. REALLY??)
What About Repurposing Plastic Shopping Bags?
Some people complain that there's a downfall to banning plastic bags. Since they practice the environmentally-responsible task of repurposing single-use shopping bags, if cities banned them it would mean they'll have to buy trash bags for their small bathroom trash cans.
Well I'm here to tell you that you don't!
My household kitchen trash can is the same size as a small bathroom-sized one that fits small plastic shopping bags as well. But what surprises me is that even though I don't bring home shopping bags there are STILL plenty of plastic bags that come into my home for me to use for lining the trash can.
I now watch for other things to use to line the waste basket. Things such as the plastic wrapping carefully removed from a large family-pack of toilet paper. Or a plastic bag that once held a family-size cereal purchase.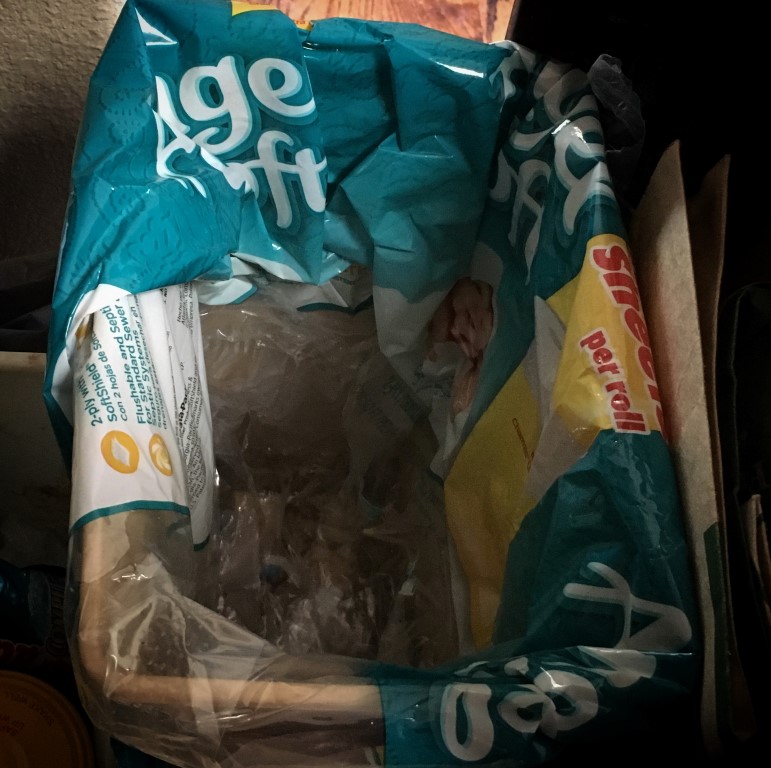 Take a look around, I'll bet there are plenty of OTHER plastic bags that already come into your home. You can use those in the same ways you were trying to re-purpose those plastic shopping bags.
Put on your thinking caps and I'm sure you'll find lots of options. And I'm sure you'll feel mighty proud of yourself for your creativity and environmental care.
Remember "REDUCE" comes before reuse or recycle.
~TxH~
This post categorized in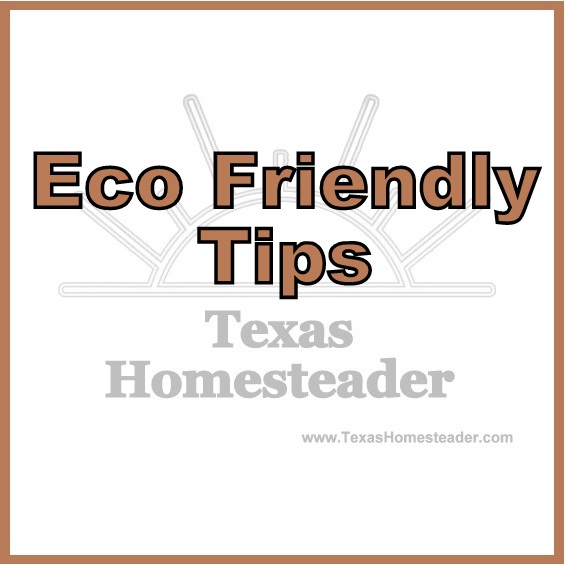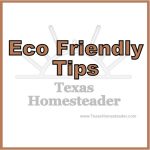 Posts About Reducing Plastic
Reducing Household Waste
…and Many More


C'mon by & sit a spell! Come hang out at our Facebook Page. It's like sitting in a front porch rocker with a glass of cold iced tea – lots of good folks sharing! You can also follow along on Pinterest, Twitter or Instagram.
If you'd like to receive an email each time a new blog post goes live it's EASY to
Subscribe to our blog!