by Texas Homesteader~
As I was getting items out of my fridge recently I smiled looking at all the glass jars typically stored in my refrigerator. (Have I mentioned how much I hate plastic?? LOL) .
Oh yes indeed, I used to have that same tumbling stack of plasticware that many of us are burdened with. They were typically shoved willy/nilly in the cabinet with all their mismatched lids.
Then one day I cried "ENOUGH!" I started using a sturdy and stain-free material that I already had – GLASS! Switching to storing my food in the fridge in glass containers has been a game-changer for me. Especially with regard to the reduction of food waste since I can always SEE the food without even opening the container!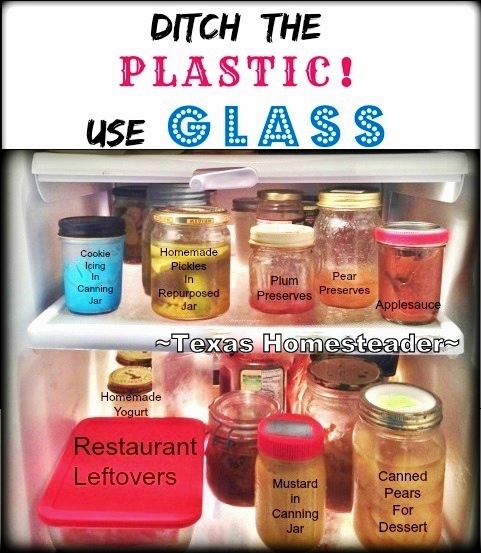 (Note: Some links in this post are for further information from earlier posts I've written. But links preceded with * are affiliate links. If you click them and buy something (almost anything, not just the item noted) I could receive a small purchase. But the price you pay will NOT change. It's an easy way to support this blog without anything coming out of your pocket. So click often! Thank you!)
Of course I already knew not to attempt to use any of that plastic when heating food in the microwave since I've read toxins leach out of the plastic when heated. But those plastic storage bowls still stained horribly after years of use.
The unsightly stained plastic and missing lids meant a constant culling and repurchasing of plastic bowls and lids as the years went by. Not only was that an ongoing expense but it also made for more & more mismatched sets every year.
Restaurant Leftovers, Anyone?
I couldn't label everything in this picture obviously but the first thing I see is the glass dish I take with me when we go to a restaurant. The environmental side of me has always HATED that awful Styrofoam box they force on you when you take home the uneaten portion of a restaurant meal.
And if the contents are the least bit heavy the container gives enough to pop the lid open. Plus those dang things are so bulky to store in the fridge. (not to mention Styrofoam is an environmental nightmare!)
So several years ago I purchased an inexpensive *small glass bake-ware dish with a snap-on lid. I just wash the dish and allow it to thoroughly dry, then snap 3 of the 4 corners of the lid onto the dish so it stays clean and I store it in my car.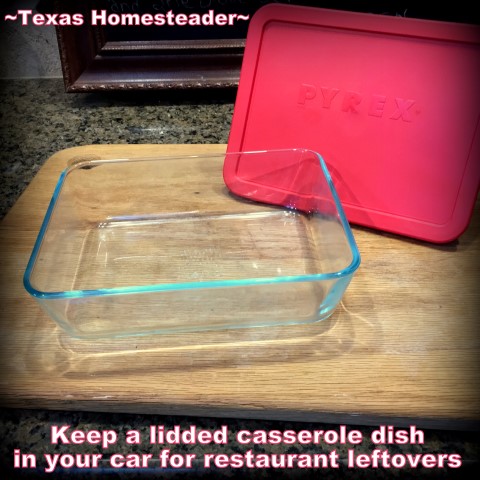 Since it's always in the car I have it with me even if we stop for an unscheduled restaurant meal. I just grab this small dish & carry it in with me.
If I end up with leftovers at the restaurant they are transferred to my container. I then bring it home & place it compactly into the fridge. That way I can enjoy restaurant leftovers for lunch the next day.
UPDATE: I've whipped up this purse-like Dish Carrier for my dish so it doesn't feel awkward walking through a restaurant with a casserole dish.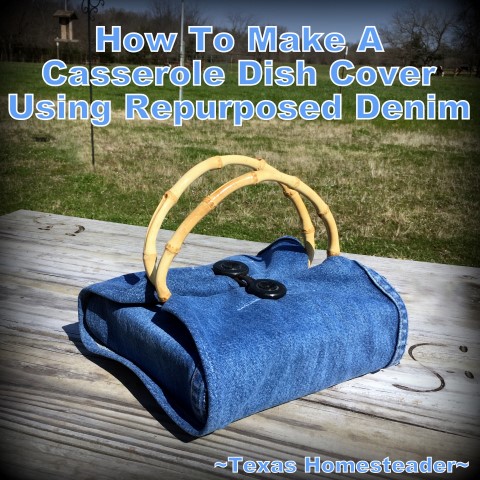 I repurposed denim from RancherMan's worn jeans. I love everything denim, and I get so many compliments on it!
Anyway, since this glass dish is microwave safe I can heat & eat in the same dish. No extra dirty dishes, no extra trash! Win/win!
Single-Serve Breakfast, No Waste
I also see in this picture my yogurt. You see, several years ago I started making my own homemade yogurt.
And I always make my yogurt in handy single-serving-sized 1/2-pint jelly jars. That way I still enjoy the same grab-n-go convenience that the commercial stuff offers. But my yogurt is healthier and so much less expensive.
I used to make all my yogurt unsweetened and unflavored so that if I wanted I could use it as a low-fat sour cream substitute.
Back then when I wanted yogurt for breakfast I'd sweeten it by taking one of these jars and stirring in some honey & fruit.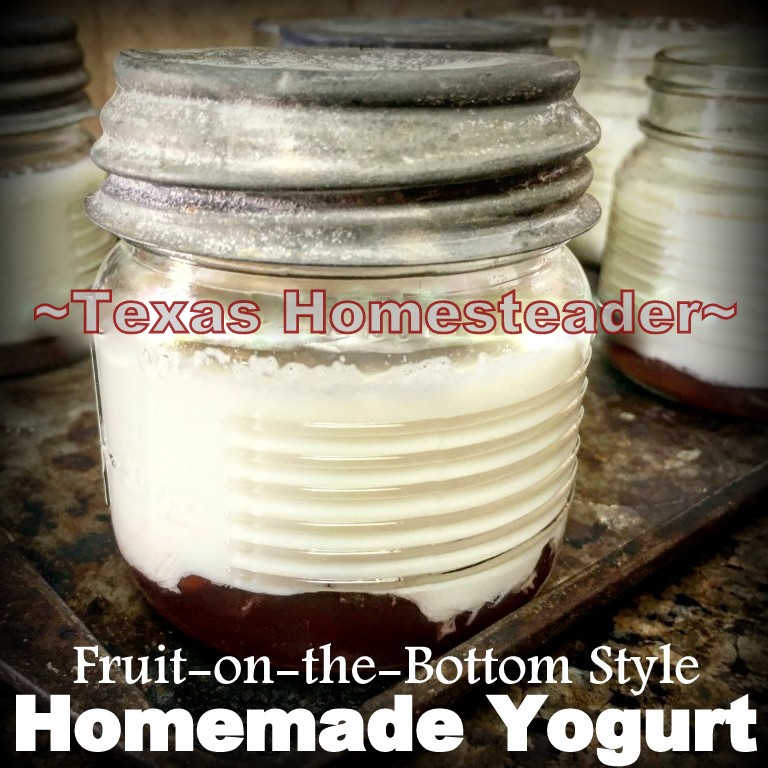 But these days I've increased my breakfast convenience when I'm making my yogurt. I just plop a tablespoon or so of homemade fruit jam in the bottom of about 3/4 of the jars.
I'll leave the other 1/4 plain to use as sour cream substitute if I want. I can still sweeten those remaining few if I want to enjoy them for breakfast.
Homemade Pickles from Garden Cucumbers
I also see a repurposed queso jar filled with homemade pickles. I recently discovered the beautiful simplicity of making quick & easy homemade pickles using the heirloom pickling cucumbers I grow in my veggie garden.
I could probably use canning jars here as well. But my family saves small wide-mouth jars for me. They're the perfect size to experiment with small batches of various flavors of pickles that I want to try – sweet, dill, garlic, etc. RancherMan loves them and I love the ease of making them!
Of course in this photo I also see the canning jars from various things I've made and canned. There's homemade applesauce from the apples my aunt shared with me from her backyard tree.
I see the chilled vanilla pears that I'm planning for dessert tonight. And of course RancherMan's favorite pear preserves.
I very much enjoy preserving healthy food. So there is always a supply of shining jars filled with my home-preserved food in our pantry or fridge.
Store Leftovers In Glass
And I since I already have the various sized canning jars from my canning tasks I repurpose canning jars to store our leftovers in the fridge as well.
Anything from the leftover veggies from last night's supper to the leftover raspberry icing I used when I made RancherMan those Lemon Cookies last week.
And I gave up years ago on those tiny plastic disposable squeeze bottles of mustard. Now I just buy a large canister of it and pour the mustard into a pint-sized canning jar. I just use a knife to spread my mustard so it's easy peasy.

Now I realize not everyone has the same strong aversion to plastic that I do. But the transition from storing our food in disposables, then in plastic storage bowls, and now in glass has been an easy yet a very positive one for me.
If you don't already have canning jars just use whatever jars you have! Instead of dropping that glass jar in the recycling bin, wash it out & use it to store your food.
Glass jars are super easy to repurpose. And being able to see the food in your fridge may very well slow down your food waste as well. Give it a try!
~TxH~
Other Low-Waste Stories
C'mon by & sit a spell! Come hang out at our Facebook Page. It's like sitting in a front porch rocker with a glass of cold iced tea – lots of good folks sharing! You can also follow along on Pinterest, Twitter or Instagram.
If you'd like to receive an email each time a new blog post goes live it's EASY to
Subscribe to our blog!
Save
Save