by Texas Homesteader ~
Sour cream is something I enjoy from time to time, although RancherMan's never been a fan.
So instead of buying it I use my own homemade yogurt and lemon juice to make a healthy substitute for sour cream.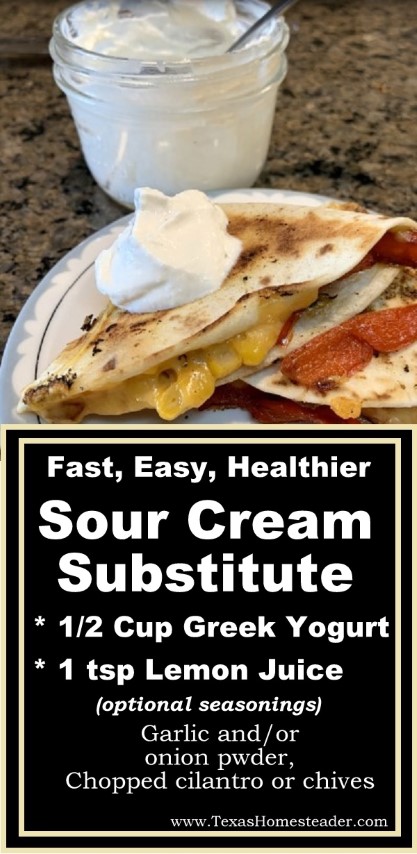 Jump to Recipe
I prefer sour cream on my baked potatoes instead of butter. And I enjoy sour cream topping quesadillas too. There are actually lots of ways I enjoy it.
But since it's not consumed regularly it seems a waste to buy a tub of it just to throw most of it away. And c'mon, sour cream's a little less than healthy #amiright?
Uses For Homemade Yogurt
I already use my homemade yogurt for many different products in our home. It's healthy and it's delicious and oh-so-cheap when you make it yourself.
For instance, I have a delicious Chocolate Fudgesicle recipe that uses yogurt as the base. And it's sweetened with all-natural honey too.
It's a healthy sweet treat that's cold and refreshing during those hot & humid summer months. RancherMan loves these.
And when we're enjoying salad, I like to whip up my own Creamy Salad Dressing. It also uses healthy yogurt as a creamy base. And I can whip up this healthy salad dressing in only about 1 minute too.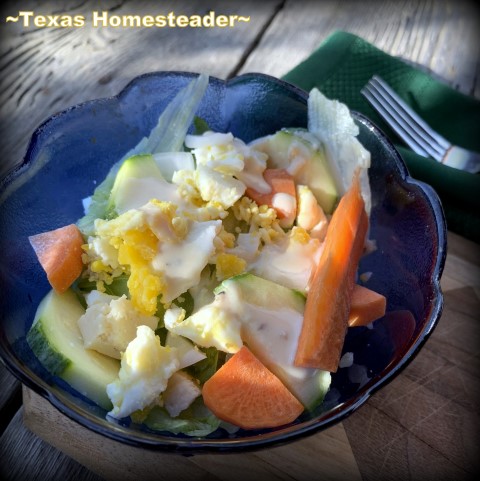 I mean, if you're trying to eat healthy by having salad, it's counter-productive to top it with an unhealthy salad dressing!
But today I'm going to use some of that homemade yogurt to make a healthier sour cream substitute. And like the other things above, it's easy to make!
Thickening Yogurt
If you have Greek yogurt you can use that to make this sour cream super fast! But I always use my own homemade yogurt.
Because, you know, #UseWhatchaGot.
Now my yogurt is not as thick as Greek yogurt. No worries, I can easily fix that!
I first measure out about 1/2 cup yogurt. Then I place it in a cotton cloth and tie it onto my kitchen faucet with a rubber band. This allows the whey to slowly drain away from the yogurt.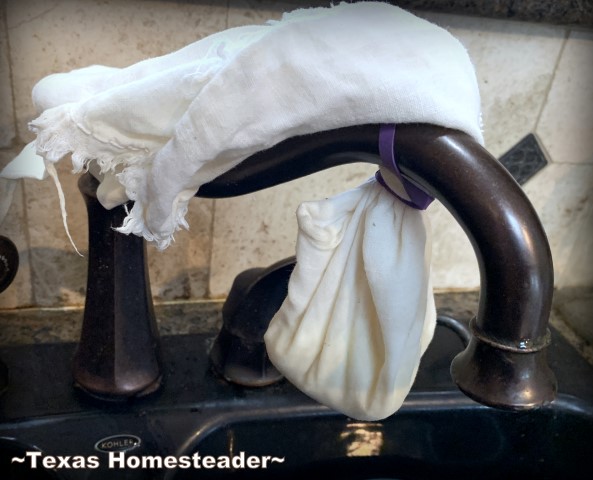 The resulting texture of my yogurt is much thicker. Some people may want to capture and reuse the whey that's drained away. But this is such a small amount that I typically just allow it to drip into the sink.
After about 30 minutes I'll remove the cloth and open it up to inspect my yogurt. If it's as thick as I want it, I commence to the next step. If not I'll hang it for a few minutes more.
Mixing Up The Sour Cream Ingredients
When the yogurt is as thick as I want, I'll add a small amount of lemon juice. and stir it in to incorporate it.
On this day I'm making Southwest Quesadillas. So I also stir in a sprinkling of garlic powder and onion powder. It just adds a little extra flavor. And why not?? Customizing the flavors is a great benefit of making these things yourself!
Then everything is placed in the refrigerator until I'm ready to use it.
Homemade Sour Cream As Garnish
For my quesadillas I'm using flour tortillas. I cut strips of red & orange bell pepper and strips of onion too. Then I tossed it all on my griddle with a small amount of bacon grease. I sautéed the veggies until they were tender-crisp.
The sautéed veggies were set aside and I gave my griddle another light coating of bacon grease. I placed tortillas on the griddle and topped each one with cheese and the sautéed veggies.
Since I'm making Southwest Quesadillas I also wanted to sprinkle a small amount of drained black beans and drained corn on top. Not much, maybe a spoonful of each.
Finally I folded the tortillas in half and grilled each side until golden brown. Then we're all done.
A small dollop of my homemade sour cream substitute and lunch was served!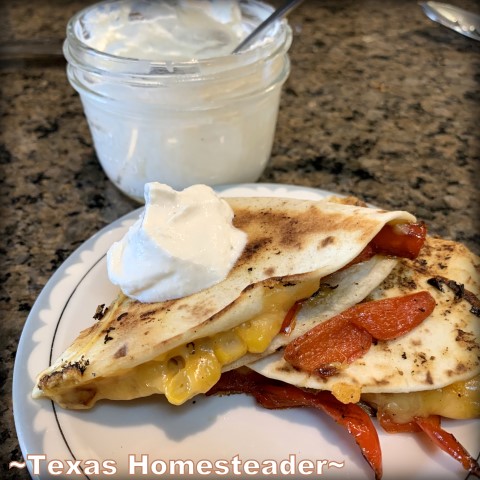 I've not had to purchase sour cream in years. I always have homemade yogurt available for my own homemade (and healthier) version of sour cream.
I feel good finding yet another way to make for myself products that I used to have to buy. You too? Here's the recipe: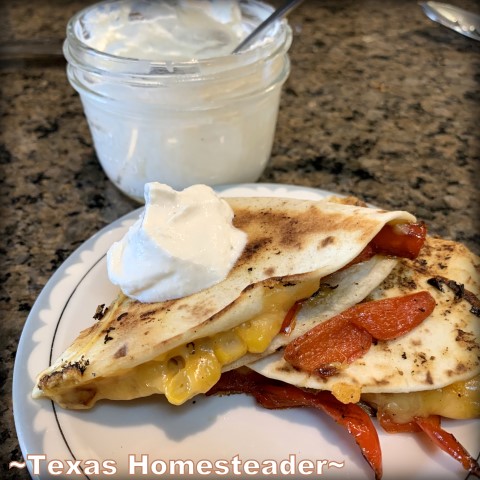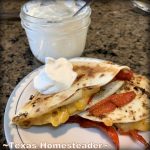 Healthier Sour Cream Substitute Recipe
This simple recipe makes a sour cream substitute with about 1/2 cup yogurt, lemon juice & seasonings. And it's healthier too! #TexasHomesteader
Ingredients
1/3

cup

Unflavored Greek Yogurt

(or drain 1/2 cup regular yogurt in cheesecloth to make thicker)

1

tsp

Lemon Juice

salt to taste
Instructions
If using regular unflavored yogurt, tie about 1/2 cup of yogurt into a square of cheesecloth and hang for about 30 minutes to allow whey to drain away. If using thicker Greek yogurt continue on to directions.

Stir all ingredients together and store in the refrigerator.
Recipe Notes
Seasoning options:
1/4 tsp garlic and/or onion powder.
If making a Mexican dish you can also season with chopped fresh cilantro or chives
~TxH~
Other Favorite Condiments
…and MUCH more


C'mon by & sit a spell! Come hang out at our Facebook Page. It's like sitting in a front porch rocker with a glass of cold iced tea – lots of good folks sharing!
You can also follow along on Pinterest, Twitter or Instagram.
To receive an email when a new blog post goes live it's EASY to
Subscribe to our blog!