by Texas Homesteader ~
I've made my own homemade mayonnaise for a long time. But recently I got to thinking… BACON! Now I almost always make bacon-flavored mayonnaise instead. It's easy!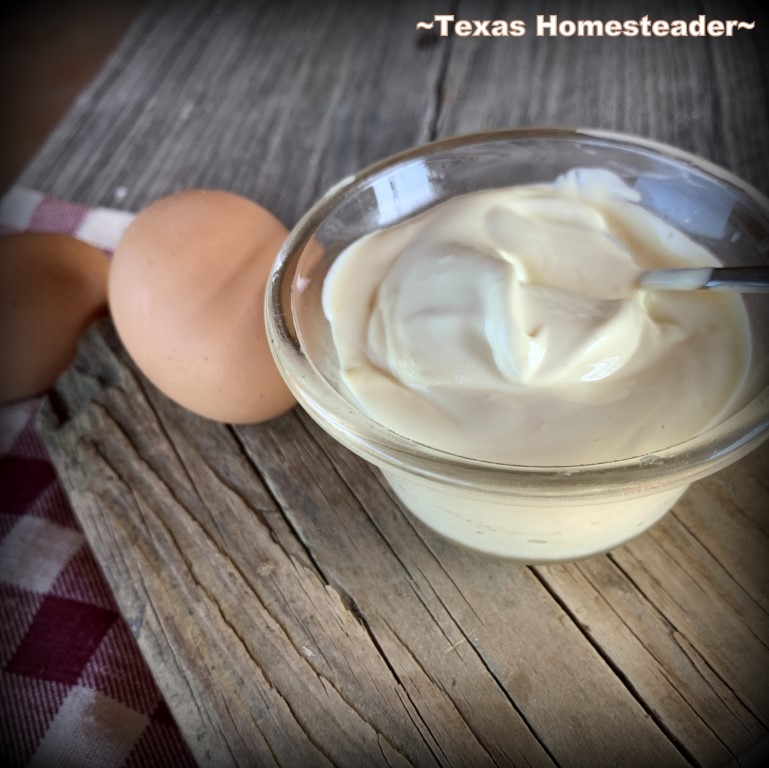 How We Use Mayonnaise
RancherMan likes to eat simple tuna sandwiches by placing the drained tuna on a mayonnaise-covered piece of bread.
And when I'm making egg salad sandwich spread I use mayonnaise in the mix.
I love making Homemade Coleslaw which uses mayonnaise as well.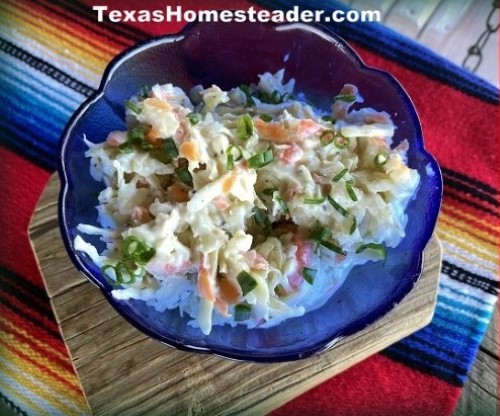 And making my homemade Thousand Island Dressing with bacon-flavored mayo is amazing.
I don't typically buy commercial mayonnaise. I've written before about making Garlic-Flavored Mayonnaise and I do still make that flavor from time to time.
But I began experimenting with various flavors and different oils & fats when making my mayonnaise. I wondered, "What if I added a tablespoon or so of bacon grease?"
Who doesn't love the flavor of bacon??!! And Bacon-Flavored Mayonnaise? BACONNAISE!
Homemade Bacon-Flavored Mayonnaise?
Bacon Grease is king in my Homestead kitchen!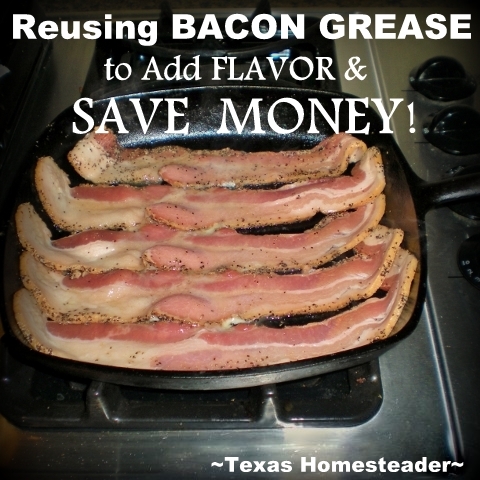 It's a necessary ingredient in my Buttermilk Biscuits and homemade Sandwich Bread too. So I have several people saving this bacon byproduct for me.
What Is Homemade Bacon Mayonnaise Made Of?
There are only a few simple ingredients necessary for my bacon-flavored mayo:
One large egg
Lemon juice
Bacon grease
Oil (I prefer canola oil, but I've made it with olive oil or vegetable oil in the past as well)
Salt (typically not necessary with bacon grease)
Mustard powder
UPDATE: I now prefer to just squirt about a teaspoon of prepared mustard instead of using mustard powder. It turns out just as tasty and there's no measuring needed. LOL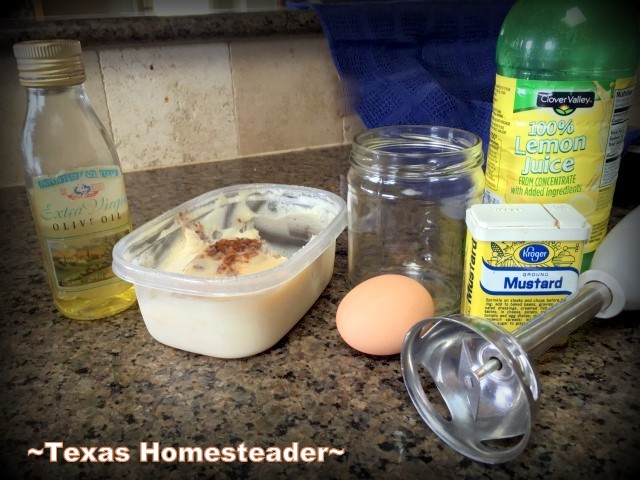 Homemade Mayonnaise & Room-Temperature Ingredients
Do you need to make sure the ingredients are room temperature when making your own mayonnaise? I'm not sure, but I've read that's a necessary step so I always do it.
So I cracked the egg into a repurposed wide-mouth jar and added the other ingredients. Then I gave 'em a light mix together and let the mixture sit out on the counter for about 10 minutes to attain room temperature.
A Stick Blender = Fast Results For Homemade Mayo
Now that everything's room temp, here's the difficult part. I pulled out my stick blender and pushed the blade all the way to the bottom of the jar.
I turned it on but left the blender at the bottom of the jar without moving it. The magic started to happen pretty immediately.
I left the stick blender operating from the bottom of the jar for about 20-30 seconds. Then I gently rocked the blender to make sure everything was getting incorporated. More & more it was looking like mayonnaise!
When things started to thicken up I slowly raised the stick blender toward the top of my mayonnaise to get everything incorporated.
Finally I lowered & raised the stick blender throughout the mayo a few times just for good measure. It was now thick like mayonnaise. success!!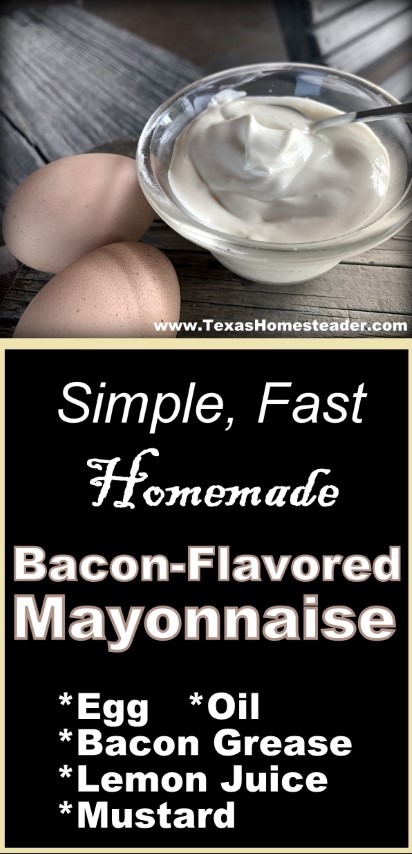 Now remember, you're using bacon grease. As such, there are two things to consider.
Bacon grease gets more firm when it gets cold. So even if your mayonnaise is somewhat thinner than you like, it'll thicken right on up once it's cold!
Bacon grease tends to be salty, use caution when adding any additional salt. It's easy to go overboard here.
But yeah, making homemade baconnaise really is just that easy!
A quick label by writing directly on the jar & then my baconnaise is stored in the fridge.
Did you make this bacon-flavored mayonnaise? Please rate the recipe in your comment below!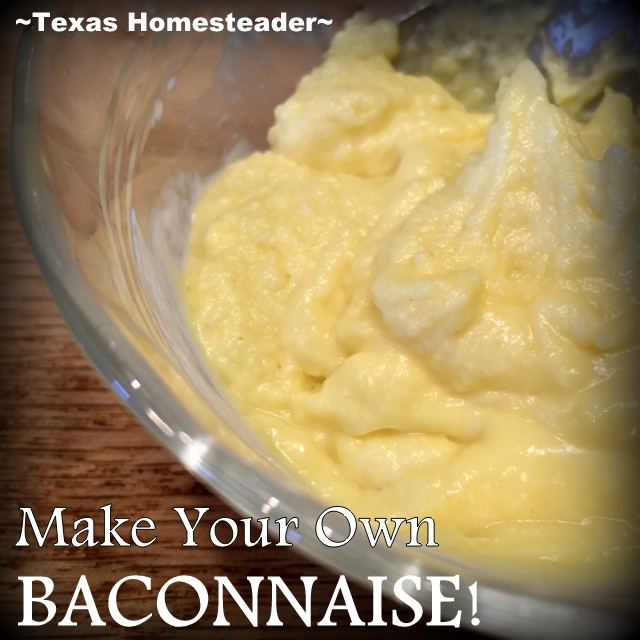 Homemade Bacon-Flavored Mayonnaise - BACONNAISE!
I've made our mayonnaise for a long time but recently got to thinking...  BACON!  Now I almost always make Baconnaise instead by adding a touch of bacon grease along with the oil. #TexasHomesteader
Servings
1
3/4 cup mayonnaise
Ingredients
1

Extra-Large Egg

(at room temperature)

1

teaspoon

Lemon Juice

(at room temperature)

1

teaspoon

Prepared Mustard

(at room temperature)

1

Tablespoon

Softened or Melted Bacon Grease

½

Cup

Mild oil such as Extra Virgin Olive Oil or Canola or Vegetable Oil

Salt to taste

(note, bacon grease is often salty enough)
Instructions
Crack the egg into a wide-mouth canning jar and add the remaining ingredients. Blend together and let the mixture sit until it gets close to room temperature – about 5-10 minutes.

When all is room temperature, with an immersion blender at the bottom of the jar start blending, leaving blender head on the bottom of the jar until ingredients are fully blended & thickened.

Gradually raise the blender toward the top of the mixture to make sure all is blended and your mayonnaise is thick.

(Note: the bacon grease will thicken your mayo a little more when it gets cold)

Store in the refrigerator for a week or so.
Recipe Notes
NOTE: if using melted coconut oil in your oil mixture, only use a couple of tablespoons since it will harden in the refrigerator and make your mayonnaise too thick.
We go through our mayo pretty quickly so I don't really know how long it will keep, I've read that it will keep several weeks but I've never had it long enough to test that. Let me know how long your Baconnaise lasts!
~TxH~
This post categorized in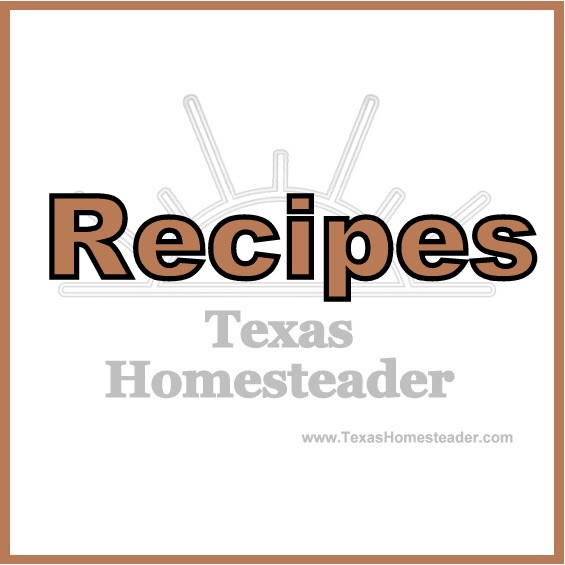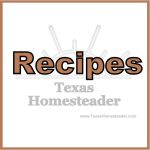 Post-Related Links
Other Favorite Condiments
…and MUCH more


C'mon by & sit a spell! Come hang out at our Facebook Page. It's like sitting in a front porch rocker with a glass of cold iced tea – lots of good folks sharing!
You can also follow along on Pinterest, Twitter or Instagram.
To receive an email when a new blog post goes live it's EASY to
Subscribe to our blog!
Save
Save