by Texas Homesteader ~
I love a multi-purpose product, don't you? Take oats for instance. It makes a hearty, hot & healthy breakfast option. I like to drizzle some Honey From Our Hives and maybe sprinkle a little fruit on top. Good & hearty!
But there are other things you can do with oats besides make oatmeal for breakfast.
I often grind oats into oat flour for use in my Honey/Oatmeal Sandwich Bread recipe. It's a low-cost yet healthy substitute for the more expensive whole wheat portion of flour that I used to use. And it maintains that heartier whole-wheat feel to the bread too.
But there are still more uses for this cheap, healthy product. I often use it as a substitution for breadcrumbs!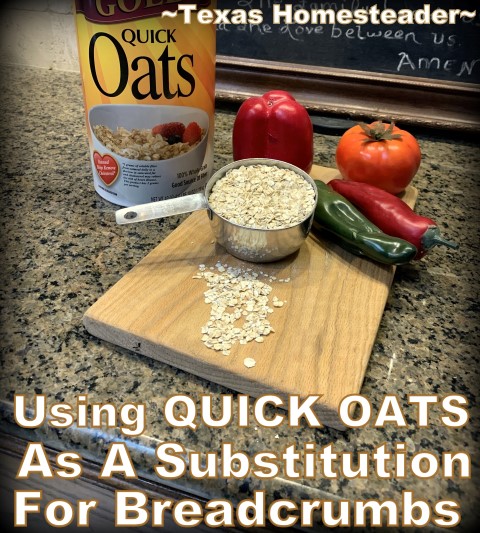 Uses For Oat-Substituted Breadcrumbs
The other day I was making meatloaf. My Meatloaf Recipe calls for breadcrumbs. But y'all know there's no way I'll use my precious homemade bread for breadcrumbs.
I'm very careful to make sure all of it gets used for it's delicious intended purpose and none gets stale or goes to waste. RancherMan makes sure of that!
I could buy breadcrumbs of course, but… When a recipe calls for breadcrumbs I often use either quick-cooking style oats (because they're in smaller pieces than whole oats) or I'll grind the oats into Homemade Oat Flour using a coffee grinder that I have just for that purpose.
When I'm substituting my oats for breadcrumbs I'll often add an extra touch of seasoning since oats aren't quite as flavorful as actual breadcrumbs.
Typically it's just more of the seasonings I'm going to use in my recipe – just a little. But it always works beautifully!
As I'd mentioned, I've used oats in my meatloaf. But RancherMan also uses it when he's making hamburgers to grill.
And when I'm making Potato Cakes I like to roll them in breadcrumbs before tossing them in the skillet.
Where Oat-Breadcrumbs Fall Short
I don't feel that my oat/breadcrumb substitution will crisp up quite as well as actual breadcrumbs. So if I'm wanting the light crunch of buttered breadcrumbs atop a casserole for instance, I'll typically use actual breadcrumbs for that.
But wait a minute, Tammy! You just said that you refuse to waste your homemade bread on breadcrumbs. And you said you refuse to buy breadcrumbs. What gives??
Well, you know I'm a big fan of #UseWhatChaGot, right? So I accumulate those breadcrumbs when I make and slice my bread. All the buttered breadcrumbs that fall loose onto the counter are scooped up and placed into a small jar and kept for that purpose.
And if (heaven forbid) life gets in the way and the last piece of my homemade bread gets stale, I'm quick to turn that last piece into breadcrumbs as well by cutting it into cubes and then air-drying the bread and crushing the cubes. Into the jar it goes.
I don't use casserole-topped breadcrumbs often, but at least I do have actual breadcrumbs for times when they're needed. But many times when I need breadcrumbs it's this inexpensive seasoned oats or oat flour to the rescue!
~TxH~
Links In This Post
Other Favorite Condiments
…and MUCH more


C'mon by & sit a spell! Come hang out at our Facebook Page. It's like sitting in a front porch rocker with a glass of cold iced tea – lots of good folks sharing!
To receive an email when a new blog post goes live it's EASY to
Subscribe to our blog!