by Texas Homesteader ~
*contains affiliate link
Well y'all already know that I make an effort to supply my handsome RancherMan with his favorite Homemade Sandwich Bread, He loves it so much more than the commercial stuff and I feel good knowing that my bread is filled with only natural ingredients I recognize and can pronounce.  Plus DANG, the lazy-girl er, I mean efficient side of me loves that my *KitchenAid Mixer makes it so much easier!
But I find myself lately with an extra supply of oatmeal.  Although I'm using it often with both hot, hearty Flavored Oatmeal as well as my own Homemade Pumpkin Granola for breakfasts,  I wonder if I can amend my bread recipe to use up some of these healthy oats too.  As it turns out yes I can, and with surprisingly delicious results!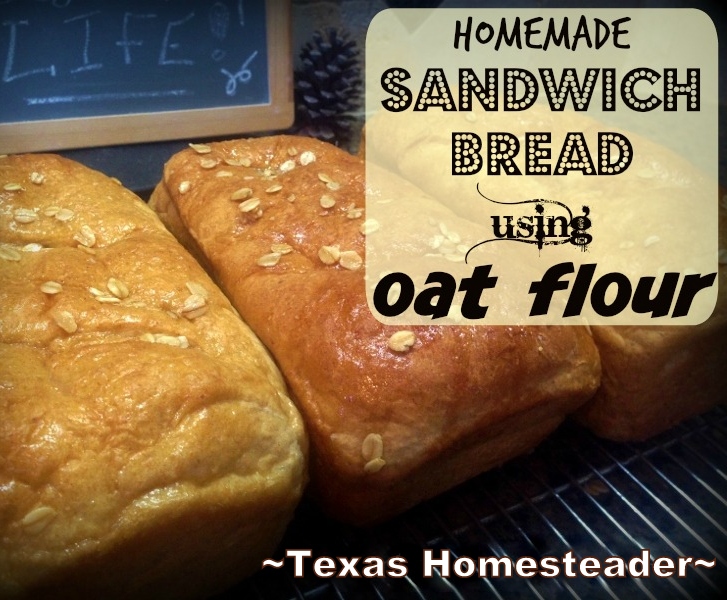 UPDATE: I've also amended this favored honey/oat sandwich bread recipe to make a 2-Lb Loaf for a Bread Machine. Now I can make RancherMan's favorite sandwich bread even during the hot months of summer. I simply set the bread machine outside on our covered porch to bake.

Substituting 'Oat Flour'
I baked 3 loaves of bread today (although the recipe below is for two loaves.)  I usually do an approximate 2/3 white and 1/3 (ish) wheat blend of flour.  But today I experimented by replacing one cup of the whole wheat flour with a cup of 'oat flour' I had made by putting dry whole oats in my coffee grinder and pulsing it until it was powdered.  (I'm telling ya, my small collection of *Coffee Grinders is perhaps some of my most useful kitchen tools that I don't necessarily use for their  intended purpose of grinding coffee beans!  LOL)
Other than the oat flour substitution I followed the rest of the recipe as usual.  I pulled the loaves out of the oven when there was 5 minutes remaining to bake as I usually do & buttered the tops of the loaves.  But this time instead I melted a small amount of a butter/honey mixture and brushed it on the tops of the loaves.  Then I sprinkled raw oats lightly on top of each loaf, returning them to the oven for their last 5 minutes of baking time. My hope was that this would add a subtle sweetness while giving the oats a little something to help them hang on.

Adding Whole Oats To The Crust
I'm extremely pleased with the taste of this oatmeal version of my homemade bread.  Plus it came out deliciously soft.  But although the bread was delicious, my method of affixing the raw oats on top of the loaves didn't work.  Almost all of it fell off as I was cutting of the bread.
Suggestions To Add Whole Oats to the Crust
So I turned to my panel of experts (aka: the Smarty-McSuperSmart followers on our Facebook Page) and asked them what they did to keep the oats on the tops of their own homemade bread.  Did they use an egg white/milk wash? Maybe something else?  As is typically the case, my FB friends came through for me with some great suggestions for me to try next time.

ElleMental says:

"usually brush sugar water on right before the bread goes in the oven. I brush the loaf, sprinkle oats then tap the oats with a silica brush with a little more sugar water. Then 5-10 minutes before they are done, I brush the loaves again."
Allan Swain says

: "

We sell an oatmeal molasses bread, amongst others, at the farmers markets we go to. Once risen and just before going into the oven we give it a liberal whole egg wash and then sprinkle oatmeal on top. We still lose a little but for the most part it stays on."
So next time I bake our Sandwich Bread I'll FOR SURE be adding the oat flour since I absolutely loved that result.  And I'm sure I'll continue to experiment with the oat flour quantity – maybe replacing some of the white flour as well next time. But you have to be careful when replacing wheat flour with oat flour.  Since there's no gluten in the oats, replacing too much hampers the rise of the bread.
I'll also give these helpful suggestions for keeping the raw oats on the tops of the loaves a try as well.  How are you most successful keeping those amendments such as oats or seeds sprinkled of the tops of your own loaves in place?
Oh, and just to make it easier for ya I'm adding below my sandwich bread recipe amended to include a bit of oat flour.  The dough tends to be a little stickier with the oat flour addition and I ended up adding just a touch more all purpose flour at kneading to get a workable dough even though it was still somewhat sticky afterward.  But the end result was delicious!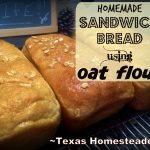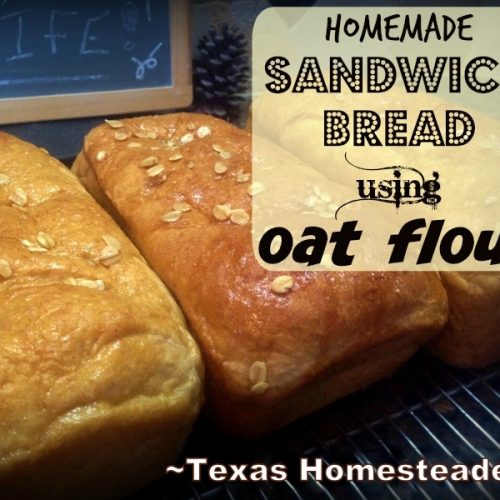 Honey/Oatmeal Sandwich Bread - 2 loaves
Ingredients
1/2

cup

milk

3

Tablespoons

honey

(can substitute sugar)

2

teaspoons

salt

2

Tablespoons

butter

1

Tablespoon

bacon grease

4.5

teaspoons

active dry yeast

or 2 pkgs

1.5

cups

warm water

(105 – 115 degrees)

5 - 6

cups

flour using the blend below
(2.5 to 3.5 cups all-purpose flour, 1.5 cups whole wheat flour, 1 cup oat flour)
Instructions
Instructions:
Heat milk, honey, salt & butter until butter melts and sugar dissolves. Cool to lukewarm.

Dissolve yeast in warm water, pour into * KitchenAid bowl and add lukewarm milk mixture and the whole wheat & oat flour as well as 2.5 cups of the all-purpose flour. Attach dough hook and mix on Speed 2 for about one minute or until all ingredients are incorporated.

Continuing on speed 2 add remaining flour as needed, 1/2 cup at a time and mix until dough clings to hook and cleans the sides of the bowl (about 2 minutes) Continue kneading on Speed 2 for about two minutes longer or until dough is smooth and elastic. (Dough will be slightly sticky)

Place dough in a greased bowl, turning to grease top. Cover and let rise in a warm place free from drafts until doubled in bulk, about 1 hour.

Punch dough down and knead by hand on a floured surface for about two minutes. Divide in half and roll each half into a rectangle with a rolling pin. Then by hand roll each rectangle into a log, pinching the ends to seal, and place each log into a greased 9x5x2 loaf pan, turning to coat the top.

Cover & let rise in warm draft-free location until doubled in size, approximately 50 minutes. Remove cover and turn oven to 400 degrees (375 for glass pan) and bake for 30 minutes. (If desired, you can use one of the suggestions in the post above to sprinkle raw oats on top of the loaf at this time). When only 5 minutes of baking time remains brush melted butter on top of each loaf and then allow to finish baking.

When bread is done, allow the bread to cool 5 minutes in their pans, then remove the bread from the pans and place loaves on a wire rack. Cover loosely with kitchen towel and allow to cool completely. (or do as we do & cut a chunk while it's still hot & ENJOY! LOL)
~TxH~
Other Favorite Breads


C'mon by & sit a spell!  Come hang out at our Facebook Page . It's like sitting in a front porch rocker with a glass of cold iced tea.  There are lots of good folks sharing!  And you can also follow along on Pinterest, Twitter or Instagram
If you'd like to receive an email when a new blog post goes live,
Save
Save
Save