by Texas Homesteader ~
*contains affiliate link
This moist chunky apple bread is cinnamony, delicious & super easy to make. Plus I make it healthier by substituting oil with homemade applesauce! You can bake them either as muffins or as a loaf.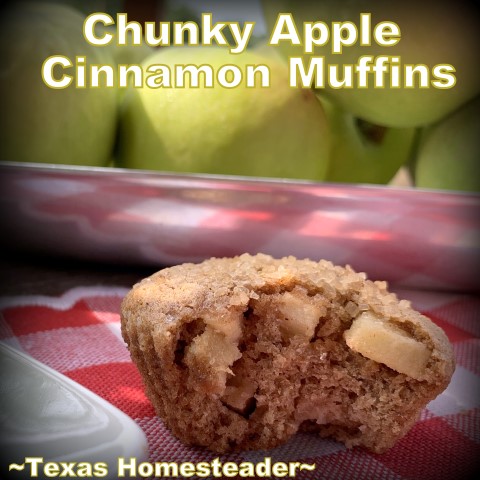 (Note: Some links in this post are for further information from earlier posts I've written. But links preceded with * are affiliate links. If you click them and buy something (almost anything, not just the item noted) I could receive a small commission. But the price you pay will NOT change. It's an easy way to support this blog without anything coming out of your pocket. So click often! Thank you!)
Trying To Use Up Fresh Apples
Sometimes you find yourself with food needing to be used in a different way than you intended to ward off food waste. That's just what happened with apples we recently ended up with.
Oh they looked great. But when we got them home we just didn't care for them for raw snacking.
So I set out to look for recipes to use them so they wouldn't be wasted. They didn't taste half bad once they were peeled. So I decided to cook with them instead of eating them fresh.
Chunky Apple/Cinnamon Bread Recipe
This recipe is one of our favorite sweets – chunky apple cinnamon bread made either into muffins or baked in a loaf pan.
I make the recipe even healthier by substituting at least half (but most of the time ALL) of the oil with applesauce. I realize all things in moderation, but I push toward healthier options when possible.
So I often use my homemade applesauce, either regular or sometimes the cinnamon applesauce I'd canned. Less oil, more healthy apple and even more cinnamony flavor.
Making Chunky Apple Cinnamon Muffins
The ingredients for this recipe are pretty simple. Y'all know I'm a sucker for simple recipes in the kitchen! #HaveIMentionedIDontLikeToCook??!
Cream sugar & eggs (I use the whisk attachment and my *KitchenAid Mixer.)

Add oil, applesauce & vanilla.
In separate bowl mix:
flour,

salt,

baking soda,

cinnamon. (I may have purposely been heavy-handed with the cinnamon measurement. We love cinnamon!)
Then fold flour mixture into wet ingredients just until combined. (batter will be thick)
Now my attention turned to those apples!
How Many Apples For Chunky Cinnamon Apple Bread?
Your actual apple quantity might vary a bit depending upon how big your apples are. You're looking for approximately 3 cups.
I've found that 3 cups is about 3 smaller apples or two large ones.
Our apples were on the smaller side so I brought out 3 of them. I used my *Apple Peeler/Corer to peel, slice and core each apple in seconds.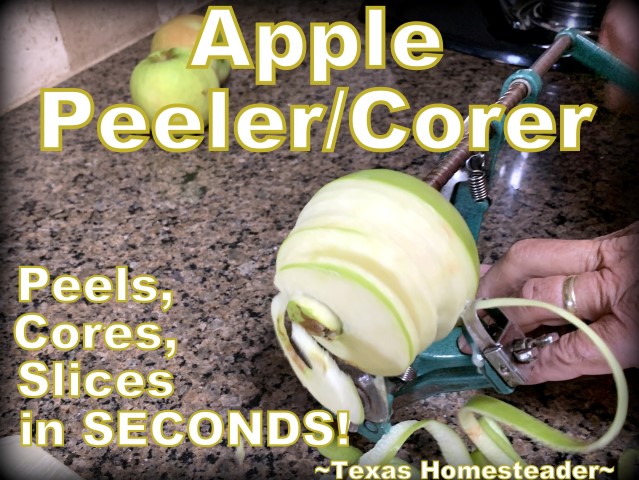 Faster/Easier in the kitchen is my wheelhouse, y'all. (have I mentioned how much I LOVE that thing??!!)
Then I quickly chopped the apple slices into smaller chunks. I prefer actual chunks here, but feel free to chop them smaller if you like.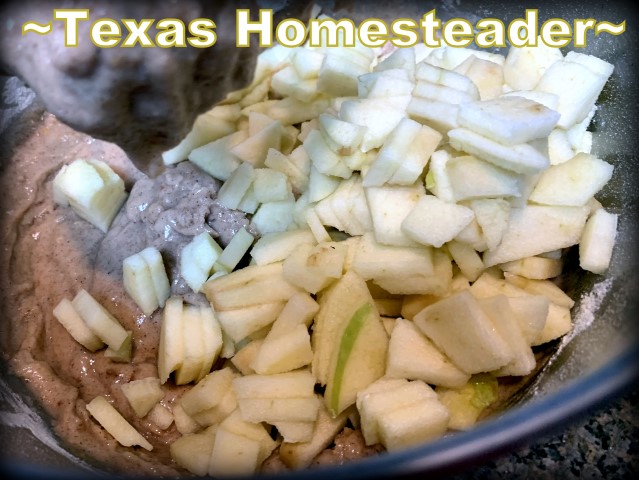 When all was ready I used a large spatula to fold the apples into the thick batter. I love how many chunky apples I'm seeing!
Can You Make Apple Cinnamon Bread Into Muffins?
Of course you can make apple cinnamon bread into muffins. This is a large recipe that makes about 24 muffins. So I brought out two muffin pans to hold it all.
Into each muffin spot I added my *Reusable Silicone Muffin Cups. I'm all about ditching disposables.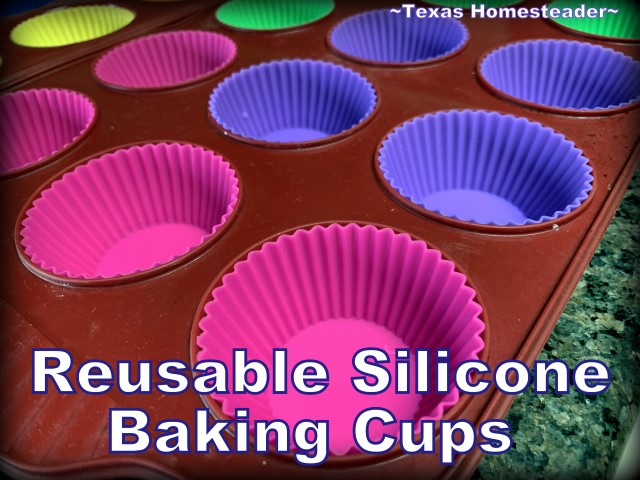 Using a large cookie scoop I transferred the batter into the muffin cups, filling them about 2/3 full. I tapped the muffin pan on the counter a few times to smooth the batter some.
Optional Crunchy Sugar Topping
I sprinkled a little brown sugar on top to give them that subtle muffiny crunch. It gives the muffin tops a cinnamon-toast texture that RancherMan loves.
I guess I used a total of about 1/4 cup of sugar to sprinkle the top of the muffins.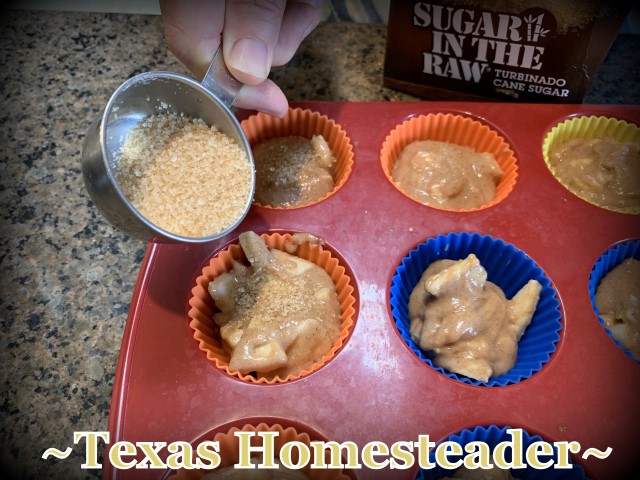 Now into the oven my muffins went. You'll want to bake them until a toothpick inserted into the middle of the muffins comes out clean or internal temperatures are 200 degrees F.
When all was done I brought the muffins out of the oven and allowed them to cool. I was pleased that the muffins peeled from the silicone muffin cups pretty easily.
Those reusable muffin cups were easy to wash too. I'm going to love not buying disposable muffin papers anymore!
RancherMan gave the muffins a try. He loved them! Truly, my heart is happy when he raves like this. 🙂
Chunky Apple Cinnamon Bread Made In A Bread Pan
Most of the time I like to make this recipe in a loaf pan instead of muffins. That way I can bake and freeze a whole loaf to have something sweet available, even for unexpected company.
You can typically change a muffin recipe to a bread-pan recipe by changing the baking time to about an hour.
The procedure for making the batter is all the same of course. But instead of scooping the batter into muffin cups, I transferred it all into a loaf pan.
I didn't bother greasing the pan or anything, but of course you could do that if you wish.
Yep, I'm a 'Shoot From The Hip' kinda gal! And easier/faster/less effort in the kitchen always gets my vote. LOL
My loaf pan was larger 10″ x 5.25″ size so all the batter in this large recipe fit. I'm not sure it would have fit into a typical 9″ x 5″ pan unless it was a deep one.
But with the temps & humidity spiking like it is I'm sure not gonna turn on my oven for an hour! So I baked the loaf in my *Solar Oven instead.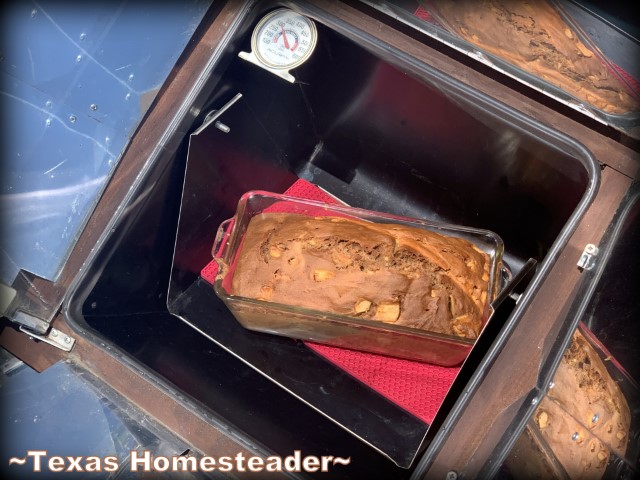 It turned out awesome too. I almost always bake my chunky apple cinnamon loaf in my solar oven. Especially during those hot & humid summer months!
Baking A Loaf Of Apple Bread – Regular Or Solar Oven
In a regular 350-degree oven you'd bake it for 50-60 minutes. But as with the muffins, you'll use a toothpick inserted into the center to test to see if it's done.
When the toothpick comes out clean, your chunky apple cinnamon bread is ready. Internal temperature will read 200° F with quick-read thermometer.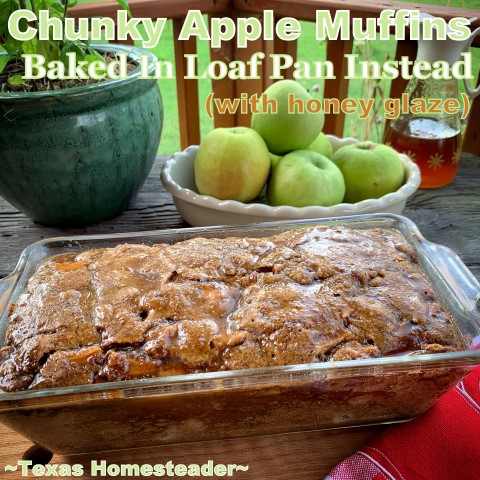 For my solar oven it was close to 1.5 hours baking time. Solar baking depends on how much sun/clouds you end up with and whether or not you adjust the oven to track the sun.
But in a solar oven I don't worry much about bake-time perfection. It's almost impossible for me to burn the bread, so I just make sure it gets plenty of baking time & I'm done.
Apple Bread Honey Drizzle Topping Option
RancherMan's got a sweet tooth. So occasionally when I'm baking a sweet bread like this apple bread or Cantaloupe Bread, or even Pumpkin Bread, I'll add a quick honey glaze. It's so easy.
1 Tablespoon melted butter,

1 Tablespoon brown sugar,

1/4 Cup honey,
Stir to combine & drizzle on the top of the loaf while it's still hot from the oven. Sometimes I'll add chopped pecans too if I have them.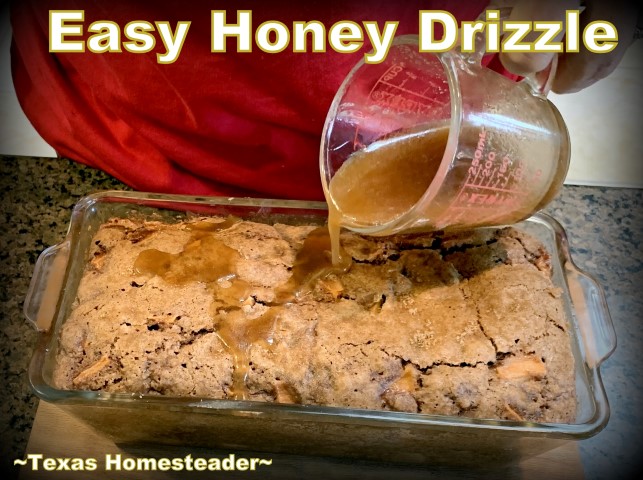 This is a very flexible recipe to use up extra apples.
Muffins or bread – it's all good!
Did you make this dish? Please rate the recipe in your comment below!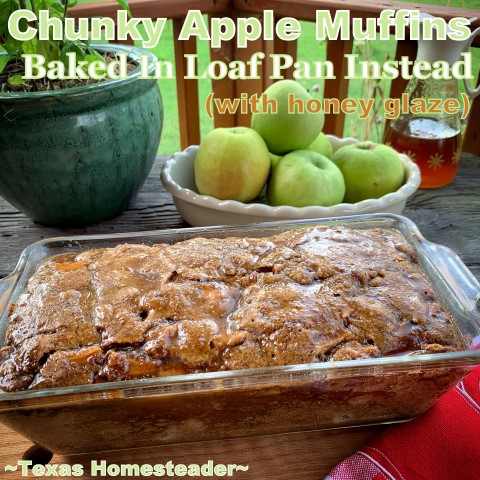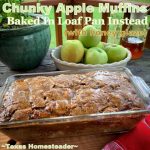 Chunky Apple Cinnamon Muffins (or bread)
Plenty of apple chunks and flavorful cinnamon makes for some delightfully moist muffins. Make healthier by replacing 1/2 of the oil with healthy applesauce. #TexasHomesteader
Ingredients
Ingredients
1 ½

cups

granulated sugar

2

large

eggs

1

cup

oil

(can substitute 1/2 with applesauce)

1

Tablespoon

vanilla extract

3

cups

all-purpose flour

1

teaspoon

salt

1

teaspoon

baking soda

1 ½

teaspoons

cinnamon

3

cups

peeled, cored, diced apples

(around 3 small apples or 2 large)

¼

cup

brown sugar topping

(optional)
Instructions
In a large bowl cream together the 1.5 cups sugar and 2 eggs. Add 1/2 cup oil, 1/2 cup applesauce and a Tablespoon of vanilla extract. Mix until thoroughly blended.

In separate bowl add 3 cups flour, 1 teaspoon salt, 1 teaspoon baking soda and 1.5 teaspoons cinnamon. Mix to blend completely.

Fold gently into wet ingredients just until combined. The batter will be very thick.

Add 3 cups peeled, cored, diced apples and fold gently to incorporate.

(NOTE) If making a loaf instead of individual muffins, see note at the bottom.

For Muffins: Butter & flour muffin tins or use cupcake liners. Using a cookie scoop, fill muffin cups 2/3 full. Sprinkle tops with brown sugar if desired, about 1/2 tsp. sugar per muffin.

Bake for 20-25 minutes. A toothpick inserted into the center of muffins will come out clean when muffins are done.
Recipe Notes
NOTE: For a loaf bread - add batter to a larger 10" x 5.5" loaf pan and bake 350 degrees for about an hour. A toothpick inserted into the center will come out clean when bread is done and internal temperature will read 200° F with a quick-read thermometer.
OPTION - For the Apple Bread baked in a loaf pan, it's a delicious option to add a honey glaze (1 Tablespoon melted butter, stir in 1 Tablespoon brown sugar until dissolved, add 1/4 cup honey) to the top of the bread while it's still hot. Glaze will thicken a little at room temperature.
~TxH~
This post categorized in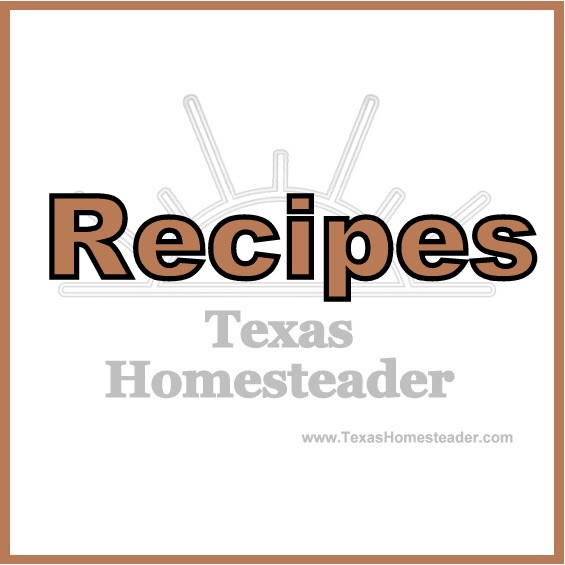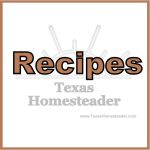 Other Easy Desserts


C'mon by & sit a spell! Come hang out at our Facebook Page . It's like sitting in a front porch rocker with a glass of cold iced tea. There are lots of good folks sharing! And you can also follow along on Pinterest, Twitter or Instagram
If you'd like to receive an email when a new blog post goes live,
subscribe to our Blog!
*Amazon affiliate