by Texas Homesteader ~
This easy depression-era chocolate crazy cake recipe is delicious. (some call it Wacky Cake). The recipe uses no eggs, butter, milk or even BOWLS! Oh, and I also share a crazy-good mix-n-spread chocolate frosting recipe below!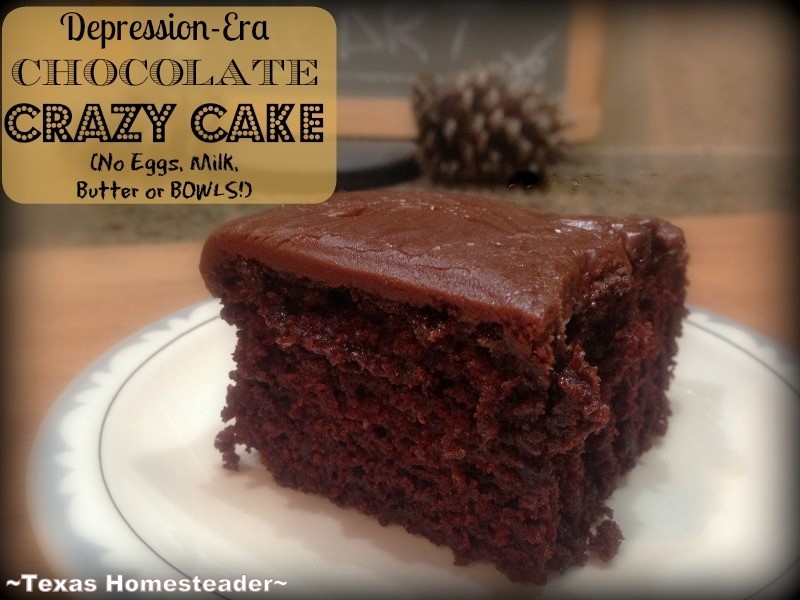 I'd been reading about the great depression and how certain ingredients were hard to come by in those days. Ingredients such as milk, eggs and butter.
But their motto even way back then was the same as mine today:
Use whatcha got!
The resilient folks living during this drastic economic downturn were still able to add a sweet treat to their family's table from time to time. They baked up a dessert many called "Crazy Cake".
What? A chocolate cake made with no eggs, butter, milk or even BOWLS??
I'm intrigued, that's the kind of recipe that's got my name all over it!
Now I've seen this recipe several times over the years but I got this particular recipe over at Sweet Little Bluebird. But of course I've changed it somewhat to suit my tastes.
Particularly the amount of cocoa included and the addition of cold coffee mixed with the water to emphasize the chocolate flavor. Why yes I'm a chocoholic, why do you ask??
Simple EASY Directions
First I preheated my oven to 325 degrees & greased my 8×8 glass dish. Here's where you just start dumping in a few simple staples: Flour, sugar, cocoa, baking soda & salt.
Mix it all lightly with a fork & make two small and one larger indention on top of these ingredients.
Now drop in 1 teaspoon of vanilla extract into one indention, 1 teaspoon of white vinegar in the other small indention, and 5 tablespoons vegetable oil into the larger indention.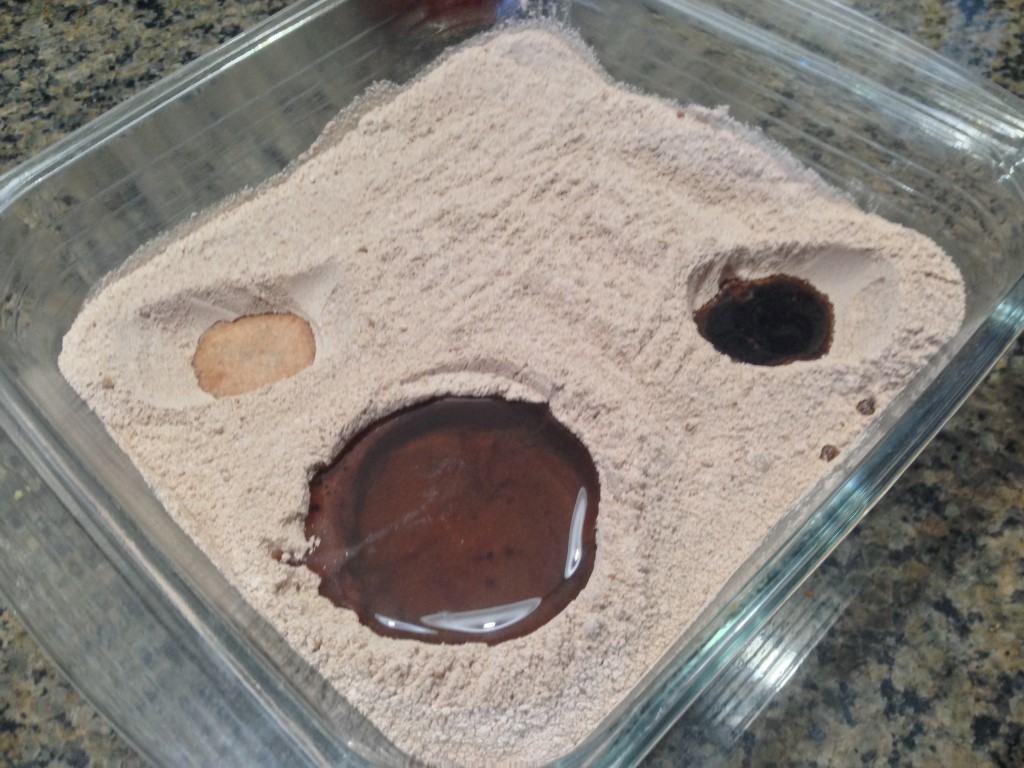 Although the original recipe called for a cup of water, I love to add a bit of coffee whenever I'm making anything chocolate. It's my secret chocolate-booster tip, y'all.
So I poured about 1/4 cup cold coffee in my measuring cup and filled the rest up to the 1-cup line with water. I poured the coffee/water mixture on top of it all and mixed it all in with my fork, stirring just until incorporated.
Now that it's all mixed up I placed the cake in an oven preheated to 325 for my glass pan & set the timer for 35 minutes.
My cake needed a little longer, about 5 minutes more. I ended up baking my cake for a total of 40 minutes.
Should I Frost The Cake? YES!
I brought the cake out of the oven and while it was cooling I decided to whip up my favorite no-cook frosting.
It was easy (of course!) No cooking, just pile it all into a bowl and stir to mix everything up, then frost away! So I made the frosting by stirring together some softened butter, vanilla, coffee (of course), honey and powdered sugar.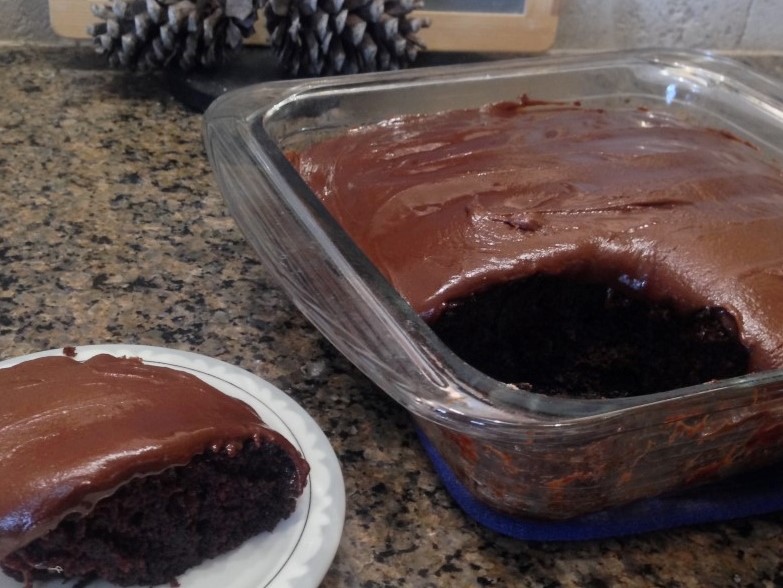 As I frosted that first crazy cake it looked delicious and smelled amazing. But c'mon – a cake with no butter (frosting excluded), milk or eggs? I think the bigger question here is how does it taste?
Ding, Ding, Ding – We Have a WINNER!
Well, it was DELICIOUS! I especially loved the brownie-like texture of the cake.
Next time I make this cake I may use a wooden spoon to poke holes in the cake and pour the frosting on the hot cake, causing the frosting to melt into the holes for a delicious poke cake version.
Of course if you wanted you could probably just sprinkle powdered sugar on top for a much lighter version. Or sprinkle chocolate chips and let them melt, spreading with a knife for a quick icing.
Or heck, leave it as is – the cake's delicious and the texture is decadent!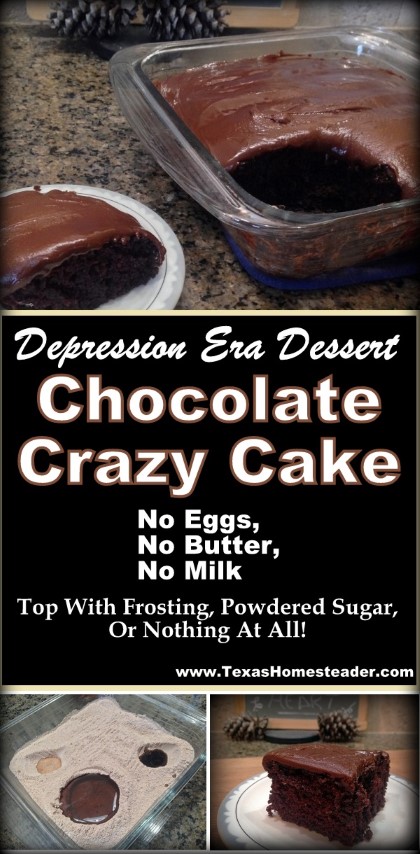 So this ends up being a super inexpensive chocolaty dessert that whips up in minutes. And it's become my go-to cake when I'm expecting company. So simple, so chocolaty and so amazingly delicious!
I'll share the recipe as I amended it below. And I'll also include a link to my frosting recipe. Give it a try!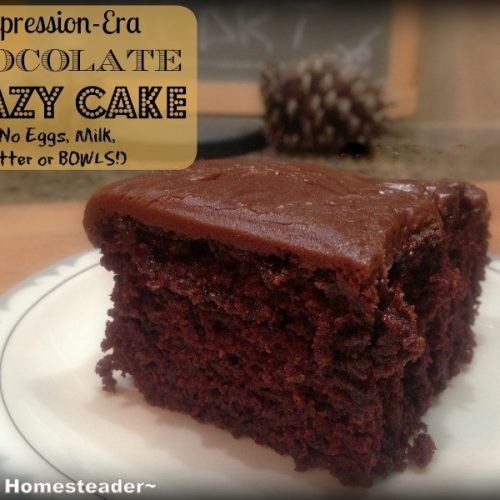 DEPRESSION-ERA CHOCOLATE CAKE (ie: Crazy Cake)
This cake recipe comes from the depression era when households were rationed on such things as eggs, milk & butter. So this recipe doesn't include those ingredients, yet it's delicious, moist and surprisingly chocolaty. #TexasHomesteader
Ingredients
Dry Ingredients
1 1/2

Cups

All-Purpose Flour

1

Cup

Sugar

4

Tablespoons

Unsweetened Cocoa

1

teaspoon

Baking Soda

1/2

teaspoon

Salt
Wet Ingredients
3/4

Cup

Water

1/4

Cup

Cold Coffee

5

Tbsp.

Vegetable Oil

1

teaspoon

White Vinegar

1

teaspoon

Vanilla Extract
Instructions
Directions
Preheat oven to 350 degrees F. (325 for glass pan)

Grease an 8"x8" square baking dish. Measure the dry ingredients into the greased dish and blend lightly with a fork. With the back of the measuring spoon make two small indentions in the dry ingredients. With the back of a measuring cup make one additional yet larger indention.

In one of the small indentations pour 1 teaspoon vinegar, in the other small indentation pour 1 teaspoon vanilla extract. In the larger indentation add 5 Tablespoons vegetable oil. (I don't know why the wet ingredients are separated this way, but this is what the recipe called for so I always do it)

Pour coffee / water mixture over all and mix with a fork just until thoroughly blended. Place baking pan on the middle rack of preheated oven and bake for 35 minutes, or until toothpick inserted into the center comes out clean. (Mine always takes 40 minutes)

Bring cake out of oven and cool. Top with your favorite frosting, or just slice and enjoy the cake plain - great for the kid's lunchboxes.
~TxH~
Other Easy Desserts


C'mon by & sit a spell! Come hang out at our Facebook Page . It's like sitting in a front porch rocker with a glass of cold iced tea. There are lots of good folks sharing! And you can also follow along on Pinterest, Twitter or Instagram
If you'd like to receive an email when a new blog post goes live,
subscribe to our Blog!
Save
Save
Save