by Texas Homesteader ~
Is There An Easy Way To Protect Your Backyard Chicken Flock? How do you keep your backyard chicken flock safe from predators? What if you can't be there in the morning to open their coop or to close it securely at night?
Should you get automatic chicken coop door for your flock? What are the benefits? The drawbacks? I'm laying it all out for you here!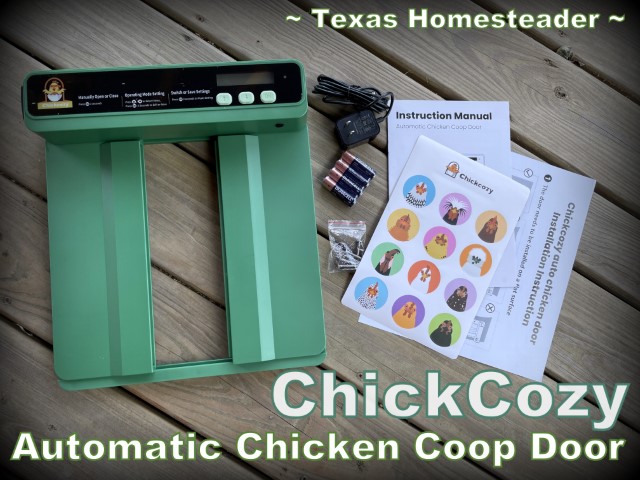 NOTE: As with any product I agree to review, the manufacturer has been notified that a free product for me to test in no way suggests I'm obligated to a falsely positive review. I'll be open & honest with you, my beloved readers, with my assessments. Chickcozy agreed and was anxious for me to review their automatic chicken coop door.
*Some links in this article are affiliate links. If you purchase any products we may get a small commission.*
What Is An Automatic Chicken Coop Door?
An automatic chicken door will allow chickens to be locked securely inside their coop and be allowed to exit the coop based on times you program. It automatically opens and closes based on your requirements – typically either dusk to dawn, or even specific daily times.
Chickcozy sent one of their automatic chicken coop doors for me to test and review for you.
Simple Chickcozy Automatic Door Installation
This door comes fully assembled and is easily installed using just 6 screws (included)
More details are on the included step-by-step installation guide when you receive your ChickCozy door, but installation of their automatic door is pretty easy & straightforward.
Cut a hole the size of the chicken door opening where you want to install the door.
Use 6 screws (included) to attach door to desired surface.
Insert four AA batteries. (included) or use the power adapter (included) to plug into electrical outlet.
Program door with current time and the open and close mode desired.
DONE!
Tip for Installation of Chickcozy Automatic Chicken Coop Door
The doors open like a curtain, so they'll be moving over the screws used to install your Chickcozy door. Make sure screws are tightened until flush, but don't overtighten.
Also make sure you install the door at least 2″ above the chicken's bedding. This keeps the bedding from falling in the tracks and causing the door to not close.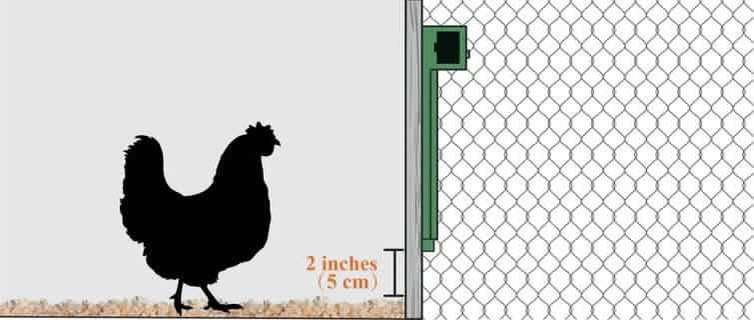 Programming A Chickcozy Automatic Coop Door
After the Chickcozy door was installed it was simple to program. There are only two things to program:
Set The Time
Set Open/Close Mode Desired
RancherMan said it was as easy as programming an alarm clock or microwave!
Setting Desired Open/Close Times For Coop Door
You have three options to open and close your Chickcozy automatic chicken door: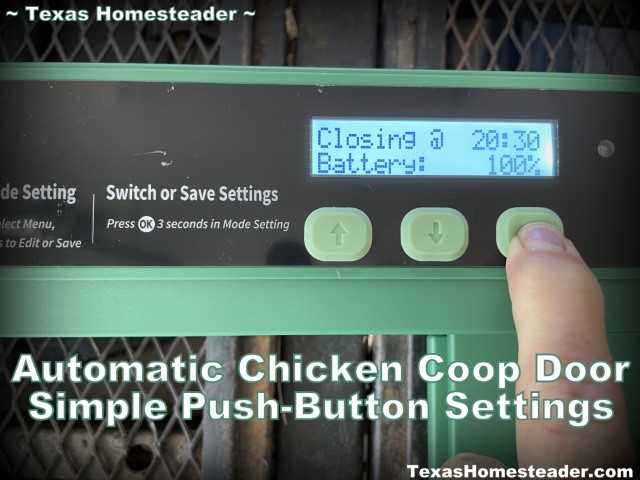 Light Mode – Will open & close 20 minutes after continuous light level indicated. (This keeps the door from opening or closing due to a temporary change in light.)
Time Mode – Will open & close at the specific times you set.
Manual Mode – Press & hold OK button 5 seconds to open or close the doors immediately. (Sometimes when all the hens are safely inside I'll go ahead & close them up for the night using this mode.)
What Makes ChickCozy Automatic Chicken Coop Door Different?
There are several brands of automatic chicken coop doors on the market these days. What makes Chickcozy Automatic Coop Doors different than the others I've seen?
The Chickcozy automatic doors open/close horizontally like elevator doors or curtains.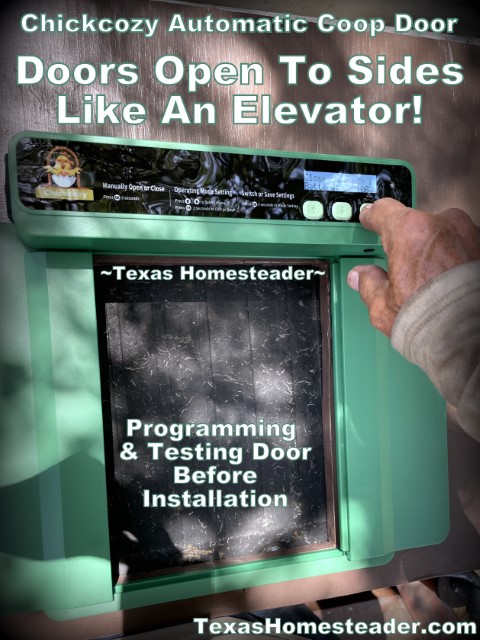 This benefits chicken owners with smaller coops which might not have enough surface space for an up-and-down door.
Opening size approximately 8.15″ x 10.4″
Overall size approximately 16.74″ x 13.9″
Benefits of ChickCozy Automatic Chicken Door
Besides the nifty way the Chickcozy door opens, there are other benefits to using a Chickcozy door:
According to the Chickcozy website, their doors come with a standard 2-year warranty. (as of this writing)
My ChickCozy door was received fast & shipped from a United States location.
Simple Setup in minutes.
Quiet operation.
Low Battery Alert right on the display screen.
Safety Sensor – Door stops closing and reopens when it detects an obstruction.
ChickCozy website states it's suitable for areas experiencing temperatures anywhere between -20ºF to 140ºF.
Drawbacks of ChickCozy Automatic Chicken Door
Not Recommended For chicks – Chickcozy door is designed to be used with adult chickens. If chicks are present in your flock it's not recommended to use the ChickCozy automatic coop door (per the ChickCozy Instruction Manual on their website)
Made Of A Plastic Material – I was surprised to see the door is made of plastic. Although it does seem to be a heavy duty door, I'm told by Chickcozy that the door is made of "ABS (Acrylonitrile Butadiene Styrene), a thermoplastic known for its robustness and durability."
I asked Chickcozy about UV protection levels since it will be out in the elements. Their response was that "the door did not add the UV Stabilizer."
Our ChickCozy door is installed where it will see lots of that hot Texas summer sunshine. That will certainly put it to the test!
How To Use A ChickCozy Automatic Chicken Coop Door
You can install this automatic chicken door on your chicken coop. Since it opens each morning at a time you set, you don't have to get out there early to release them from the confines of their coop.
It will offer trouble-free protection since it closes them securely inside the coop at night. That's especially helpful for times when you might be away.
But since we already have an automatic door on our chicken's coop, we'll be using this Chickcozy automatic door in a different way.
Automatic Chicken Coop Door To Restrict Free Range Times
We allow our chickens out to free range for only part of the day. By waiting until afternoon to allow them out of their chicken yard, they free range closer to the house. And closer to the house equals more safety from predators.
So our Chickcozy door was installed on the fence surrounding our chicken yard. We cut a piece of plywood to receive the door and painted it with exterior-quality paint.
Then RancherMan affixed the door onto the wood, attached the board to the chicken yard's exterior fence and we were done!
It opens automatically around 4:00 each afternoon and our hens come out to free range. We've set it to close them back inside the chicken yard at 8:30 at night. By that time they're already back inside the chicken yard and inside their coop. (We already have an automatic door on the coop)
So far This Chickcozy automatic door has been very reliable and opening/closing exactly as expected.
Where To Buy ChickCozy Automatic Chicken Coop Door:
Currently the Chickcozy coop doors are sold in two online locations:
Discount Code To
Save Money On
Automatic Chicken Coop Door!
Here's the good news! The Chickcozy folks have agreed to give our readers a 5% discount on their purchase when ordering from their Chickcozy website.
If you want to give a Chickcozy Automatic Chicken Coop Door a try, enter the discount code texashomesteader at checkout for a 5% discount!

Saving our readers money every chance I get, y'all!
~TxH~
Other Backyard Chicken-Raising Posts
Chicken Care
Saving Money On Raising Chickens
Other Chicken Posts


C'mon by & sit a spell! Come hang out at our Facebook Page. It's like sitting in a front porch rocker with a glass of cold iced tea – lots of good folks sharing! You can also follow along on Pinterest, Twitter or Instagram.
If you'd like to receive an email each time a new blog post goes live it's EASY to
Subscribe to our blog!